Use Time As A Tool In Real Estate
When is the best time to buy a house? What do you want your life to look like, to be like today, next year, ten years from now. Today we will look at ways you can take Time and use it as a tool to make you a winner in the current market. Tom King will share with you some home value trends and how they have moved over time. You and I will do a little time traveling to see how the move in interest rates have affected how much you are paying for a house today and how much more you might have to pay in the near future when rates move up again.
Let's stay connected! Subscribe at www.JoGarner.com to get our weekly podcasts and show notes.
To Your Success,
Jo Garner, Mortgage Loan Officer NMLS# 757308 (901) 482-0354 jo@jogarner.com
Online loan application: https://jogarner.evolve.mortgage
____________________________________________________________________________
Welcome to the show!
Good morning, Memphis! Welcome to our listeners across the 50 states! You're on Real Estate Mortgage Shoppe. I'm your host, Jo Garner, Mortgage Loan Officer. You can connect with me at www.JoGarner.com. Our general topic is "WHEN IS THE BEST TIME TO BUY A HOUSE? Use Time As A Tool In Real Estate"
If you have a question or comment text me right now at (901) 482-0354 or call me directly off the show at the same number (901) 482-0354. You can call us while we are live March 3rd, 2018 in the studio at (901) 535-9732.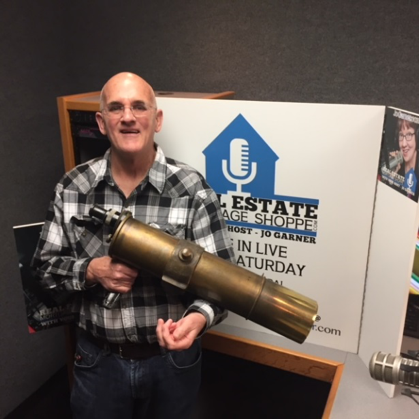 Introducing Tom King, Appraiser
Sitting around the table with us is Tom King of Bill King Company, a real estate appraiser with over 40 years in the business. Tom brought our Magic Binoculars back to the studio. If you look through one end of the binoculars, you can see back into the murky mists of the past. If you turn it around and look through the other end, you can see into the foggy future. We will be able to zero in on a day or two from several years ago in the Memphis real estate market and then we will take a peek into the future of our real estate market (Tom introduces himself and talks what he does in the appraisal business)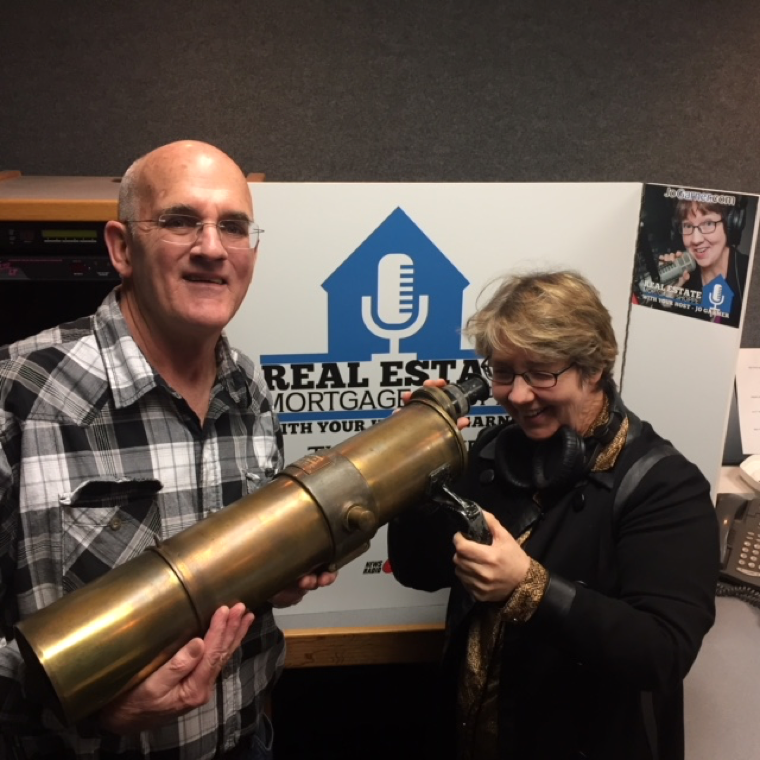 Taking A Peek Into The Future For The Real Estate Market
(Jo) Tom, I have been trying to peer into the future, but the lenses on our Magic Binoculars that are pointed in that direction are a little foggy. However, we know that the Federal Reserve and Freddie Mac have spelled it out for us. Interest rates have been going up and will continue to go up. The question is, how do YOU come out the winner?
You may be that person that has been planning to buy a house or refinance to get rid of your high, variable rate debt, but you haven't gotten around to it. Now interest rates have moved up and it feels like you're standing with your suitcase on the platform, but the train has left station without you.
Here's a suggestion—don't throw away any more money. Jump onto the very next train—today! Time may not be a very good beautician, but it has been a great wealth-builder for long-term real estate investors.
If the forecasts are correct, you can go ahead right now and buy your home or refinance a home. You can look back later and pat yourself on the back for locking in a very low interest rate before the cost of borrowing got higher.
(Tom takes a few minutes to give us a glimpse into the past of what real estate values were in 2006, 2008 and now. He gives us some percentages of how much values have gone up for homeowners over the past 30 years, 20 years and over the last 10 years?
What do real estate values look like today in the Memphis Shelby County, Tipton County and Fayette County markets.
Tom points out the absolute lack of homes for sale and how the high demand and low supply is affecting the rest of the market.
(Jo) You're on Real Estate Mortgage Shoppe where we always say, "Make Your Plan. Work Your Plan. If The Deal Works For You Today, Do It Today." I'm Jo Garner, your host, mortgage loan officer. You can connect with me at www.JoGarner.com. Tom King, appraiser with Bill King Company is sitting in the co-host chair. When we come back, we will be sharing how YOU can put yourself in the winner's circle in this current rising-interest-rate market.
______________________________________________________________________________
2nd segment after 9:15 break:
Our Look Back Memphis Trivia Contest is brought to you by notable Memphis historian, Jimmy Ogle. Jimmy Ogle offers free historic walking tours downtown in the spring and fall. For information about Jimmy Ogle, go to www.JimmyOgle.com . The Look Back Memphis Trivia Contest is sponsored by John and Jennifer Lawhon of Lawhon Landscape (901) 754-7474 the Lawhon's can help you plan your landscaping if you have a BIG, BIG project or a smaller project . The Lawhons are giving away a $25 gift card to the first person with the correct trivia answer. If you know the answer to our trivia question, call us at 901 535 WREC 901 535-9732
Garner # 123 * 03/03/18
TRIVIA ANSWER- Bartlett
Question: I am now the tenth largest city in the State of Tennessee.
Who am I?
Hint
: I was originally known as Green Bottom.
Hint:
In the Civil War, I was known as Union Depot.
Hint:
The Union General guarding the depot later wrote the epic
, Ben Hur.
Final Hint:
The major road in my community is known for two famous historical trails.
__________________________________________________________________
Answer: Bartlett.
The community from which the City of Bartlett grew in the 19th
century was first called Green Bottom, then Union Depot. It was the last major way station in Tennessee along the stagecoach route from Nashville westward and came into being about 1829. When the Memphis & Ohio Railroad took the place of the stages, Bartlett continued as a depot. Union General Lew Wallace was placed in charge of guarding the railroad depot during the Civil War and later was the author of the epic, Ben Hur.
This was a farming community, with major plantations along Stage Road. In 1866, with a population of less than 100, the city was officially incorporated and the name changed to Bartlett. It was named for Major Gabriel M. Bartlett, a planter, whose homeplace was located on the old Raleigh-Somerville Road. (Stage) at the present location of Bartlett Station Plaza.
By the last 1870s, Bartlett boasted a hotel, a manufacturer of wagons, plows and coffins, a Methodist church of 60 members, a Baptist church of 50 members, a Cumberland Presbyterian church of 30 members, and the Old-School Presbyterian church of 20
members. In the early 20th century, Bartlett was known for its many dairy farms.
Bartlett is the 10th largest city in Tennessee and serves as the hub for a market of over 250,000 residents within metropolitan Memphis. Bartlett consists of a strong and diversified business climate, workforce and housing market with some some of the nation's most affordable homes. The city consistently ranks among the best communities in America to live, work, play and raise a family. The economy of Bartlett is strong, dynamic and possesses a high level of entrepreneurism. Bartlett has become one of the nation's leading centers for medical device and related advanced manufacturing.
Jimmy Ogle gives free walking tours on the sidewalks and parks in Downtown Memphis during the year, with the next being the Judge D'Army Bailey Courthouse Tour at 12:00 noon on Thursday,  March 15 (meet at the southwest steps, corner of Second & Adams). Weekly TUESDAY TOURS begin on April 10. Go to JimmyOgle.com.
____________________________________________________________
TOPICS COVERED BY TOM KING:
1. What do real estate values look like today in the Memphis Shelby County, Tipton County and Fayette County markets.
2. What direction do you see these markets moving over the next 12 months?
3. What do you see happening now, in general with real estate across the country?
4. What do you see happening over the next 12 months in general with real estate values across the country?
5. Tom talks about the serious lack of homes on the market and how the lack of inventory is affecting the rest of the real estate market.
Other comments or stories to share
___________________________________________________________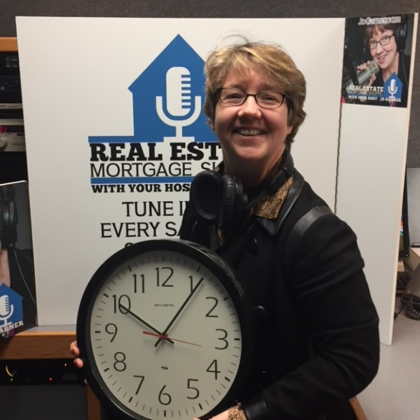 TOPICS COVERED BY JO GARNER:
1. How do you position yourself to win in this real estate market?
Position Yourself in The Winner's Circle
Here are some things I am seeing my mortgage clients doing to position themselves to win and not lose:
a. Take a close look at your budget and upcoming expenses. Calculate what you can comfortably pay for a house not including the taxes and insurance and association fees if they apply. Calculate what you can pay for down payment and other costs and still leave an acceptable amount of money available for emergencies.
2. Put an experienced realtor and lender on your team to help you avoid making expensive mistakes. I would like to sign up to be on your journey with you as your lender.
3. For homeowners with lots of equity built up in their home but who are saddled with lots of high interest rate loans or variable rate credit card may want to consider refinancing and consolidating their debt. Refinancing a home and pulling cash out to pay off variable rate loans so everything they owe is on a low, fixed interest rate might be something to discuss as a possibility with your certified financial planner.
4. Deciding to buy a home now instead of continuing to rent. These first-time homebuyers are watching values on homes go up over time and the payments too if they don't make their move to buy their own home.
5. Consult with your certified financial counselors on your specific situation.
2. What does the future look like for mortgage rates and the real estate market for the rest of 2018?
Forecasts for Real Estate In 2018
In our current real estate market, the prices on homes have been pushed up by low supply and high demand. Freddie Mac's economists say, "the demand for home purchases will likely remain strong relative to the constrained supply and continue to put upward pressure on home prices. However, the combination of increasing rates and increasing house prices would be a double hit to affordability for first-time homebuyers.
Jo Garner- "Plan, don't panic. Panic is a poor pilot."
Jo Garner- "Make your plan. Let's work your plan. If the deal works for you today, do it today."
3. Compare what the terms buying a house looked like several months ago to what the terms on the same house would be today?
Let's use our Magic Binoculars to go back in time to one year ago. Our disclaimer is that the lenses that peer into the future are a little bit foggy. But let's have a look into the past and then we will look through the other end of our Binoculars to the future.
It is one year ago in the winter of the year 2017. We see Mr. and Ms. Lee, a young couple seated at the real estate table with their realtor and the closing agent.
Ms. Lee brushes lightly with her fingers the big pink bow on her closing gift from her realtor. "It's SO pretty! Almost as beautiful as the house that is finally ours."
Mr. Lee smiles and puts his arm around his wife. "Yes, and just in time. We will just have time to get moved in before our baby arrives. Her baby room will have to be our first project."
The Lees were first time homebuyers and purchased their home right up to what their budget would allow at a price of $208,000. They could have gotten in for less than 5% down payment, but their family helped them so that their loan was only $166,400. The principal and interest payment on a fixed rate 30 year loan was $843/month plus taxes and insurance.
Now we turn the Magic Binoculars around to peer into the future. It is the winter of 2019—one year later. Connie Kennon, an IT manager at a large company is standing with her realtor in a light snow outside the house she just purchased—a house right across the street from Mr. and Ms. Lee's house. She is discussing the price and terms she got buying her home.
"Wow! Prices have gone up since last year when my neighbors bought their home for $208,000. But in this market, I am glad the sellers took my offer at $214,000. I wish I had bought back in 2018 when the rates were a point or more lower than they are now. Guess it is a case of 'woulda', shoulda' coulda'.'"
In our view of the future, we see that Connie paid about $6,400 more for an almost identical house right across the street from the Lee's. She also could have put down as little as 5% or less but choose, like the Lee's, to pay about 20% down. Because the interest rates had moved up about three quarters of a point higher than the Lee's paid a year earlier back in 2018, Connie's payment is about $131 per month higher. But we won't tell her.
That's a lot of money to lose because she waited a year to buy. She paid over $6,000 more for the house and about $131 per month higher. Over 30 years of paying that much more per month would be paying about $47,000 more for the house in mortgage payments.
Guess the moral to those stories is to MAKE YOUR PLAN. WORK YOUR PLAN. IF THE DEAL WORKS FOR YOU TODAY, DO IT TODAY.
4. What are some quick tips on how to prepay your mortgage the quickest with the least amount of investment.
Imagine just for a moment what your life would be like if you did not have to pay rent and you did not have a mortgage payment. What are some things you would be doing or places you would be going if the house payment were no longer a drag on your budget?
Tip #1- Here's a quick tip on how to pay your mortgage off early without breaking the bank. If you make one extra principle and interest payment per year on a 30 year loan starting from the beginning of when you got the loan, you will knock of 7 or 8 years off your mortgage. If you had a principal and interest payment like Mr. and Ms. Lee's of about $843 per month, you would save in total payments about $75,870. That's real money!
Tip #2- On an amortized mortgage, your principal and interest payment is made up of mostly interest and very little principal in the beginning of your loan. But has you make monthly payments, more and more of your principal and interest payment is applied toward paying down your principal balance owed on your loan and less of the payment is allotted to interest.
Therefore, if you start prepaying your mortgage in the beginning years of your mortgage, you can get rid of tens of thousands more in interest payments, the more you prepay toward principal at the start of the loan.
If you wait until the end of the mortgage to start prepaying principal, it doesn't help too much since, at the end of the mortgage, most of the payment is principal and not interest.
Tip #3- Don't sign up and pay hundreds of dollars to a company claiming that if you make two half payments per month through them THEY can save you this money by prepaying your mortgage. You can make two half payments per month yourself without paying someone to do if for you.
In any case, the mortgage company will only post your payment once a month and not twice. The trick is that there is 52 weeks in a year and when you pay your mortgage with half payments twice a month, you end up paying one full extra principal and interest payment per year.
Example: Your principal and interest mortgage payment = $1,000
If you simply paid $1,000 one time each month, you would pay $1,000 x 12 months which equals $12,000 per year.
But, if you pay 2 half payments twice a month, you actually pay $500 X 26 times per year which equals paying $13,000 per year on your mortgage. (52 total weeks per year divided by 2= 26 weeks)
REAL ESTATE TIP OF THE WEEK (Jo shares tips on how to pay your mortgage off early without breaking the bank):
ANNOUNCEMENTS:
1. Talk Shoppe offers free networking & education to anyone interested in real estate or in business. Talk Shoppe meets every Wednesday 9A-10A CT at Pinot's Palette 8225 Dexter Rd Cordova, TN
2. Talk Shoppe events are free thanks to advertisers like Kevin Yee of Save Energy Solutions. Kevin uses the latest technology to seal the ducts in your home to keep the good air in and the bad air OUT. If you struggle with allergies or a high utility bill, give Kevin a call. www.sesinfo.biz
3. Thank you also to Mary Lou Nowak owner of Mid-South Home Helpers. Mary Lou knows what to do when it comes to non-medical assistance for your aging loved ones so they can remain safely and comfortably in their own home. (901) 414-9696.
4. Kim Miller of Arch Private Mortgage Insurance to announce the Great River Mortgage Bankers Association Conference April 9th and April 10th 2018 at The Peabody Hotel 149 Union Ave. Memphis, TN www.GreatRiverMBA.com or contact Kim Miller at (615) 424-1500
5. SPECIAL NOTE: REAL ESTATE MORTGAGE SHOPPE RECOMMENDS THAT YOU CONSULT WITH A FINANCIAL, LEGAL OR OTHER CERTIFIED, LICENSED PROFESSIONAL BEFORE ACTING OR INVESTING ON ANYTHING YOU HEAR OR SEE FROM THE CONTENT ON THIS SHOW OR BLOG POSTS. THE INFORMATION WE SHARE ON REAL ESTATE MORTGAGE SHOPPE IS GENERAL IN NATURE MEANT FOR GENERAL EDUCATIONAL PURPOSES ONLY.
6. FOR THIS PODCAST OF REAL ESTATE MORTGAGE SHOPPE AND MORE, GO TO JOGARNER.COM
7. Real Estate Mortgage Shoppe reminds you that MAKE YOUR PLAN, LET'S WORK YOUR PLAN. IF THE DEAL WORKS FOR YOU TODAY, DO IT TODAY!.
QUOTE CORNER:
Anonymous- "Don't count every hour in the day. Make every hour count."
Anonymous- " Time is a terrible beautician."
____________________________________________________________________________________
REJOINDERS:
1. Pat Goldstein, Realtor with Crye-Leike Realtors "The Gold Standard In Real Estate" in Tennessee and North Mississippi.
2. Billy Nichol, Promotional Consultant with Geiger Company (For promotional items to make your business memorable to your marketplace) https://billynickol.geiger.com/
3. Mary Jane Lessley, Signs Now on American Way in Memphis (901) 368-0784
____________________________________________________________________________
Transitional Music:
"If I Could Turn Back Time" by Cher; "Its Now or Never" by Elvis Presley; "100 Years" Five For Fighting
"Memphis" For look back Memphis Trivia Contest
________________________________________________________________________
ABOUT TOM KING: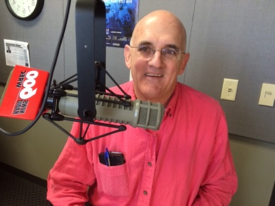 Tom is a well- respected and sought after appraiser in Memphis, Tennessee. He is a second generation appraiser with 40 years of experience. He has been elected to the Memphis Area Association of Realtors Board of Directors three times.
Tom is a certified residential appraiser in Tennessee. He have appraised over 20,000 homes in his career. A graduate from the University of Tennessee with a degree in real estate, Tom is also a Certified Relocation Professional (CRP). Tom also has vast experience in dealing with the county and state boards of equalization and in valuations of property for tax appeal purposes. (901) 487-6989
__________________________________________________________________
ABOUT JO GARNER-MORTGAGE LOAN OFFICER: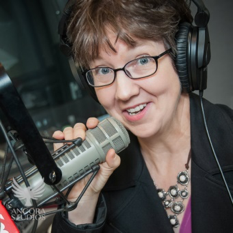 What do YOU want to accomplish with your mortgage?
www.JoGarner.com (901) 482 0354 jo@jogarner.com twitter @jogarner NMLS# 757308
Jo describes her job description: "As a mortgage loan officer, my job is to give my client the benefits they want from their financing terms– listening to my client and determine what's of the most value to THEM– What is their comfort level on a house payment, how much are they comfortable paying down, what type of financing do they need to get the house they want to buy or refinance. Different clients have different priorities in life—some are buying their first home with very little down payment funds. Some are recovering from medical challenges, divorces or preparing to send children to college and some are embarking on a long term goal of buying properties to build rental income.
Whatever their personal priorities are, my job is to put together a mortgage with comfortable terms that will help them achieve their goals."
Jo Garner is a mortgage officer with extensive knowledge in tailoring mortgages to her customers who are refinancing or purchasing homes all over the country. She offers conventional, FHA, VA or other loan programs for refinancing and purchases.
Jo can help you look at rent vs buy, when it makes sense to refinance, how to get the best deal on your home purchase financing.
Jo Garner has been in the real estate/financing business for over 20 years. She got her start in Portland, Maine where she first began her real estate career. She received her real estate education from the University of Southern Maine and was personally mentored in San Diego, California by Robert G. Allen, author of Nothing Down, Creating Wealth and The Challenge.
On moving back to West Tennessee in 1987, she went into business buying and selling discounted owner-financed notes secured on real estate. In 1990 Jo went to work for a residential mortgage company and has been a mortgage loan officer for over 20 years. Her goal is to offer excellent, affordable service to her customers, tailoring the loan programs to the specific needs of her clients.
In addition to her work in the mortgage field, Jo Garner is the primary sponsor and founder of Talk Shoppe in Memphis. www.TalkShoppe.com Jo is host of Real Estate Mortgage Shoppe and currently publishes on her blog www.JoGarner.com