REAL ESTATE QUESTIONS & ANSWERS-AVOID COSTLY ERRORS, MAKE CONFIDENT DECISIONS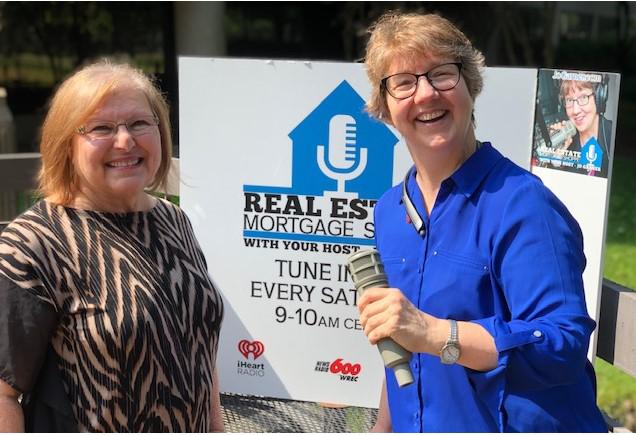 Francis Bacon said "A prudent question is one-half of wisdom." Today on Real Estate Mortgage Shoppe we will attempt to ask some of the most common questions homebuyers and sellers have when they enter into a real estate transaction. The answers to these questions just might save you from some costly errors and, at the same time, enable you to make confident decisions.
What do YOU want to accomplish with YOUR mortgage? Let's make that happen. Call me at (901) 482-0354 or email Jo@JoGarner.com
Subscribe to get Real Estate Mortgage Shoppe's weekly podcasts with show notes at www.JoGarner.com
________________________________________________________________________________________________
Opening The Phone Lines
Good morning, Memphis! Welcome to our internet listeners and podcast listeners across the 50 states! You're on Real Estate Mortgage Shoppe. I'm your host, Jo Garner, Mortgage Loan Officer. You can connect with me at www.JoGarner.com. Our general topic is REAL ESTATE QUESTIONS & ANSWERS-AVOID COSTLY ERRORS, MAKE CONFIDENT DECISIONS. Subscribe to get our weekly blogposts with podcasts at www.JoGarner.com. Call us while we are live at (901) 535-9732 Today is July 27th, 2019.
Francis Bacon said "A prudent question is one-half of wisdom." Today on Real Estate Mortgage Shoppe we will attempt to ask some of the most common questions homebuyers and sellers have when they enter into a real estate transaction. The answers to these questions just might save you from some costly errors and, at the same time, enable you to make confident decisions.
INTRODUCING PAT GOLDSTEIN, CRYE-LEIKE REALTORS: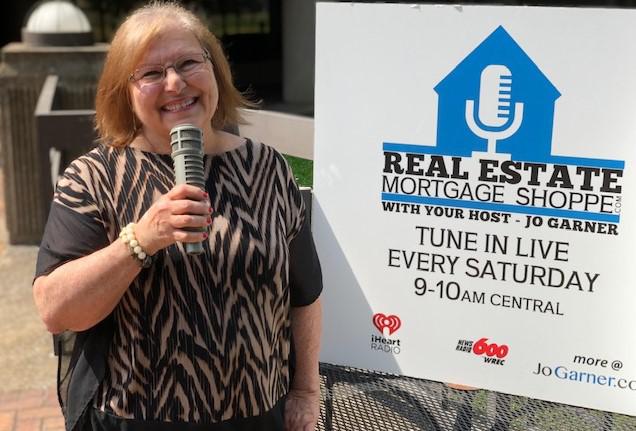 Back in the studio again we have Pat Goldstein, realtor with Crye-Leike Realtors serving homebuyers and sellers in West Tennessee and North Mississippi. At Talk Shoppe and in some other groups she is called "The Gold Standard in Real Estate." Pat, you have 35 years experience and so many designations out beside your name we don't have time to mention them all. Take a moment and tell our listening audience a little bit about yourself and what you do for your clients. (Pat introduces herself and talks about what she does for her clients. )
ONE OF THE GREATEST TOOLS BUYERS DON'T HAVE TO BUY
(Jo) In my over-25-years experience as a mortgage loan officer, let me tell you about one of the best tools you don't even have to pay for as a buyer. This awesome tool can save you time, open up resources and even can handle negotiating winning terms for you when you write a contract to buy a home. This tool? Putting on your team a seasoned, reputable realtor who represents YOU during one of the biggest purchases you will ever make in your life.
GETTING OVER THE FEAR WHEN BUYING THE FIRST HOME
Several years ago, when I was faced with taking the plunge to buy my own home, the fear of making a mistake made the whole decision-making process seem overwhelming. It made me break out in a sweat in the middle of winter. Looking at one house after another was like kissing a bunch of frogs to finally find my prince
Then I got some wise counsel from a trusted realtor and a trusted banker friend. The realtor friend told me, "buy the house where you know you will enjoy making the mortgage payment the most." The banker friend advised me to "consider the cost of building a tower before laying bricks." What he meant was to know how much money I had coming in and how much I could afford on a house note and still have money for emergencies and for enjoying my life. If I did not bite off more than I could chew on a house note and making the down payment, I could handle obstacles one at a time as they came along.
I ended up buying the house that felt right and one that would give me more than one profitable exit strategies in case I wanted to up and move one day. The house didn't have everything on my bucket list, but when I went to closing, I knew confidently I had made the right decision. And it was a great investment with a big return on my investment.
Buying my first house was a few decades back and I have bought more houses since then. I have learned from my own experiences and I have learned A LOT from my mortgage clients over almost 30 years. Later in the show I would like to share some of nuggets I believe will save you from making costly mistakes and help YOU know confidently when you are making the right decision when it comes to your financing.
PAT GOLDSTEIN'S ANSWERS TO COMMON REAL ESTATE QUESTIONS:
RENT VS BUY etc
Pat Goldstein and I served as panelist on a Real Estate Panel of Experts this past week at Talk Shoppe. Pat, what were some of the answers to those questions you can share with our Real Estate Mortgage Shoppe listeners? (Pat Goldstein launches into some of her questions and answers until 9:15 break….resumes after break)
You're on Real Estate Mortgage Shoppe. I'm Jo Garner, your host, mortgage loan officer. What do YOU want to accomplish with YOUR mortgage? Connect with me at www.JoGarner.com (901) 482-0354. When we come back Pat Goldstein will be answering more questions and sharing more stories from her real estate experience.
______________________________________________________________________
2nd segment after 9:15 break: Our Look Back Memphis Trivia Contest is brought to you by notable Memphis historian, Jimmy Ogle. Jimmy Ogle offers free historic walking tours downtown in the spring and fall. For information about Jimmy Ogle, go to www.JimmyOgle.com . The Look Back Memphis Trivia Contest is sponsored by John and Jennifer Lawhon of Lawhon Landscape (901) 754-7474 the Lawhon's can help you plan your landscaping if you have a BIG, BIG project or a smaller project . The Lawhons are giving away a $25 gift card to the first person with the correct trivia answer. If you know the answer to our trivia question, call us at 901 535 WREC 901 535-9732.
Garner # 160 * 07/27/19

Mississippi River Walk Model
Question: I am a one-of-a-kind model right here in Downtown Memphis. Who am I?
Hint: I am over five blocks long, and twist and turn all over the place, and made up of 1,472 pieces.
Hint: The name of my architect was Nesbit Gassaway Coltharpe.
Final Hint: Memphis would not be here if it wasn't for my namesake. Who am I?
Answer: Mississippi River Walk Model in Mud Island River Park. Mud Island was formed early in the 20th century on the front door step of Downtown Memphis. As the Mississippi River shifted its currents and sandbars over the years, the land mass grew and grew. It even had a landing strip for airplanes before the Hernando DeSoto Bridge was built. The theme park opened in 1982, and the Mississippi River Walk Model featuring the Lower Mississippi River Valley to scale was one of the two features along with the Mississippi River Museum.
The model has a scale of one 30" step equals 1 mile in distance! The model is 1,500 feet long (five city blocks) beginning at the confluence of the Upper Mississippi River and the Ohio River at the southern tip of Illinois. With 65 graphic informational panels describing the history, lore and nature of the Lower Mississippi River (900+ miles) and with the streetscapes of twenty river cities, the experience takes one all the way down to the Gulf of Mexico (a 1.5 million pool of reservoir water that is pumped back up to four watershed walls for continuous circulation and flow. The model is composed of 1,472 blocks of inverted cast molds (4' X 8' X 4') put into place like a jigsaw puzzle. And, what is most amazing, the architect, Nesbit Gassaway Coltharpe, drew all of the plans in the 1970s without the aid of a computer!!
The Mississippi River Walk Model in Mud Island: A Mississippi River Architectural Marvel!
Last Week: Chop Suey Cafe on Beale Street. Chop Suey is actually an American dish created by early Chinese immigrants in the 1800s for gold miners in California. It is a stir-fried mixture of vegetables and meat in a starchy soy sauce served over rice. An instant success, chop suey became the standard Chinese food found in restaurants known as "chop suey houses." The Chop Suey Café at 342 Beale Street was open for 47 years and is believed to be the longest operating Chinese restaurant in Memphis. Two restaurateurs, Chu C. Lau and Chu Lain, opened it as the "Oriental Café" in 1920, and in 1922 a new owner, Ming Moy, renamed it "Moy Ming." It became the "Chop Suey Café" in 1923, managed by Ming Moy until 1930. There was a succession of owners from 1930 to 1953, the last being a man named Jew Sing. The restaurant closed in 1967. A historical marker for Chop Suey Café and the Chinese Merchants on Beale Street will be dedicated in September by the Chinese Historical Society of Memphis and Mid-South and the Shelby County Historical Commission.
Jimmy Ogle will be giving tow free tours on Sunday, July 27 in the parks of the southern bluffs:|
2:00 p.m. – Chickasaw Heritage Park, Metal Museum and Crump; 4:00 p.m. Big River Crossing, Martyrs Park and Ashburn-Coppock Park. And then two more free tours in Downtown Memphis on Saturday, August 10 – 11:00 a.m. of Madison Avenue (meet at UM Law School, Front & Madison) and 2:00 p.m. of The Edge District (meet at Sun Studio, 796 Union) Go to JimmyOgle.com for more information.
___________________________________________________________
TOPICS COVERED BY PAT GOLDSTEIN, REALTOR WITH CRYE-LEIKE, INC.
Should I buy or rent a home?
Do I really need a real estate agent? (Pat -realtor expert)
When is the best time to sell my home? (Pat -realtor expert)
How do I get the most for my home when I sell?
What is the real estate market like right now? (Pat -realtor expert)
What are some tips to get the seller to accept my offer over a competitor's offer? (Pat Goldstein-Realtor Expert)

14. Should I get a home inspection when I am buying a home? (Pat Goldstein-realtor expert)
TOPICS COVERED BY JO GARNER, MORTGAGE LOAN OFFICER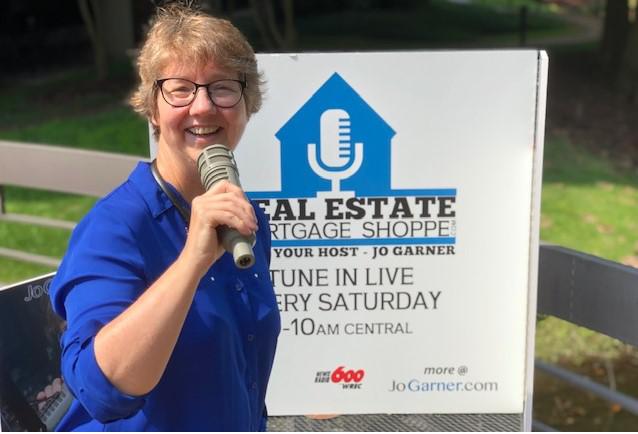 1. What advice do you have for your mortgage clients before they come in to apply for a mortgage? (Jo Garner-Mortgage Expert)

A. Know your personal comfort level on a monthly house note. Don't depend solely on the mortgage software to dictate your qualifying levels. You might be approved for a loan that puts you at a 50% debt-to-income level—leaving you eating beans and crackers with no room in your budget to travel, go out to eat or enjoy life.

Let me introduce you to Amelia Allison (not her real name.) Amelia's story inspired me. Amelia left her parent's home right after high school and launched into an adventurous life traveling around the country. Amelia planned ahead. She got financial aid for college. She wanted to see the world, so she signed up for school in a faraway area of the country, supporting herself by working part time job and sharing a home with fellow students at the college where she attended.

Amelia was frugal and focused. After graduating college she already knew she wanted to buy a home. But adventure still called her name. In order to travel and dive into life head first, she needed to figure out a way to get a second income without having to work a second job.

Amelia's answer was to purchase a four-plex—a home with four living units. Her plan was to live in one unit and let the rent coming in from the other three units more than pay her house note. As rents would be rising, her 30 year fixed rate mortgage would remain stable and low, creating more and more positive cash flow to fuel her excitement-seeking habits.

Here is how it worked for Amelia: She had a knowledgeable realtor who knew the home market and the right professionals—the lender (me) and a good home inspector, title company, insurance professional and trustworthy handyman. I got her approved for a government, low interest rate, low down payment loan program. With a little help from the seller on the closing costs, Amelia and I went treasure hunting for down payment funds to get her into the property without disturbing her emergency fund. I have to admit, hearing Amelia talk about her plans made me yearn to step back in time for just a moment- to be in my 20's again. Ameila had her whole exciting life ahead of her and she knew what she wanted and how she was going to get there.

B. Be fast -Be flexible. It is an exciting adventure in the real estate market where you will probably encounter competition from several other people making offers at the same time you are on the same house. Preparation and strategy will give you bragging rights to enjoy for years.

Go ahead and pull all of your income and asset documents together and be ready to give to your lender at the earliest permissible time. This will give you and your lender confidence as you shop and make offers to get the home you really want

Here are some items typically required by lenders:
ALL PAGES  of your last 2 years tax returns.  (if you are self-employed and own over 25% of a business, please include the last 2 years corporate or partnership tax returns all pages including any K-1s) (In some cases a year-to-date Profit and Loss statement may be required)
If your IRS transcripts or tax returns indicate that taxes are owed, you must document the source of funds to clear the taxes owed or show proof of accepted payment plan and proof of three months payments made to IRS or other agency to clear debt.)
(PLEASE DISCLOSE ANY PAYMENT PLANS MADE TO IRS OR OTHER OUTSIDE AGREEMENTS THAT MAY NOT SHOW ON THE CREDIT REPORT. THESE PAYMENTS NEED TO BE CALCUATED TO DETERMINE YOUR TRUE DEBT-TO-INCOME RATIO)
ALL W2s and 1099's that go with the last 2 years tax returns plus the W2s and 1099s received in January of the latest year
Latest paystubs (2)
ALL PAGES  of the last 2 months bank statements and investment accounts
Legible copy of your drivers license (s)
Name and contact info for your chosen homeowners insurance agency that will cover the property we will be financing.
A signed and dated letter explaining the status on any inquiries appearing on credit report to state whether a new account was opened or not.  If a new account was opened as a result of an inquiry on the credit report, all pages of the latest statement for that account must be submitted.
Please provide all pages of any bankruptcies or wage earner bankruptcies that have occurred at any time with the last 7 to 10 years (if applicable)
Divorce decree and martial dissolution agreement/child support documentation if applicable
If you receive retirement income :
Submit all pages of latest entitlement letter from social security of other pension or retirement fund.
If you own rental real estate property:
All pages of leases on properties
(rental property documentation continued)
A declaration page from your insurance company on each property verifying the coverage, the premium amount and next due date and if there are any liens on the property.

Copy of municipal/county tax record showing the amount of real estate property taxes are levied to each rental property

Verification of the amount of association fees if there are any on any of the rental properties

Latest mortgage statements on each applicable property

All pages of can closing disclosures showing the sale or purchase of any real estate properties that transferred after the last tax year reported.
If you are getting any kind of down payment assistance, you will most likely need to complete successfully a HUD-approved Homebuyers Education Course.   We suggest United Housing in Memphis 901 272-1122, but there are others available.   If you need this class, please set up as early as possible to complete it. 
In case you are refinancing a home:
Include a copy of all of the mortgage statements or lien statements secured on that property.

Make sure your home has not been listed for sale within the last 6 months
2. What are some Do's and Don'ts you advise your mortgage clients for enjoying a smooth mortgage process?

It is vitally important that you do not change anything on your asset statements after Jo has reviewed your bank statements. Any decrease in your assets could make or break your loan approval or cause a delay in your closing. ANY LARGE DEPOSIT NOT PAYROLL RELATED NEEDS TO HAVE THE SOURCE DOCUMENTED. (You can get images of the deposit and copies of deposit slips from your bank.)
If you are legally married, and buying or refinancing a primary residence, even if your spouse is not on the loan nor on the title, your spouse will be required to sign a few key documents to keep your title clean under the state law. Change in marital status could cause problems on title.
When it comes time to provide bank statements or any asset account, or tax return, it is necessary to provide ALL pages of the statement, even if it is a blank page. On asset account statements, make sure the name of the bank, your name and at least part of the account number appears on any bank documentation you submit to us.

Please do not make any changes to your income or manner of payment from income from your business or employment. When it is time to send tax returns, please send ALL pages including any K-1s if applicable. Even if your income is increasing, under current loan guidelines some methods of income payment are not allowed to be counted as qualifying income so it is important to let your loan officer know of upcoming changes right away to make sure the type payment of income is acceptable for loan qualification purposes. If you own 25% or more of a business, please send all pages of the business tax returns for the past 2 years also. (In some cases underwriting may require a year-to-date Profit and Loss for self-employed borrowers.) Note: If your IRS transcripts or tax returns indicate that taxes are owed, you must document the source of funds to clear the taxes owed or show proof of accepted payment plan and proof of three months payments made to IRS or other agency to clear debt.
(PLEASE DISCLOSE ANY PAYMENT PLANS MADE TO IRS OR OTHER OUTSIDE AGREEMENTS THAT MAY NOT SHOW ON THE CREDIT REPORT. THESE PAYMENTS NEED TO BE CALCUATED TO DETERMINE YOUR TRUE DEBT-TO-INCOME RATIO)
If you file your tax returns right before or during the loan process, this can delay your loan process by a month or more due to the time it takes the IRS to fully process and log your numbers into the government required IRS third-party transcript for that tax return that must be included in your loan file. You may consider filing an extension on filing your IRS return in order to avoid this delay. (Underwriting may ask for a year-to-date Profit and Loss for self employed borrowers.)

Do not open any new credit accounts (and especially not a 12-months-same-as-cash account.) Do not add balances to any existing credit accounts. Do not apply for any new credit during the loan process. Do not make any changes on your credit status.

Please check your tax returns and make sure you are not showing any unreimbursed employee expenses. Most employee expenses are deducted from your regular income. (some exceptions). Also, if you have any undisclosed business losses, please notify your loan officer.

Make sure that you keep your accounts paid current during the loan process. Even though you are planning to pay off an account at closing, please do not allow this account or any others, including any mortgages, to go 30 days late even if the closing the delayed. (This could cause your credit scores to drop right before closing and jeopardize your loan approval.)

Use funds for closing DIRECTLY from the account where we have verified your funds. If funds come from a different account, it can delay or jeopardize your closing . Also do not move money from the account where funds were verified to another account to access for closing. Funds must come DIRECTLY from the account where funds were verified and not moved to a different account for any reason. Earnest money must come from the account that you will be fully documenting.

REMEMBER, AT CLOSING THE FUNDS WILL NEED TO BE IN THE FORM OF A CASHIER'S CHECK AND/OR WIRE PAYABLE TO THE CLOSING AGENT. You will need 2 forms of ID at closing including drivers license. All borrowers and interested parties will need this documentation at closing.

If you are on any of the accounts we are verifying with another person, you will need to get a short letter, dated and signed by the other person identifying the account and stating that you have full access to the funds.

If there will be a full appraisal on the property you are financing, please inspect the subject property for repairs that may be required prior to closing by the appraiser. Some common required repairs are leaky roof, rotted wood, peeling paint, torn flooring, broken tile, non-functional plumbing, electrical or HVAC systems, drainage problems, holes in sheetrock, broken windows, foundational problems, termite damage, hazardous waste on property, etc.
If the property is in a flood zone, flood insurance will be required. Appraisal values are determined by the assigned appraiser. Comparable property sales over the last 6 months to a year on houses like the subject property in the subject property neighborhood are used to determine the official value used by the mortgage company. Government guidelines require the mortgage company to order an appraisal and have the appraiser to be assigned to the property by a third-party, government approved order agency separate from the mortgage company.
The mortgage company must order the appraisal from the approved agency. Appraisals from other mortgage companies and appraisals ordered by anyone else, are not qualified to be used under current loan regulations.
Appraisal fees are not refundable.
If you are refinancing your home, please make sure the home has not been listed for sale on the market within the last 6 months. REMEMBER THAT ON A PRIMARY RESIDENCE, THERE IS A 3 DAY RIGHT OF RECISSION BEFORE MONEY IS DISBURSED.

Due to the new TRID government lending guidelines, there are mandatory delays set up throughout the process, giving you a chance to review the terms as the process moves forward. If you change anything that triggers a change in the final terms after final disclosures have been sent, this could delay your closing to wait on new documents to be received by you and the mandated delay period completed.

Due to a rising number of incidences of hackers/scammers attempting to redirect wired closing funds, please do NOT have any funds wired before verifying the wiring information with your loan officer and the attorney's office. There may be additional steps to take to ensure your money is wired to the correct account.
11. What happens if the appraised value comes in too low? (Jo Garner-Mortgage Expert)

How much do I need to pay down to buy a home? (Jo Garner-Mortgage Expert)

16. What kind of credit score do I need to buy a home? (Jo Garner-Mortgage Expert)
REAL ESTATE TIP OF THE WEEK (Pat Goldstein offers tip about making a list of amenities and features you really want the house you buy to have. Make this list in order or priorities to give to your realtor
ANNOUNCEMENTS:
Talk Shoppe offers free networking & education to anyone interested in real estate or in business. Talk Shoppe meets every Wednesday 9A-10A CT at Pinot's Palette 8225 Dexter Rd Cordova, TN. This Wednesday July 31st, 2019 Talk Shoppe presents: "The Mastermind Principle: based on the book Think and Grow Rich by Napoleon Hill"
Talk Shoppe events are free thanks to supporters like Trevor Day of River Surge Productions-professional video streaming and other media promotions. Trevor does a great job promoting Talk Shoppe advertisers.
Talk Shoppe thanks Tim Gilliland for keeping our data protected and backed up safely. Enjoy some peace of mind when it comes to your important data. www.BackupRX.com
4. Subscribe at www.JoGarner.com and you can get our weekly blog posts with podcasts conveniently in your inbox.
5. Real Estate Mortgage Shoppe reminds you to MAKE YOUR PLAN. LET'S WORK YOUR PLAN. IF THE DEAL WORKS FOR YOU TODAY, DO IT TODAY.
SPECIAL NOTE: REAL ESTATE MORTGAGE SHOPPE RECOMMENDS THAT YOU CONSULT WITH A FINANCIAL, LEGAL OR OTHER CERTIFIED, LICENSED PROFESSIONAL BEFORE ACTING OR INVESTING ON ANYTHING YOU HEAR OR SEE FROM THE CONTENT ON THIS SHOW OR BLOG POSTS. THE INFORMATION WE SHARE ON REAL ESTATE MORTGAGE SHOPPE IS GENERAL IN NATURE MEANT FOR GENERAL EDUCATIONAL PURPOSES ONLY. ALL EXAMPLES GIVEN FOR ILLUSTRATION PURPOSES ON REAL ESTATE MORTGAGE SHOPPE AND ARE BASED ON TRUE STORIES BUT WE USE FICTIONAL CHARACTERS AND DO NOT DIRECTLY REFLECT REAL PEOPLE OR EXACT DETAILS IN ANY OF THE SITUATIONS.
QUOTE CORNER:
ShortStatusQuotes.com "Knowledge is having the right answer. Intelligence is asking the right question."
CoolFunnyQuotes.com "If Cinderella's shoe fit perfectly, why did it fall off?"
_________________________________________________________
REJOINDERS:
Mark McLaurine of Refrigeration Unlimited, Memphis, TN www.myhvacman.com

Brandon Thompson, Home Inspector with www.HomeTeam-Memphis.com
Bernice L. Ross, Austin Texas author and real estate syndicated columnist with Inman Real Estate Radio.
Transitional Music: "Does Your Chewing Gum Lose Its Flavor On The Bedpost Overnight" Lonnie Donegan; "How Many Biscuits Can You Eat" Tennessee Ernie Ford and June Carter; "Good Advice" by Allan Sherman; "Memphis" by Johnny Rivers for the Look Back Memphis Trivia Contest
________________________________________________________________________
ABOUT PAT GOLDSTEIN, REALTOR CRYE-LEIKE, INC   (901) 606-2000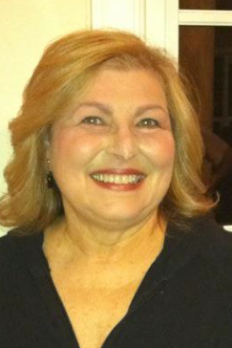 2006 MAAR Realtor Associate of the Year 2005 MAAR Presidential Award Recipient TAR Leadership Graduate Member National Association of Realtors
         Life Member of the Multi-Million Dollar Club. Toastmasters Division Governor CBS (Certified Builder Specialist)
         CRA (Certified Relocation Associate)
         CRS (Certified Residential Specialist)
         GREEN (Green Agent)
         GRI (Graduate, Realtors Institute)
         MMDC (Crye-Leike Multi-Million Dollar Club)
         SRES (Seniors Real Estate Specialist)
         SRS (Seller Representative Specialist)
         Vice-President (Circle of Excellence)
ABOUT JO GARNER-MORTGAGE LOAN OFFICER: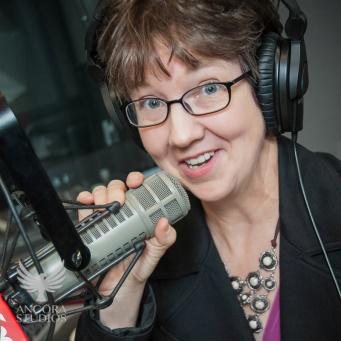 WHAT DO YOU WANT TO ACCOMPLISH WITH YOUR MORTGAGE?
www.JoGarner.com (901) 482 0354 jo@jogarner.com twitter @jogarner NMLS# 757308
"Whatever YOUR personal priorities are, my job is to help you get the mortgage terms that will give you bragging rights when you talk about it and help you score on hitting your goals ."
As a mortgage loan officer, my job is to help you get to the benefits you want from your financing terms. What is most important to you? I can help you find the financing terms that will help you get to what you want. What is your comfort level on a house payment? How much are you comfortable paying down,? What type of financing do you need to get the house you want to buy or refinance?
Different clients have different priorities in life—some are buying their first home with very little down payment funds. Some are recovering from medical challenges, divorces or preparing to send children to college and some are embarking on a long term goal of buying properties to build rental income."
Jo Garner is a mortgage officer with extensive knowledge in tailoring mortgages to her customers who are refinancing or purchasing homes all over the country. She offers conventional, FHA, VA or other loan programs for refinancing and purchases.
Jo can help you look at rent vs buy, when it makes sense to refinance, how to get the best deal on your home purchase financing.
Jo Garner has been in the real estate/financing business for over 25 years.  She got her start in Portland, Maine where she first began her real estate career. She received her real estate education from the University of Southern Maine  and was personally mentored in San Diego, California  by Robert G. Allen, author of Nothing Down, Creating Wealth and The Challenge.
On moving back to West Tennessee in 1987, she went into business buying and selling discounted owner-financed notes secured on real estate.  In 1990 Jo went to work for a residential mortgage company and has been a mortgage loan officer for over 25 years.  Her goal is to offer excellent, affordable service to her customers, tailoring the loan programs to the specific needs of her clients. 
In addition to her work in the mortgage field, Jo Garner  is the primary sponsor and founder of Talk Shoppe in Memphis. www.TalkShoppe.com Jo Garner also host the radio show Real Estate Mortgage Shoppe airing on News Radio AM 600 WREC and iHeart Radio with podcasts and show notes published on www.JoGarner.com