Today I will be sharing with you some of the market trends and forecasts and how these trends will affect you if you are buying or selling a home. We will look at some tips on how maneuver in this market. Tom King will be sharing his real estate wisdom on what we are seeing for value trends and the state of our inventory in the Mid-South.
Are you planning for your homebuying journey or restructuring your finances to get to a better situation in your life? Let's talk! Make you plan. Let's work your plan. If the deal works for you today, let's DO IT TODAY.
To Your Success,
Jo Garner, licensed Mortgage Loan Office NMLS#757308
(901) 482-0354 Jo@JoGarner.com www.JoGarner.com
Subscribe online and you will get our weekly podcasts with show notes delivered free to your inbox.
___________________________________________________________
WELCOME ABOARD! AHOY!
Good morning, Memphis! Welcome to our internet listeners and podcast listeners across the 50 states! You're on Real Estate Mortgage Shoppe. I'm your host, Jo Garner, Mortgage Loan Officer. You can connect with me at www.JoGarner.com. Thank you to Joe Rojas of Quality Title Group for sponsoring today's show. If you are ready to buy a house or refinance one, call Joe Rojas for the title closing at (901) 289-5821. Our general topic is SAILING INTO THE SUMMER REAL ESTATE MARKET-HOW THE TRENDS AFFECT YOU. One of my hobbies is sailing. Call us while we are live in the studio June 23, 2018 (901) 535-9732.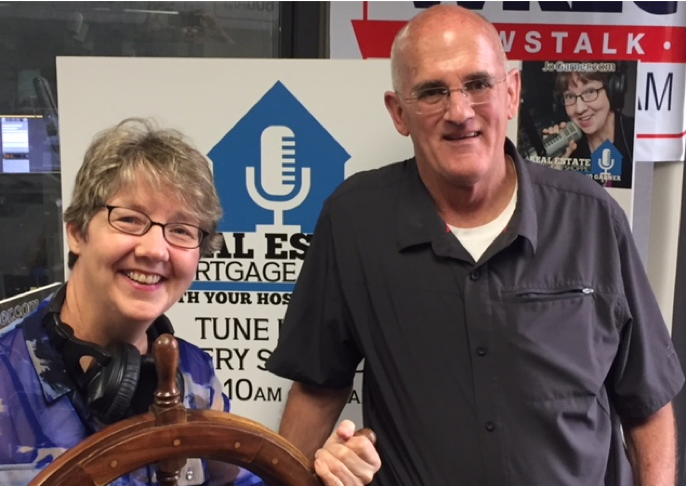 LAYING OUR COURSE
Today I will be sharing with you some of the market trends and forecasts and how these trends will affect you if you are buying or selling a home. We will look at some tips on how maneuver in this market. Tom King will be sharing his real estate wisdom on what we are seeing for value trends and the state of our inventory in the Mid-South.
INTRODUCING TOM KING, APPRAISAL EXPERT
Tom, it is always great having you back in the studio. Since our theme today is sailing—some of our listeners might be interested to know that YOU have done a little "sailing" over the years-sailing out of planes thousands of feet in flight with just your wits and your parachute. Quite a swashbuckling adventurer you are in the air , Tom King, and a knowledgeable, hard-working real estate appraisal every day down in on land in the Memphis, TN area. Tell our listeners a little bit about yourself and what you do for your clients as an appraiser?
MORTGAGE JOURNEY THROUGH WEATHER FOUL AND FAIR
(Jo) For the past 25 years and more I have been honored to hoist the sails and swing out on the journey to homeownership with countless numbers of my clients. So many of these individuals and families had a dream in their heart, but getting across the finish line took some planning, some sacrifice and catching onto the wind of faith to get them there.
I was listening to Ellen MacArthur recount her harrowing feat of racing to be the fastest to sail solo around the world. Ever since the first time she experienced sailing as a young child with her family, a burning desire to sail around the world compelled to work hard, save her money, stretch forward in faith until the day was finally in her grasp. She had invested heavily in this race and so had others. The pressure was building, but would she actually break the record of being the fastest?
One dark night she was sailing into a horrendous storm south of Australia, 2,000 miles from the nearest land. A chill raced through her when she realized how utterly alone she was. The nearest human beings to her were astronauts on the International Space Station. Forty to fifty foot waves pitched her and her boat, slamming them mercilessly.
The only way she could pierce through was to set her sail propelling the boat to go as fast as possible. It was like driving a car 100 miles an hour in a storm at night with no windshield wipers—white knuckling, teeth gritting, hanging on until the storm broke.
Ellen MacArthur crossed the finish line, breaking the record for the fastest soloist to sail around the world. She shared her realization that when we go through hard times, when we take chances and give it our all to get to the place in life we want to be, you experience the very lowest of lows, but you are lifted to the highest exhilaration of the good times.
I remember mortgage clients over the years who wanted their children to grow up feeling safe in a home that was their own. From the outset, it looked almost impossible. But necessity is the Mother of invention. When these people and families wanted to own their own home for themselves or someone they loved, they did incredible feats to experience that exhilaration of winning their race. (And you thought being a mortgage professional was boring?)
(Tom makes comments)
(Jo) Tom, what kind of weather are we sailing in right now in terms of real estate appraisal trends in the Mid-South? (Tom talks about the inventory shortage and how it is affecting home values. How does this affect sellers? How does this affect buyers? Other trend that Tom wants to cover. Tom to share some examples from the field…)
You're on Real Estate Mortgage Shoppe. I'm Jo Garner, your host, mortgage loan officer. Connect with me at www.JoGarner.com Make your plan. Let's work your plan. If the deal works for you today, let's DO IT TODAY. Tom King, expert appraiser with Bill King and company is going to share some tips on how to navigate through the current real estate trends. I will be sharing some mortgage strategies too. Call while we are live at (901) 535-9732.
___________________________________________________________
LOOK BACK MEMPHIS TRIVIA CONTEST
2nd segment after 9:15 break: Our Look Back Memphis Trivia Contest is brought to you by notable Memphis historian, Jimmy Ogle. Jimmy Ogle offers free istoric walking tours downtown in the spring and fall. For information about Jimmy Ogle, go to www.JimmyOgle.com . The Look Back Memphis Trivia Contest is sponsored by John and Jennifer Lawhon of Lawhon Landscape (901) 754-7474 the Lawhon's can help you plan your landscaping if you have a BIG, BIG project or a smaller project . The Lawhons are giving away a $25 gift card to the first person with the correct trivia answer. If you know the answer to our trivia question, call us at 901 535 WREC 901 535-9732.
Garner # 133 * 06/16/18
___________________________________________________________
Sterick Building
Question: I was the tallest building in the entire south when I was opened. Who am I?
Hint: My developers were from another state and I am named for them.
Hint: I was known as the "Queen of Memphis".
Hint: My eight "high-speed" elevators were the fastest in the nation at that time.
Final Hint: The fine eatery on my top floor was named the Regency Room.
Answer: The Sterick Building opened in 1930 in Memphis at the corner of Third and Madison. At 29 stories, this Gothic-style showpiece was the tallest building in the entire South at that time. It was the last tall skyscraper built in Downtown Memphis for 34 years because of the Depression, WW2 and post-WW2 suburbanization of the Memphis area.
Erected at the cost of $3 million, the Sterick was first owned by R.E.Sterling and Dan Hedrick of Texas, and building name is derived from the combination of these two last names – Sterling and Hedrick – Sterick!
In its prime, the Sterick housed over 2,000 employees from various companies as Chrysler Motors, Union Pacific Railroad, Winchester Arms, Pet Milk and others. It had its own barber shop, beauty parlor, bank, pharmacy, and stockbrokers' offices. Eight high-speed elevators, each with a crisply uniformed operator, whisked passengers from two subbasements all the way to the Regency Room on the top floor.
At first, Minnesota granite and Indiana limestone graced the exterior along with white concrete and a green roof. Later the building was painted the yellow and brown that is seen today. The massive light fixture in the Lobby cost $1,350 (in 1930, as much as a car those days). The Sterick closed in 1987 and is currently being surveyed for future development.
Jimmy Ogle gives free walking tours on the sidewalks and parks in Downtown Memphis during the year, with the next being on Tuesday, June 26 – Court Square & Surroundings. Meet at 11:45am at the Hebe Fountain in Court Square.
Then, the Judge D'Army Bailey Courthouse Tour at 12:00 noon on Thursday, July 19 (meet at the southwest steps, corner of Second & Adams). Go to JimmyOgle.com.
___________________________________________________________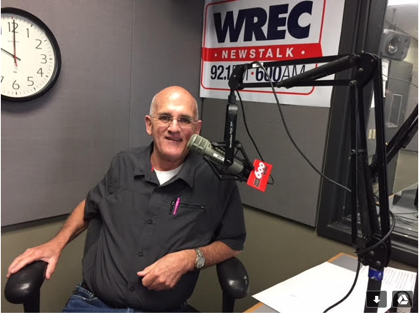 TOPICS COVERED BY TOM KING, APPRAISER:
1. What are the trends we are seeing in the Mid-South market on levels of homes available for sale?
2. How is the shortage on inventory affecting home sellers? Home buyers?
3. What are the trends we are seeing right now in the Memphis Mid-South on home values?
4. How are the value trends affecting home sellers?
5. How are the value trends affecting home buyers?
6. What are some tips you can offer sellers to do to get the top price for their homes?
7. What tips can you offer homebuyers who are looking for a home to purchase in an area that will continue to appreciate in value over the next several years?
8. Talk about the mortgage/appraiser firewall. In what situations can someone call you directly and order an appraisal?
___________________________________________________________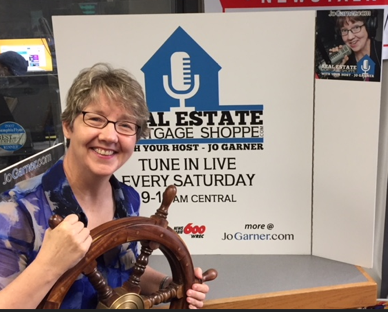 TOPICS COVERED BY JO GARNER:
1. What are the top real estate trends you are seeing from your mortgage desk and how are these trends affecting home buyers and home sellers?
Tom, pivoting around the mortgage desk gives me a pretty good view of the action. It's like walking the quarterdeck on a ship. Let's take a look through the spy glass…
As you pointed out earlier in the show, we continue to see a rampage of buyers wanting to buy their home so they can enjoy values and lower fixed mortgage rates before they ratchet higher. At the same time, the number of homes available for sale is seriously short.
We are sailing in a seller's market- where sellers are pleasantly surprised that their homes are selling for the full list price or higher within less than a week, in some cases. Sellers feel freedom to go make an offer to purchase their next home without having to worry their home languishing on the market and having to fork out two house notes each month until it sells.
Lawrence Yun, chief economist for the National Association of Realtors predicted yesterday that by the end 2018 the number of homes for sale will no longer be falling and in 2019 we should see a steady rise in homes available for sale. Homebuilders are building more homes, given some new blood to the market.
Mr. Yun also noted that home values across the country have averaged an increase of about 5% to 6% since 2018 and we are experiencing one of the highest median home prices across the nation in history at $265,000 dollars.
For Millennial homebuyers, who are driving the market right now, they are feeling the pinch between their student loan payments, the gradually rising mortgage interest rates and home prices.
Some of the government mortgage programs and student loan companies are working together to come up with strategies to help Millennial homebuyers get qualified and still be able to afford to enjoy their homes. There are still some zero and 3% down payment mortgages out there with several different flavors of municipal and other government programs allowing first-time homebuyers to get into a home for $1,000 or less. (A first-time homebuyer is someone who has not owned a home in 3 years or more.)
2. Share some tips on how to navigate with these trends in the real estate market.
A. For both homebuyers and sellers, my best advice is to GET GOOD ADVICE from an experienced and reputable realtor, lender, real estate closing attorney or title company, a home inspector and others. You want to hire people who are really good at what they do and let them do what they do best. A good team of professionals can help you avoid taking big losses on a real estate transaction. They can help you find the strategy that will get you across the finish line in victory through fair weather or foul.
B. Home sellers, you may be inundated with multiple offers within the first few hours of putting your house on the market. The highest offer is not always the best offer. Pay attention to how strong the mortgage preapproval letter is, the number of stipulations listed on the mortgage letter. Will the buyer work with you on possession date? Do you think the real estate appraiser will give you the value you need on your sales price? If you don't want the buyer to make your contract contingent on a home inspection, get one yourself and make the professional home inspection report available to prospective buyers.
C. If you are a buyer, be prepared. Know your budget and what you can comfortably pay for a mortgage payment and what you can comfortably put down for move-in costs on a home. Be sure you leave adequate emergency funds in the bank for after closing. Once you start making offers, you will find the pace is fast.
D. Pull your free credit report allowed to you once a year at www.annualcreditreport.com Check it for errors. If you credit score is in the 600's or lower, you are going to need some time to make some improvements
E. Pull together all pages of your last 2 years tax returns, W2s and 1099 forms, and latest paystubs. Put all pages of your last 2 months bank statements together too. Lenders will ask for a legible copy of your drivers licenses. Lenders will ask for you few more items, but these I just mentioned are key to getting a strong preapproval letter.
F. Homebuyers, if you cannot find the perfect dream home out there, consider buying a starter home first or purchase a home that you can gradually make into your dream home. Some of the coolest bargains available in this red-hot market are fixer-uppers. I have some special financing that can help you get some bragging rights on a deal like that too. Let's talk. Call me at (901) 482-0354 after this show or connect with me at www.JoGarner.com
G. If you missed Real Estate Mortgage Shoppe last week on "Your Dream Home By Design-One Step At A Time" from June 16th, go to the mortgage loan blog tab on www.JoGarner.com and hop over to the second half of the show.
I talked about Ricky. He was 28 years old and had his heart set on getting a fully working work shop and home in a particularly nice neighborhood but he couldn't find the house with the shop in a price range he could afford. His realtor found him a starter home in an area right outside where he originally wanted to live. The starter home had a very large garage, which Ricky, over time, converted to a working shop.
Ricky knew it wasn't his forever home. He would sell it later and take the profits and leverage his way up the ladder to the home with the shop like he always wanted in the neighborhood where he wanted to live. Or he could keep the starter home and leverage up by having rental income to boost his affordability.
Remember Adele Edmond, a divorcee raising two middle school daughters. She got stuck with a dumpy little house on a highway with about 10 acres to keep mowed and bushhogged in the back of the house. Her daughters wanted to move closer into town in a little bigger house where they could go to school with their friends from church.
Adele reached out to some real estate friends and a developer. They helped Adele win by Sub-Dividing and Conquering. They helped her design for an access road from the highway to the lots behind her house. The money from the project of subdividing the land to sell the lots separately ended up making Adele in multiples more than what she would have made simply selling her house and land as-is.
Last week we talked about the Kenners, who were retired and, with their children finally self-supporting, they set out to buy their dream home but nothing with a deck, pool, and workshop with land was available. They ended up buying a house in an area that did not have a lot of strict rules restricting what they could do to their house and land. They decided to build what they wanted a little at a time.
___________________________________________________________
REAL ESTATE TIP OF THE WEEK
(Tom to share a real estate related money-saving or time-saving tip):
Home inspections are not required by the mortgage company, but highly recommended. The home inspector takes a very in depth look at the structure and systems of the home and list details of their condition. The appraiser, on the other hand, does a head and shoulders look at the house, measures it, and compares it to comparable homes sold in the area of the last few months to determine a dollar value. To get around costly delays in the mortgage process, it is recommended that the seller order the inspection from a professional before listing the home and make that copy available to prospective buyers so everyone knows up front what repairs may need to be completed before closing and who will agree to do them.
___________________________________________________________
ANNOUNCEMENTS:
Talk Shoppe offers free networking & education to anyone interested in real estate or in business. Talk Shoppe meets every Wednesday 9A-10A CT at Pinot's Palette 8225 Dexter Rd Cordova, TN. This Wednesday June 27th, 2018. Talk Shoppe presents: "The Mastermind Principle: based on the book Think and Grow Rich by Napoleon Hill. For more about the free education and networking through Talk Shoppe, go to www.TalkShoppe.com
Talk Shoppe events are free thanks to supporters like Tim Gilliland of www.backuprx.com . BackupRX can keep your data backed up and recoverable to help you maintain your business continuity.
2. Thank you to Joe Rojas of Quality Title Group for making this Real Estate Mortgage Shoppe episode possible for you today. A great way to say thanks is to refer a family, friend or client to Joe Rojas for their real estate closing. (901) 289-5821.
3. Tom King gives a shout out to the Memphis Grizzlies basketball team for the draft picks.
4. FOR THIS PODCAST OF REAL ESTATE MORTGAGE SHOPPE AND MORE, GO TO JOGARNER.COM
5. Real Estate Mortgage Shoppe reminds you that MAKE YOUR PLAN. LET'S WORK YOUR PLAN. IF THE DEAL WORKS FOR YOU TODAY, DO IT TODAY.
SPECIAL NOTE: REAL ESTATE MORTGAGE SHOPPE RECOMMENDS THAT YOU CONSULT WITH A FINANCIAL, LEGAL OR OTHER CERTIFIED, LICENSED PROFESSIONAL BEFORE ACTING OR INVESTING ON ANYTHING YOU HEAR OR SEE FROM THE CONTENT ON THIS SHOW OR BLOG POSTS. THE INFORMATION WE SHARE ON REAL ESTATE MORTGAGE SHOPPE IS GENERAL IN NATURE MEANT FOR GENERAL EDUCATIONAL PURPOSES ONLY. ALL EXAMPLES GIVEN FOR ILLUSTRATION PURPOSES ON REAL ESTATE MORTGAGE SHOPPE USE FICTIONAL CHARACTERS AND DO NOT REFLECT REAL PEOPLE OR ACTUAL DETAILS IN ANY OF THE SITUATIONS.
___________________________________________________________
QUOTE CORNER:
Unknown- "Self-doubt is the anchor that keeps our ships from sailing."
Unknown- "You can't discover a new land without first losing sight of the shore."
___________________________________________________________
REJOINDERS:
1. Troy and Lynne McDonald, Erin McDonald Insurance Agency (Bartlett-Memphis, TN) You are in good hands with Lynn. (901) 849-7101
2. Mark Sterbcow of Sterbcow Law Firm, New Orleans, LA (Top Real Estate Settlement Act attorney nationwide)
3. Joe Rojas, Quality Title Group, Greater Memphis, TN (901) 289-5821
Transitional Music:
"Sailing" by Rod Stewart; "Sailing" by Christopher Cross; "Sail On Sailor" by The Beach Boys;
"Memphis" by Johnny Rivers for The Look Back Memphis Trivia Contest
___________________________________________________________
ABOUT TOM KING: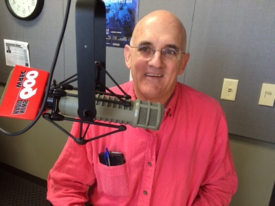 Tom is a well- respected and sought after appraiser in Memphis, Tennessee. He is a second generation appraiser with 40 years of experience. He has been elected to the Memphis Area Association of Realtors Board of Directors three times.
Tom is a certified residential appraiser in Tennessee. He have appraised over 20,000 homes in his career. A graduate from the University of Tennessee with a degree in real estate, Tom is also a Certified Relocation Professional (CRP). Tom also has vast experience in dealing appraising real estate for pre-listing sales, cash buyers, divorce settlements, estate settlements. (901) 487-6989
___________________________________________________________
ABOUT JO GARNER-MORTGAGE LOAN OFFICER: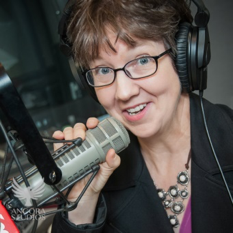 WHAT DO YOU WANT TO ACCOMPLISH WITH YOUR MORTGAGE?
www.JoGarner.com (901) 482 0354 jo@jogarner.com twitter @jogarner
Jo describes her job description: "As a mortgage loan officer, my job is to give my client the benefits they want from their financing terms– listening to my client and determine what's of the most value to THEM– What is their comfort level on a house payment, how much are they comfortable paying down, what type of financing do they need to get the house they want to buy or refinance. Different clients have different priorities in life—some are buying their first home with very little down payment funds. Some are recovering from medical challenges, divorces or preparing to send children to college and some are embarking on a long term goal of buying properties to build rental income. Whatever their personal priorities are, my job is to put together a mortgage with comfortable terms that will help them achieve their goals."
Jo Garner is a mortgage officer with extensive knowledge in tailoring mortgages to her customers who are refinancing or purchasing homes all over the country. She offers conventional, FHA, VA or other loan programs for refinancing and purchases.
Jo can help you look at rent vs buy, when it makes sense to refinance, how to get the best deal on your home purchase financing.
Jo Garner has been in the real estate/financing business for over 20 years. She got her start in Portland, Maine where she first began her real estate career. She received her real estate education from the University of Southern Maine and was personally mentored in San Diego, California by Robert G. Allen, author of Nothing Down, Creating Wealth and The Challenge.
On moving back to West Tennessee in 1987, she went into business buying and selling discounted owner-financed notes secured on real estate. In 1990 Jo went to work for a residential mortgage company and has been a mortgage loan officer for over 20 years. Her goal is to offer excellent, affordable service to her customers, tailoring the loan programs to the specific needs of her clients.
In addition to her work in the mortgage field, Jo Garner is the primary sponsor and founder of Talk Shoppe in Memphis. www.TalkShoppe.com Jo is host of Real Estate Mortgage Shoppe and currently publishes on her blog www.JoGarner.com