Today you will hear stories of different people and the clever ways they used their real estate to make money, save money and shelter themselves for just about any financial weather. Mark McLaurine of Refrigeration Unlimited will be sharing some simple things you can do to protect your HVAC and your comfort in your home.
Are you on a fixed income? Do you want to add income sources for you and your family? Are you looking to shelter yourself from escalating costs to borrow? Let's talk about your plan and put the numbers together to show us some ways to get you where you want to be.
To Your Success,
Jo Garner, Mortgage Loan Officer NMLS# 757308 (901) 482-0354 jgarner@getevolved.com
____________________________________________________________________
WELCOME TO REAL ESTATE MORTGAGE SHOPPE!
Good morning, Memphis! Welcome to our internet listeners and podcast listeners across the 50 states! You're on Real Estate Mortgage Shoppe. I'm your host, Jo Garner, Mortgage Loan Officer. You can connect with me at www.JoGarner.com. Subscribe to get our weekly blogposts with podcasts at www.JoGarner.com. A big thank you to The Memphis Mortgage office at Evolve Bank and Trust for sponsoring this episode of Real Estate Mortgage Shoppe. Call us while we are live at (901) 535-9732 Today is October 13th, 2018. Our general topic is Is the weather changing for mortgage financing & your real estate?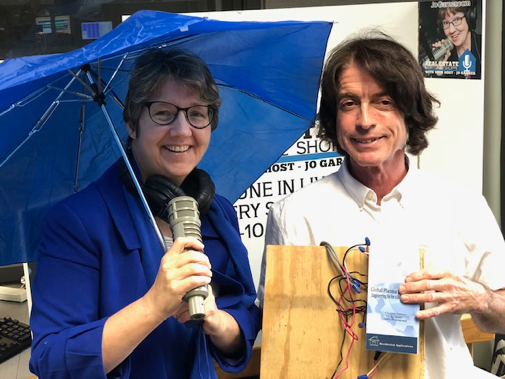 REAL ESTATE AND FINANCING TALKING POINTS TODAY
Today you will hear stories of different people and the clever ways they used their real estate to make money, save money and shelter themselves for just about any financial weather. Mark McLaurine of Refrigeration Unlimited will be sharing some simple things you can do to protect your HVAC and your comfort in your home.
INTRODUCING MARK MCLAURINE-HVAC STRATEGIST
(Jo) Mark McLaurine, people have called you the HVAC Strategist because you, not only FIX their HVAC systems, but you find smart ways to get more from their heating and air equipment. I have personally heard several great testimonials from people who have used you for their HVAC work. You have me as a happy customer too. Take a minute to tell our listeners about yourself and what you do for your clients at Refrigeration Unlimited. Mark has about 1 minute to share about himself and what Refrigeration Unlimited does for your clients)
WHAT IS THE WEATHER FORECAST FOR REAL ESTATE AND THE MORTGAGE INDUSTRY?
Question- " What is the weather forecast for the real estate market now and in the coming year?"
(Jo) Mark, you obviously really enjoy working in the HVAC industry. As a mortgage loan officer, one of the things I do is study the mortgage market to try and determine ways my mortgage clients can get into their home financing that will be comfortable for them and help them reach their goals for the future.
Right now we are experiencing, like a combination of wind, rain and thermometer changes in the weather, a trifecta of urgency in the real estate market. The first factor in the trifecta is that we still have a shortage of homes for sale which is causing buyers to run up on other competing offers from others on the same house. Before setting out on your search for a home, look at your income and your expenses to determine right up front the house payment and down payment that is within your personal comfort level, because you need to be prepared to move fast on making your offer on a house if you want a chance to beat out a competing offer.
As a buyer, having a good realtor who represents you as a Buyer's Agent, can advise you on the values in the area where you are looking. A good realtor can help you negotiate the winning terms that can encourage the home seller to accept your offer over someone else's competing offer. (You can avoid some expensive mistakes with other reputable real estate pros too, like a home inspector, closing attorney or title company, homeowners insurance agent and more.)
A good loan officer can work on making your preapproval letter a strong one, especially if the mortgage officer has reviewed your income and asset documents and calculated income and debt and credit. Having no contingencies on your home purchase offer, like having to sell your current home first, can make your preapproval letter more attractive than someone else's.
The second Urgency Trifecta factor is rising interest rates. NEVER UNDERESTIMATE THE POWER OF A 30-YEAR FIXED RATE MORTGAGE. (It is better than having to scrape up more and more rent to pay your landlord each year.) Once you know, your comfort levels on a house note and down payment, get with a mortgage lender who listens to you and spends the extra time to compare some different mortgage programs to help you determine which loan program will save you the most in interest and other expenses. I would love to sign up for your real estate team as your lender.
The third factor in the Urgency Trifecta is the rising prices of real estate, caused in part by the high demand for people wanting to buy real estate. The rising interest rates colliding with rising home prices are kick-starting a lot of home buyers to make their move before home prices and rising interest rates start to eat away the affordability of the home they want.
Here is a sunny thought—If you are sitting around thinking you have missed your season to buy a house, think on the bright side. The reason mortgage rates and the Federal Reserve rate have been climbing is because the economy is heating up, taking wages higher too. If your income has increased, you can probably afford more today than a few years ago.
The financial forecast is, for both the Federal Reserve rate and the mortgage rates to keep going up, and home prices to continue to moderately go up. A common comparison I see homeowners doing these days is to look at getting rid of variable rate debt, either by just paying it off or looking at the overall advantage of refinancing their first mortgage—even at a little higher rate than they are paying now—to see how many thousands of dollars they could save over time by paying off the variable interest rate credit cards, and equity lines into one fixed rate mortgage. MAKE YOUR PLAN. LET'S WORK YOUR PLAN. IF THE DEAL WORKS FOR YOU TODAY, LET'S DO IT TODAY. Connect with me at www.JoGarner.com. Email me at Jo@JoGarner.com or just call me at (901) 482-0354.
Mark McLaurin of Refrigeration Unlimited is going to be sharing some more after the break about how to keep your HVAC system well-maintained to avoid expensive repair bills and long stents of being uncomfortable in your home. (Mark has about 1 minute to let the audience know what he will be talking about in the next segment of the show after the break.)
You're on Real Estate Mortgage Shoppe. I'm your host, Jo Garner, Mortgage Loan Officer. What do YOU want to accomplish with your mortgage? When we come back Mark McLaurine of Refrigeration Unlimited is going to share with you some tips and tricks when it comes to keeping your HEAT on and working when the weather turns cold. See you back in just a moment.
____________________________________________________________________
2nd segment after 9:15 break:
Our Look Back Memphis Trivia Contest is brought to you by notable Memphis historian, Jimmy Ogle. Jimmy Ogle offers free historic walking tours downtown in the spring and fall. For information about Jimmy Ogle, go to www.JimmyOgle.com . The Look Back Memphis Trivia Contest is sponsored by John and Jennifer Lawhon of Lawhon Landscape (901) 754-7474 the Lawhon's can help you plan your landscaping if you have a BIG, BIG project or a smaller project . The Lawhons are giving away a $25 gift card to the first person with the correct trivia answer. If you know the answer to our trivia question, call us at 901 535 WREC 901 535-9732.
Garner # 141 * 10/13/18
Raleigh
Question: I am an area of Memphis that was named for a town in North Carolina Who am I?
Hint: I was named by Joseph Graham, City Court Clerk and early resident.
Hint: I was the County Seat of Shelby County from 1827 to 1866.
Final Hint: I was known for my medicinal waters in the late 19th century.
Answer: Raleigh is a community in north-central Memphis, Tennessee named for a formerly incorporated town that used to be at its center. The town was named by Joseph Graham, the first circuit clerk of the county, who was from the Raleigh, North Carolina area… The former town of Raleigh was the first county seat of Shelby County and is situated along a high bluff on the Wolf River. Raleigh is one of the highest points in the Memphis area. Prior to the lowering of the area's water table in the late 1800s, the mineral springs were very popular with people from miles around, and the Raleigh Springs Inn thrived as a resort. In 1912, the town surrendered its charter and returned to unincorporated status, then annexed by the City of Memphis in 1972. Today the boundaries of Raleigh are designated by the 38128 ZIP Code.
Raleigh Springs Mall was the community's commercial center from its opening in 1971 into the 1990s. The mall was later seized by the City of Memphis in favor to build a city Civic Center. Austin Peay and Covington Pike meet at a major intersection that includes Methodist North Healthcare Hospital on one corner and a Wal-Mart Supercenter and other businesses on the other. Raleigh's public elementary schools include Scenic Hills, Coleman, Spring Hill, Egypt-Central, Keystone, Brownsville Road, and the STAR Academy public charter school. Raleigh's middle school includes Memphis Academy of Health Sciences. Its two high schools, both of which include middle schools, are Raleigh-Egypt High School, which has one of the best basketball programs in the state, and Craigmont High School. This has the only International Studies Program in Memphis, and one of the better basketball programs in the state as well.
Jimmy Ogle Tours
Jimmy Ogle gives free walking tours on the sidewalks and parks in Downtown Memphis during the year with the next being the Beale Street Tour at 11:45 a.m. on Tuesday, October 16 (meet at the Orpheum Theatre, Main & Beale). The Judge D'Army Bailey Courthouse Tour at 12:00 noon on Thursday, October 18 (meet at the southwest steps at the corner of Second & Adams). Go to JimmyOgle.com.
____________________________________________________________________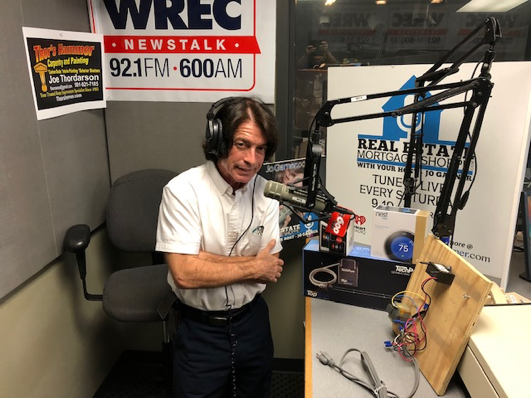 TOPICS COVERED BY MARK MCLAURINE OF REFRIGERATION UNLIMITED:
1. How can we communicate back and forth with the thermostats on our heating air system?
2. How can we take advantage of the WI-Fi systems connected to our heating and air systems? Just about every HVAC system today has an app that allows you to control your heating and air conditioning from anywhere in the world.
3. How can our heating and air systems utilize air purification products and mold, bacteria and mildew neutralization products? Mark talks about the UV light bulb that is installed right into your heating and air conditioning system that can kill bacteria and neutralize surface mold and mildew. Mark later mentioned the new Global Plasma cleaning system.
4. What are some tips you can share on how to best take care of your HVAC unit so that it continues to operate?
Annual checkups by an HVAC heat and air conditioning professional. Your system and filters need to be cleaned and broken connections corrected and worn out parts replaced. Electric motors, fan blowers, and more work 365/24-7 and can get dirty and worn out.
5. What is a heat pump? How does it work? The heat pump is an air conditioner and heater. In the summer, it takes the hot air produced by the system out of the house and sends it outside. In the winter it takes the hot air produced by the system and sends it inside the home. By using the heat pump, instead of the whole heating or airconditioning system, you save on your electric bill and more.
____________________________________________________________________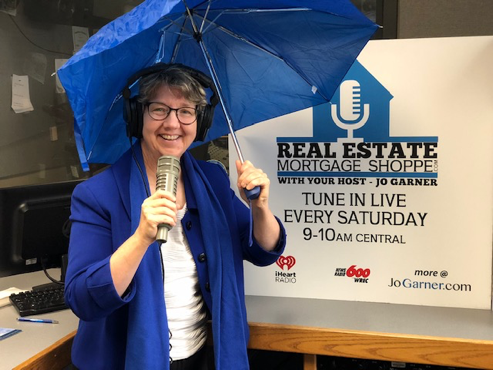 TOPICS COVERED BY JO GARNER, MORTGAGE LOAN OFFICER
1. What is the weather forecast for the real estate market? Talk about the three major market conditions driving the demand for buying homes -the Trifecta of Urgency. ( covered in the first segment of show)
2. What are some clever ways you have seen homeowners use their real estate to create extra income streams, and to shelter them in just about any kind of financial weather conditions.
FIND WAYS TO MAKE YOUR HOME PAY FOR ITSELF
A. When I first got into the mortgage business, money was short, but even then, I understood the power of the fixed rate mortgage to shelter your income by avoiding landlords constantly going up on my rent. I set out to buy a house.
One of my favorite quotes is "Necessity Is The Mother of Invention" which forced me to think outside the box. A realtor knew what I wanted and where I wanted to live and didn't laugh at my budget. He showed me a vacant house that smelled bad, with ceilings that had collapsed from a water leak, missing appliances and an uneven kitchen floor with a dip so pronounced that you could drop a marble in the center of the room and have to chase it until it bumped up against a baseboard. Nobody wanted this house.
I had the home inspected and the inspector told me the house was structurally sound and with a few repairs and some elbow grease, she would be a great home. On Christmas Eve that year I bought that house for a little less than 50 cents on the dollar. I got it cleaned up and rented one end of it to a law student and later a nurse. Using the renters money, I paid off the house in less than 12 years.
Finding a house with a separate living unit, a finished bonus room or mother-in-law suite that you can rent out to tenants or even use as an Air-BNB, can give you a cushy second income.
That separate living unit in your home could also provide a way for you to care for an aging or handicapped loved one without the expensive of a rehab or assisted living facility. Check the covenants and restrictions for your neighborhood before purchasing.
B. OWN REAL ESTATE AND NOT HAVE TO WORK A JOB ONE DAY
Here's a story about one of my real estate investor clients we will call Barry (not his real name.) Barry had a life dream of not having to work a job and to be able to spend quality time with his wife and children and later his grandchildren. Before he had clearly defined what he truly wanted out of life, he found it hard to go look for rental properties to buy after work and rolling out of bed early on Saturday to go negotiate with a home seller. It was hard work.
After a while Barry looked back and could see that he was getting nowhere because good rental home deals didn't just fall in his lap. At one point, though, Barry begin to realize just how much he wanted to give his family the life of their dreams. Now he had a REASON to compel him to do what he needed to do. He finally had a big enough WHY to power him forward.
What do you want YOUR life to look like? How many hours a day do you want to work and what do you want YOUR work environment to look like in the future? What kind of income do you want? Is your WHY big enough to compel YOU to do the tasks each day to propel you to YOUR dream? If your WHY is big enough, you can do anything!
Once (Barry) who committed to do the tasks needed to move him toward his dream, he is now buying 2 to 3 rental properties per year. He buys the home at a bargain price because it usually needs some fix-ups. For that reason, he buys the house using his home equity line secured on his primary residence or a line of credit secured on something other property so he can give the seller a cash offer. The seller usually is more willing to sell at a bargain price because Barry is using money not connected with the house he is buying so there is no need to wait on an appraisal and he can close quicker.
Barry is pretty happy at the closing. Barry has a plan. He gets the keys to the house he bought and heads over there with his fix it up crew. Within a couple of weeks or more Barry's bargain house is fixed up, painted up and ready for some happy tenants to move in and start paying him rent.
Since I am Barry's mortgage officer, he and I work together a lot. I already know he wants to pay his variable credit line back as soon as possible and get his low fixed rate 30-year mortgage in place. Before Barry even closes on a house, he and I have already started processing his loan request for the long term fixed rate mortgage. Once Barry has driven the last nail and painted the last wall in the house, I have done an appraisal for his permanent loan and gotten him approved.
Now he closes on the fixed low interest 30-year mortgage with me and he uses the funds to pay off the credit lines he used to purchase the home. Once his credit lines are paid off, they are ready for him to use to make his next bargain purchase.
C. MR. FIX-IT GETS HIS DREAM HOUSE & A SECOND INCOME ONE STEP AT A TIME
Meet Ricky. Ricky is barely out of his twenties and wants a shop next to his house so he could work on cars and fix stuff. He also wants to be in a particular upscale neighborhood. His dream house was like having champagne taste on a beer budget. Ricky engages his imagination and some ingenuity.
He found a house in a neighborhood that was going steadily up in value, even though it wasn't the upscale area he initially wanted. The property had a garage. This house would not break the bank for Ricky. Ricky took action with a smart offer and beat out any competition to buy his house. Over time he transformed the garage into an awesome shop by installing a work bench and later some racks for his tools. Ricky's workshop created a way for him to earn a second income—fixing cars and other stuff for people who were glad to pay him. The house was going up in value too. Ricky would one day be able to launch from this home up to the more upscale neighborhood he originally wanted.
Check out the covenants and restrictions in our neighborhood before purchasing a home to determine what the restrictions are on running a business there, who can occupy, parking restrictions and more.
____________________________________________________________________
PRISCILLA PETERSON'S STRATEGY TO PROTECT HER INCOME-
The Federal Reserve has said that all systems are on go to raise the Fed rate again in December 2018 and three times in 2019 and maybe even again in 2020 barring any unforeseen events that would change the Fed's outlook. What they see is a continued strong economy. The geopolitical and global financial factors surrounding the tariffs and trade agreements or any other unexpected turn in events could change the current Fed course.
A popular mortgage strategy with my clients recently has been to refinance their home to include paying off variable-rate credit cards and the variable rate Home Equity Line of Credit. Most of these homeowners had acquired quite a bit of variable rate debt due to unexpected family needs and other situations. Others were easily able to carry the variable rate debt but were about to retire and did not want the rising payments that come with rising rates while they were on a fixed income.
Priscilla Peterson (not her real name) had a decent house fixed rate house payment and owed about around $125,000 on a house worth about $315,000. She was about to retire and wanted to get a new roof on her house and new carpet about a $25,000 investment which she originally planned to pay for with a variable rate Home Equity Line. After pulling out her calculator and punching in what damage the rising payments could do to her on a fixed income, she decided to borrow about $40,000 and to cover the home improvements AND pay off her variable rate credit cards with a fixed rate that would never go up.
This cash out refinance would cause the loan that Priscilla now only owed 20 years on to go back to a 30 year loan but the payment would only by $149 per month higher and it would stay FIXED. Her calculator told her that if she kept the variable rate credit balances and got the variable rate Home Equity Line, over the course of the next few years, the $40K for home improvements and other credit good cost her a lot more per month. The cash out refinance for Priscilla Peterson was a small investment in peace of mind.
____________________________________________________________________
REAL ESTATE TIP OF THE WEEK
(Mark McLaurin shares a real estate related money-saving or time-saving tip. Get your heating and air system checked annually. When connections come loose, it can cause carbon monoxide to leak into your home. Carbon monoxide in your home can make you sick and even kill you. Get a professional to check out your HVAC system each year):
____________________________________________________________________
ANNOUNCEMENTS:
Talk Shoppe offers free networking & education to anyone interested in real estate or in business. Talk Shoppe meets every Wednesday 9A-10A CT at Pinot's Palette 8225 Dexter Rd Cordova, TN. This Wednesday October 17th, 2018 Talk Shoppe presents: "Fall Planting and Winter Preparation" by Lawhon Landscape (901) 754-7474
Are you looking for ways to promote your business to reach more of your target market but you are on a budget? Combine your resources and your reach with other Talk Shoppe advertisers to get more with less. Call me at (901) 482-0354
2. Thank you to Evolve Bank and Trust—The Memphis Mortgage Office for sponsoring Real Estate Mortgage Shoppe today.
4. Subscribe at www.JoGarner.com and you can get our weekly blog posts with podcasts conveniently in your inbox.
5. Real Estate Mortgage Shoppe reminds you to MAKE YOUR PLAN. LET'S WORK YOUR PLAN. IF THE DEAL WORKS FOR YOU TODAY, DO IT TODAY.
SPECIAL NOTE: REAL ESTATE MORTGAGE SHOPPE RECOMMENDS THAT YOU CONSULT WITH A FINANCIAL, LEGAL OR OTHER CERTIFIED, LICENSED PROFESSIONAL BEFORE ACTING OR INVESTING ON ANYTHING YOU HEAR OR SEE FROM THE CONTENT ON THIS SHOW OR BLOG POSTS. THE INFORMATION WE SHARE ON REAL ESTATE MORTGAGE SHOPPE IS GENERAL IN NATURE MEANT FOR GENERAL EDUCATIONAL PURPOSES ONLY. ALL EXAMPLES GIVEN FOR ILLUSTRATION PURPOSES ON REAL ESTATE MORTGAGE SHOPPE USE FICTIONAL CHARACTERS AND DO NOT REFLECT REAL PEOPLE OR ACTUAL DETAILS IN ANY OF THE SITUATIONS.
____________________________________________________________________
QUOTE CORNER:
Anonymous "Fool me once, shame on you. Fool me twice, shame on me. Fool me 92,748 times, you're a weather man."
Frank Lane "If you want to see the sunshine, you have to weather the storm."
____________________________________________________________________
REJOINDERS:
1. Janne Zaccagnino, Ralph Jones Home Plans
2. Alex Craig, Memphis Turn Key Properties
3. Jackie Woodside, author of Calming The Chaos www.JackieWoodside.com
Transitional Music: "It's The Time of the Season" by the Zombies; "Change in the Weather" by John Fogarty; "The Heat Is On" Glenn Frey; "Memphis" by Johnny Rivers for the Look Back Memphis Trivia Contest
____________________________________________________________________
ABOUT MARK MCLAURINE, REFRIGERATION UNLIMITED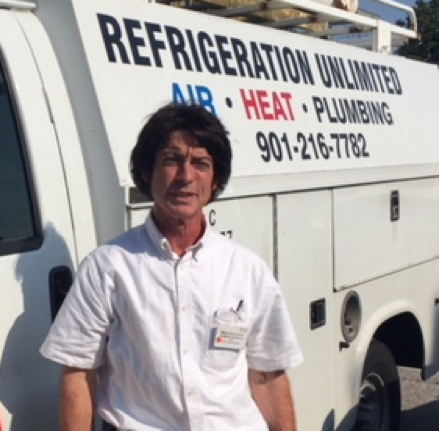 www.MyHVACMan.com
901-216-7782
Do you need help with your heating, cooling or refrigeration problems?
Mark McLaurine is a certified, licensed and insured universally approved technician in Memphis who can quickly diagnose and repair appliances in a cost-effective manner. We also offer other services that are often related such as:
• Plumbing issues and repairs
• Electrical circuitry and repairs
• Ventilation issues and repairs
• Indoor air quality services and related products
• Sewer and drain services
• Mechanical and gas piping services
• Filter contracts
• Appliance repair and installations
No repair is too small!
Prompt and friendly service in a timely manner is the key to our success. Our reputation depends on you as our valued customer. We have also found by giving customers options, (repairs vs. replacements) it benefits all involved. We possess a good inventory of refurbished air conditioning and heating equipment for sale as well as installations in the greater Memphis area.
Our two signature programs are as follows:
• Cash trade-in for working, non-obsolete equipment
• Referral Rewards Points for satisfied customers that recommend us to others or allow themselves as a reference on a related service at our website.
At Refrigeration Unlimited, we believe we are taking service and the satisfaction desired to a whole new level. Call us for any appliance repair.
©2017 Refrigeration Unlimited, LLC
EPA Certified Tech TN #55144 • MS #439
Website
____________________________________________________________________
ABOUT JO GARNER-MORTGAGE LOAN OFFICER: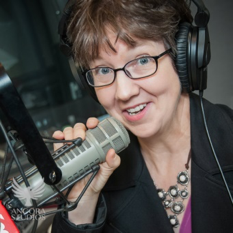 WHAT DO YOU WANT TO ACCOMPLISH WITH YOUR MORTGAGE?
www.JoGarner.com (901) 482 0354 jo@jogarner.com twitter @jogarner NMLS# 757308
"Whatever YOUR personal priorities are, my job is to help you get the mortgage terms that will give you bragging rights when you talk about it and help you score on hitting your goals ."
As a mortgage loan officer, my job is to help you get to the benefits you want from your financing terms. What is most important to you? I can help you find the financing terms that will help you get to what you want. What is your comfort level on a house payment? How much are you comfortable paying down,? What type of financing do you need to get the house you want to buy or refinance?
Different clients have different priorities in life—some are buying their first home with very little down payment funds. Some are recovering from medical challenges, divorces or preparing to send children to college and some are embarking on a long term goal of buying properties to build rental income."
Jo Garner is a mortgage officer with extensive knowledge in tailoring mortgages to her customers who are refinancing or purchasing homes all over the country. She offers conventional, FHA, VA or other loan programs for refinancing and purchases.
Jo can help you look at rent vs buy, when it makes sense to refinance, how to get the best deal on your home purchase financing.
Jo Garner has been in the real estate/financing business for over 20 years. She got her start in Portland, Maine where she first began her real estate career. She received her real estate education from the University of Southern Maine and was personally mentored in San Diego, California by Robert G. Allen, author of Nothing Down, Creating Wealth and The Challenge.
On moving back to West Tennessee in 1987, she went into business buying and selling discounted owner-financed notes secured on real estate. In 1990 Jo went to work for a residential mortgage company and has been a mortgage loan officer for over 20 years. Her goal is to offer excellent, affordable service to her customers, tailoring the loan programs to the specific needs of her clients.
In addition to her work in the mortgage field, Jo Garner is the primary sponsor and founder of Talk Shoppe in Memphis. www.TalkShoppe.com She was also the editor of Power Shoppe, a free weekly e-zine designed for real estate professionals and others indirectly connected to the real estate industry and currently publishes on her blog www.JoGarner.com.