What is the Quickest Way to the Life You Want?
See How Others Have Used Their Mortgages To Change Their Lives.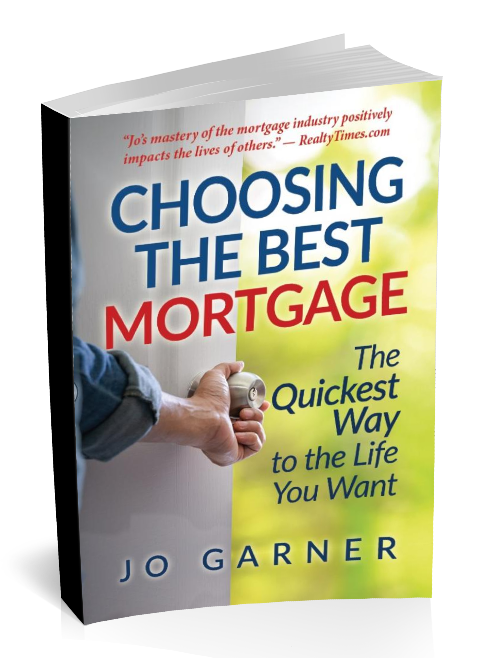 Choosing the Best Mortgage, The Quickest Way to the Life You Want
by Jo Garner
Does Your Budget Support Your Dreams?
Ricky had dreams and plans. But his budget didn't support that reality.  Ricky's dream house was way out of his price range so he found a house in a neighborhood that was going steadily up in value, even though it wasn't the upscale area he initially wanted. 
Over time he improved the garage and house. Property values rose as well. Ricky now had choices.  He could accomplish his original goal by selling his current home and taking the net profit from the sale of his home to put down on a new home OR he could keep his current home and rent it out as an income-producing property to help him make payments on the new home.
This is one of the many stories Jo has heard in her 25 years as a Real Estate Mortgage Loan Originator.  The people she met and the stories they told delighted and amazed her.  This book compiles some of those stories. You may be able to use YOUR mortgage creatively!  These people sure did!
$16.95 for a limited time only
"An informative and entertaining guide for real estate professionals and consumers alike. I highly recommend it!"

"Real life insights and stories that support Jo's relentless commitment to create consumer confidence when it comes to making informed decisions."
"In this book, Jo tells the stories of the creative clients she has served during her career.  Let their stories inspire you to use your mortgage to further your financial goals."
Let's Make a Plan
1.  Buy the Book
2.  Make a Plan
3.  Share the Book With Others!
Place your order here!!!
The book is currently available from Amazon, Barnes and Nobel and wherever you can order books.  But we'd like to invite you to order here from Jo!  Click the appropriate photo below.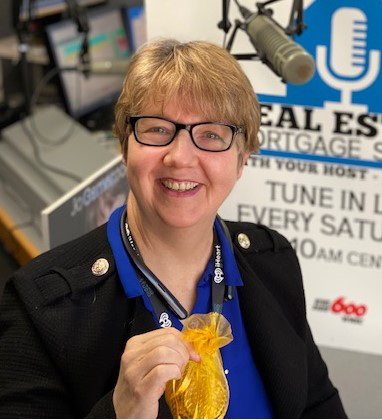 After 30 years of serving as a mortgage loan originator, I still feel a thrill when someone invites me into their journey to homeownership or to achieve a financial milestone. Each has a different story, a different struggle, a different kind of triumph.…and they all enrich my life.  These past mortgage clients came up with their own solutions in many areas, but the mortgage they chose plays a leading role in the stories you will experience in this book.
It brings me great joy to learn all I can about the mortgage business so I can remove barriers and smooth the way for my clients. Knowing that I helped another family get the best mortgage program on the best terms is my deepest satisfaction.
This new endeavor, the book, Choosing the Best Mortgage, is the result of 100s of hours working with creative and interesting clients who have used their mortgages to create their best life.