THE QUICKEST WAY TO
THE LIFE YOU WANT
Ricky had dreams and plans. But his budget didn't support that reality.  Ricky's dream house was way out of his price range so he found a house in a neighborhood that was going steadily up in value, even though it wasn't the upscale area he initially wanted. 
Over time he improved the garage and house. Property values rose as well. Ricky now had choices.  He could accomplish his original goal by selling his current home and taking the net profit from the sale of his home to put down on a new home OR he could keep his current home and rent it out as an income-producing property to help him make payments on the new home.
This is one of the many stories Jo has heard in her 25 years as a Real Estate Mortgage Loan Officer.  The people she has met and the stories they told her delighted and amazed her.  This book compiles some of those stories. You may be able to use YOUR mortgage creatively!  These people sure did!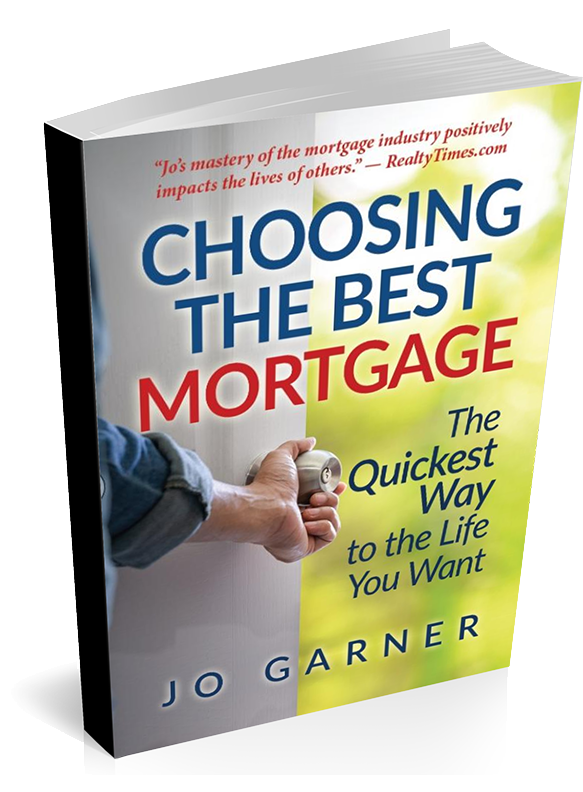 Place your order here!!!
The book is currently available from Amazon, Barnes and Nobel and wherever you can order books.  But we'd like to invite you to order here from Jo!  Click the appropriate photo below.
Currently, the books are on back-order due to shortages in the industry. So this is a PRE-ORDER.  You'll get yours first!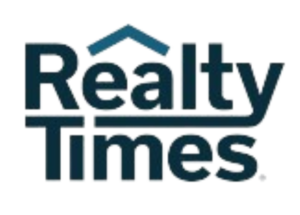 "In this book, Jo tells the stories of the creative clients she has served during her career.  Let their stories inspire you to use your mortgage to further your financial goals."
An informative and entertaining guide for real estate professionals and consumers alike. I highly recommend it!

"Real life insights and stories that support Jo's relentless commitment to create consumer confidence when it comes to making informed decisions."
Understanding Your WHY and your VISION
Overcoming Barriers With Credit
Overcoming Barriers With Income
Overcoming Barriers with Money to Close
Overcoming Barriers with the Property Appraisal
Chapter 15 CREDIT
"To contract new debts is not the way to pay old ones." Attributed to First US President George Washington
Jump-starting your credit scores
Just as we all have unique fingerprints, most adults have three credit scores.  There are three major credit bureaus, each one providing a credit score for people with a credit history. The name of the game is to keep your credit scores as high as possible.  The higher your score, the less you pay in borrowing costs when applying for credit.
Credit score rankings
780-850 Top credit scores
740 to 779 Really good scores that get you great rates and loan terms
700-739 Still good but not considered the best
660-699 Average
Once your scores dip below 660, you pay higher interest on loans and your payments are high.
Many mortgage companies across the country have minimum credit score limits—commonly 620 to 640.
PLAYING TO WIN:
Check your credit through www.annualcreditreport.com or sign up for a credit monitoring service to keep tabs on your credit. Review reports to identify errors. Make corrections to the errors immediately.
Make your payments on time, never going over 30 days late. Payment history makes up about 35% of your score. If you get a 30-day late report on your credit from a creditor, your scores could fall 25 to 60 points or more.
Keep any revolving accounts such as credit cards UNDER 30% usage. Get your usage to 10% or lower, and you could raise your score dramatically in a short time. Credit usage makes up about 30% of your credit score.
Example:
Credit Card Credit Limit: $10,000
Maximum usage: $3,000
30% usage on a $10,000 credit line means the balance owed is never to exceed $3,000 at any time during the month.
Avoid "12 Months Same as Cash"  accounts. These tend to score like a maxed-out credit card and can drop your scores 60 to 100 points quickly.
Old, established credit card history results in better scores. Length of time on a credit account makes up about 15% of your score. An account older than six months helps you a little. An account five years and older helps you a lot. Don't close credit card accounts unless they have a high annual fee.
Credit inquiries and getting new credit makes up about 10% of your score. Be careful about accumulating inquiries on your report because these can have a negative impact. When shopping for a mortgage—that is, when only other mortgage companies pull your credit within a 14- to 45-day period—the inquiries appear but should not penalize you so that you can shop without it hurting your rating.
Some clients have asked, "Why do I even need to pay off this collection balance?" The reason we pay off collections is that it is the right thing to do. If you receive notice of a creditor about to file against you, immediately contact them and pay the bill, or set up amicable payment terms. Collections stay on your account for seven years.  Even if you pay it off, it remains on your credit report as "not paid as agreed."
As you prepare for a mortgage application, check with your lender before paying off a collection. When you pay it, the creditor reports you "paid." Most see this as a good thing.  Human underwriters seem to look favorably when they see that the borrower has paid the bill. However, the credit scoring machine sees it as another derogatory report because a numerical code for the "collection tradeline"  is updated in the system.
Talk with your lender.
Depending on the amount owed and the cumulative amounts owed on multiple collections, the mortgage underwriting may require you to pay them off, anyway; but, if the collection accounts are old, they might not have a great impact on your scores at the moment the credit bureau pulls the report. Check with your lender before taking action if you are about to make a major purchase.
Pay off debt rather than moving it around. A big influence on your score is how you handle revolving credit accounts. Be sure and make your mortgage and car payments on time, but revolving account usage is a big factor in determining your credit score, too.
Don't open multiple new credit cards that you don't need just to increase your available credit. This method could lower your score.
If you are newly building credit, don't open a lot of new accounts quickly. New accounts lower your average "account age," which will have a negative effect on your score. Opening many new accounts in a short time can make you look risky to a lender.
Don't agree to cosign with anyone. If the borrower quits paying, you are responsible. If the borrower is over 30 days late with payments, this negative reporting is reflected on your credit report, too.
Don't open any new accounts or make a purchase on credit while applying for a mortgage. Just wait until after you close on the home.
Try to avoid bankruptcy if you can feasibly pay your accounts in a reasonable amount of time. Bankruptcies, home foreclosures, and short sales  are bad for your credit score and reflect poorly on you as a borrower.
What does someone do who has NO credit? They will be limited on available mortgage products as these loans will have to be manually underwritten under the strictest guidelines. Most often, these products require the borrower to document three or four seasoned non-traditional credit accounts like paid utility bills, telephone service, rent, or insurance payments. If you show any derogatory marks on your report, you will be ineligible to use non-traditional credit methods in lieu of credit history.
More content available in the FREE download. 
Tale #1: Terrance and Tamika Thomas lived a fairly comfortable life, steadily working at their careers, supporting their almost-grown children, and living in the same house they had owned for over ten years. Their lives were about to change. Their oldest child was graduating college that year and their youngest would be graduating and leaving home the following. Terrance and Tamika wanted to move out to the country. For years, Terrance dreamed of having his own workshop to fix stuff and make some money doing his hobby.
Tamika's dream was to have a covered back patio with a fancy bar-b-que grill and a backyard view of the woods. She had been eyeing those open kitchen plans with the most up-to-date appliances, complete with double oven. The house they wanted had all of this and more.
Even though Terrance and Tamika's life was going well and they seemed to effortlessly have whatever they needed, that is not how their marriage started many years before.
Several years earlier, life for the Thomas' could be described as a tire running off the road, a train jumping off the track, and an accident waiting to happen.
Tamika's impulse-buying on credit, and Terrance's lack of discipline with paying bills and saving money caused heartache and disappointment. The financial stress almost cost them their marriage.
About three years after taking their wedding vows, Terrance and Tamika got into a financial freedom class through their church. It was a well-known national program to get families out of debt. They committed, and with encouragement from friends and family, the Thomas's emerged from the debt-free program with some savings in the bank, a paid-off house, and very high credit scores.
Terrance and Tamika found a house in the country that they really liked. It was not everything they wanted. The house was lacking a covered back patio, and the workshop was not completely finished…but the price was right. Their expert realtor referred them to an expert mortgage lender.
Since Terrance and Tamika's credit was so good and they had saved extra money to put down on the new house, they enjoyed the lowest mortgage rate and an even lower monthly payment. It would not take them long to gradually pay off this house. The Thomas family had such good credit and buying power that their mortgage and homebuying process could only be described as "Easy Peasy."
__________________________________________________________________
More content available in the FREE download. 
Warning:  Consult with licensed and certified financial and legal advisors before acting on this information.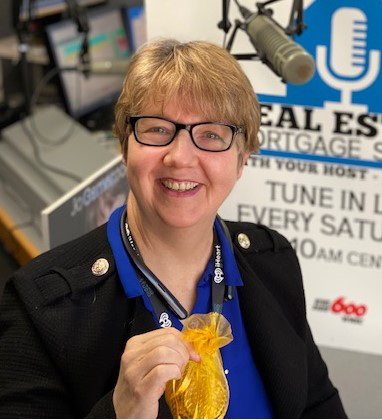 After 30 years of serving as a mortgage loan officer, I still feel a thrill when someone invites me into their journey to homeownership or to achieve a financial milestone. Each has a different story, a different struggle, a different kind of triumph.…and they all enrich my life.  These past mortgage clients came up with their own solutions in many areas, but the mortgage they chose plays a leading role in the stories you will experience in this book.
It brings me great joy to learn all I can about the mortgage business so I can remove barriers and smooth the way for my clients. Knowing that I helped another family get the best mortgage program on the best terms is my deepest satisfaction.
This new endeavor, the book, Choosing the Best Mortgage, is the result of 100s of hours working with creative and interesting clients who have used their mortgages to create their best life.