Good morning, Memphis! Welcome to our internet listeners and podcast listeners across the 50 states! You're on Real Estate Mortgage Shoppe. I'm your host, Jo Garner, Mortgage Loan Officer. You can connect with me at www.JoGarner.com. Our general topic is ARE YOU PLANNING TO SELL YOUR HOME IN THE CITY AND MOVE TO THE COUNTRY? FACTS TO HELP YOU FORGE YOUR FUTURE. Subscribe to get our weekly blogposts with podcasts at www.JoGarner.com.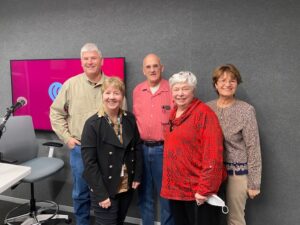 Call us while we are live today February 5th, 2022 at 901 535 9732
Today on Real Estate Mortgage Shoppe you will get to do a mastermind session with a well-known local builder, Bruce Upchurch and our expert real estate appraiser Tom King as we discuss important facts you need to consider as you forge your future living in the country. I will be sharing some stories of people who have said good bye to the city and hello to learning how to live in rural America. We will take a look at ways to finance your new life in the fresh air.
(Jo) In the studio we have real estate appraiser Tom King who has been co-hosting Real Estate Mortgage Shoppe for over ten years. Tom has been appraising homes in Shelby, Tipton and Fayette Counties in Tennessee for over 40 years. Tom, you are a valuable resource in determining the value on real estate. Take a moment to share with our new listeners a little about yourself and the types of appraisals you offer YOUR clients. (Tom has about a minute to introduce himself and talk about the types of appraisals he does for his clients.)
(Jo) Also in the studio we have long-time builder Bruce Upchurch. Bruce you have an A+ Better Business Bureau rating and my mortgage customers who had you build their home love you too. You have been licensed by the State of Tennessee as a contract since 1989. You were president of the Memphis Area Home Builders in 2004 and president of the Fayette County Home Builders in 2006 and 2013. Please take a moment to share with our listeners a little about yourself and the types of homes you build for your customers. (Bruce has about a minute to intro himself and talk about the types of homes he builds for his clients.)
(Jo) The pandemic has set some new trends in the way we live and the way we think. In the mortgage and real estate world we have seen a trend of families selling the house in the city and moving to the country. This move from the city to the country has been encouraged by employers allowing their employees to work remotely from home. For other families the key to their move the equity they realized when they sold their house. They had the money to buy land and a house further away from noise, traffic and crime.
For Bo Binkins, he had always yearned to live far away from the city. Here's the story of how he bought his first home. Bo's Grand Escape-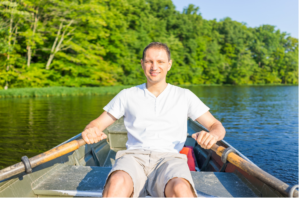 Bo Binkins never liked city life. He grew up in the city because his father was a successful mechanic for a trucking company, but whenever he and his family went camping, hunting, and fishing in the land their family owned his soul felt free. The smell of the flowers, the feel of the breeze in his hair, the sounds of tweeting birds and splashing fish on the end of his line made him come alive.
As a kid, he visualized himself hauling his fishing boat behind a truck and parking next to his farmhouse in the country. Year after year, Bo worked, just like his dad, as a mechanic in a big shop downtown. When he got married, his wife and children became the focus of his time and almost all of his money. Getting to go fishing with his dad and friends now and again kept his soul happy, but he yearned to live every day in the wide-open country.
Several times, Bo tried to get approved for a house in the country but kept getting turned down. Either the house was too beat up or his credit scores were too low. Bo felt hopeless, but his wife and friends encouraged him not to give up. One day, while fishing with his brother, they dreamed together out loud. Seeing his hunger for the dream, Bo's brother suggested that he visit a loan officer to get help with his credit and find a loan that did not require a lot of money down. He did just that … and together we got it done.
The day Bo Binkins got preapproved for the 100% USDA Rural Housing loan was an ecstatic one, surpassed only by the day he closed on that little farmhouse in the country, its covered shed ready and awaiting his future boat. Bo could finally breathe the country air, and found his life suddenly full of possibilities. The 100% USDA Rural Housing Loan worked best for Bo because he had almost no down payment money. The sellers of the little farmhouse agreed to pay Bo's closing costs and prepaid taxes and insurance, so Bo got to buy his home with zero down. If the house had appraised for higher than the price he offered, on the special USDA loan, he could have included the closing costs in the total loan which would have eliminated the need for the seller to pay any costs for him.
With the USDA Rural Housing Program, he achieved affordable monthly payments thanks to a fixed rate that came in lower than the rates offered on conventional loan programs. The monthly fee was also less than those on other programs, and the USDA was more forgiving of his credit scores. Thanks to these incredible benefits from the Rural Housing program, Bo Binkins brought his life dream to reality.
(Tom and Bruce)- What are the top things to consider when you are planning to buy land and build in the country? (you have about 2 minutes to just highlight these important items and let listeners know you will be discussing these when we come back from break.
(Jo)You're on Real Estate Mortgage Shoppe. I'm your host, Jo Garner, Mortgage Loan Officer. Our topic today- ARE YOU PLANNING TO SELL YOUR HOME IN THE CITY AND MOVE TO THE COUNTRY? FACTS TO HELP YOU FORGE YOUR FUTURE. When we come back from break, you will be on the trail with expert real estate appraiser Tom King and well-known builder Bruce Upchurch to talk about land values, important clues about the condition of the land and knowing about any restrictions on the property before you buy and before you build.
_________________________________________________________________________________________________________________________________________________
2nd segment of the show from 9:17AM to 9:30 AM (Tom and Bruce's segment)
TALK SHOPPE BUSINESS TIP FOR REAL ESTATE PROS
2nd segment after 9:15 advertising break – (producer to start the song "Taking Care of Business" by Bachman Turner Overdrive –but bring the volume down before the lyrics start) It's time to talk shop with Talk Shoppe's Business Tip For Real Estate Professionals. Talk Shoppe is a marketing company offering free education and networking to anyone interested in real estate or in business. Talk Shoppe is made possible by the financial support of its sponsors and advertisers. For more about Talk Shoppe, go to www.TalkShoppe.com (shoppe) For our Talk Shoppe Business Tip today we have an important tip from Bruce Upchurch about buying and building in a rural area.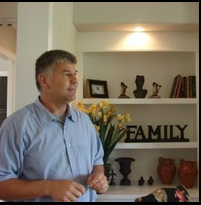 Here's what is hot in new homes in the country
 People are building smaller homes while putting more into them. Here's what is hot:
 all the sq ft on one floor.

energy efficiency is really important

 screened in porches

safe rooms with poured concrete walls and ceilings

large open kitchen/dining/great rooms

upgrading the fireplace or omitting the fireplace (depends on what you see as important)

walk in curbless showers

free standing soaker tubs

large walk in pantries

farm sinks

large cabinet islands

mostly siding exteriors or white brick

shaker style trim

permanent stairs to the attic

preparing for a future whole house generator
______________________________________________________________________________________________________________________________________
Top things to consider before you build in the country:
Decide on your builder. A good builder can help you develop your budget for your custom dream home before you draw or design your plans.

Find the land or lot you think is right for you. Location, location , location is important.

You should also consider the cost of site prep, driveway, and utilities before you buy the land.

If you are out in the country where there is no sewer, the first thing you need to know is what type of soil you have. Will it support a septic system? A 3 bedroom or 4 bedroom home? I built a home one time that would only support a 2 bedroom home. How do you work around that? There are options…

How much will you spend on site prep, utilities, and the driveway?

How much do you have left to spend on your home?

The most important thing that determines the price of a home is the design of the plans. How many exterior lineal feet are there? How many unheated sq ft is there? How many windows and exterior doors? I've built a home recently that had 19 exterior doors. Doors are way more expensive than windows. Both windows and doors hurt you when considering the energy efficiency of your home.

septic systems $8,000 regular system to $26,000 a mound system. A typical septic permit will cost $500 (in Shelby county you need a soil map $400 before the installer can apply for the permit)

wells cost about $6,000 to $8,000

Electrical service to your home $4,000 to ????

Propane (rent your tank) and a partial fill up $1,200

Typically we are seeing homes that are about 2000 – 3,000 sq ft.

 We are seeing the price of about $165 +/- per heated sq ft right now.
TOPICS COVERED BY TOM KING-APPRAISER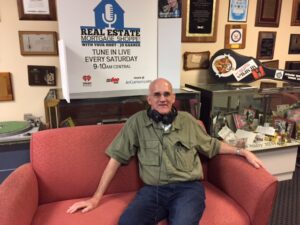 What is a typical price per acre in Fayette County outside of Oakland and Somerville for land? (Road frontage and back lots)
Average price homes ?
Can you share an example (without identifying customer) ?
What is a typical price per acre in Tipton County around Munford and Atoka? (Road frontage and back lots)
Average price of homes?
Can you share an example (without identifying the customer?)
What advice would you give someone looking to buy land to build a home in Fayette County or Tipton?
Advice on wells, septic and other issues?
What is your experience with other extras like tiny houses? Solar power? Part of the property being used for commercial enterprises?
___________________________________________________________________________________________________
3rd segment of the show 9:30AM to 9:40 AM (with time for short comments from Tom and Bruce)
TOPICS COVERED BY
TOPICS COVERED BY JO GARNER, MORTGAGE LOAN OFFICER: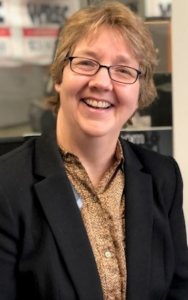 LEAVE THE CITY AND ITS COMFORT ZONE TO MAKE A NEW LIFE IN THE COUNTRY-VICTOR AND VERA VOSSEN'S STORY
Victor and Vera Vossen leaned into each other as they sat together on the swing on their front porch. It was a rare moment to relax and enjoy watching the sunset from their farmhouse in the country. The Vossens admittedly were city folks. But their dream of being self-sustaining and making a profit living on their rural homestead took shape shortly after the pandemic. Victor's employer allowed him to start working from home. Vera was already running her business from home, even when they lived in the big city.
As they sat on the porch swing, Victor and Vera reflected on the lessons learned when they left the city for life in the country. Within the first month of living in the rural farmhouse, their dream seemed to be turning into a nightmare. The Vossens were unprepared to continually evict the family of mice who kept munching on food in the pantry and other valuable items the mice chewed to shreds. They did not realize how many Do-It-Yourself skills they would need to learn when Murphy's Law moved in. They didn't want to move back to the city and admit to their friends that they had failed.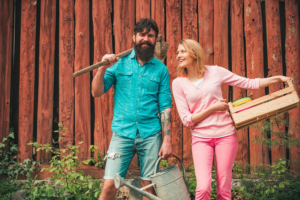 The Vossen family didn't fail. Today Victor and Vera sipped their tea on the porch swing and reveled in the satisfaction that they conquered many trials and mistakes. They were living their dream of fresh air and living well in the country.
Here are some of the areas of research and preparation the Vossens did before selling their condo in town and moving to the woods:
Victor and Vera used a team of professionals who were knowledgeable about rural properties. They asked about a water source, land that would perk for septic purposes. They wanted some woods and space for gardening. Vera wanted a protected area for her egg-laying chickens. Other considerations were the distance to work (when Victor had to drive to a job occasionally,) schools, grocery, church, and other services they would need.
The realtor was familiar with values and classification, zoning, covenants, and restrictions . The Vossens wanted to know what commercial enterprises they could operate on some of the acreage to help them pay for their home.
The Vossens chose a lender who knew how to structure the financing on a rural property. Then, they chose a home inspector, and well and septic inspector too.
They used a surveyor because they had to survey several acres and separate the few acres around the house from the rest of the acreage to meet the lender guidelines. The Vossens hired a home repair contractor for to make some changes to the house.
Victor and Vera had been researching rural living for a couple of years before moving out of the city. Mother Earth News Almanac and the Farmer's Almanac were stacked around their home and a few Foxfire books too. Even though the Vossens were living within a 30- minute drive to the city, they still wanted to learn how to be independent of modern gadgets and conveniences as much as possible. Vera watched the movie Big Little Farm, which inspired her to help her through the obstacles.
They celebrated each time they learned a new skill—like fixing the tractor, keeping the mice out of the house, and keeping the internet working in the house.
They remembered the pros of living the rural life, and they learned to compensate for some of the cons of living outside the city.
Pros: You get to enjoy the quietness and peacefulness of living outside the noisy city. You get to hear the birds sing and smell the fresh air.
You get to treat yourself and your family to outdoor entertainment like bonfires and gardening, hiking, and riding three-wheelers on the trails.
Saving money is an advantage to living outside the city if you plan it right. You don't eat out so often and aren't in town every day to spend money. Also, property taxes are lower in the country.
Cons: You need to plan for trips to town to do business errands and get supplies. Power outages take longer to fix.
It takes longer to get services from contractors and other professionals. When something breaks, you need to know how to fix it.
It is a longer drive to hospitals, stores, and work if you don't work from home.
The internet can be slow, which usually happens when you need it most.
Common financing programs rural land and home buyers use are :
USDA Rural Housing, (we talked about earlier in this show)
Commercial Bank loans,
Private loans
Construction-to-Permanent loans
Renovation and Repair Loans
Most of the time home buyers use the standard conventional 30 year fixed rate mortgage to buy the land and the home or they will do a construction loan to build their home and then I would provide the 30 year fixed rate loan to pay off the construction loan. If the home buyer is buying 20 or 100 acres and the house, we usually get a survey of all of the land and parcel out the house and the five acres around the house so that the transaction still qualifies as a standard home loan. This allows the homebuyer to get a low, fixed rate loan amortized over 15 to 30 years. Normally five to ten acres and the house works for the standard Fannie Mae and Freddie Mac low interest rate loans.
Other types of financing—NOT the standard Fannie Mae or Freddie Mac loans—–are shorter term loans from the local bank . Terms on these loans usually require about 20% to 30% down payment with a fixed rate for the first 5 years. Not the greatest terms, but these loans are more flexible especially when there is a lot of acreage or when part of the property is being used to run a commercial business.
If you are considering buying a home or building a home, let's explore the best way for you to finance your project. Call me after this show at 901 482-0354 or connect with me at www.JoGarner.com You can get more information about private loans and commercial bank loans, construction loans, renovation and repair loans in my book Choosing the Best Mortgage-The Quickest Way to the Life You Want on Amazon or Barnes and Noble
PAM CAVINESS- IN STUDIO TO ASK THE QUESTION ABOUT HOW TO FINANCE TINY HOUSES ON RURAL PROPERTY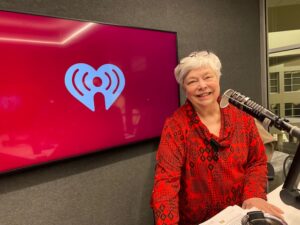 JO ANSWERS: Most conventional 30- year mortgages make it difficult to finance tiny homes. Most tiny homes and tiny home villages are financed using commercial bank loans or private loans. However, when the tiny home is on the same lot with the main house, traditional conventional financing sometimes works if it is normal for the area to have sales with small tiny homes as an extra building on the lot with the main house . Check your local building rules and covenants and restrictions to make sure tiny houses are permitted. Sometimes they are permitted depending on the size of the tiny house compared to the size of the main house.
4th segment of the show 9:45am to 9:56am
REAL ESTATE TIP OF THE WEEK (Tom King has about 1 to 1.5 minutes to share a real estate related tip) Remember that, even though you finish the basement as living space, it will not bring the same value as above-ground space. Below-grade square footage brings a lower value.
Bruce Upchurch has about 1.5 minutes to share a tip Bruce suggested that you not buy your house plans first. Use a picture of the house and the picture of the plan and let the builder give you a bid off the picture before you spend money buying the blueprints. You may want to revise the plan so that when you buy your blueprints, you house will be built the way you want for the price you want.
ANNOUNCEMENTS:
Talk Shoppe offers free networking & education to anyone interested in real estate or in business and health and wellness. Talk Shoppe meets every Wednesday 9A-10A CT at Concorde Career College 5100 Poplar Ave 1
st
floor Memphis, TN (online go to www.Talkshoppe.com and click on Events tab to get the vitual meeting room. This Wednesday February 9TH, 2022 join Talk Shoppe for
Sharon Fox O'Guin, The Memphis and Shelby County Film and Television Commission, "Lights, Camera, Action-Here In Memphis"
2. Let's give a big cheer for our United States athletes in the Winter Olympics in Bejing.
Hoping our listeners who have been affected by the Mid-South ice-storm will get their power back and damage repaired soon.
Talk Shoppe has great things to say about these pros. Hoping they can help you if you need them.
Lynn McDonald of Erin McDonald Insurance Agency can help you with filing an insurance claim (901) 849-7101
Ed Hill of Masters Roofing can give you free inspection of roof damage and some good advice on how to proceed fixing your roof damage (901) 273-6594
Brett Carter of Servicemaster of Cornerstone (home and office restoration following fire, flood or bio hazard) (901) 624-9200
Mark McLaurine of Refrigeration Unlimited (heating and air and plumbling) (901) 216-7782
4. Subscribe at www.JoGarner.com and you can get our weekly blog posts with podcasts conveniently in your inbox.
5. Real Estate Mortgage Shoppe reminds you to MAKE YOUR PLAN. LET'S WORK YOUR PLAN. IF THE DEAL WORKS FOR YOU TODAY, DO IT TODAY.
SPECIAL NOTE: REAL ESTATE MORTGAGE SHOPPE RECOMMENDS THAT YOU CONSULT WITH A FINANCIAL, LEGAL OR OTHER CERTIFIED, LICENSED PROFESSIONAL BEFORE ACTING OR INVESTING ON ANYTHING YOU HEAR OR SEE FROM THE CONTENT ON THIS SHOW OR BLOG POSTS. THE INFORMATION WE SHARE ON REAL ESTATE MORTGAGE SHOPPE IS GENERAL IN NATURE MEANT FOR GENERAL EDUCATIONAL PURPOSES ONLY. ALL EXAMPLES GIVEN FOR ILLUSTRATION PURPOSES ON REAL ESTATE MORTGAGE SHOPPE AND ARE BASED ON TRUE STORIES BUT WE USE FICTIONAL CHARACTERS AND DO NOT DIRECTLY REFLECT REAL PEOPLE OR EXACT DETAILS IN ANY OF THE SITUATIONS.
QUOTE CORNER:
The quote of the week: "It's impossible said pride. It's risky said experience. It's pointless said reason. Give it a try said the heart." Unknown
____________________________________________________________________________________
REJOINDERS:
PAT GOLDSTEIN, REALTOR CRYE-LEIKE (901) 606-2000

ROB DRAUGHON AND SHELLEY ROTHMAN, ATTORNEYS (901) 752-1133

LEAH ANNE MORSE OF ALL THINGS NEW (901) 488-9733
Transitional Music: "Country Road, Take Me Home" by John Denver; "Nutbush" by Ike and Tina Turner; "Country Living" by Stylist; "Taking Care of Business" by BTO for the Talk Shoppe Business Tip for Real Estate Pros
________________________________________________________________________
ABOUT BRUCE UPCHURCH, BUILDER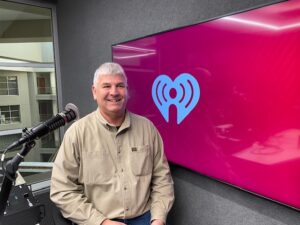 Bruce Upchurch's Bio
married to Becky
12 children …… 6 boys and 6 girls
12 grandchildren so far…
accomplishments:
married to Becky for 36 years
Licensed by the State of TN as a Contractor since 1989 (32 years)
was a Multi Million Dollar Club Member (selling real estate in 2000)
President of the Memphis Area Home Builders in 2004
President of the Fayette County Home Builders in 2006 & 2013
Member of the BBB with an A+ rating
longest tenured Director Consultant for BNI Mid-South (9 years)
A charter member of his BNI Arlington chapter (longest tenured again) was the 4th person to join our chapter and the other 3 who joined before me are now gone.
14 years of raising cattle, we have 32 head of cattle in our small herd
manage our small rental business (we have 6 tenants)
(901) 331-3242
ABOUT TOM KING, REAL ESTATE APPRAISER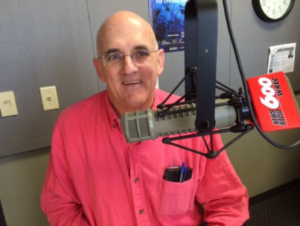 Tom is a well- respected and sought after appraiser in Memphis, Tennessee.  He is a second generation appraiser with 40 years of experience.  He has been elected to the Memphis Area Association of Realtors Board of Directors three times.  
Tom is a certified residential appraiser in Tennessee.  He have appraised over 20,000 homes in his career.  A graduate from the University of Tennessee with a degree in real estate, Tom is also a Certified Relocation Professional (CRP).  Tom also has vast experience in dealing appraising real estate for pre-listing sales, cash buyers, divorce settlements, estate settlements. (901) 487-6989
___________________________________________________________________
ABOUT JO GARNER-MORTGAGE LOAN OFFICER: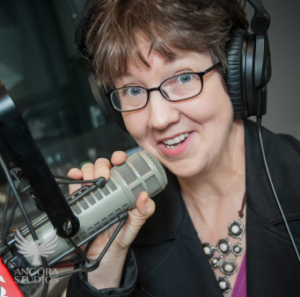 WHAT DO YOU WANT TO ACCOMPLISH WITH YOUR MORTGAGE?
www.JoGarner.com (901) 482 0354 jo@jogarner.com twitter @jogarner NMLS# 757308 (currently working with Sierra Pacific Mortgage, Inc Cordova, TN NMLS # 1788 An Equal Housing Lender)
"Whatever YOUR personal priorities are, my job is to help you get the mortgage terms that will give you bragging rights when you talk about it and help you score on hitting your goals ."
As a mortgage loan officer, my job is to help you get to the benefits you want from your financing terms. What is most important to you? I can help you find the financing terms that will help you get to what you want. What is your comfort level on a house payment? How much are you comfortable paying down,? What type of financing do you need to get the house you want to buy or refinance?
Different clients have different priorities in life—some are buying their first home with very little down payment funds. Some are recovering from medical challenges, divorces or preparing to send children to college and some are embarking on a long term goal of buying properties to build rental income."
Jo Garner is a mortgage officer with extensive knowledge in tailoring mortgages to her customers who are refinancing or purchasing homes all over the country. She offers conventional, FHA, VA or other loan programs for refinancing and purchases.
Jo can help you look at rent vs buy, when it makes sense to refinance, how to get the best deal on your home purchase financing.
Jo Garner has been in the real estate/financing business for over 25 years.  She got her start in Portland, Maine where she first began her real estate career. She received her real estate education from the University of Southern Maine  and was personally mentored in San Diego, California  by Robert G. Allen, author of Nothing Down, Creating Wealth and The Challenge.
On moving back to West Tennessee in 1987, she went into business buying and selling discounted owner-financed notes secured on real estate.  In 1990 Jo went to work for a residential mortgage company and has been a mortgage loan officer for over 25 years.  Her goal is to offer excellent, affordable service to her customers, tailoring the loan programs to the specific needs of her clients. 
In addition to her work in the mortgage field, Jo Garner  is the primary sponsor and founder of Talk Shoppe in Memphis. www.TalkShoppe.com Jo Garner also host the radio show Real Estate Mortgage Shoppe airing on News Radio AM 600 WREC and iHeart Radio with podcasts and show notes published on www.JoGarner.com Pick up her book "Choosing the Best Mortgage-The Quickest Way to the Life You Want on Amazon.com and BarnesandNoble.com
PICK UP YOUR COPY OF "CHOOSING THE BEST MORTGAGE-THE QUICKEST WAY TO THE LIFE YOU WANT" by: JO GARNER
An essential guide for real estate professionals and their customers.
"Choosing the Best Mortgage-The Quickest Way to the Life You Want" is an essential guide for consumers and real estate professionals that will give them a good understanding of the loan products out there. They will have at a guide to the advantages the disadvantages of those loan products—when to use them and when not to use them.
The people stories give examples to help real estate professionals. Consumers that are looking now will benefit and I could easily see this book as a great resource for anybody in the future who want to buy real estate or restructure their finances using a mortgage.
Now on Amazon and Barnes and Noble