You are about to step into a design studio. You are the designer. We will be sharing some stories of how people have redesigned their finances and their life by purchasing a home or restructuring the financing on a home. We will cover ways people have paid their mortgage off early and other debt. Gwen Christensen will be helping us decide which type flooring is best for where it will be in the house.
STEP INTO THE DESIGN STUDIO!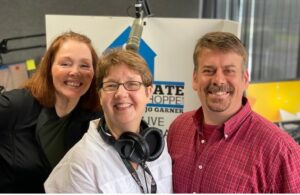 Good morning, Memphis! Welcome to our internet listeners and podcast listeners across the 50 states! You're on Real Estate Mortgage Shoppe. I'm your host, Jo Garner, Mortgage Loan Officer. You can connect with me at www.JoGarner.com.. Our general topic is FROM THE GROUND FLOOR UP-THINK LIKE A DESIGNER FOR YOUR HOME & MORTGAGE. Subscribe to get our weekly blogposts with podcasts at www.JoGarner.com. Call us while we are live today July 10th, 2021 at 901 535 9732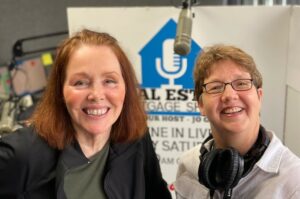 Gwen Christensen, owner of Builders Floors and Interiors with an A+ Better Business Bureau rating, is in the studio today ready to talk with you about your flooring. I've known Gwen over 15 years and she has done an over-the-top, wonderful job on flooring in my home and rental property. Not only has she been a flooring expert for over 25 years, but she is an interior designer too. Gwen, so glad to have you back on Real Estate Mortgage Shoppe. Tell our listeners a little bit about yourself and what Builders Floors does for your clients. (Gwen has introduces herself and Builders Floors)
We are experiencing an unusual real estate market convergence of robust home sales, the highest home values we have ever seen, and the lowest mortgage rates we have ever seen. These three factors, rarely ever seen operating together, are like walking into a master design studio full of problem-solving tools and innovative ideas hanging on every hook. As a result, you can redesign your home, your finances, and your lifestyle. Don't wait too late to get started, though.
The market is always moving. This week we were surprised by mortgage rates dipping lower than we have seen since February. The Federal Reserve assured investors they would give plenty of notice before tapering off on the mortgage-backed security bond buying. This aggressive bond buying is what has been keeping mortgage rates artificially low for over a year.
Inflation metrics have been running hot. We are seeing strong economic numbers and the lowest number of Covid-19 cases since the beginning of the pandemic. Usually these factors would send mortgage rates spiking higher. The Federal Reserve is a crucial reason for the mortgage rates staying low because of their aggressive buying of mortgage-backed securities. Mortgage rates dipped this week to a 5-month low. But, the Fed warns that later they plan to taper their bond-buying.
Here are some common customer goals we see in the mortgage office:
First-time homebuyers are slamming the door on rising rents and opening the door to buying their first home.

Home sellers are taking their profits to leverage up to a larger house. The low interest rate still makes this a good deal even though the person selling their home will need to buy another home which has gone up in price.

Homeowners are refinancing to pay off their mortgage sooner, eliminating years of payments.

Homeowners are refinancing with a cash-out to get rid of other high-interest rate debt, freeing up money each month to apply to paying down more debt quicker at a lower interest rate. Many times the client is remodeling the home or investing in a business or other endeavor.
Gwen Christensen of Builders Floors and Interiors, what kind of floors are people putting in their homes with the latest designs? (Gwen launches into her topics)
You're on Real Estate Mortgage Shoppe. I'm your host, Jo Garner, Mortgage Loan Officer. What do YOU want to accomplish with your mortgage? Make your plan. Let's work your plan if the deal works for you today, let's do it today. When we come back we will be hearing more from Gwen Christensen and business coach, Tim Flesner will be joining us too.
TALK SHOPPE BUSINESS TIP FOR REAL ESTATE PROS
It's time to talk shop with Talk Shoppe's Business Tip For Real Estate Professionals. Talk Shoppe is a marketing company offering free education and networking to anyone interested in real estate or in business. Talk Shoppe is made possible by the financial support of its sponsors. For more about Talk Shoppe, go to www.TalkShoppe.com (shoppe) For our Talk Shoppe Business Tip today we our Talk Shoppe business coach, Tim Flesner. Tim, you are great with helping sales people identify personality types and how to best work with people. You also host a mastermind group to help business people leverage ideas and resources from other business people. Business coach, Tim Flesner, what is our Talk Shoppe Business Tip for Real Estate Professionals today? (Tim Flesner has about 1.5 minutes to share some tips )
Coach Tim Flesner, how do we contact you? (901) 213-7830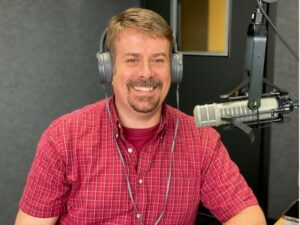 Tim Flesner, Business Consultant (901) 213-7830
Master Mind Groups, Business Coaching Leadership Assessment
___________________________________________________________
TOPICS COVERED BY GWEN CHRISTENSEN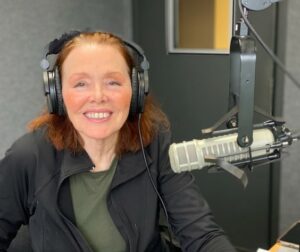 Questions 
what are the most popular flooring sold nowadays and why?
What characteristics should you think about when picking the floor covering
3
What would add the most value to your home?
5. What makes your floor covering waterproof?
6.How does water affect your floor covering?
7.How does lighting affect your color choices in for covering?
8. Talk about how Builders Floors and Interiors can install flooring at lesser price than the big box stores.
9. How do I select a flooring covering for each room of my home? Hard surface or carpet?
10.. What is the difference in laminate, engineered wood floors or solid wood floors?
5. What makes Builders' Floors & Interiors different from any other retail flooring store?
10. Can I finance my large floorcovering purchases?
12. Can you help me select my colors and coordinate the counter tops and tile with my
Flooring?
TOPICS COVERED BY JO GARNER, MORTGAGE LOAN OFFICER: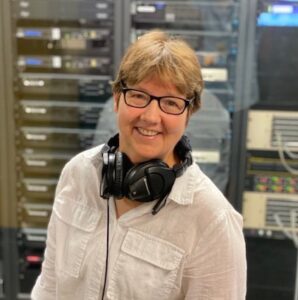 TOPICS COVERED BY JO GARNER, MORTGAGE LOAN OFFICER
What are some tips on ways to get your mortgage paid off early with the least amount of costs?
Imagine how you would feel if you were headed down to the bank to make the very last mortgage payment on your home. Would you already have a plan and design for the next step in your life of freedom?
On a 30 year amortized mortgage, if you make one extra principal and interest payment per year starting at the first year, you can eliminate 7 to 8 years off your mortgage term.
Making extra principal and interest payments in earliest years of your mortgage can save you thousands of dollars in interest cost. The reason is because, on an amortized loan, the biggest portion of the principal and interest payment is interest and only a small amount of the payment makes up the principal portion. As the loan term progresses, more and more of the principal and interest payment becomes principal and not so much interest. If you are prepaying your mortgage in the early years, making a small amount of prepayment to principal eliminates a lot more interest payments because in the early part of the mortgage the principal portion of the payment is so small.
For example, on a mortgage in the low $200 thousands with a 30- year term, the principal and interest would be around $1,000 to $1100 per month give or take. The interest portion of the monthly payment is in the mid $700's per month about and the principal portion is smaller at around the mid 200 dollar mark.
If you have a lot of other debt with higher interest rates or variable rates that carry higher interest rate costs, you might consider looking at a cash out refinance on your home and use the cash out funds to wipe out all the high interest rate debts. Once the high interest rate debt is paid off with the funds from your cash out refinance on your home, then take the savings per month and start aggressively start paying the mortgage off early. You will be surprised how restructuring your debt can make a world of difference.
Consult with your licensed financial advisor. Picture your debt as a long candle with a wick at both ends. Let's explore some possible financing options to help you burn the candle at both ends to get rid of all of your debt sooner rather than later.
Make your plan. Let's work your plan. If the deal works for you today, do it today. Connect with me at www.JoGarner.com Subscribe at www.JoGarner.com and you will get our weekly podcasts with show notes conveniently in your email box. Pick up the phone and call me the old fashion way. I want to hear your plan and roll up my sleeves with you to come up with a design to get your mortgage financing working for you. (901) 482-0354
BUY LOW, IMPROVE LATER, LIVE THE WAY YOU WANT TO LIVE-CHARLIE'S STORY
We can call him Charlie (not his real name.) He was in his 30's with a wife and a young child and another baby on the way. "The house we are in is a little cramped now, but when the baby is born, this house won't work for us at all." He talked about a neighborhood where he and his wife were looking at houses.
When I asked him questions about the price ranges of the homes in the neighborhood where he was describing he had been looking, his voice sort of trailed off and he didn't finish his sentence. Without any warning, he just blurted out, "I don't really want to buy an existing home anywhere. What I really want to do is build the house the way we want to live in it."
When he asked me which way would be the best deal for him, my answer to him was the answer he already knew to be true before he ever asked. The real question was, "Where will you be happiest—in an already built home or the new construction home you design yourself?"
So may times the best deal ever is the one where you follow your heart and figure out for yourself how to make it work. Charlie and I started doing the numbers on what the money down would be and the payments per month if he built the house he really wanted out in the country. After looking at a few ideas, he finally decided that he could afford right now to build the house he wanted if he didn't finish the attic and left the bonus room unfinished.
"With small children, I wouldn't want them trying to navigate stairs anyway. When the children are a little older and I have a little more saved back, we can finish out the upstairs and it will be like having a brand new house." His plan was to consult with a realtor who knew the values in the area. He was going to get with a builder and then come back to me with some prices and terms we could compare on putting together his mortgage terms.
3. RESTRUCTURE YOU LIFE BY RESTRUCTURING YOUR FINANCING
Carter and Claire Caldwell story– Bounding over Barriers To Be With The Grandbabies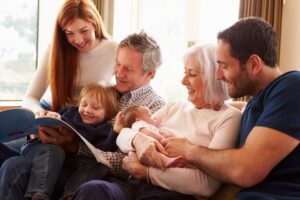 What about making your home pay YOU back? Have you considered a reverse mortgage if you are over 62 years old?
Here is a brilliant idea from one of my past "rock star" mortgage clients. Carter and Claire Caldwell were both over 62 years old. They loved their home next to the lake and their longstanding neighbors and friends. But, the Caldwell's yearned to spend time playing with their toddler grandchildren who lived several hundred miles away. These grandparents were motivated to financially mastermind a way to get a second home near their grandkids. Want to know their brilliant idea????
Since the Caldwell's were over 62 years old and they had paid off their mortgage early, they applied and got a Reverse Mortgage. The Reverse Mortgage on their primary residence was now paying them each month, so they had the income to afford to spend a five whole months at a time playing and making memories with the grandkids. If you want to see STUNNINGLY BRILLIANT strategy, observe what happens when grandparents are determined to spring themselves across the miles to hold their grandbabies in their laps.
REAL ESTATE TIP OF THE WEEK (Tim Flesner, TS business coach has 1 to 1.5 minutes to share a real/business estate related tip):
Gwen Christensen has about a minute to add a quick tip
ANNOUNCEMENTS:
Talk Shoppe offers free networking & education to anyone interested in real estate or in business. Talk Shoppe meets every Wednesday 9A-10A by going to www.TalkShoppe.com (shoppe), then click the Upcoming Events tab. You will see the virtual zoom web address. You can also attend Talk Shoppe live at the Concorde Career College 5100 Poplar Ave (The Clark Tower) first floor. This Wednesday July 14th 2021 Leah Anne Morse of All Things New will be presenting "Moving Made Easy! We Organize It, Eliminate It, and Execute it" www.AllThingsNewWTN.com
Talk Shoppe's free networking and education made possible to our community by sponsors like Darlene Kemp of VistaPoints.org Talk with Darlene about setting up a special needs trust so that your loved one can have they care they need when you are no longer able to be there. www.vistapoints.org
2. Thank you also to Genell Holloway of Eagle Hollow Enterprises for your sponsorship. Ask Genell Holloway about insuring your trusted benefits -health and medicare. (901) 653-5323
3.Have some fun this weekend with friends and family. Make some great memories you can keep forever.
4. Subscribe at www.JoGarner.com and you can get our weekly blog posts with podcasts conveniently in your inbox.
5. Real Estate Mortgage Shoppe reminds you to MAKE YOUR PLAN. LET'S WORK YOUR PLAN. IF THE DEAL WORKS FOR YOU TODAY, DO IT TODAY.
SPECIAL NOTE: REAL ESTATE MORTGAGE SHOPPE RECOMMENDS THAT YOU CONSULT WITH A FINANCIAL, LEGAL OR OTHER CERTIFIED, LICENSED PROFESSIONAL BEFORE ACTING OR INVESTING ON ANYTHING YOU HEAR OR SEE FROM THE CONTENT ON THIS SHOW OR BLOG POSTS. THE INFORMATION WE SHARE ON REAL ESTATE MORTGAGE SHOPPE IS GENERAL IN NATURE MEANT FOR GENERAL EDUCATIONAL PURPOSES ONLY. ALL EXAMPLES GIVEN FOR ILLUSTRATION PURPOSES ON REAL ESTATE MORTGAGE SHOPPE AND ARE BASED ON TRUE STORIES BUT WE USE FICTIONAL CHARACTERS AND DO NOT DIRECTLY REFLECT REAL PEOPLE OR EXACT DETAILS IN ANY OF THE SITUATIONS.
QUOTE CORNER: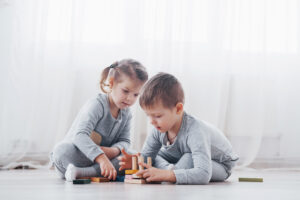 The quote of the week: "How wonderful it is that nobody need wait a single moment before starting to improve the world." anonymous
____________________________________________________________________________________
REJOINDERS:
Kelly Inman, of Next Day Access (901) 617-4675

Mary Lou Nowak of Mid-South Home Helpers (non medical assistance in the home) (901) 414-9696

Suzan David of www.webandmedic.com web and online marketing and set up
Transitional Music: "You Make My Dreams Come True" Hall and Oates; "Make It Happen" Mariah Carey; "A Better Life" by Keith Urban; "Taking Care of Business" by BTO for the Talk Shoppe Business Tip for Real Estate Pros
________________________________________________________________________
ABOUT GWEN CHRISTENSEN, BUILDERS FLOORS AND INTERIORS
ABOUT GWEN CHRISTENSEN, OWNER OF BUILDERS FLOORS AND INTERIORS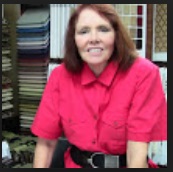 www.buildersfloorandinteriors.com
I am the Owner of Builders' Floors & Interiors which I started
in June of 1997. I have been in the Floorcovering business
for over 25 years. I have spent much of that time working
with clients in choosing interior finishes for their homes,
creating model homes for Builders to enhance their home
sales and soliciting commercial and realtor related business . We are a very service oriented business and our
customers' needs are paramount to us. Great and timely
service is our goal!
___________________________________________________________________
ABOUT JO GARNER-MORTGAGE LOAN OFFICER: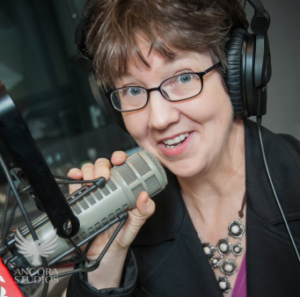 WHAT DO YOU WANT TO ACCOMPLISH WITH YOUR MORTGAGE?
www.JoGarner.com (901) 482 0354 jo@jogarner.com twitter @jogarner NMLS# 757308 (currently working with Sierra Pacific Mortgage, Inc)
"Whatever YOUR personal priorities are, my job is to help you get the mortgage terms that will give you bragging rights when you talk about it and help you score on hitting your goals ."
As a mortgage loan officer, my job is to help you get to the benefits you want from your financing terms. What is most important to you? I can help you find the financing terms that will help you get to what you want. What is your comfort level on a house payment? How much are you comfortable paying down,? What type of financing do you need to get the house you want to buy or refinance?
Different clients have different priorities in life—some are buying their first home with very little down payment funds. Some are recovering from medical challenges, divorces or preparing to send children to college and some are embarking on a long term goal of buying properties to build rental income."
Jo Garner is a mortgage officer with extensive knowledge in tailoring mortgages to her customers who are refinancing or purchasing homes all over the country. She offers conventional, FHA, VA or other loan programs for refinancing and purchases.
Jo can help you look at rent vs buy, when it makes sense to refinance, how to get the best deal on your home purchase financing.
Jo Garner has been in the real estate/financing business for over 25 years.  She got her start in Portland, Maine where she first began her real estate career. She received her real estate education from the University of Southern Maine  and was personally mentored in San Diego, California  by Robert G. Allen, author of Nothing Down, Creating Wealth and The Challenge.
On moving back to West Tennessee in 1987, she went into business buying and selling discounted owner-financed notes secured on real estate.  In 1990 Jo went to work for a residential mortgage company and has been a mortgage loan officer for over 25 years.  Her goal is to offer excellent, affordable service to her customers, tailoring the loan programs to the specific needs of her clients. 
In addition to her work in the mortgage field, Jo Garner  is the primary sponsor and founder of Talk Shoppe in Memphis. www.TalkShoppe.com Jo Garner also host the radio show Real Estate Mortgage Shoppe airing on News Radio AM 600 WREC and iHeart Radio with podcasts and show notes published on www.JoGarner.com