We will show you some sign posts to help guide you in your decision to buy a house or rent. Realtor Pat Goldstein and I will share some stories of people in various circumstances who made the decision whether to buy a home or rent, move up to a bigger house or downsize.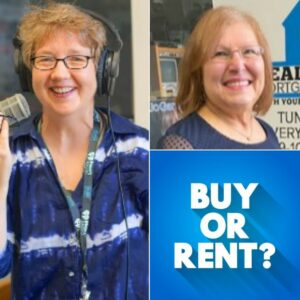 What do YOU want to accomplish with your mortgage on a home purchase or refinance? I can make it easy for you. Call or text me at 901 482-0354. Subscribe to get weekly Real Estate Mortgage Shoppe podcasts and blogposts. Subscribe at www.JoGarner.com
(1st segment 9:06am to 9:15Am)
LET'S GET STARTED…
(Jo) (Good morning, Memphis! Welcome to our internet listeners and podcast listeners across the 50 states! You're on Real Estate Mortgage Shoppe. I'm your host, Jo Garner, Mortgage Loan Officer. You can connect with me at www.JoGarner.com. Our general topic HOW DO I KNOW IF I SHOULD BUY A HOUSE IN 2023—GIMME A SIGN. . Today is March 25h, 2023. Call us in the studio while we are live at 901 535-9732.
Introducing Pat Goldstein, Crye-Leike Realtors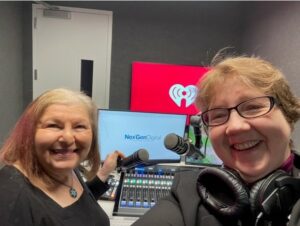 Back in the studio we have Pat Goldstein, Realtor with Crye-Leike Realtors. With over 35 years experience, Pat has earned several awards and designations, including being voted Realtor Associate of the Year in 2006 by Memphis Area Association of Realtors. Pat, you are known as the "Gold Standard" in real estate for helping home buyers and home sellers. You are an amazing negotiator too. Take about a minute to introduce yourself to our listeners and tell us what you do for your clients (Pat has about a minute and a half to intro herself) Pat Goldstein compares herself as a realtor to the superhero Elasti-Girl. In this market you want an agent who can stretch far and wide to help you find your next home, sell your next home and connect you will resources you need to get the job done.
SIGN POSTS AND OTHER DIRECTIONS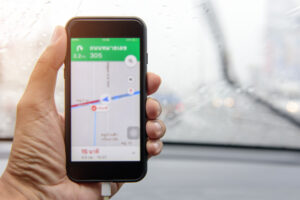 (Jo) When you are starting your car to head from where you are to where you want to go, do you look at your GPS map on your phone to show you the location of traffic jams or roadblocks? Knowing where the clear roadways are can make your trip less stressful, less expensive on gas and much quicker. Let's take a look at some recent sign posts to help you decide on where you want to live and if you should buy a home.
Headlines from an article in Forbes this week on March 23, 2023
#1. Mortgage Rates improve for the first time since February of this year. Higher prices on homes and higher rates as compared to the last two years is making it more difficult for first-time homebuyers to qualify or feel comfortable with the payment. (Jo) My personal observation as a mortgage loan originator: But there are multiple down payment assistance programs for first-time homebuyers and others who meet the guidelines. Tennessee Housing Development Agency still has their fixed rate mortgage at a rate in the 5's. The median existing-home sales price was down 0.2% to $363,000 in February compared to a year ago, according to the National Association of Realtors (NAR). (Jo) But, for our listeners, let's take a look behind these numbers. A larger number of homes in the 250k and under price range sold making the median home price look lower, but still healthy for the market to have the higher number of sales in the affordable price ranges.
#2. Chief economist, Lawrence Yun of National Association of Realtors talked about the lack of inventory keeping an upward push on home prices. "Home prices will be steady in most parts of the country with a minor change in the national median home price."
However, some housing market watchers believe that homes in some areas could see sales and price growth, particularly in locations where home prices have remained affordable over the past few years in relation to median income."
Rick Sharga of ATTOM Data said, "We're estimating about a 5% drop nationally. Some markets, believe it or not, will probably see prices continue to increase." (Jo) For our listeners, some great signs in the market is that builders have increased housing starts by 9.8% last month.
Buying a home is a very personal decision. You have to be ready financially and want to buy a home in order to feel good about becoming a homeowner. Later in the show we will cover how other homebuyers worked through deciding when they were financially and committed to owning their own home.
(Jo) Pat Goldstein, you have been working as a realtor in the Memphis and North Mississippi markets for a few decades now. Let's take a couple minutes before we go to break to hear some of your insights the question, How Do I Know If I Should Buy a House in 2023… (Pat G has about 2 minutes or so to jump into her topics to be continued after break)
(JO) You're on Real Estate Mortgage Shoppe. I'm your host, Jo Garner, Mortgage Loan Originator. What do YOU want to accomplish with YOUR mortgage? For your home purchase or refinance, I can make the process easy for you. Connect with me at www.JoGarner.com When we come back, you will be hearing more from Realtor Pat Goldstein of Crye-Leike Realtors. Kim Halyak of Cooper Young Garden Walk will be joining us with a gardening tip from the Master Gardeners Expo at the Ag Center today. Stay tuned. We will see you back in just a moment.
2nd segment is after 9:15 break from about 9:18Am to 9:30 AM break
(2nd segment starts at 9:18am )
TALK SHOPPE BUSINESS TIP FOR REAL ESTATE PROS
2nd segment after 9:15 advertising break – (producer to start the song "Taking Care of Business" by Bachman Turner Overdrive –but bring the volume down before the lyrics start) It's time to talk shop with Talk Shoppe's Business Tip For Real Estate Professionals. Talk Shoppe is a marketing company offering free education and networking to anyone interested in real estate or in business and health and wellness. Talk Shoppe is made possible by the financial support of its sponsors. For more about Talk Shoppe, go to www.TalkShoppe.com (shoppe) For our Talk Shoppe Business Tip today we have Talk Shoppe sponsor Kim Halyak of the Cooper Young Garden Walk. Kim, you are committed to helping people create gardens to bring happiness to their home. Today you have a table at the Master Gardners show at the Ag Center. Take a moment and give us a good gardening tip. Tell us how to find you at the Master Gardeners Expo today.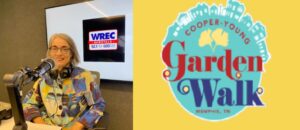 Kim Halyak, Cooper Young Garden Walk 899 Blythe St Memphis, TN (901) 299-5887
Kim's tip: sign up for the Garden Walk tour around Memphis. You can learn so much about the possibilities for your own garden by learning from other gardens. Do the research on the plants you want to put in your garden before going out and buying them. Contact Kim Halyak at 901 299-5887 for places to buy your plants at bargain prices
_____________________________________________________________________________________________
TOPICS BY PAT GOLDSTEIN, REALTOR WITH CRYE-LEIKE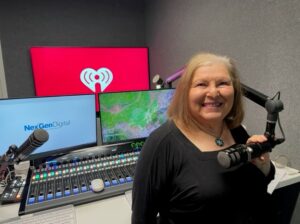 Advice for First-Time Homebuyers- Rent keeps going up over time. If you plan to stay in the geographical area for three to five years or more, you might do better buying a home with a fixed rate mortgage. The principal and interest portion of this payment never changes. Each month you make a payment, you are paying down the mortgage and gaining more equity ownership in your home. You have the peace to know that you control how long you want to live in the house. You control when the repairs get done and how you want to improve your home.
(story of the lady who loved where she lived and paid rent. She had lived in the rental house for many years and just wanted to stay. One day the landlord notified her that her lease was ended and she would need to move. The landlord had other plans for the house. )
(Story of the tenant who lived in a rental house. When systems in the house broke down, the landlord could not find time or money to make these crucial repairs. This tenant, after months of suffering with things that did not work in the house, finally felt motivated to buy his own house. )
(story of move up buyers. Since they owned their own home and had almost paid it off, they were in a position to sell the old house and use the profit to put a large down payment on a home they had built. Since the profit from selling the old house gave them such a large down payment on the new home, their mortgage payment on the new home very small, giving these move-up buyers more money to enjoy life)
3rd segment following 9:30 break starting about 9:35 to 9:45 AM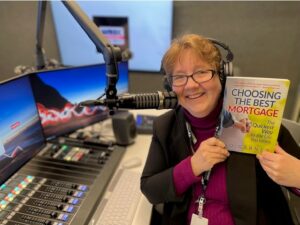 TOPICS COVERED BY JO GARNER, LICENSED MORTGAGE ORIGINATOR
ADVICE FROM THE MORTGAGE DESK TO HOME BUYERS WHO GET A MORTGAGE
Know Your Comfort Level For A House Payment In Your Budget
You need to take some time to go over your bank statements and credit card statements to see what you are actually spending each month. Remember those bills you pay once or twice a year.
Look at your actual income.
Can you eliminate some bills? Substitute something you like and enjoy for something else that you could learn to like but is less expensive?
Once you have adjusted you budget, realistically, what is the maximum house payment that you can comfortably pay?
Don't rely on the loan officer to tell you how much you can afford YOU need to stay within your personal comfort zone, even if you qualify for a higher payment. Stay in your comfort zone.
Make sure you have enough emergency funds left over after closing to take care of your moving expenses and other emergencies that might come up. If you don't feel you have enough emergency funds, then we can explore some down payment assistance programs if you qualify for them. Also, do you have a supportive family who can help you financially if you got into a bind?
#3. Be ready and willing to think creatively about buying and financing your home. You may want to buy a home with a bonus room, a workshop and a deck out back for entertaining, but budget is limiting you to a less expensive home. Imagine if you could buy the lesser priced home and use part of the garage for your workshop, finish out the bonus room above the garage later as you can afford it. You can also save your money and build a deck out back for your bar-b-que pit and entertaining area. You can improve the house you buy over time to BE your dream home.
NOAH AND NORAH'S STORY-ASK AND YOU SHALL RECEIVE WHEN YOU THINK AND ACT OUTSIDE BOX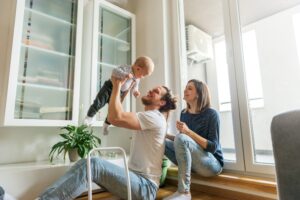 (Jo) My favorite thing about being a mortgage loan officer is that I get to meet the most amazing people on their journey to homeownership or sometimes as they explore scenarios for restructuring their debt to get to a better life. Even if we just converse over the phone and I only get to meet them in person at the closing table, I feel like we are friends sitting around their kitchen table working together on a common project.
As we are talking today about special programs for our heroes to buy homes, I am remembering a young couple with their one-year old son, Noah and Norah Nowling (not their real names.) Noah and Norah had been renting a home for over a year in a neighborhood they loved and they loved being close to family who helped them take care of their son. It was convenient and inexpensive having the family members nearby for child care on demand.
Noah called me one day and then came on over to the office to share their story. They had student loans and were trying to save for a down payment to buy a home. Then some unexpected bills started coming in after they had their first child. They kept putting off looking for a home because they loved the neighborhood where they were living and they did not have a lot of money to put down.
"You have not because you ask not," Noah told me. "We just picked up the phone and asked our landlord if he would sell us the house where we were living. Amazingly, he said yes. Now, we are asking you as our lender-'can you get us the money for a down payment?'"
Since Noah was a first responder with the Fire Department, the answer was yes. For Noah and his wife we got them a low down payment FHA government mortgage funded with a $10K from the City of Memphis Down Payment Assistance program under special guidelines for police, fireman and teachers. Noah and Norah only had to pay a very small amount of their own money and everything else was paid by this special down payment assistance program.
The Nowlings got to remain in the house they loved in the neighborhood next to family members who were always at the ready to take care of their little one. Except now the Nowlings monthly payments were going to create more and more wealth in owning their own home instead of paying for someone else's home.
MR. FIX-IT TAKES ONE STEP AT A TIME TOWARD HIS DREAM HOME (competitive market)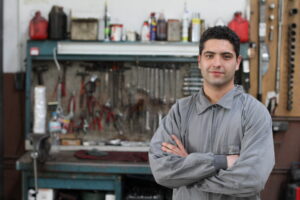 Meet Ricky. Ricky is barely out of his twenties and wants a shop next to
his house so he could work on cars and fix stuff. He also wants to be in a particular upscale neighborhood. His dream house was like having champagne taste on a beer budget. Ricky engages his imagination and some ingenuity.
He found a house in a neighborhood that was going steadily up in value, even though it wasn't the upscale area he initially wanted. The property had a garage. This house would not break the bank for Ricky. Ricky took action with a smart offer and beat out any competition to buy his house. Over time he transformed the garage into an awesome shop by installing a work bench and later some racks for his tools. The house was going up in value too. Ricky would one day be able to launch from this home up to the more upscale neighborhood he originally wanted.
4th segment following 9:45 am break about 9:48 to 9:56 am
REAL ESTATE TIP OF THE WEEK: Pat Goldstein has about a minute for a tip- If you know you are going to buy a house, go ahead and set up a savings plan. You can do it several ways. One way is to have a percentage of your income auto-deposited into your savings account. Even if you do not need that much money to close, at least you have it for reserve funds.
Jo Garner shares a tip: If you plan to buy a house and get a mortgage, don't run out and pay off a bunch of credit cards. Visit with your mortgage officer first before moving money or making major purchases. Mortgage software puts a higher priority on the amount of money you have in the bank over and above the level on your debt-to-income ratio. Call or text me at 901 482-0354.
ANNOUNCEMENTS FROM SPONSORS:
Talk Shoppe offers free networking & education to anyone interested in real estate or in business or in health and wellness. Talk Shoppe meets every Wednesday 9A-10A CT at Concorde Career College 5100 Poplar the 1st floor in the Memphis Clark Tower and also on zoom. Go to www.TalkShoppe.com and click the Events tab for the link to get into the event online.

March 29th. 2023

"The Mastermind Principle-based on the book Think and Grow Rich by Napoleon Hill
Thank you to Tim Flesner, business consultant with Business Management Solutions for being a sponsor of Talk Shoppe which sponsors this radio show. Tim can help you get from where you are to the life you want to enjoy with your business Connect with Tim Flesner at equip4success.biz.

4. Subscribe at www.JoGarner.com and you can get our weekly blog posts with podcasts conveniently in your inbox.
5. Real Estate Mortgage Shoppe reminds you to MAKE YOUR PLAN. LET'S WORK YOUR PLAN. IF THE DEAL WORKS FOR YOU TODAY, DO IT TODAY.
LEGAL STUFF: SPECIAL NOTE: REAL ESTATE MORTGAGE SHOPPE RECOMMENDS THAT YOU CONSULT WITH A FINANCIAL, LEGAL OR OTHER CERTIFIED, LICENSED PROFESSIONAL BEFORE ACTING OR INVESTING ON ANYTHING YOU HEAR OR SEE FROM THE CONTENT ON THIS SHOW OR BLOG POSTS. THE INFORMATION WE SHARE ON REAL ESTATE MORTGAGE SHOPPE IS GENERAL IN NATURE MEANT FOR GENERAL EDUCATIONAL PURPOSES ONLY AND NOT AN OFFER TO LEND.. ALL EXAMPLES GIVEN FOR ILLUSTRATION PURPOSES ON REAL ESTATE MORTGAGE SHOPPE AND ARE BASED ON TRUE STORIES BUT WE USE FICTIONAL CHARACTERS AND DO NOT DIRECTLY REFLECT REAL PEOPLE OR EXACT DETAILS IN ANY OF THE SITUATIONS.
QUOTE CORNER:
Chinese Proverb "A wise man makes his own decision. An ignorant man follows public opinion."
John C Maxwell " Life is a matter of choices, and every choice makes you."
____________________________________________________________________________________
REJOINDERS:
David Corwin USDA Deputy Director USDA Harrisburg, PA

Carl Sater, Long Island, NY Author of "Top 20 Toxic Credit Mistakes People Make"

Trudie McClelland of United Housing in Memphis
Transitional Music: "How Will I Know" by Whitney Houston ; "Gimme Some Kind of Sign" by Brenton Wood ; "Where Do You Go" by No Mercy; "Taking Care of Business" by Bachman Turner Overdrive for the Talk Shoppe Business Tip For Real Estate Pros.
PICK UP YOUR COPY OF "CHOOSING THE BEST MORTGAGE-THE QUICKEST WAY TO THE LIFE YOU WANT" by: JO GARNER
An essential guide for real estate professionals and their customers.
Now on Amazon and Barnes and Noble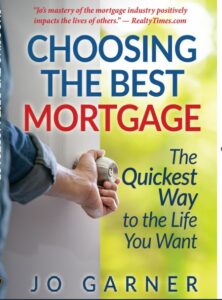 ABOUT PAT GOLDSTEIN, realtor with Crye-Leike Realtors in Memphis, TN. Licensed in Tennessee and Mississippi. (901) 606-2000 30 years full time Realtor Memphis Area Association of Realtors 2006 Realtor Associate of the Year and a veteran member of the TN Association of Realtors Residential Forms Committee.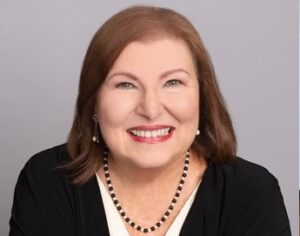 ABOUT JO GARNER-MORTGAGE LOAN OFFICER: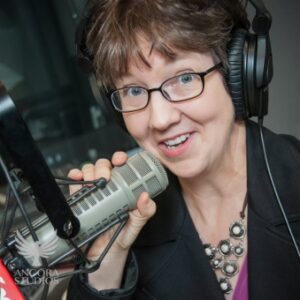 WHAT DO YOU WANT TO ACCOMPLISH WITH YOUR MORTGAGE?
www.JoGarner.com (901) 482 0354 jo@jogarner.com twitter @jogarner NMLS# 757308
(currently working with Cardinal Financial Company, Limited Partnership NMLS #66247 equal housing opportunity 2645 Appling Rd 102 Memphis, TN 38133 ) Online loan application https://online.cardinalfinancial.com/#/p/apply/jogarner
www.cardinalfinancial.org for licensing info www.nmlsconsumeraccess.org/EntityDetails.aspx/company/66247 "Whatever YOUR personal priorities are, my job is to help you get the mortgage terms that will give you bragging rights when you talk about it and help you score on hitting your goals ."
As a mortgage loan officer, my job is to help you get to the benefits you want from your financing terms. What is most important to you? I can help you find the financing terms that will help you get to what you want. What is your comfort level on a house payment? How much are you comfortable paying down,? What type of financing do you need to get the house you want to buy or refinance?
Different clients have different priorities in life—some are buying their first home with very little down payment funds. Some are recovering from medical challenges, divorces or preparing to send children to college and some are embarking on a long term goal of buying properties to build rental income."
Jo Garner is a mortgage officer with extensive knowledge in tailoring mortgages to her customers who are refinancing or purchasing homes all over the country. She offers conventional, FHA, VA or other loan programs for refinancing and purchases.
Jo can help you look at rent vs buy, when it makes sense to refinance, how to get the best deal on your home purchase financing.
Jo Garner has been in the real estate/financing business for over 25 years.  She grew up in West Tennessee and got her start in real estate in Portland, Maine where she first began her real estate career. She received her real estate education from the University of Southern Maine  and was personally mentored in San Diego, California  by Robert G. Allen, author of Nothing Down, Creating Wealth and The Challenge.
On moving back to West Tennessee in 1987, she went into business buying and selling discounted owner-financed notes secured on real estate.  In 1990 Jo went to work for a residential mortgage company and has been a mortgage loan officer for over 25 years.  Her goal is to offer excellent, affordable service to her customers, tailoring the loan programs to the specific needs of her clients. 
In addition to her work in the mortgage field, Jo Garner  is the primary sponsor and founder of Talk Shoppe in Memphis. www.TalkShoppe.com Jo Garner also host the radio show Real Estate Mortgage Shoppe airing on News Radio AM 600 WREC and iHeart Radio with podcasts and show notes published on www.JoGarner.com Pick up Jo Garner's book on Amazon or Barnes and Noble "Choosing the Best Mortgage-The Quickest Way to the Life You Want"