Today we are laying claim to money that we did not have yesterday. I will be sharing how some of my customers are using our current real estate and mortgage market to get some money out of their home to add value somewhere else while the money is still cheap to borrow. Ed Hill of Masters Roofing will be giving us a short tutorial in the Claim Clinic for when you have roof damage.
What you YOU want to accomplish with YOUR mortgage? Make your plan. Let's work your plan. If the deal works for you today, let's do it today. Call me at (901) 482-0354 and let's explore your options. Subscribe for weekly Real Estate Mortgage Shoppe podcasts with show notes at www.JoGarner.com
To Your Success,
Jo Garner, Mortgage Loan Officer NMLS# 757308
_____________________________________________________________________________
Good morning, Memphis! Welcome to our internet listeners and podcast listeners across the 50 states! You're on Real Estate Mortgage Shoppe. I'm your host, Jo Garner, Mortgage Loan Officer. You can connect with me at www.JoGarner.com. Our general topic is HOW TO LAY CLAIM TO MONEY FROM YOUR MORTGAGE & HOW TO FILE AN INSURANCE CLAIM ON YOUR ROOF. Subscribe to get Real Estate Mortgage Shoppe podcasts with show notes at www.JoGarner.com Call us while we're live today March 20, 2021 at (901) 535-9732.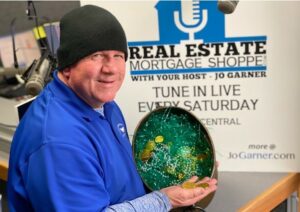 Back in the co-host chair we have Ed Hill, senior consultant of Masters Roofing. When I talk to people who have used you and Masters Roofing the common adjective to describe you is the word "Excellent." Ed, you are a man of excellence. Catch Ed Hill's podcasts at https://MemphisHomeMaintenanceShow.podbean.com (Ed introduces himself and talks about the services master Roofing offers their customers)
(Jo) Let's take a moment and survey the real estate and mortgage market landscape. It will help us in a minute to know where to sink our spade to find the gold.
"Location, location, location," experts say is the most important real estate facet. If you are a homeowner, a home seller, or a homebuyer, the timing element determines the amount of gold you mine from your home or your financing. Is there still gold in "them there hills?" Watch out for the effects of inflation.
Inflation is pushing onto the scene, and inflation is the archenemy of low interest rates. This week the Federal Reserve chairman, Jerome Powell, announced that the Fed would continue keeping their rate low, even in the face of rising inflation. The Fed vowed they would continue to buy mortgage-backed securities to keep mortgage rates affordable. However, the bond markets have been running against the Fed's efforts like a game of chicken. Is there gold in "them there hills?" When it comes to your real estate and your mortgage financing terms, better look at laying claim to it now, before the economic landscape changes.
We still see a hot real estate market for both buyers and sellers from the mortgage office. High demand and the short supply of homes for sale are bolstering home values on the high side. High home values are golden for home sellers. Buyers see the still low fixed mortgage rates as a goldmine for them. Buyers can lock in fixed rates that are still giving them a house payment much less than what they would be paying to a landlord for rent for a similar home.
Ways to mine gold from your home and mortgage
First-time homebuyers feel a lot more secure knowing the principal and interest payment on their new fixed-rate mortgage will not be increasing year after year, like when their landlord would knock on the door and raise the rent.
Johnny and his family had been paying about $1,000/month in rent in a crime-ridden area. They wanted to move to a safer neighborhood with a larger house to accommodate their expanding family size. Johnny was short on funds for a down payment, but he did have a lot of patience and persistence, and with a little bit of help with the down payment from a local agency, Johnny's family bought the home they wanted with less than $1,000 down and a total payment under $800 per month.
Home sellers are bragging about the profits they are pocketing selling their homes. For instance, Hickory Hill three years ago had a median home price of $150,000. Today the median home price in Hickory Hill is $216,550. Collierville, TN, had a median home price three years ago of $331,900. Today the median home price in Collierville is $450,000. Bartlett, TN, had a median home price three years ago of $216,000. Today the median price in Bartlett, TN $260,000.

Refinancing and restructuring finances are still happening for homeowners. Today the pace is more frantic since mortgage rates have been climbing steadily over the last month. It is hard to find mortgage rates in the twos with no extra costs, but there are still rates to enjoy in the threes for many borrowers.
Refinancing to lower your rate and lower your mortgage payment

Refinancing to lower your rate and shorten the term on your mortgage

Refinancing to lower your rate and combine other debt to improve your home or reduce overall payments per month.
Make your plan. Let's work your plan. If the deal works for you today, let's do it today. Call me and let's look at your options. (901) 482-0354 www.JoGarner.com
Ed Hill of Master's Roofing,
You're on Real Estate Mortgage Shoppe. I'm your host, Jo Garner, Mortgage Loan Officer. What do YOU want to accomplish with your mortgage? Make your plan. Let's work your plan if the deal works for you today, let's do it today. Connect with me at www.JoGarner.com. When we come back Ed Hill of Masters Roofing walking us through some helpful tips from the Roof Claim Clinic. See you back in just a moment.
TALK SHOPPE BUSINESS TIP FOR REAL ESTATE PROS
2nd segment after 9:15 advertising break – (producer to start the song "Taking Care of Business" by Bachman Turner Overdrive –but bring the volume down before the lyrics start) It's time to talk shop with Talk Shoppe's Business Tip For Real Estate Professionals. Talk Shoppe is a marketing company offering free education and networking to anyone interested in real estate or in business. Talk Shoppe is made possible by the financial support of its sponsors and advertisers. For more about Talk Shoppe, go to www.TalkShoppe.com (shoppe) For our Talk Shoppe Business Tip today we have Talk Shoppe sponsor Troy and Lynn McDonald of Erin McDonald Insurance Agency. Lynn and Troy you both have been models of excellence for customer service in the insurance business. Troy and Lynn, what is our Talk Shoppe Business Tip for Real Estate Professionals today? (Troy and Lynn have about 1.5 minutes to share some tips to help homeowners and homebuyers )
Troy and Lynn McDonald, how do we contact you? (901) 849-7101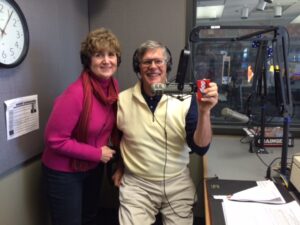 Tip: Lynn McDonald shared advice for people wanting to file an insurance claim. Always call your insurance agent first before calling a 1-800 number. Your insurance agent can give you good advice on whether to file a claim or not. When you call the 1-800 number, many times you get a claim reported on your insurance record even if the insurance company does not file a claim. Call your insurance agent first to avoid having negative marks on your insurance record.
The Claim Clinic with Ed Hill, Senior Consultant, Masters Roofing Memphis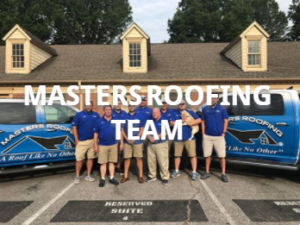 Here are the 10 major steps of a roof insurance claim for legitimate storm damage which is covered under home insurance policy provisions.
Weather Awareness…check weather forecasts and reports daily

Verify Coverages…read your home insurance policy and consult the agent

Roof Inspection…call a state-licensed, factory-certified, BBB A+ roofer

Identify Options…is repair possible, will insurance replace the roof?

Claim Filing…the insured should personally file any claim, not a roofer

Expert Representation….have your roofer meet the adjuster on the roof

Settlement Review…have your roofer review each line item of the scope

Protect Yourself…ZERO payments until the roof is replaced satisfactorily

Roof Contract…review and sign a binding contract for the project

Certify Completion…a Certificate of Completion is sent to the insurer
BONUS POINTS
*Insurance claim deductibles are the insured's co-pay and responsibility
*Never be rushed into a claim
*Never deal with a roofer who suggests or attempts anything that seems shady
___________________________________________________________
TOPICS COVERED BY JO GARNER, MORTGAGE LOAN OFFICER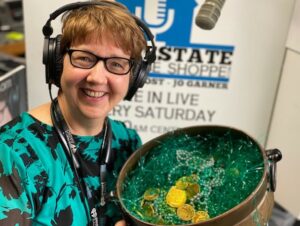 Where can we sink out spade to find gold in our mortgage financing?
Pay your mortgage off early
Did you know that if you get a 30-year mortgage and pay one extra principal and interest payment per year, you can eliminate seven to eight years off the total loan?
Eddie Eddleman's-How He Eliminated 8 years off his mortgage saving $58K
The most important tool to use for determining the fastest way to pay off a mortgage early with the least amount of investment is the amortization schedule. You can get them free by googling "Mortgage Amortization Calculator." Be sure you enter your original loan amount and the date of your first payment, including the year. Then scroll down to the balance that matches your current balance, draw a line and add up the principal portions of each payment after the regular full payment. You can also use the schedule you got when you financed your loan—it should be in your closing papers. Or call me and I can walk you through it. The earlier in the mortgage you start prepaying the principle the more interest you will save with the least amount of money out of your pocket because a larger part of the principal and interest payment makes up the interest compared to principle in the beginning of the loan rather than at the end.
Example:
Eddie Eddleman, a military veteran gets bragging rights eliminating 8 years off his mortgage.
Loan amount $200,000 30 year term principal and interest payment $953/month.
Eddie pays an extra $953 P&I once a year.
Total principal and interest payments if he did NOT pay extra payment each year $953 X 360 months= $343,080
Paying one extra P&I payment each year for 23 years $21,919
Total payments over 23 years (276 months) including extra payments =$284,947
SAVINGS in total payments =$58,133
Eliminate your private mortgage insurance if you have a conventional loan. If you have a conventional mortgage (not FHA or USDA) and you are paying private mortgage to the lender, check and see if you owe less than 78% of the value of your home. If you have been paying your mortgage on time for a couple of years and the value is higher on your home today, you may be able to get rid of the private mortgage insurance now rather than waiting a few more years.
If you have a conventional loan (not FHA or USDA or VA,) contact the mortgage company that processes your mortgage payment to see what procedure they have for you to request termination of the private mortgage insurance. If you are not sure how to do this, contact me and I am happy to try and help you.
Appeal your new property tax assessment. In Shelby County TN we are getting notices in the mail that our tax appraisals have gone up quite a bit. That means we are going to start paying more money on our taxes.
In year's past, many of our listeners have told us they did not have a problem appealing their property value and getting the assessment reduced. BUT, a property tax appeal expert told me a couple of weeks ago that it will be tougher to win your property tax appeal this go around.
He told me he had reviewed 50 tax appeal requests and only one stood a chance of getting the assessment reduced. He said, "It's because the values on homes have increased so much over the last couple of years." He went on to advise that, you will have a lot better luck getting your property tax assessment value reduced if you can prove the following facts:
The amount of heated space in your home is less than the tax assessor has listed for your home

Your home has not been updated in a couple of decades or more but your neighbor's homes have been updated with the newest furnishings, cabinetry, kitchen and bathroom fixtures. It is possible that the updated and upgraded homes surrounding your home have been selling for more than what your home be priced.

If your property is located in a more isolated area and Not in a neighborhood with lots of houses just like yours, you may be able to argue for a lower tax assessment by showing homes loosely located near your area selling for less money.
Refinance your mortgage to a lower rate and shorter term
THE RUSHINGS STORY
Starting out, the Rushings were trying to pay off debt and did not have a lot of money in the bank. They paid down about 3.5% of the home price for a down payment. To give them some breathing room on their house payment, they chose a 30-year fixed rate mortgage. The low 30- year payment allowed them to build up some savings and pay down more debt.
Fast forward five years… My phone rang and when I picked it up, Rubin was on the other line. "A voice from the past," he said, the tone in his voice indicating he was clearly happy about something. Rubin went on to share with me their story.
After buying their first home, Rubin and Rosie enrolled in the Dave Ramsey "get out of debt" program. They rearranged their life to enjoy creative but fun local adventures for themselves and their young children. They learned some clever methods of living a fun-filled life on a very narrow budget. When they got raises at work, they continued paying off debt and investing more and more money into an emergency fund.
Now, Rubin described their plan to refinance their 30 year mortgage to a 15 year mortgage for a lower rate AND eliminating ten years (120 payments.) Here's how they accomplished their bragging rights:
They had a mortgage originally for about $172,000 on a 4.5% to 4.625% 30 year mortgage with an $883 Principal and interest payment plus taxes and insurance and FHA monthly mortgage insurance of about $119/month –a total of about $1,367/month
They refinanced their mortgage to a 15 year term,(2) lowering their rate a full point. Their principal and interest payment increased to by $246/month but (3) they eliminated the FHA mortgage insurance and lowered the interest over the whole loan amount for the entire term of the mortgage.
If the Rushings had not refinanced, they would have paid $883 P&I and the $119 FHA mortgage insurance for the remaining 25 years -total payments $300,600. BUT, they refinanced and total principal and interest payments over the remaining new 15 year term $203,400 for a whopping savings of approximately $97,200. BRAGGING RIGHTS!
Cash out refinances can be helpful too. Many families are refinancing their mortgage to a lower interest rate, cash out to pay off other, higher interest rate debt or do improvements or additions to the homes. Some real estate investors are using a cash out refinance on their primary residence to pay a lot down to buy other income-producing real estate
Investing in income-producing real estate
Multiple ways to buy real estate for ongoing income, fix and flip or create income from primary residences. Let's explore your options. Call me at (901) 482-0354
REAL ESTATE TIP OF THE WEEK (Genell Holloway ) (Ed Hill) (Jo Garner)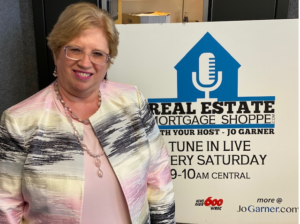 Genell Holloway of Eagle Hollow Enterprises offers a tip for health benefit programs. The present administration has extended health insurance sign-up for individuals who want to get health insurance coverage or change the plan they have. Consult with Genell Holloway on the best insurance selections for you and your family 901 270-1127.
Ed Hill shared his bonus tips: Never rush into an insurance claim. Never work with a contractor or vendor who seems shady.
Jo Garner shares what she is seeing from the mortgage desk with homeowners refinancing their mortgage and pulling cash out to add space or improve space in their home. The low fixed rate on the refinance can allow financing for these home improvements while keeping the payment per month low.
ANNOUNCEMENTS:
Talk Shoppe offers free networking & education to anyone interested in real estate or in business. Talk Shoppe meets every Wednesday 9A-10A by going to www.TalkShoppe.com (shoppe), then click the Upcoming Events tab. You will see the virtual zoom web address. This Wednesday March 24th, 2021 9AM join us for "Shelby County Sheriff Department Detective Artie Taylor, "Gang Activity Awareness In Memphis, TN"  Multi Agency Gang Unit, Artie.Taylor@Shelby-Sherriff.org, 901-222-5400
Talk Shoppe events are free thanks to supporters like Tim Gilliland of www.BackupRX.com When you need to recover lost data on your computer, you will feel very thankful when you call Tim at BackupRX and simply download all your data and system files immediately when you need it. Contact BackupRX about getting your data automatically backed-up at www.BackupRX.com
Thank you to Brett Carter of Servicemaster by Cornerstone for making Talk Shoppe's free networking and education free to our community. The hardworking team at Servicemaster by Cornerstone have been working non-stop to help restore homes in the Mid-South following an outbreak of frozen pipes during the resent cold snap. For restoring your home or office following a flood disaster, fire, wind or biohazard disaster, don't go it alone, call Cornerstone 901 624-9200.
4. Subscribe at www.JoGarner.com and you can get our weekly blog posts with podcasts conveniently in your inbox.
5. Real Estate Mortgage Shoppe reminds you to MAKE YOUR PLAN. LET'S WORK YOUR PLAN. IF THE DEAL WORKS FOR YOU TODAY, DO IT TODAY.
SPECIAL NOTE: REAL ESTATE MORTGAGE SHOPPE RECOMMENDS THAT YOU CONSULT WITH A FINANCIAL, LEGAL OR OTHER CERTIFIED, LICENSED PROFESSIONAL BEFORE ACTING OR INVESTING ON ANYTHING YOU HEAR OR SEE FROM THE CONTENT ON THIS SHOW OR BLOG POSTS. THE INFORMATION WE SHARE ON REAL ESTATE MORTGAGE SHOPPE IS GENERAL IN NATURE MEANT FOR GENERAL EDUCATIONAL PURPOSES ONLY. ALL EXAMPLES GIVEN FOR ILLUSTRATION PURPOSES ON REAL ESTATE MORTGAGE SHOPPE AND ARE BASED ON TRUE STORIES BUT CHANGE NAMES AND CERTAIN DETAILS THAT DO NOT AFFECT THE INTEGRITY OF POINTS WE ARE MAKING IN THE EXAMPLES.
QUOTE CORNER:
John Capozzi- "Dig where the gold is unless you just want some exercise."
____________________________________________________________________________________
REJOINDERS:
Genell Holloway, owner of Eagle Hollow Enterprises (901) 270-1127 health benefits, retirement options. Insuring your trusted golden benefits.

Leah Anne Morse -owner of ALL THINGS NEW 901 488-9722 Organizing you move to down size or make a life change. Coordinating estate sales.

Kelly Inman, Next Day Access (901) 617 4675
Transitional Music: " I Need A Dollar" Aloe Blacc; "If My Nose Was Running Money" Aaron Wilburn;"Gold in These Hills" Brandon Michael Kinder; "Taking Care of Business" by Bachman Turner Overdrive for the Talk Shoppe Business Tip for Real Estate Pros
________________________________________________________________________
ABOUT ED HILL OF MASTERS ROOFING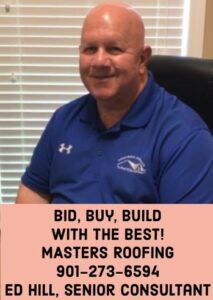 Ed Hill has been in the residential roofing industry since 2008 and has been Senior Consultant with Masters Roofing Memphis TN since 2010.  He has personally assisted about 800 homeowners with roof replacement and many others with roof and exterior repairs.  He is an active member of the Greater Memphis Business Network International chapter and is the official Masters Roofing consultant to TPC Southwind.  He holds three earned degrees including a doctorate but tries not to let those get in his way of serving his customers!  For free roof advice, free inspections, and free estimates and bids for roof replacement or roof repair call Ed Hill at 901-273-6594. Learn more at #EdHillMastersRoofing and at MemphisHomeMaintenanceShow.Podbean.Com
Ed Hill, Senior Consultant
Masters Roofing
2845 Stage Center Cove
Bartlett TN 38134
901-273-6594
EdHill.MastersRoofing@gmail.com
TN State Licensed Contractor #00067521/ Reciprocal Licenses MS & AR
BBB A+ Accredited Member Business
Platinum Preferred Contractor Owens Corning / GAF Master Elite Installer
Guild Quality Member / Angie's List
www.EdHillMastersRoofing.webs.com
Podcast https://MemphisHomeMaintenanceShow.podbean.com
You Tube Channel: Ed Hill Masters Roofing
http://Instagram.com/EdHillMastersRoofing
www.Facebook.com/EdHillMastersRoofing
ABOUT JO GARNER-MORTGAGE LOAN OFFICER:

WHAT DO YOU WANT TO ACCOMPLISH WITH YOUR MORTGAGE?
www.JoGarner.com (901) 482 0354 jo@jogarner.com twitter @jogarner NMLS# 757308 (currently working with Sierra Pacific Mortgage, Inc)
"Whatever YOUR personal priorities are, my job is to help you get the mortgage terms that will give you bragging rights when you talk about it and help you score on hitting your goals ."
As a mortgage loan officer, my job is to help you get to the benefits you want from your financing terms. What is most important to you? I can help you find the financing terms that will help you get to what you want. What is your comfort level on a house payment? How much are you comfortable paying down,? What type of financing do you need to get the house you want to buy or refinance?
Different clients have different priorities in life—some are buying their first home with very little down payment funds. Some are recovering from medical challenges, divorces or preparing to send children to college and some are embarking on a long term goal of buying properties to build rental income."
Jo Garner is a mortgage officer with extensive knowledge in tailoring mortgages to her customers who are refinancing or purchasing homes all over the country. She offers conventional, FHA, VA or other loan programs for refinancing and purchases.
Jo can help you look at rent vs buy, when it makes sense to refinance, how to get the best deal on your home purchase financing.
Jo Garner has been in the real estate/financing business for over 25 years.  She got her start in Portland, Maine where she first began her real estate career. She received her real estate education from the University of Southern Maine  and was personally mentored in San Diego, California  by Robert G. Allen, author of Nothing Down, Creating Wealth and The Challenge.
On moving back to West Tennessee in 1987, she went into business buying and selling discounted owner-financed notes secured on real estate.  In 1990 Jo went to work for a residential mortgage company and has been a mortgage loan officer for over 25 years.  Her goal is to offer excellent, affordable service to her customers, tailoring the loan programs to the specific needs of her clients. 
In addition to her work in the mortgage field, Jo Garner  is the primary sponsor and founder of Talk Shoppe in Memphis. www.TalkShoppe.com Jo Garner also host the radio show Real Estate Mortgage Shoppe airing on News Radio AM 600 WREC and iHeart Radio with podcasts and show notes published on www.JoGarner.com