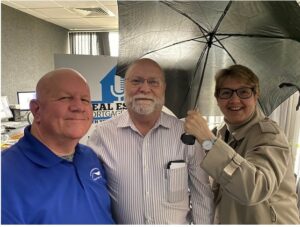 Louise May Alcott said "I am not afraid of storms, for I am learning how to sail my ship." But wouldn't it be better to already be prepared to sail before the storm? Ed Hill of Masters Roofing will be giving us a short Hail and Windstorm Clinic with some valuable things to know about your roof in a hail storm. I will be sharing some stories from some of my very brilliant mortgage clients and how they have been storm-proofing their finances and taking advantage of the rare opportunities we have in this market. Mark Loden of MKL Budgeting will be joining us for a couple of budgeting tips.
GET READY…AND SO IT BEGINS…
Good morning, Memphis! Welcome to our internet listeners and podcast listeners across the 50 states! You're on Real Estate Mortgage Shoppe. I'm your host, Jo Garner, Mortgage Loan Officer. You can connect with me at www.JoGarner.com. Thank you to real estate closing attorneys Rob Draughon and Shelley Rothman of Griffin Clift Everton Maschmeyer for sponsoring Real Estate Mortgage Shoppe today. For your real estate home purchase or refinance closing, call Rob and Shelley at 901 752-1133. Our general topic is IDEAS FOR STORM-PROOFING YOUR FINANCES & YOUR HOME FROM GROUND TO ROOF. Subscribe to get Real Estate Mortgage Shoppe podcasts with show notes at www.JoGarner.com Call us while we're live today February 6th, 2021 at (901) 535-9732.
Introducing Ed Hill of Masters Roofing.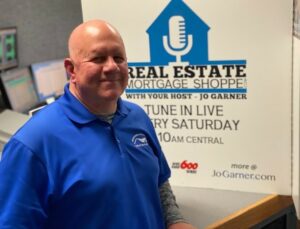 Back in the co-host chair we have Ed Hill, Senior Consultant with Masters Roofing. He is an active member of the Greater Memphis Business Network International chapter and is the official Masters Roofing consultant to TPC Southwind.  He holds three earned degrees including a doctorate but tries not to let those get in his way of serving his customers!   Learn more at #EdHillMastersRoofing and at MemphisHomeMaintenanceShow.Podbean.Com.
(Jo) Back in 2003, Memphis experienced what came to be known as "Hurricane Elvis." It was a progressive derecho with straight-line winds in excess of 100 miles per hour. Thousands of beautiful trees were ripped out of the ground, power poles along Germantown Parkway snapped in two or just laid over at odd angles, but leaning in the direction of the gale, following the violent gusts that swept over the city. Hopefully you had a chance to roll up your car windows and latch the doors on your home and backyard sheds.
Hopefully, you felt the sweet sense of relief when your insurance adjuster assured you that your ripped up roof would be replaced by the insurance company. You probably felt pretty good about yourself when you saw how much the insurance company was paying for damage to your home—money that could remain safely sheltered in your emergency fund for another day.
Have you prepared for an unexpected financial storm? The two best ways to prepare for unexpected storms are have more-than-adequate money in savings and little-to-nothing in debt. Later in the show I will be sharing how some of my brilliant and innovative mortgage clients took action so they could take cover in case of a storm.
Karen Kenner's story-setting up a lower mortgage note for when she retires
Karen Kenner (not her real name) had worked hard throughout her career. She had sacrificed to invest in her retirement funds and hoped to have her home paid off by the time she retired. Retirement loomed ahead and she realized with a slight bit of panic that her income would be cut but her bills would still be high.
Karen told me, "It suddenly hit me that I do NOT have to pay off the house. If I can refinance my mortgage back to a 30-year term on a rate this far below what I am currently paying for the 15-year loan, I can do more and live better with the extra freed up cash flow each month." She could still pay the mortgage like it was a 15 year but feel more secure with the lower payment requirement after she retired.
Other customers have looked ahead and restructured their mortgage, even rolled in some high-payment debts to free up $1,000 or more per month to diligently pay toward extra mortgage principal so the mortgage would be totally gone when the time comes for them to retire.
Stay tuned and we will share some more stories. What do YOU want to accomplish with YOUR mortgage? Make your plan. Work your plan. If the deal works for you today, let's do it today. Connect with me at www.JoGarner.com
Ed Hill of Masters Roofing knows quite a bit about what to do after a storm hits your home. Ed, a number of our listeners got hit with a big hail storm recently. I believe you plan to take us the "Hail Clinic" this morning.
You're on Real Estate Mortgage Shoppe. I'm your host, Jo Garner, Mortgage Loan Officer. What do YOU want to accomplish with your mortgage? Make your plan. Let's work your plan if the deal works for you today, let's do it today. Connect with me at www.JoGarner.com. When we come back Ed Hill of Masters Roofing will be sharing more on what to do after a hail storm. Mark Loden of MKL Monthly Budgeting Service will pop in for some budgeting tips. See you back in just a moment.
TALK SHOPPE BUSINESS TIP FOR REAL ESTATE PROS
2nd segment after 9:15 advertising break – (producer to start the song "Taking Care of Business" by Bachman Turner Overdrive –but bring the volume down before the lyrics start) It's time to talk shop with Talk Shoppe's Business Tip For Real Estate Professionals. Talk Shoppe is a marketing company offering free education and networking to anyone interested in real estate or in business. Talk Shoppe is made possible by the financial support of its sponsors and advertisers. For more about Talk Shoppe, go to www.TalkShoppe.com (shoppe) For our Talk Shoppe Business Tip today we have Talk Shoppe sponsor Mark Loden of MKL Monthly Budgeting Service. Mark, you have helped so many people and families get on an easy system of knowing where to put their dollars each month, so that bills are paid, the emergency fund is adequate and so they don't run out of money at the end of the month. Mark, what is our Talk Shoppe Business Tip for Real Estate Professionals today? (Mark Loden has about 1.5 minutes to share some tips to help our audience. )
Mark Loden of MKL Monthly Budgeting Service , how do we contact you? (901) 624-0052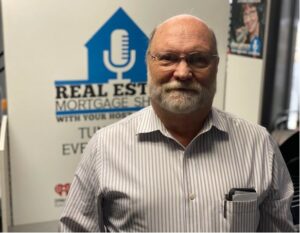 ___________________________________________________________
TOPICS COVERED BY ED HILL OF MASTERS ROOFING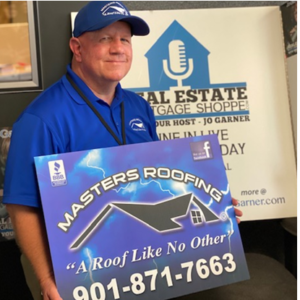 MASTERS ROOFING HAIL CLINIC
With Ed Hill The Happy Roofer 😎
The Doctor Of Roofology Is In The House!
WHAT IS HAIL?
Hail is frozen precipitation that falls with velocity from passing thunderstorm clouds.
WHY IS HAIL A PROBLEM?
Think of hail like a marble like kids used to play marbles with. Maybe some of you still have your marbles and some have lost their marbles. 😎
What would happen if we did a Mr. Science experiment and we had a marble shooter blast marbles for 30 minutes at your roof?
First, the marbles would knock granules off your shingles, affecting the color of your roof because the color is on the granules.
Second the marbles would put craters in your shingles and your roof would resemble the moon ruining the appearance of your roof.
Third, the marbles would crack the matting of your shingles which would allow rain to leak into your home.
An Old Roofer Saying: "Spring's Hail Storm Is Winter's Leak."
Hail damage from the recent hail storms that hit the Memphis/North MS/Midsouth areas may not leak until there are consistent freezing temps.
WHAT ARE SIGNS OF HAIL DAMAGE?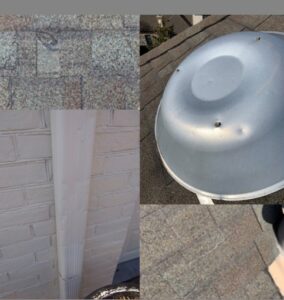 Pings on your car hood, top and trunk

Pings on your downspouts and gutters

Scratches on window screens

Dents in the Air Conditioner unit outside

Broken windshields and windows

Crushed soft metals on roofs

Holes in vinyl siding

Pings in aluminum siding

Shingle granules in downspouts

Strikes on shingles which leave craters
WHAT IS HAIL'S SILVER LINING?
"Every Dark Cloud Has A Silver Lining And Hail May Lead To A New Roof Paid For By Your Insurance Company!"
WHAT IF I CAN'T SEE HAIL ON MY ROOF?
Most homeowners will not be able to tell for sure if their roof was struck by hail or if the damage qualifies for a successful claim.
Many times hail storms occur when homeowners are away at work or asleep and hail often goes unnoticed…until the unexplained leaks start happening months later.
Call Ed Hill, Senior Consultant, Masters Roofing 901-273-6594 for a FREE, HONEST roof inspection and find out if your roof qualifies now!
.
___________________________________________________________
TOPICS COVERED BY JO GARNER, MORTGAGE LOAN OFFICER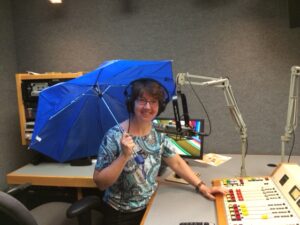 When the weather is unpredictable and you need to be outside, what is one of the first things you do? You check the weather report. You want to know the best type clothes to wear and how long it will take us to get where we are going.
What does the real estate market look like this fall season 2020? It's sort of like keeping your eye on the weather.
We are experiencing a buyers' market AND a seller's market all at the same time.
The main driver for buyers is the record low mortgage rates. Savvy buyers know that, if they can win at getting their offer accepted to purchase a home, they can lock in a record low interest rate that will give them a low mortgage payment for as long as they have the mortgage up to 30 years.

While rents are going up every year all around these buyers, they can enjoy a fixed principal and interest payment, freeing up more and more cash as incomes go up but the principal and interest payment on the mortgage stays the same.
The main profit for the seller is really clear. Home values are still moving up. Realtor.com reported that nationally year-over-year we are seeing listing prices for homes moving up about 10%—a really HOT MARKET
Home values are being pushed up by a number of factors. Two of the biggest reasons our home values are continuing to climb is because of the low inventory of unsold homes. It is common to have multiple offers to buy the same home within less than 3 days. There's just not near enough homes to meet demand from buyers trying to beat the clock on grabbing the best mortgage rates.
How to storm-proof your finances in 2021
Build your savings and reduce your debt.
I believe that Necessity Is The Mother of Invention This principal proved itself several years ago when I was just starting out in the mortgage business. Just starting in this 100% commission mortgage position, income was sparse and savings was thin. This situation forced me to think outside the box. Somehow, I had to figure out a way to get a house near to work where houses were WAY above my meager means without spending all of my savings. A realtor knew what I wanted and where I wanted to live and didn't laugh at my budget. He showed me a vacant house in a nice neighborhood that smelled bad, with ceilings that had collapsed from a water leak, missing appliances and an uneven kitchen floor with a dip so pronounced that you could drop a marble in the center of the room and have to chase it until it bumped up against a baseboard. Nobody wanted this house.
I had the home inspected and the inspector told me the house was structurally sound and with a few repairs and some elbow grease, she would be a great home. On Christmas Eve that year I bought that house for a little less than 50 cents on the dollar. I got a temporary loan from the bank where I worked to pay cash for the house and fix it up since no mortgage company would touch a house in that awful shape with a ten-foot pole. I got the house cleaned up and fixed up and it wasn't long before I could get a low-interest rate mortgage to pay off the temporary bank loan. The refinance got me a lower payment and helped recoup some money I had spent on repairs. That same month, I rented one end of it to a law student and later a nurse. Using the renter's money, I paid off the house in less than 12 years. Finding a house with a separate living unit, a finished bonus room or mother-in-law suite that you can rent out to tenants or even use as an Air-BNB, can give you a cushy second income.
That separate living unit in your home could also provide a way for you to care for an aging or handicapped loved one without the expensive of a rehab or assisted living facility. Check the covenants and restrictions for your neighborhood before purchasing.
Don't be afraid to step outside the box. Using a low-down payment loan and finding ways to make the house give you a second income can help you storm-proof your finances by shoring up your savings and hammering down your debt.
The Johnson's story- Stepping backwards to spring forward
We will call the next couple, Mr. and Ms. Johnson. They managed to get their kids through college. But, it took all of their savings and now they were drowning in debt that just kept compounding on more debt. Just recently they were blessed with their first grandchild. The problem? They wanted to spend time and money on their grandchild, making some great Disney World memories while their grandchild was young, but they were strapped with debt with no end in sight. They came into my office with a plan to gradually pay off the big bills first, but on that plan their grandchild would be grown by the time the debt had released its choke hold
Here's what the Johnsons wanted; First they wanted to get their mortgage paid off in less than 15 years since that is all that was left on the mortgage. Second, they wanted to get rid of the big balance student loans first. Like some of Bill Belichick's surprise plays in football, the Johnson's ended up doing the opposite of what they originally thought, but scoring big.
Instead of trying to pay off the big student loans first, we got rid of over $1,900 in monthly payments that were choking the Johnson's cash flow the most. We paid off about $66,000 of those bills plus the existing mortgage of around $125,000 by refinancing their home , but we had to extend the mortgage back to a 30 year loan instead of 15 years to keep the payment manageable.
At first it looked like they were having to give up ground because they went back to a 30 year, but here's where the brilliance of their plan really became real. They committed to use half of the $1,900 per month toward regular prepayments to principle on the new mortgage. At their request, I printed up the new amortization schedule. Guess what? They were still getting their mortgage paid off in LESS THAN 15 YEARS! Yay for the Johnsons! They freed themselves of the stranglehold of that high interest rate debt AND still would have their house paid off in less than 10 years with an extra $700 per month to put back for Disney World Trips and other fun times with their grandchild.
What would you do if you were in the eye of the storm?
The good news right now is that we have the highest value in our homes that we have probably ever seen. Money is dirt cheap right now with mortgage rates many times available in the 2's and 3's on 20- and 30-year fixed rate terms. (Rates are determined by your loan amount, loan type, loan-to-value and credit score and the market conditions the day you lock)
The Federal Reserve has indicated that they will allow inflation to run hotter than normal which typically sends the price on mortgage rates up, BUT they say they are committed to continue buying mortgage-backed securities to push down on the other end to get prices on mortgage rates relatively low.
If you are a renter, really get honest about where you are and where you want to be financially. Consider putting some reputable, experienced professionals on your team and buying your own home. It might be a starter home or it could be your forever home. Look at the benefits of locking in a fixed rate loan that could get you a payment 25% or even 30% below what you are paying in rent. Consider this too—that the principal and interest portion of your mortgage payment will never change on a fixed rate loan. (Taxes and insurance will fluctuate a bit, but how high will your landlord raise your rent over the next few years?) Start investing what you would be paying for someone else's house into building wealth for yourself buying your own house.
Take a few minutes to explore options on the house and financing you have now. Remember, shore up your savings and hammer down your debt. You may think your current mortgage and financing structure is fine. But what is you are missing out on saving yourself thousands of dollars over the next few years just because you did not take this unique opportunity to make some simple tweaks? The call is free. Call me and let's take a moment to explore your possibilities.
What do YOU want to accomplish with YOUR mortgage? Connect with me, Jo Garner, Mortgage Loan Officer at www.JoGarner.com (901) 482-0354.
REAL ESTATE TIP OF THE WEEK (MARK LODEN SHARES HIS TIP-The power of anticipation when getting prepared for financial rainy weather):
Ed Hill shares a tip?
ANNOUNCEMENTS:
Talk Shoppe offers free networking & education to anyone interested in real estate or in business. Talk Shoppe meets every Wednesday 9A-10A by going to www.TalkShoppe.com (shoppe), then click the Upcoming Events tab. You will see the virtual zoom web address. This Wednesday February 10th, 2021 9AM join us for "10 Ways To Save On Your Insurance" by Troy and Lynn McDonald of Erin McDonald Insurance Agency (901) 849-7101.
Talk Shoppe events are free thanks to sponsors like Brett Carter of ServiceMaster by Cornerstone. When you restore you home or office after a fire, flood or bio hazard. Don't go it alone, call Cornerstone (901) 624-9200

Thank you to Genell Holloway of Eagle Hollow for financially making Talk Shoppe's free education and business building available free to our community. Genell can help you with "Insuring your trusted golden benefits" when it comes to Health, Medicare, Dental, Vision, Supplemental including accident, critical illness, chronic illness, and retirement benefits for individuals and small business owners 901.270.1127

Thank you to real estate closing attorneys Rob Draughon and Shelley Rothman of Griffin Clift Everton and Maschmeyer for sponsoring Real Estate Mortgage Shoppe today. If you are closing on a home purchase or refinance, call Rob and Shelley at (901) 752-1133.
4. Enjoy the Big Game this weekend. You probably know a small business owner who has experienced a tumultuous financial storm this past year. You are in a position to help a local, family-owned business by making one or two of your purchases for your Big Game weekend from that family business.
. Subscribe at www.JoGarner.com and you can get our weekly blog posts with podcasts conveniently in your inbox.
6. Real Estate Mortgage Shoppe reminds you to MAKE YOUR PLAN. LET'S WORK YOUR PLAN. IF THE DEAL WORKS FOR YOU TODAY, DO IT TODAY.
SPECIAL NOTE: REAL ESTATE MORTGAGE SHOPPE RECOMMENDS THAT YOU CONSULT WITH A FINANCIAL, LEGAL OR OTHER CERTIFIED, LICENSED PROFESSIONAL BEFORE ACTING OR INVESTING ON ANYTHING YOU HEAR OR SEE FROM THE CONTENT ON THIS SHOW OR BLOG POSTS. THE INFORMATION WE SHARE ON REAL ESTATE MORTGAGE SHOPPE IS GENERAL IN NATURE MEANT FOR GENERAL EDUCATIONAL PURPOSES ONLY. ALL EXAMPLES GIVEN FOR ILLUSTRATION PURPOSES ON REAL ESTATE MORTGAGE SHOPPE AND ARE BASED ON TRUE STORIES BUT CHANGE NAMES AND CERTAIN DETAILS THAT DO NOT AFFECT THE INTEGRITY OF POINTS WE ARE MAKING IN THE EXAMPLES.
QUOTE CORNER:
Louisa May Alcott "I'm not afraid of storms, for I am learning to sail my ship."
Anonymous- "Life's roughest storms prove the strength of our anchors."
____________________________________________________________________________________
REJOINDERS:
Leah Anne Morse of All Things New in Collierville, TN (helping you down size or make transitions in life and coordinating estate sales) 901 488-9565

Bill Emmerling of Vista Points in Mt Juliet, TN and West TN – special needs trust to care for those you love when are not able to care for them. www.vistapoints.org

Mary Lou Nowak of Mid-South Home Helpers—non-medical assistance so your loved one can remain safely and comfortably in their own home (901) 414-9696
Transitional Music: "Thunder" by Imagine Dragons; "Drip Drop" by Dion and the Del-Satins; "One Step Ahead of the Storm" by Tracy Lawrence; "Memphis" by Johnny Rivers for the Look Back Memphis Trivia Contest
_____________________________________________________________________________________
CALLER: TROY AND LYNN MCDONALD OF ERIN MCDONALD INSURANCE AGENCY- calling with an insurance tip when it comes to hail damage. (901) 849-7101
ABOUT MARK LODEN OF MKL MONTHLY BUDGETING SERVICE
Welcome to the MKL Personal Budget Planning Experience!
My name is Mark Loden, counselor and founder of MKL Personal Budget Planning System. I do not sell investments or insurance of any kind. I am a budget specialist and I teach people the Essential Tools for managing their personal finances through a monthly bill paying budget plan. My service is simple and straight forward; not a ball and chain, but an organized plan that includes all your monthly budget needs and will help you to:
Pay bills on time and stop collection agency phone calls

Pay down debt such as credit cards, personal loans, etc.

Set aside money for future needs such as clothes, car maintenance, vacations, savings and much more

Learn how to manage your money so well that at any given time of the month, you will be able to know where you stand with regard to groceries, gasoline, savings, etc, in order to monitor your priorities and see them become reality.
It is a "Fiscal Fitness Plan" for your personal finances!
901.624.0052 Office
_____________________________________________________________________________________
ABOUT ED HILL OF MASTERS ROOFING
Ed Hill has been in the residential roofing industry since 2008 and has been Senior Consultant with Masters Roofing Memphis TN since 2010.  He has personally assisted about 800 homeowners with roof replacement and many others with roof and exterior repairs.  He is an active member of the Greater Memphis Business Network International chapter and is the official Masters Roofing consultant to TPC Southwind.  He holds three earned degrees including a doctorate but tries not to let those get in his way of serving his customers!  For free roof advice, free inspections, and free estimates and bids for roof replacement or roof repair call Ed Hill at 901-273-6594. Learn more at #EdHillMastersRoofing and at MemphisHomeMaintenanceShow.Podbean.Com
Ed Hill, Senior Consultant
Masters Roofing
2845 Stage Center Cove
Bartlett TN 38134
901-273-6594
EdHill.MastersRoofing@gmail.com
TN State Licensed Contractor #00067521/ Reciprocal Licenses MS & AR
BBB A+ Accredited Member Business
Platinum Preferred Contractor Owens Corning / GAF Master Elite Installer
Guild Quality Member / Angie's List
www.EdHillMastersRoofing.webs.com
Podcast https://MemphisHomeMaintenanceShow.podbean.com
You Tube Channel: Ed Hill Masters Roofing
http://Instagram.com/EdHillMastersRoofing
www.Facebook.com/EdHillMastersRoofing
ABOUT JO GARNER-MORTGAGE LOAN OFFICER:

WHAT DO YOU WANT TO ACCOMPLISH WITH YOUR MORTGAGE?
www.JoGarner.com (901) 482 0354 jo@jogarner.com twitter @jogarner NMLS# 757308 (currently working with Sierra Pacific Mortgage, Inc)
"Whatever YOUR personal priorities are, my job is to help you get the mortgage terms that will give you bragging rights when you talk about it and help you score on hitting your goals ."
As a mortgage loan officer, my job is to help you get to the benefits you want from your financing terms. What is most important to you? I can help you find the financing terms that will help you get to what you want. What is your comfort level on a house payment? How much are you comfortable paying down,? What type of financing do you need to get the house you want to buy or refinance?
Different clients have different priorities in life—some are buying their first home with very little down payment funds. Some are recovering from medical challenges, divorces or preparing to send children to college and some are embarking on a long term goal of buying properties to build rental income."
Jo Garner is a mortgage officer with extensive knowledge in tailoring mortgages to her customers who are refinancing or purchasing homes all over the country. She offers conventional, FHA, VA or other loan programs for refinancing and purchases.
Jo can help you look at rent vs buy, when it makes sense to refinance, how to get the best deal on your home purchase financing.
Jo Garner has been in the real estate/financing business for over 25 years.  She got her start in Portland, Maine where she first began her real estate career. She received her real estate education from the University of Southern Maine  and was personally mentored in San Diego, California  by Robert G. Allen, author of Nothing Down, Creating Wealth and The Challenge.
On moving back to West Tennessee in 1987, she went into business buying and selling discounted owner-financed notes secured on real estate.  In 1990 Jo went to work for a residential mortgage company and has been a mortgage loan officer for over 25 years.  Her goal is to offer excellent, affordable service to her customers, tailoring the loan programs to the specific needs of her clients. 
In addition to her work in the mortgage field, Jo Garner  is the primary sponsor and founder of Talk Shoppe in Memphis. www.TalkShoppe.com Jo Garner also host the radio show Real Estate Mortgage Shoppe airing on News Radio AM 600 WREC and iHeart Radio with podcasts and show notes published on www.JoGarner.com