Today we are exploring the challenges and opportunities the 2021 real estate and financing trends are presenting to home buyers, homeowners and home sellers. What can we expect from this market into 2022? We will be sharing examples of how people have succeeded in using the trends to their advantage. Ed Hill will be talking about some important trends and changes in the roofing industry that affect homeowners.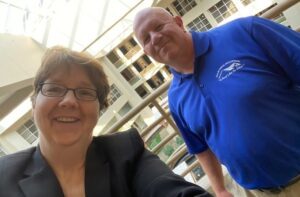 What do YOU want to accomplish with YOUR mortgage? Connect with me at (901) 482-0354 www.JoGarner.com Make your plan. Let's work your plan. If the deal works for you today, let's do it today.
To Your Success,
Jo Garner, Mortgage Loan Officer NMLS# 757308 (901) 482-0354 Jo@JoGarner.com
Let's Get Started…
Good morning, Memphis! Welcome to our internet listeners and podcast listeners across the 50 states! You're on Real Estate Mortgage Shoppe. I'm your host, Jo Garner, Mortgage Loan Officer. You can connect with me at www.JoGarner.com. Our general topic is MAKE SMART CHOICES WITH A ROOFTOP VIEW OF REAL ESTATE TRENDS 2021. . Subscribe to get our weekly blogposts with podcasts at www.JoGarner.com. Call us while we are live today August 7th, 2021 at 901 535 9732.
INTRODUCING ED HILL, MASTERS DESIGN ROOFING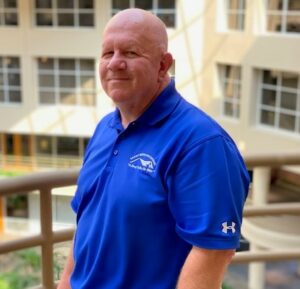 Back in the studio we have expert roofer, Ed Hill, Senior Consultant with Masters Roofing in Memphis. Check out his roofing show room in Bartlett, TN. Ed wrote the book on home improvement. Check out Ed's podcasts at https://MemphisHomeMaintenanceShow.podbean.com Ed Hill, take a minute or so and introduce yourself to our new listeners and talk a little about what you do for your clients at Masters Roofing. (Ed introducing himself and Masters Design)
(Jo) Buying ahead of revitalization to get the best deal and then wait-Dayo Dekker's story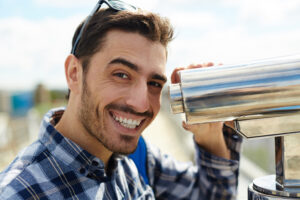 It reminds me of a real estate investor we will call Dayo Dekker. Dayo worked in a high pressure profession where his income was 100% commission. Dayo spent years suffering through feast and famine at his house depending on how the market treated him. He desperately needed a steady source of income to carry him through lean times on his commission job.
Dayo Dekker begin buying only rental homes in close proximity to streets where homes were being revitalized and renovated. He did not buy on the same street where revitalization was actively taking place but he bought ahead of the path where the revitalization was headed so he could still buy at a low enough price to get a good profit from his tenants and yet he could see his values pop up quicker as more and more other investors started buying around him and fixing up houses. Dayo bought ahead of the curve for a quicker return on income and value.
If you, like Dayo Dekker, want to look at buying a one-to-four unit rental property in growing areas, contact me and let's do a test drive on some financing options to see what will work best for you and give you the positive cash flow you need when you make your purchase.
I even have some investor products for good credit borrowers where you do not have to qualify with tax returns and traditional income qualification formulas. We can take the monthly lease income compared with your principal, interest, taxes and insurance mortgage payment to qualify you—very much like a business loan. And there is no limit on how many financed properties you own. When you lock in a fixed mortgage rate with a principal and interest payment that never increases, you give yourself a raise in pay every year when you raise the rents on your investment properties. MAKE YOUR PLAN. LET'S WORK YOUR PLAN. IF THE DEAL WORKS FOR YOU TODAY, LET'S DO IT TODAY. Connect with me at www.JoGarner.com. Email me at Jo@JoGarner.com or just call me at (901) 482-0354.
RENT VS. BUY DECISION
If you are a renter in Memphis, TN, rents have gone up 13.5% year over year. That means if you were paying $1,000/month in 2020, you are now paying $1,135/month to live in a place that belongs to someone else. If rents continue to trend upward at this pace, you will be paying almost $1,300 per month for the same space next year. If inflation continues to increase, food and gas, and other goods will be costing you more too. The advantage to buying your own home is so you can lock in a low fixed-rate mortgage. Your principal and interest portion of your mortgage payment will never increase.
REFINANCE OR RESTRUCTURE FOR A BETTER LIFE
More homeowners are refinancing to lower their interest costs, get rid of their mortgage sooner, or combine other debt into one low fixed rate. Others are using a cash-out refinance to remodel their homes.
Telling Trends: Home values will continue going up in 2021 and 2022 but at a more moderate pace. Rents will continue to increase. More new construction will ease housing inventory woes as labor comes back and lumber prices come down. Millennials and Gen Z will continue to be the biggest number of homebuyers. People working from home will head for the suburbs.
(Jo) Ed Hill of Masters Roofing in Memphis. Talk about some of the important trends you are seeing in the roofing industry that affect homeowners.(Ed launches into his topic on roofing and insurance trends.)
You're on Real Estate Mortgage Shoppe. I'm your host, Jo Garner, Mortgage Loan Officer. What do YOU want to accomplish with your mortgage? Make your plan. Let's work your plan if the deal works for you today, let's do it today. When we come back Ed Hill of Masters Roofing will be continuing with his good-to-know tips and roofing trends.
2nd segment after 9:15 break: It's time for the Look Back Memphis Trivia Contest. The Look Back Memphis Trivia Contest is brought to you by notable Memphis historian, Jimmy Ogle. You can find Jimmy Ogle's Memphis History Lectures by googling Pink Palace and Jimmy Ogle.. Our Look Back Memphis Trivia Contest is sponsored by John and Jennifer Lawhon of Lawhon Landscape (901) 754-7474 the Lawhon's can help you plan your landscaping if you have a BIG, BIG project or a smaller project . The Lawhons are giving away a $25 gift card to the first person with the correct trivia answer. If you know the answer to our trivia question, call us at 901 535 WREC 901 535-9732.
Garner # 72 03/18/16
National Ornamental Metal Museum
Question: I am one of a kind in America, as the next closest facility like me is in Japan. Who am I?
Hint: My first buildings were built in 1885.
Hint: My first "clients" were men of the river, and not men of war!
Hint: My buildings and grounds expanded in the 1930s, and one of present buildings was moved over 100 feet!
Final Hint: I opened in 1979, and I have become the best museum of my kind in America.
Answer: National Ornamental Metal Museum is a museum for the collection, preservation, and exhibition of historical and contemporary metalwork. The museum is housed in a 1930s brick building on a bluff overlooking the Mississippi River that was formerly used as a U.S. Marine Hospital. Leased from the government by Abe Sauer of Tennessee Fabricating Company for the purpose of founding his vision, a museum devoted to the art of metal craft, it originally housed Mr. Sauer's private collection which was later stolen. Mr.Sauer also helped found NOMMA the National Ornamental and Miscellaneous Metals Association.
The Metal Museum is the only institution in the United States devoted exclusively to the advancement of the art and craft of fine metalwork. This is achieved through exhibitions, collections, conservation, restoration and consulting services, classes, internship opportunities, artist residencies and apprenticeships, research and onsite fabrication of artwork and architectural elements. The museum has over 3000 items in its permanent collection, and also hosts travelling exhibitions. There is also a working smithy and foundry on site. In addition to displaying metalwork inside the museum they also offer hands-on classes in the museums workshops.
___________________________________________________________
TOPICS COVERED BY ED HILL OF MASTERS ROOFING IN MEMPHIS TOP FIVE TRENDS IN ROOFING
Ed Hill, Senior Consultant, Masters Roofing Memphis 901-273-6594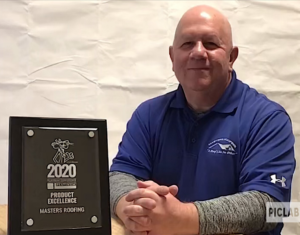 Roofing Has Trends That Are Both Good And Bad. Things Have Changed A Lot Over The Last Five Years. Here Are Five Trends In Roofing That May Affect You!
Most New Roofs Are Architectural Not Three Tabs…gone are the days when a homeowner could just throw any old flat three tab shingle on their roof. The trend today is go big or go home!

Deductibles Are Higher For Less Coverage…gone are the days when a home best buddy you play golf with can just write you the perfect policy that covers a everything like policies did in 1940. Check you policy and you will see your out of pocket going up and your protection going down in many cases!

HOAs Often Require Specific Shingle Grades Or Colors…gone are the days when a homeowner could install whatever shingle and color they wanted. Restrictive Covenants in Home Owner Associations often require certain, styles, brands or colors.

Homeowners Are Investing In A Quality Roof…gone are the days when homeowners would spend as little as possible to put the lowest priced roof on their home. These homeowners have already made that mistake and won't make it again. Cheap roofs are very expensive in the long run due to repeated repairs over the short life of the roof.

Insurance Companies Are Doing As Much As Possible From As Far Away As Possible… gone are the days when insurance companies sent a licensed adjuster to inspect your roof for a storm claim. You are more likely today to find a third party ladder assist climbing on your roof in place of a licensed adjuster, or having to await the verdict on your roof from a desk adjuster 400 miles away who has never even been to your city much less seen your roof. That's not right, but that's what's happening.
Some of these were good and some were bad. If you want to be sure you are making the right choices for your roof or receive the right service from your insurance company, then call me and let's discuss your next roof of the current problems you are having with your insurance company. They are hoping you won't call. Disappoint them and call 901-273-6594! Remember, a second opinion may lead to a second chance for your roof!
www.MemphisHomeMaintenanceShow.Podbean.Com
TOPICS COVERED BY JO GARNER, MORTGAGE LOAN OFFICER: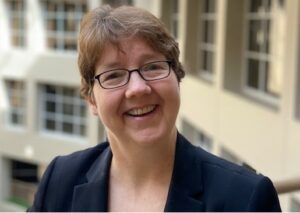 Talk about ways you have seen people use smart strategy in this current market.
We talked earlier about one of the trends revealing that rents tenants are paying have been going up all over the country. Tenants renting in Memphis, TN saw their rents go up 13.5% year over year. Those rents are projected to go up again and again. When you buy a home and lock in a fixed rate mortgage, the principal and interest portion of your payment never increases. That helps keep your housing costs lower over time.
Rent vs Buy—Lindsey's Smart Solutions
Lindsey has just graduated college with a business degree and has landed a pretty good job right here in town. She feels pretty certain she is staying in the area for the next 3 years or more, but what if she has the opportunity to be transferred with a promotion? She is grinding and pacing over whether to buy a home or rent. She keeps putting off making a decision because she doesn't want to regret making a bad choice.
Lindsey and her mother called a realtor that had been referred to them by close friends. Reba the realtor met with Lindsey and her mom and really listened to what was important to Lindsey. Lindsey had given me, her mortgage officer, permission to talk with Reba. I sent over the mortgage preapproval information so that Reba the Realtor would know the right price range and mortgage parameters.
Reba selected some houses that would be in an acceptable price range and had amenities of the greatest interest to Lindsey. Reba and Lindsey and Lindsey's mom went shopping for the perfect house.
I made sure the mortgage terms also fit Lindsey's comfort level on a house payment and move-in costs too. We chose a low fixed rate government mortgage that had an assumability clause that would allow someone later to assume the loan from Lindsey if the market was tough at the time she needed to sell. Reba showed her homes in stable neighborhoods that had some increase in value, just to make sure Lindsey would have room to make a profit should her career cause her to have to transfer to a different city.
Even though Lindsey was excited when she found the perfect house, she sat down and asked herself the questions that successful people ask when they make big decisions. Here are some of the facts that let Lindsey know without a doubt that she was making the right decision to buy the house instead of trying to rent:
The homes in the neighborhood where Lindsey wanted to buy had rent rates of about $1,300/month and rising about 5% per year. The total house payment on a government FHA loan was going to be around $935/month including taxes and insurance and FHA mortgage insurance.
Lindsey consulted with a tax accountant, her realtor and me, her mortgage officer. If she bought the house, she would be:
Paying almost $400/month LESS by not having to pay the higher rent rates.

She would avoid the steadily rising rents in the area at 5% or more each year in rent hikes.

Her tax accountant showed her how she could write off the mortgage interest to reduce her taxes owed to the government. "Hmmmm…..getting a tax refund each year would be nice," she thought with a smile.

Her mother gave her a gift for the down payment and some of the closing costs and ask the seller to pay the rest.

Even if she did end up having to transfer out of the city with her new job, she had at least three exit strategies to avoid getting stuck with the house
-First she could get Reba to sell the house.
– Second, even if she couldn't sell outright, if the mortgage rates had gone up by then, she might attract a buyer who could qualify with her mortgage company and be allowed to just assume the mortgage obligation with the lender's permission
-Third, with the rent rates going up so fast, she could get a property manager to rent the home to reputable tenants and manage the property for her, hopefully at a nice profit.
When Lindsey went to close on her house that day, Reba the realtor and I were there to celebrate with her. Lindsey, announced with a confident smile, "I know that I know that this is the right decision. Let's do this!"
Refinance to Renovate Your Home & Reduce Interest Cost
Packard and Penny Powell- Purchase of Prize Home Turns To Money Pit
Packard and Penny realized life as they had always known it was about to change. Both of their children still lived at home where they had grown up and were finishing up their college courses. Penny's employer transitioned her from working in the office everyday to working mostly from a desk at her home. Packard still drove to work. The big change was that Packard's mother needed to come and live with them.
The house that had been their home for so many years was just not big enough. Even though the kids were now grown Penny said, " I still want them to stay as long as they want to live with us. I want them to always know they have a nice home to come back to."
Packard and Penny and Packard's mother went shopping. They made several offers on homes for sale but kept losing to someone else with a better offer. Finally they found a house that had the layout they wanted with a large bedroom downstairs for Packard's mother and a tucked away area or Penny to work at her desk.
Since the house costs a little more than they were prepared to pay, Packard's mother readily agreed to put up some of her cash to for a larger down payment to make the mortgage more affordable for the family. Their home purchase offer won the prize. The Powell's celebrated for quite some time after moving in.
A few months later, however, the pressure began to build as one of the heating units stopped working. A pipe broke in the laundry room and then mold appeared. These break downs and a few others over the following year forced the Powell's to max out their credit cards trying to stay ahead of the repairs in the home which now had become a money pit.
Continuing to throw money toward repairs was not going to work forever. Increasing credit lines on the credit cards was not sustainable either. The solution came when they realized their home's value had gone up substantially and they could now do a cash out refinance and pay off some of the higher interest bills.
Packard said, "The repairs items are getting less and less. This house may be conforming from a money pit to our mansion. What can we do to reduce the interest costs on all these loan balances?"
Value $500,000
1st mortgage balance on old loan $275,000
2nd equity line of credit $50,000
Home improvement loan and credit cards $40,000
Total monthly debt on these accounts $3,100
They refinanced to a lower rate and back to a 30 year term
$365,000 + closing costs to refinance and some prepaid taxes and insurance
Total payment now on the one loan that had the other debt rolled in was only $2,100/month.
This was about $1,000/month savings for the Powells.
Their goal was to use part of their $1,000 per month savings to make regular prepayments to principal to get the new mortgage paid off sooner.
REAL ESTATE TIP OF THE WEEK (Ed Hill has about 1 to 1.5 minutes to share his tip): Jo mentions the trend for Intergenerational Bonding when kids move in with parents or parents move in with their children or grandchildren. Joshares tip about using cash out refinance to finance home renovations to accommodate for changing lifestyles in the home.
ANNOUNCEMENTS:
Talk Shoppe offers free networking & education to anyone interested in real estate or in business. Talk Shoppe meets every Wednesday 9A-10A by going to www.TalkShoppe.com (shoppe), then click the Upcoming Events tab. You will see the virtual zoom web address. This Wednesday August 11, 2021 join us We are also meeting IN PERSON at Concord Career College at 5100 Poplar Ave, Unit 132, Memphis, TN. Jay Myers, author and business man will be talking about his new book Rounding Third Headed Home, planning for the ending of your career.
Thank you to Talk Shoppe sponsor Darlene Kemp with Vista Points. Talk with Darlene about setting up a special needs trust for your loved one so that they can be cared for one day when you can't be there. www.vistapoints.org.
Thank you to Brett Carter of ServiceMaster by Cornerstone for making Talk Shoppe's education and networking free to our business community. Brett Carter at ServiceMaster by Cornerstone can help you clean up and restore your home or office after a fire, flood or bio hazard. Contact Brett at 901 624-9200.
2. Salute to our US Olympic athletes. We are cheering for you! GREAT JOB USA!
4. Subscribe at www.JoGarner.com and you can get our weekly blog posts with podcasts conveniently in your inbox.
5. Real Estate Mortgage Shoppe reminds you to MAKE YOUR PLAN. LET'S WORK YOUR PLAN. IF THE DEAL WORKS FOR YOU TODAY, DO IT TODAY.
SPECIAL NOTE: REAL ESTATE MORTGAGE SHOPPE RECOMMENDS THAT YOU CONSULT WITH A FINANCIAL, LEGAL OR OTHER CERTIFIED, LICENSED PROFESSIONAL BEFORE ACTING OR INVESTING ON ANYTHING YOU HEAR OR SEE FROM THE CONTENT ON THIS SHOW OR BLOG POSTS. THE INFORMATION WE SHARE ON REAL ESTATE MORTGAGE SHOPPE IS GENERAL IN NATURE MEANT FOR GENERAL EDUCATIONAL PURPOSES ONLY. ALL EXAMPLES GIVEN FOR ILLUSTRATION PURPOSES ON REAL ESTATE MORTGAGE SHOPPE AND ARE BASED ON TRUE STORIES BUT WE USE FICTIONAL CHARACTERS AND DO NOT DIRECTLY REFLECT REAL PEOPLE OR EXACT DETAILS IN ANY OF THE SITUATIONS.
QUOTE CORNER:
The quote of the week: "The higher the climb, the better the view." Bacotkeren.blogspot.com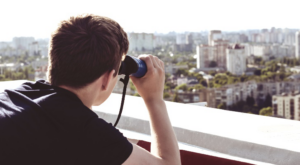 ____________________________________________________________________________________
REJOINDERS:
Mark McLaurine of Refrigeration Unlimited myhvacman.com (901) 216-7782

Pat Goldstein, realtor with Crye-Leike Realtors West TN and North Mississippi (901) 606-2000

Attorneys Rob Draughon and Shelley Rothman of Griffin Clift Everton and Maschmeyer (901) 752-1133
Transitional Music: "Up on the Roof" by the Drifters; "What's Going On" by Marvin Gaye; "Welcome to the Future" by Brad Paisley; "Memphis" by Johnny Rivers
________________________________________________________________________
ABOUT ED HILL OF MASTERS ROOFING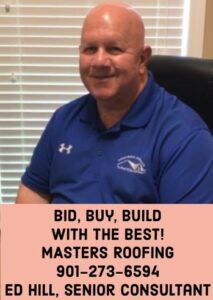 Ed Hill has been in the residential roofing industry since 2008 and has been Senior Consultant with Masters Roofing Memphis TN since 2010.  He has personally assisted about 800 homeowners with roof replacement and many others with roof and exterior repairs.  He is an active member of the Greater Memphis Business Network International chapter and is the official Masters Roofing consultant to TPC Southwind.  He holds three earned degrees including a doctorate but tries not to let those get in his way of serving his customers!  For free roof advice, free inspections, and free estimates and bids for roof replacement or roof repair call Ed Hill at 901-273-6594. Learn more at #EdHillMastersRoofing and at MemphisHomeMaintenanceShow.Podbean.Com
Ed Hill, Senior Consultant
Masters Roofing
2845 Stage Center Cove
Bartlett TN 38134
901-273-6594
EdHill.MastersRoofing@gmail.com
TN State Licensed Contractor #00067521/ Reciprocal Licenses MS & AR
BBB A+ Accredited Member Business
Platinum Preferred Contractor Owens Corning / GAF Master Elite Installer
Guild Quality Member / Angie's List
www.EdHillMastersRoofing.webs.com
Podcast https://MemphisHomeMaintenanceShow.podbean.com
You Tube Channel: Ed Hill Masters Roofing
http://Instagram.com/EdHillMastersRoofing
www.Facebook.com/EdHillMastersRoofing
___________________________________________________________________
ABOUT JO GARNER-MORTGAGE LOAN OFFICER: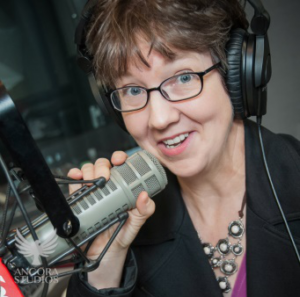 WHAT DO YOU WANT TO ACCOMPLISH WITH YOUR MORTGAGE?
www.JoGarner.com (901) 482 0354 jo@jogarner.com twitter @jogarner NMLS# 757308 (currently working with Sierra Pacific Mortgage, Inc)
"Whatever YOUR personal priorities are, my job is to help you get the mortgage terms that will give you bragging rights when you talk about it and help you score on hitting your goals ."
As a mortgage loan officer, my job is to help you get to the benefits you want from your financing terms. What is most important to you? I can help you find the financing terms that will help you get to what you want. What is your comfort level on a house payment? How much are you comfortable paying down,? What type of financing do you need to get the house you want to buy or refinance?
Different clients have different priorities in life—some are buying their first home with very little down payment funds. Some are recovering from medical challenges, divorces or preparing to send children to college and some are embarking on a long term goal of buying properties to build rental income."
Jo Garner is a mortgage officer with extensive knowledge in tailoring mortgages to her customers who are refinancing or purchasing homes all over the country. She offers conventional, FHA, VA or other loan programs for refinancing and purchases.
Jo can help you look at rent vs buy, when it makes sense to refinance, how to get the best deal on your home purchase financing.
Jo Garner has been in the real estate/financing business for over 25 years.  She got her start in Portland, Maine where she first began her real estate career. She received her real estate education from the University of Southern Maine  and was personally mentored in San Diego, California  by Robert G. Allen, author of Nothing Down, Creating Wealth and The Challenge.
On moving back to West Tennessee in 1987, she went into business buying and selling discounted owner-financed notes secured on real estate.  In 1990 Jo went to work for a residential mortgage company and has been a mortgage loan officer for over 25 years.  Her goal is to offer excellent, affordable service to her customers, tailoring the loan programs to the specific needs of her clients. 
In addition to her work in the mortgage field, Jo Garner  is the primary sponsor and founder of Talk Shoppe in Memphis. www.TalkShoppe.com Jo Garner also host the radio show Real Estate Mortgage Shoppe airing on News Radio AM 600 WREC and iHeart Radio with podcasts and show notes published on www.JoGarner.com