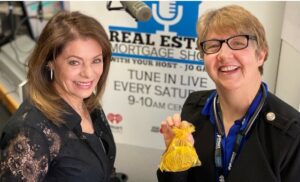 Let's focus on the many ways you can save real money on your home and your financing. I will be sharing clever moves my mortgage clients made to save themselves thousands over time. Terri Murphy, real estate and business trainer, will be sharing some specific opportunities in our Memphis area to make money and save money in real estate.
What do YOU want to accomplish with YOUR mortgage? Subscribe to get Real Estate Mortgage Shoppe weekly podcasts with show notes and pictures at www.JoGarner.com What is YOUR story? Let's explore ways to help you get the life you want quicker. (901) 482-0354.
THE DOOR IS OPEN. COME ON IN…
Good morning, Memphis! Welcome to our internet listeners and podcast listeners across the 50 states! You're on Real Estate Mortgage Shoppe. I'm your host, Jo Garner, Mortgage Loan Officer. You can connect with me at www.JoGarner.com. Our general topic is THE DOOR OF OPPORTUNITY IS OPEN-SAVE THOUSANDS AS A HOMEOWNER, HOME SELLER, HOME BUYER. Thank you to real estate attorneys Rob Draughon and Shelley Rothman of Griffin Clift Everton and Maschmeyer for sponsoring our show today. For your home purchase closing or refinance, contact Rob and Shelley at 901 752-1133. Subscribe to get Real Estate Mortgage Shoppe podcasts with show notes at www.JoGarner.com Call us while we're live today March 6, 2021 at (901) 535-9732.
INTRODUCING TERRI MURPHY, AUTHOR, NATIONAL SPEAKER, REAL ESTATE TRAINER
We have the famous Terri Murphy with us today on Real Estate Mortgage Shoppe. Terri is the senior editor of RealtyTimes.com. You are an author and national speaker and real estate trainer. You are a leader for Women in Real Estate, Women's Wisdom Network, and a group called In the Men's Room (that sounds interesting.) It is always a pleasure having you on Real Estate Mortgage Shoppe. Take a moment and tell our listeners a little more about yourself and what you do..(Terri introduces herself and talks about what she does)
ARE YOU READY TO MOVE ON AN OPPORTUNITY?
(Jo) After more than 30 years of serving my clients as their mortgage lender, I have several stories to share from these clients. I like to call them my "rock-star-hall-of-fame" mortgage clients because they have come up with some brilliant solutions to common challenges most families face. Later in the show I am going to share with you some of their stories and solutions to meet their changing family needs
Let's talk about two basic groups of people. Which one are you? The first group would be those people who know they need to make a change in where they live or how they live. They know there are some simple actions they can take to save themselves a lot of money, but they just don't want to take time and energy to do it right now. Refinancing and paying off high interest rate debt, reducing their monthly expenses by $600 or $700 per month would allow them to enjoy life and invest in an even better life. Even making one or two calls to the mortgage company to eliminate having to pay for private mortgage insurance, could save them thousands over time, but they are like the old dog moaning on the front porch.
OLE CLYDE, SITTIN' ON A NAIL
One day a farmer was sitting out on his front porch with his dog Clyde. Every few minutesClyde would let out howl of pain. A neighbor walked up to talk with the farmer and asked him, "Why is your dog howling so loudly? What's wrong with him?"
The farmer replied, "Ole Clyde-he's sittin' on a nail. The nail's hurtin' him, but not hurtin' him enough for him to get up and move."
Like this old dog, Clyde, some of my mortgage clients know what they need to do to make their living situation better and their finances more comfortable, but they are like that old dog sitting on the nail. It is time to get up off the nail and change positions.
Other stories I can share with you are from the second group of families who took the time to decide on some definite needs that family members had and took action to, at least meet those needs. Some of these families came up with some ideas that improved their lives beyond just meeting needs and it didn't cost them that much to do it. Stay tuned to hear later in the show what some of those very smart mortgage clients did to get bragging rights on saving money.
What do YOU want to accomplish with YOUR mortgage? Make your plan. Work Your Plan. If the Deal Works for your today, Let's do it today. Call me at (901) 482-0354 or email Jo@JoGarner.com
(Jo) Terri Murphy, you are known around the country for knowing real estate. But you know our real estate right here in Memphis quite well. We have two or three minutes before going to break. Share with our listeners some of the ways homeowners, home sellers and home buyers have made money and what they can do to make more money with the values we are seeing. (Terri launches her topic on Memphis real estate values and forecast more for more value)
(Terri) Market home values up over 14% and the forecast is for values to continue rising. We should see values stay high and going up through the end of 2021.
Terri refers to sources from Redfin and www.littlebighome.com. Memphis average home price about $154,000. If you know you are not in your forever home, now is the time to make your move up or down or across the street.
You're on Real Estate Mortgage Shoppe. I'm your host, Jo Garner, Mortgage Loan Officer. What do YOU want to accomplish with YOUR mortgage? Make your plan. Let's work your plan if the deal works for you today, let's do it today. Connect with me at www.JoGarner.com When we come back national speaker and senior editor for RealtyTimes.com will be sharing more about how to save thousands of dollars on your home and your finances.
THE LOOK BACK MEMPHIS TRIVIA CONTEST
2nd segment after 9:15 break: Our Look Back Memphis Trivia Contest is brought to you by notable Memphis historian, Jimmy Ogle. Twelve of his Memphis History lectures entitled Making Memphis – Storytelling by Jimmy Ogle may be viewed by Googling "JIMMY OGLE PINK PALACE". View at JimmyOgle.com. The Look Back Memphis Trivia Contest is sponsored by John and Jennifer Lawhon of Lawhon Landscape (901) 754-7474 the Lawhon's can help you plan your landscaping if you have a BIG, BIG project or a smaller project or you can do the big project in phases. The Lawhons are giving away a $25 gift card to the first person with the correct trivia answer. If you know the answer to our trivia question, call us at 901 535 WREC 901 535-9732.
Garner # 192 * 03/06/21
Wolf River
Question: I start a meandering journey in Mississippi and end in Tennessee. Who am I?
Hint: I was named (Margot) by French explorers centuries ago.
Hint: I pass through two states, four counties and by eleven communities on my journey.
Hint: I was declared "dead" in the 1970s.
Final Hint: In 1997, I designated as an American Heritage River by Presidential Proclamation!
Answer: The Wolf River begins in Holly Springs National Forest in Marshall County, Mississippi and meanders over 90 miles to the Mississippi River, just north of Downtown Memphis. Early 19th century, declared navigable, from Memphis to La Grange, by the Tennessee General Assembly, which appropriated funds to remove obstructions for keel boat travel. In 1888, Memphis stopped using the Wolf River as its principal source of drinking water, switching to artesian wells, which are still used and which are replenished by the Wolf's watershed.
In 1960 because of its foul odor, the Wolf was dammed in 1960 near its mouth and diverted into the Mississippi north of Mud Island. The section of the Wolf downstream of this channel diversion became a slack water harbor of the Mississippi known today as Wolf River Harbor, which separates Mud Island (actually a peninsula) from the Memphis "mainland." In 1970, surface drainage, sewage, and industrial pollution caused a group of scientists and environmentalists to pronounce the river "dead" around Memphis. Home to deer, otter, dirt pigs, mink, bobcat, fox, coyote, turkey, and a wide variety of waterfowl, reptiles, amphibians, and aquatic life. Migrating osprey, great egret and bald eagle have been spotted. Tennessee state record trees located in its bottomland forests, including a Tupelo Gum that is 17 feet (5.2 m) in circumference; and other hardwoods include green ash, red maple, swamp chestnut oak, black gum, and the majestic bald cypress. Native flowering plants include cardinal flower, ironweed, swamp iris, false loosestrife, spatterdock, swamp rose, blue phlox and spring cress.
Concerned citizens formed the Wolf River Conservancy in 1985 and have been making the Wolf River healthy again and accessible for all future generations. wolfriver.org.
Jimmy Ogle has retired from walking tours in Memphis. Twelve of his Memphis History lectures from the Pink Palace entitled Making Memphis – Storytelling by Jimmy Ogle, and now more than ten hours Downtown Walking Tours are FREE on the internet at . . . You Tube Jimmy Ogle.
View JimmyOgle.com for more info!
___________________________________________________________
TOPICS COVERED BY TERRI MURPHY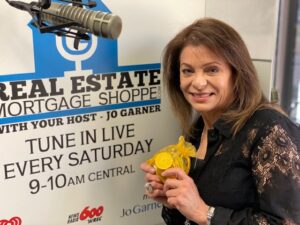 Terri Murphy talks about the importance of engagement with your real estate professionals. A reputable, experienced realtor is key, loan officer and home insurance agent. Communicate clearly to these professionals what you want to achieve and listen to options that are presented to you. Make your move while the costs to borrow is low and values are high.
Sometimes our listeners are reluctant to call a professional because they don't want to get roped into a decision. If that is the case, you are working with the wrong professional. Make the call. Research and consider the advice from those who work in the business every day.
What if you sell your home too fast? There are transition options out there for you to make the move easier.
TOPICS COVERED BY JO GARNER, MORTGAGE LOAN OFFICER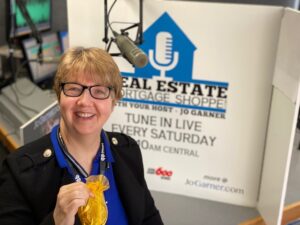 Ways to Save Money on Your Home and Your Finances
Eliminating Private Mortgage Insurance –Can you remember that confident satisfaction you felt the last time you saved yourself a lot of money? It is a beautiful feeling for this mortgage officer to help a client get that feeling. Saving the mortgage customer by setting up reduced closing costs, a little bit better interest rate and structuring the loan so the customer pays less to the lender for mortgage insurance are all great ways to give the customer that confident, satisfied feeling.
One of the top ways to reduce your costs on your mortgage is to pay less for private mortgage insurance. Private mortgage insurance on a conventional mortgage loan does not benefit the borrower. This kind of mortgage insurance only benefits the lender. Why do you want to pay for something that only benefits the lender?
Private mortgage is not homeowner insurance and it is not credit life. It will not pay the borrower anything, ever. Private mortgage insurance is required by the lender on conventional mortgages when the borrower pays less than 20% down payment. The borrower can choose to pay private mortgage insurance once as a single-pay lump sum or they can pay monthly PMI until the loan balance drops below 78% loan-to-value or they can pay a little bit upfront and a smaller payment per month.
Here's how to get rid of private mortgage insurance:
Call your lender. If you already have a conventional mortgage and you think the balance owing on your mortgage is less than 80% of today's value on your home, you can call your current lender and ask them to remove the private mortgage insurance from your payment so you don't have to pay it anymore. They will probably want some money from you to order an appraisal to make sure your mortgage is indeed less than 80% of your home's current value and that you have been paying private mortgage insurance on that loan for at least 24 months.
You must have a good payment track record. Your payments must have been made as agreed. Some companies require that you pay at least 12 months to 24 months on the private mortgage insurance before requesting to have PMI removed.
Work with an experienced mortgage officer. Play it smart and save thousands of dollars over time by choosing the right structure on a conventional loan. As a mortgage loan officer my first job is to make sure I cut the cost of the mortgage loan as much as possible for my mortgage customers applying for a mortgage. One way to do that is to help them avoid paying mortgage insurance as much as possible. I have had mortgage customers apply online or by phone or in person that I have helped them eliminate all or part of what they would have paid in mortgage insurance.
Reevaluating your homeowner's insurance and car insurance plan- ask your insurance agent to review your coverages and deductibles. With home values so much higher, you may be able to increase the deductible a little bit to add more coverage on the value of your home without taking the payment higher. A new roof can mean a big discount to the cost of your insurance. Ask your homeowners insurance agent about any other discounts available to you.

Buying a home and locking in a low fixed interest rate. If you are a first-time homebuyer or you have a home but want to down size or move up, you have an opportunity with low mortgage rates to lock into a fixed principal and interest payment. If other goods and services go up in price each year, your mortgage Principal and Interest payment stays at its constant low level.

Paying your mortgage off early-did you know that when you get a 30-year mortgage, if you pay one extra Principal and Interest payment each year, every year, you can eliminate 7 to 8 years off your mortgage? What if you paid more than that toward extra principle each year? That can save you several thousand dollars over time.

Refinancing to better mortgage terms-
Lower the interest rate on your mortgage. This usually is a good thing, unless your mortgage is almost paid off and you have already paid almost all of the interest. Call me and we can look closer at your mortgage structure. Some homeowners want to get rid of ALL of the bills sooner, so they roll the higher interest, higher payment debt into the low fixed rate mortgage and then they set up automatic payments to pay extra principal each month so they can pay the whole thing off in a much shorter time.

Another real money saver is when you can lower the interest rate AND eliminate 10 years or more off your mortgage term and keep the mortgage payment about the same or better.

Harry and Helen Harlington- Structure your mortgage financing with your other family member interest in mind
(This story illustrates how, over the course of 25 years, these homeowners saved thousands by switching from a longer-term loan, to a shorter-term loan and back to a longer-term loan, lowering the interest rate each time)
Harry and Helen Harlington committed many years ago to put others first, including their own family members. Time after time financial challenges, physical illnesses and other of life's storms tried to blow this family off course. Each time the Harlington's regrouped and continued to put other's interest first. This forced them to think of creative solutions and take action.
The first time I met Mr. and Ms. Harlington was over 20 years ago when they were buying a home. They wanted a 30- year fixed rate mortgage so that they could afford to help their children who were finishing up college. The Harlington's set up a system to make extra payments to try and pay off the mortgage early.
Then mortgage rates dropped a few years later. Mr. Harlington and I explored some refinance scenarios with a much lower mortgage rate than he was currently paying but we looked now at a 15-year term, which would automatically eliminate over 5 years off the mortgage. Mr. Harlington could do long math in his head. Before I could print out for him the benefits of cutting the interest by over a point and dropping over 60 payments off the loan payoff, he already had calculated the tens of thousands of dollars his family would get to keep in their pockets if he cut the rate AND the term on his mortgage. We did that refinance with him and his wife walking away with bragging rights
A few years later Mr. Harlington called me with some very bad news he had received from his doctor. By this time the shorter 15-year mortgage term had allowed him to significantly pay down the balance on his mortgage. He had saved a LOT of money doing this.
But, true to his commitment to put others first, he gave up his desire to pay off the mortgage completely, and instead, we looked at taking the smaller balance left and refinance to a still low rate but longer 30-year term. The payments would BE drastically lower than he was paying so that, if he should pass away before his wife, she would be able to easily make the payments on the remaining mortgage and leave plenty in the budget to pay for her personal care and keeping up the house.
Over a 25-year period, the Harington's saved tens of thousands of dollars on what they paid on their mortgage by taking advantage of rates when they could refinance to lower interest expense. They also saved thousands by eliminating years off their original mortgage.
What do YOU want to accomplish with YOUR mortgage? Let's explore some options you have today while rates are at around a 50-year low. Call me at (901) 482-0354 or email me at Jo@JoGarner.com .
REAL ESTATE TIP OF THE WEEK (Russell is a regular listener of Real Estate Mortgage Shoppe and a Certified Public Accountant. His tip was on the advantages of using a 30-year fixed rate mortgage so that you are only required to pay the lower note. But, pay the mortgage early as much and as often as you can. If an unexpected hardship hits, you can always ease off and have the freedom to make the lowest payment.
ANNOUNCEMENTS:
Talk Shoppe offers free networking & education to anyone interested in real estate or in business. Talk Shoppe meets every Wednesday 9A-10A by going to www.TalkShoppe.com (shoppe), then click the Upcoming Events tab. You will see the virtual zoom web address. This Wednesday March 10th, 2021 9AM join us for Attorney Bruce Ralston, "Bankruptcy and Other Consumer Protection," Ralston Buchanan Consumer Law Group.
 Talk Shoppe events are free thanks to Talk Shoppe sponsors Troy and Lynn McDonald of Erin McDonald Insurance Agency. For your home and auto and other property and casualty insurance, call Lynn at 901 849-7101
Thank you to Talk Shoppe sponsor Ed Hill of Masters Roofing in the Memphis area. Ed wrote the book on Home Improvement, especially when it comes to your roof. Call Ed at 901 -273-6594
Thank you to real estate attorneys Rob Draughon and Shelley Rothman of Griffin, Clift, Everton and Maschmeyer. For your real estate home purchase or home refinance, call Rob and Shelley to close your transaction at 901 752-1133
4. Subscribe at www.JoGarner.com and you can get our weekly blog posts with podcasts conveniently in your inbox.
5. Real Estate Mortgage Shoppe reminds you to MAKE YOUR PLAN. LET'S WORK YOUR PLAN. IF THE DEAL WORKS FOR YOU TODAY, DO IT TODAY.
4. Subscribe at www.JoGarner.com and you can get our weekly blog posts with podcasts conveniently in your inbox.
5. Real Estate Mortgage Shoppe reminds you to MAKE YOUR PLAN. LET'S WORK YOUR PLAN. IF THE DEAL WORKS FOR YOU TODAY, DO IT TODAY.
SPECIAL NOTE: REAL ESTATE MORTGAGE SHOPPE RECOMMENDS THAT YOU CONSULT WITH A FINANCIAL, LEGAL OR OTHER CERTIFIED, LICENSED PROFESSIONAL BEFORE ACTING OR INVESTING ON ANYTHING YOU HEAR OR SEE FROM THE CONTENT ON THIS SHOW OR BLOG POSTS. THE INFORMATION WE SHARE ON REAL ESTATE MORTGAGE SHOPPE IS GENERAL IN NATURE MEANT FOR GENERAL EDUCATIONAL PURPOSES ONLY. ALL EXAMPLES GIVEN FOR ILLUSTRATION PURPOSES ON REAL ESTATE MORTGAGE SHOPPE AND ARE BASED ON TRUE STORIES BUT CHANGE NAMES AND CERTAIN DETAILS THAT DO NOT AFFECT THE INTEGRITY OF POINTS WE ARE MAKING IN THE EXAMPLES.
QUOTE CORNER:
Anonymous "The doors of opportunity are unlocked, but you'll never know unless you try to open them first."
Idlehearts.com "Save your money. Saving money is just like earning money."
____________________________________________________________________________________
REJOINDERS:
Pat Goldstein, Crye-Leike Realtors TN and North MS (901) 606-2000

Mark McLaurine, Refrigeration Unlimited www.myhvacman.com

Mark Loden, MKL Monthly Budgeting Service (901) 624-0052
Transitional Music: "Money That's What I Want" by Barrett Strong; "Money Song" by the Muppets; "Big Time" by Peter Gabriel; "Memphis" by Johnny Rivers for the Look Back Memphis Trivia Contest
________________________________________________________________________
ABOUT TERRI MURPHY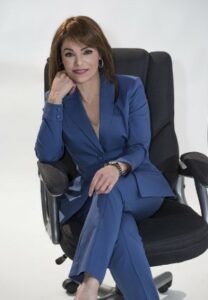 Terri Murphy understands the art of engagement through authentic communication.  As a top producing sales entrepreneur in the Chicago area for over 28 years, Terri understands the unmatchable power of how to connect in a noisy and overcrowded marketplace to create powerful connections through powerful engagement in business today. Her expertise is consulting with companies, executives and associations on ways to create new relationships through cutting edge marketing and communication strategies. This includes developing innovative ways to add value and support systems that enhance networking opportunities between companies, their customers and ancillary services that build true clients for life.
As a professional presenter, Terri offers programs that include audience participation and interaction.  Terri empowers her audience members and combines education with "edu-tainment" by providing practical sales and marketing strategies that build high level awareness and customer brand preference. She is a regular consultant to several major companies in the U.S and internationally and is a producer and host for television and radio programs. Terri has been featured on ABC, NBC and CNBC News as a sales expert.  She is a regularly scheduled guest on WREGTV's Live@9 for Women in Business and co-hosts Women's Wisdom Wednesdays on KWAM990Talk Radio. and is the founder of www.SmartWomenSmarterChoices.com.
Terri is a pioneer in the development of online distance learning programs. She was the executive producer of the first online training networks, for IRTV/MUZAK and ISucceed/Entreport.com. Her expertise is in consulting and developing educational initiatives for companies, executives and associations on ways to advance skills sets and new relationships with high visibility engagement initiatives that combine both online and traditional communication and connection.
Terri is the president of Terri Murphy Communications, Inc. and CIO of U. S. Learning, a global interactive on-demand learning and training company based in Memphis TN.
Terri is the founder of SmartWomen/SmarterChoices, a coaching and consulting initiative for women in business. She is a nationally syndicated columnist, online media producer, radio and podcast personality, business coach & consultant and certified DISC and Motivators specialist.  Terri is the author of 5 books on sales and leadership and is a certified DISC/Motivator specialist.
ABOUT JO GARNER-MORTGAGE LOAN OFFICER: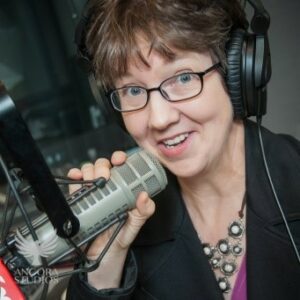 WHAT DO YOU WANT TO ACCOMPLISH WITH YOUR MORTGAGE?
www.JoGarner.com (901) 482 0354 jo@jogarner.com twitter @jogarner NMLS# 757308 (currently working with Sierra Pacific Mortgage, Inc)
"Whatever YOUR personal priorities are, my job is to help you get the mortgage terms that will give you bragging rights when you talk about it and help you score on hitting your goals."
As a mortgage loan officer, my job is to help you get to the benefits you want from your financing terms. What is most important to you? I can help you find the financing terms that will help you get to what you want. What is your comfort level on a house payment? How much are you comfortable paying down? What type of financing do you need to get the house you want to buy or refinance?
Different clients have different priorities in life—some are buying their first home with very little down payment funds. Some are recovering from medical challenges, divorces or preparing to send children to college and some are embarking on a long-term goal of buying properties to build rental income."
Jo Garner is a mortgage officer with extensive knowledge in tailoring mortgages to her customers who are refinancing or purchasing homes all over the country. She offers conventional, FHA, VA or other loan programs for refinancing and purchases.
Jo can help you look at rent vs buy, when it makes sense to refinance, how to get the best deal on your home purchase financing.
Jo Garner has been in the real estate/financing business for over 25 years.  She got her start in Portland, Maine where she first began her real estate career. She received her real estate education from the University of Southern Maine and was personally mentored in San Diego, California by Robert G. Allen, author of Nothing Down, Creating Wealth and The Challenge.
On moving back to West Tennessee in 1987, she went into business buying and selling discounted owner-financed notes secured on real estate.  In 1990 Jo went to work for a residential mortgage company and has been a mortgage loan officer for over 25 years.  Her goal is to offer excellent, affordable service to her customers, tailoring the loan programs to the specific needs of her clients. 
In addition to her work in the mortgage field, Jo Garner is the primary sponsor and founder of Talk Shoppe in Memphis. www.TalkShoppe.com Jo Garner also host the radio show Real Estate Mortgage Shoppe airing on News Radio AM 600 WREC and iHeart Radio with podcasts and show notes published on www.JoGarner.com