Today on Real Estate Mortgage Shoppe we are going to talk about ways to design how you want to live. I will be sharing how homeowners have used their mortgage to maintain the living standard they want and reach for better. The Lawhons will be showing you ways to design the life you want in your backyard.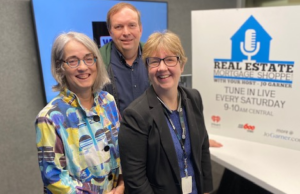 What do YOU want to accomplish with YOUR mortgage? Make your plan. Let's work your plan. If the deal works for you today, let's do it today.
Connect with me at www.JoGarner.com
To Your Success,
Jo Garner, Mortgage Loan Officer NMLS # 757308 (901) 482-0354 Jo@JoGarner.com www.JoGarner.com
Sierra Pacific Mortgage NMLS #1788 Memphis, TN. (an equal housing lender)
Click below to hear the show!
Welcome!
Good morning, Memphis! Welcome to our internet listeners and podcast listeners across the 50 states! You're on Real Estate Mortgage Shoppe. I'm your host, Jo Garner, Mortgage Loan Officer. You can connect with me at www.JoGarner.com.. Our general topic is DESIGN THE LIFE YOU WANT -LOOKING OUTSIDE YOUR HOME AND INSIDE YOUR HOME LOAN. Subscribe to get our weekly blogposts with podcasts at www.JoGarner.com. Call us while we are live today February 26th, 2022 at 901 535 9732
INTRODUCING JOHN LAWHON OF LAWHON LANDSCAPING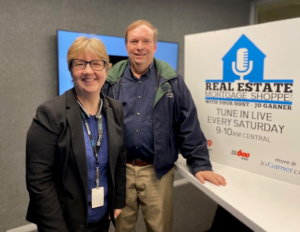 John Lawhon is back in the Real Estate Mortgage Shoppe studio with us. John, you love to create and design and you have helped others create and design beautiful landscapes for their home or place of business. Visit the Lawhons today at the Garden show at the Ag Center in Memphis. You have some stellar testimonies about your work and your landscape designs. Take a moment and tell our listeners a little about yourself and what Lawhon Landscape does for your clients (John Lawhon introduces himself and talks about what Lawhon Landscaping does for their clients.)
Did you know that an eagle can foresee when a storm is approaching long before it breaks? Instead of hiding, the eagle will fly to some high point and wait for the winds to come. When the storm hits, it sets its wings so that the wind can pick it up and lift it above the storm. While the storm rages below, the eagle soars above it.The eagle does not escape or hide from the storm; instead, it uses the storm to lift it higher. Don't be afraid of the storms or the challenges in your life. Use it to lift you higher in your life. This story seems appropriate with what we are seeing in our economy today. (alltimeshortstories.com )
Today is February 26th, 2022 and last week we saw inflation at close to 10%–dangerously above the ideal 2% for a healthy economy. Mortgage rates hate inflation. When inflation is high mortgage rates tend to go higher too. It is the job of the Federal Reserve to pull inflation back down and the way they say they are going to do that is to ratchet their Fed rate up perhaps as much as five to seven times this year. When the Federal Reserve goes up on their rate, it pulls up the rates homeowners and consumers pay on variable rate debt like Home Equity Lines of Credit and credit cards. Rents on homes and apartments tend to go up too. We have seen rent in Memphis go up 10% to 29% over the last year. We are going to look at how some homeowners have decided to protect their finances, still allowing them to live the life they want.
BENNIE AND BETTY BEDFORD-PEACE OF MIND COMBINING VARIABLE DEBT INTO ONE FIXED RATE MORTGAGE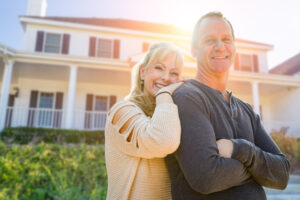 Bennie and Betty Bedford owned their own business. During the pandemic their business was slow so they started racking up credit card debt until they could get the income flowing again. They took out a $200,000 equity line with a variable rate. They owed $50,000 on variable- rate credit cards. The Bedford's owed about $125,000 on the first mortgage with a 3.75% rate. Their home was worth $600,000.
Recently the income started slowly coming back into their business, but they were struggling to keep up the payments on the other debt they had borrowed during the quarantine when the business was not making money. How were they going to afford the debt if the rates on the huge variable rate debt started going up over a full point or more over the next few months? They tried to see if the bank would convert the home equity line to a fixed interest rate, but that did not work.
When the Bedford's called they were thinking positively even though the situation looked negative. We explored a couple of refinance options, settling on this one. They refinanced their first mortgage to a higher interest rate ( 4.5% instead of 3.75%) , but added the home equity loan and the credit card debt into one fixed -rate loan program. The payment on the one fixed-rate loan would still be affordable but the Bedford's enjoyed a peace of mind knowing the rate would remain fixed and not increase, even if the Federal Reserve started pushing their rates up over the next couple of years. The Bedford's eliminated their variable rate risks and they set up a plan to pay off their mortgage early as their income allowed.
What do YOU want to accomplish with your mortgage? Let's explore the possibilities. Connect with me at www.JoGarner.com
John Lawhon of Lawhon Landscaping and Design, you have helped many homeowners design the life they want outside their house. Tell about some ways you have helped make life better for some of your customers (John has about 2 minutes to start launching into his topics. To be continued after 9:15 am break)
You're on Real Estate Mortgage Shoppe. I'm your host, Jo Garner, Mortgage Loan Officer. Make your plan. Let's work your plan if the deal works for you today, let's do it today. When we come back John Lawhon will continue with some ideas on how our landscape design can bring us a better life. Kim Halyak of Cooper Young Garden Walk will be joining us too.
(2nd segment starts at 9:18am )
TALK SHOPPE BUSINESS TIP FOR REAL ESTATE PROS
2nd segment after 9:15 advertising break – (producer to start the song "Taking Care of Business" by Bachman Turner Overdrive –but bring the volume down before the lyrics start) It's time to talk shop with Talk Shoppe's Business Tip For Real Estate Professionals. Talk Shoppe is a marketing company offering free education and networking to anyone interested in real estate or in business and health and wellness. Talk Shoppe is made possible by the financial support of its sponsors. For more about Talk Shoppe, go to www.TalkShoppe.com (shoppe) For our Talk Shoppe Business Tip today we have Talk Shoppe sponsor Kim Halyak of the Cooper Young Garden Walk. Kim, you are all about helping people get to the life they want OUTSIDE their home. Tell us a little bit about what you do for our Cooper Young neighborhood residents. Give us a tip for how we can enjoy the life we want at home in our garden. (Kim has about a minute and a half to say what the Cooper Young Garden Walk does and to give a garden tip)
Kim Halyak, Cooper Young Garden Walk 899 Blythe St Memphis, TN (901) 299-5887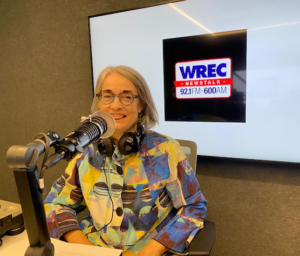 1. Window boxes are big this year. Before you add your soil, lay an air conditioner filter at the bottom of the box. It helps air circulate and the water drain better.
____________________________
TOPICS COVERED BY JOHN LAWHON OF LAWHON LANDSCAPE AND DESIGN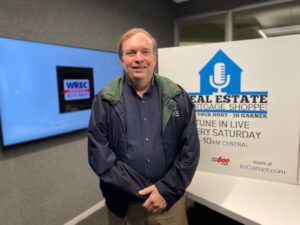 TOPICS COVERED BY JOHN LAWHON :
What type services does Lawhon Landscape offer your clients?

What questions do you ask a homeowner who is trying to decide what type of landscaping design or outdoor living areas will work best for them
Where will the family members spend most of their time and activity?

Are the family members using this space handicapped, elderly, toddlers, teenagers?

Will there be pets? How many? What type? What special provisions need to be included in the landscape to accommodate the pets?

What type activities will be common at the home? (bar-b-que parties, swimming or just hot tub time, vegetable and herb gardening, quite patio relaxing, swing set, tree house or other activities for the children?)

What type drainage or irrigation needs will the property need?

Are there visual barriers or sound barriers needed between the client's home and the neighbor's property?

Does the landscaping need to be very low maintenance?

Does the client want plants selected so that something is in bloom and colorful, making their lawn pretty as a picture all year?
Tells a story about a landscape design that will illustrate some of these points.
(3rd SEGMENT starts at about 9:34am )
TOPICS COVERED BY JO GARNER, MORTGAGE LOAN OFFICER: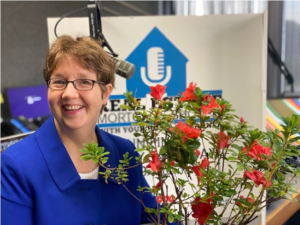 Let's take a look at ways some homeowners have used their mortgage to design the life they want
In the last year the phones have been ringing in the mortgage office from renters who are tired of having their rent go up each year. Rents in Memphis have seen increases in some areas from 10% to 29% year-over-year. When inflation and rents are high, historically homeowners with a fixed-rate mortgage tend to fare better.
Byon's story…Buy a house. Start building personal wealth.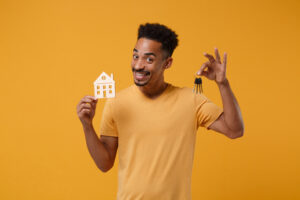 Byron's lease was about to expire on the apartment, and his neighbors had already told him to get ready for a hefty rent increase.
"Not this time," Byron vowed. He got his real estate team of professionals together to check out homes on the market and to get preapproved for the mortgage to give him the terms he wanted.
Bryon had some credit issues, but he set to work paying down some balances on his credit cards to show that he was using less than 30% of his credit limits on the credit cards. Bryon applied for some down payment assistance.
Getting his mortgage approved was not the only stone blocking his way to owning his own place. Other people were making offers to purchase the home he wanted. For Byron it was a game of persistence.
His realtor worked with him, and we put together some winning strategies so his home purchase offer would finally be accepted by a seller. Byron was on his way to owning his own home and building his own wealth and not his landlord's.
Use a cash-out refinance to upgrade and modify the home-The Franklin's Story
The Franklin's decided it would save a lot of money to bring her mother home to live with them. The cash out to a low fixed-rate mortgage gave them the funds they needed to modify the home so her mother and the Franklins could live together but enjoy the privacy of their own space. The money the Franklin's saved with having their mother in their home was enough to allow them to hire part-time caregivers for their mother when they needed them.
What do YOU want to accomplish with YOUR mortgage? Make your plan. Work Your Plan. If the Deal Works for your today, Let's do it today. Call me at (901) 482-0354 or email Jo@JoGarner.com
Opal Osborne's answer to prayer—The Reverse Mortgage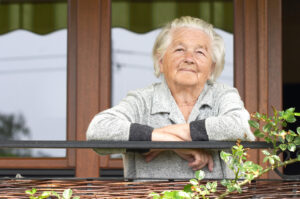 Let me introduce you to Ms. Opal Osborn. Let's start with Opal Osborn's story. Ms. Osborn's husband of 50 years had passed away. She did not have much money left after her husband's death, but she owned her home worth about $175,000 free and clear.
Her son called me after listening to Real Estate Mortgage Shoppe, radio show I host, and told me his mother wanted desperately to continue living in her home but needed money to make some repairs and, after her husband passed away, she lost some of the income they had been enjoying. She was going to be forced to move unless we could find a solution.
After checking into some things, we were able to get Ms. Osborn approved for a reverse mortgage where she could get part of the money upfront to make the needed repairs on her home and then she could receive income each month from the reverse mortgage program. The reverse mortgage was a god-send for Ms. Osborn.
4th segment 9:47am REAL ESTATE TIP OF THE WEEK ( Kim Halyak of Cooper Young Garden Walk has about 1 to 1.5 minutes to share another garden related tip.
. When building raised beds, add a seating ledge on top. Now you can plant, weed, and harvest easier. Plus you now have extra seating when you entertain.
>
John and Jennifer Lawhon can offer another tip.
Spray early to get ahead of weeds.
ANNOUNCEMENTS:
Talk Shoppe offers free networking & education to anyone interested in real estate or in business or in health and wellness. Talk Shoppe meets every Wednesday 9A-10A CT at Concorde Career College 5100 Poplar Ave 1st floor Memphis, TN (Clark Tower). You can also join the even on zoom. Go to www.TalkShoppe.com and click the Events tab for the link to get into the event online. This Wednesday March 2, 2022 9A- 10A Central Genell Hollowell of Eagle Hollow Enterprises and Mary Lou Nowak of Mid-South Home Helpers will be presenting "Successful Marketing on a Budget Using Talk Shoppe Marketing Tools"
Talk Shoppe is offering business owners a chance to reach their target markets by word of mouth. Talk with us about a special limited-time offer for reaching your audience with your message over radio. Talk Shoppe has a special affordable way for you to achieve this. Call me Jo Garner at 901 482-0354 or email me at jo@jogarner.com
3. Invite listeners to visit the Garden Show at the Ag Center. Come by the Lawhon Landscape Booth and the Cooper Young Garden Walk booth to see Kim Halyak. You can get some great ideas from the Lawhons and from Kim Halyak too.
4. Subscribe at www.JoGarner.com and you can get our weekly blog posts with podcasts conveniently in your inbox.
5. Real Estate Mortgage Shoppe reminds you to MAKE YOUR PLAN. LET'S WORK YOUR PLAN. IF THE DEAL WORKS FOR YOU TODAY, DO IT TODAY.
. Let's solemnly and earnestly pray for those under attack in Ukraine.
SPECIAL NOTE: REAL ESTATE MORTGAGE SHOPPE RECOMMENDS THAT YOU CONSULT WITH A FINANCIAL, LEGAL OR OTHER CERTIFIED, LICENSED PROFESSIONAL BEFORE ACTING OR INVESTING ON ANYTHING YOU HEAR OR SEE FROM THE CONTENT ON THIS SHOW OR BLOG POSTS. THE INFORMATION WE SHARE ON REAL ESTATE MORTGAGE SHOPPE IS GENERAL IN NATURE MEANT FOR GENERAL EDUCATIONAL PURPOSES ONLY. ALL EXAMPLES GIVEN FOR ILLUSTRATION PURPOSES ON REAL ESTATE MORTGAGE SHOPPE AND ARE BASED ON TRUE STORIES BUT WE USE FICTIONAL CHARACTERS AND DO NOT DIRECTLY REFLECT REAL PEOPLE OR EXACT DETAILS IN ANY OF THE SITUATIONS.
QUOTE CORNER:
The quote of the week: Anonymous "If you don't build your dream, someone will hire you to help build theirs."
Oprah Winfrey "Create the highest, grandest vision possible for your life, because you become what you believe."
REJOINDERS:
Leah Anne Morse for Cartridge World of Collierville

Jo Rook Director of Healing & Wellness Ministry at Church of the Harvest
Kelly Inman of Next Day Access
Transitional Music: "I'm on Top of the World" by Imagine Dragons; "These Dreams by Heart; "You Make My Dreams Come True" by Hall and Oates' "Taking Care of Business" by BTO for the Talk Shoppe Business Tip for Real Estate Pros
PICK UP YOUR COPY OF "CHOOSING THE BEST MORTGAGE-THE QUICKEST WAY TO THE LIFE YOU WANT" by: JO GARNER
An essential guide for real estate professionals and their customers.
"Choosing the Best Mortgage-The Quickest Way to the Life You Want" is an essential guide for consumers and real estate professionals that will give them a good understanding of the loan products out there. They will have at a guide to the advantages the disadvantages of those loan products—when to use them and when not to use them.
The people stories give examples to help real estate professionals. Consumers that are looking now will benefit and I could easily see this book as a great resource for anybody in the future who want to buy real estate or restructure their finances using a mortgage.
Now on Amazon and Barnes and Noble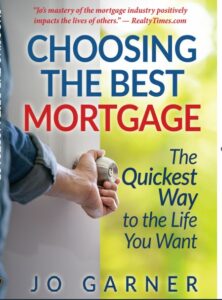 _
ABOUT KIM HALYAK OF COOPER YOUNG GARDEN WALK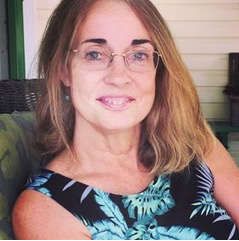 Kim is a garden speaker, and retired teacher  In 2016, she co-founded the annual garden extravaganza, Cooper-Young Garden Walk which celebrates over 90+ inventive, quirky gardens and green spaces throughout Cooper-Young.
Her favorite quote is "You Get What You Celebrate" by Dean Kamen. Kim believes that beautiful spaces have the power to change a city
Her mission is to grow open garden tours and special garden events throughout the Midsouth for the express purpose of bringing garden tourism to our city.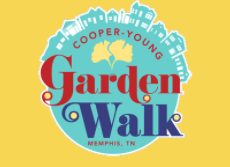 Garden Club Description
The Cooper-Young Garden club raises money to beautify our community.  Some of the projects completed in 7 short years include:
–Offers a tree reimbursement program 
–Established a level 3 arboretum in neighborhood
–Awards Yard of the Month, Business of the Month, and Beauty Grows Here Signs
–Funded "Spruce Up Bruce Street" Gateway project
— Funds "C Y We Beautify" Grants to encourage creativity, art, and needed projects
— Host annual "Cooper-Young Garden Walk" to inspire community beautification and raise monies to fund our projects
899 Blythe St Memphis, TN 38104
(901) 299-5887
ABOUT JOHN & JENNIFER LAWHON OF LAWHON LANDSCAPING DESIGN: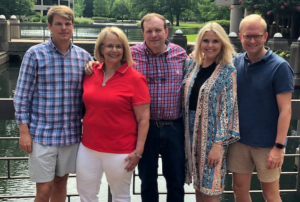 Call: (901) 754-7474
Beautiful gardens begin with thoughtful design. The staff of Lawhon Landscape Design includes professionals with degrees in Landscape Architecture, Plant Pathology, Studio Art, and Agronomy. Our designers and plant professionals create outdoor living spaces with your lifestyle in mind.
Our many years of experience in design, installing, and maintaining Mid-South landscapes make us uniquely qualified to create gardens that are both beautiful and practical to maintain.
A Family Business
Our business was started in 1958 by Rex and Beth Lawhon and was one of the first weed control companies in the Southeast. Over the years, we have kept our client list small and personal in order to serve the gardens of Memphis with the best in lawn and shrub care. The high quality of our work has paid off over the years by the many repeat customers we have – both residential and commercial. We follow the philosophy of doing it right the first time. We hope that you will give us the opportunity to serve your garden needs as well.
In 1985, we expanded our family company by offering a complete design build landscape service. John Lawhon, with a degree in Landscape Architecture, offers complete landscape designs for every budget as well as outstanding plant installation services. In order to help maintain your landscape, we offer complete irrigation system installation. We have everything you need to make your home more beautiful than ever.
___________________________________________________________________
ABOUT JO GARNER-MORTGAGE LOAN OFFICER: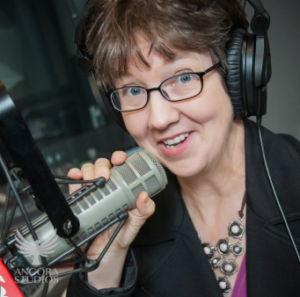 WHAT DO YOU WANT TO ACCOMPLISH WITH YOUR MORTGAGE?
www.JoGarner.com (901) 482 0354 jo@jogarner.com twitter @jogarner NMLS# 757308 (currently working with Sierra Pacific Mortgage, Inc)
"Whatever YOUR personal priorities are, my job is to help you get the mortgage terms that will give you bragging rights when you talk about it and help you score on hitting your goals ."
As a mortgage loan officer, my job is to help you get to the benefits you want from your financing terms. What is most important to you? I can help you find the financing terms that will help you get to what you want. What is your comfort level on a house payment? How much are you comfortable paying down,? What type of financing do you need to get the house you want to buy or refinance?
Different clients have different priorities in life—some are buying their first home with very little down payment funds. Some are recovering from medical challenges, divorces or preparing to send children to college and some are embarking on a long term goal of buying properties to build rental income."
Jo Garner is a mortgage officer with extensive knowledge in tailoring mortgages to her customers who are refinancing or purchasing homes all over the country. She offers conventional, FHA, VA or other loan programs for refinancing and purchases.
Jo can help you look at rent vs buy, when it makes sense to refinance, how to get the best deal on your home purchase financing.
Jo Garner has been in the real estate/financing business for over 25 years.  She got her start in Portland, Maine where she first began her real estate career. She received her real estate education from the University of Southern Maine  and was personally mentored in San Diego, California  by Robert G. Allen, author of Nothing Down, Creating Wealth and The Challenge.
On moving back to West Tennessee in 1987, she went into business buying and selling discounted owner-financed notes secured on real estate.  In 1990 Jo went to work for a residential mortgage company and has been a mortgage loan officer for over 25 years.  Her goal is to offer excellent, affordable service to her customers, tailoring the loan programs to the specific needs of her clients. 
In addition to her work in the mortgage field, Jo Garner  is the primary sponsor and founder of Talk Shoppe in Memphis. www.TalkShoppe.com Jo Garner also host the radio show Real Estate Mortgage Shoppe airing on News Radio AM 600 WREC and iHeart Radio with podcasts and show notes published on www.JoGarner.com Get the book by Jo Garner Choosing the Best Mortgage-The Quickest Way to the Life You Want at Amazon and Barnes and Noble.