LET'S GET STARTED…
Good morning, Memphis! Welcome to our internet listeners and podcast listeners across the 50 states! You're on Real Estate Mortgage Shoppe. I'm your host, Jo Garner, Mortgage Loan Officer. You can connect with me at www.JoGarner.com. Thank you to Cardinal Financial Company for YOUR sponsorship. Cardinal Financial -Mortgage Lending Done Right. Subscribe to get Real Estate Mortgage Shoppe's weekly blogposts with podcasts at www.JoGarner.com. Call us while we are live today July 16th, 2022 at 901 535 9732.
INTRODUCING KEN COPE OF ROOF MAXX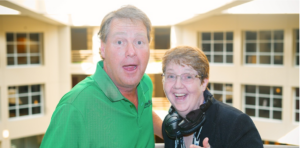 Back in the Real Estate Mortgage Shoppe studio, we have Ken Cope of Roof Maxx . Ken is the owner of the Memphis dealership for Roof Maxx, the world's first sustainable solution for asphalt shingle roofs, giving you multiple options for caring for your roof that might even save you from having to replace your roof right away. Ken you have an A+ rating at the Better Business Bureau and I have heard some good things about you too. Take a moment to share with our listeners a little bit about yourself and what Roof Maxx does for your clients. (Ken has about a minute and a half or so to introduce himself and talk about the services offered by Roof Maxx.
To listen to today's show please click below!
(Jo) Picture yourself driving down the road, trying to get to where you need to be on time. You see flashing yellow lights ahead and a long line of cars moving very slowly. What caution are the yellow lights pointing out that would cause this traffic jam ahead? In the real estate and mortgage world these yellow flashing lights represent 1. HIGH INFLATION that does not appear to have peaked yet. 2. A hawkish Federal Reserve aggressively hiking the Fed rates to try to beat down inflation to normal levels. 3. Recession at the door 4. Shortage of housing inventory 5. High demand for homes that is slowing but NOT causing home price declines in most areas.
Common calls to the mortgage office:
"I got discouraged last year when I kept making offers to buy a house but kept getting outbid by someone else. Now I am ready to jump back in and buy a house."
Another caller says, "My rent is going up again. What do you need to give me a strong preapproval letter? I just want to buy a house. I don't care what the mortgage rate is, I just want to own my own home. I can refinance one one day to different terms if pricing gets better."
Caller number three: " My employer just transferred me to Memphis. We sold our house in the other state and probably could pay cash for a house in Memphis. But my spouse feels better hanging onto some of the funds in our savings. What would my move-in costs and payment if we paid $_____________down to purchase our new home in Memphis?
Caller number 4: I almost have my mortgage paid off but took out a very large, variable rate and some credit cards and they are cramping my budget. Every time the Federal Reserve hikes their rates, the costs of my variable rate debts go up too. Can we refinance my house and get one larger fixed rate to roll in the variable rate loans? "

What do YOU want to accomplish with YOUR mortgage? Make your plan. Let's work your plan. If the deal works for you today, let's do it today. I am a mortgage loan originator and your host on Real Estate Mortgage Shoppe Connect with me at www.JoGarner.com
Ken Cope of Roof Maxx- Inflation is the highest we have seen it in over 40 years. How can you help people protect the roof on the home to lessen the chances of having to do an entire roof replacement right now?
(Ken Cope has a couple of minutes to start launching into his topic until the 9:15 break—to be continued after the break)
You're on Real Estate Mortgage Shoppe. I'm your host, Jo Garner, Mortgage Loan Officer. What do YOU want to accomplish with your mortgage? Make your plan. Let's work your plan if the deal works for you today, let's do it today. When we come back Ken Cope of Roof Maxx will be showing you how you can maintain your home's roof for longer to avoid expense replacements. Videographer Don Lawler of StorytellersMemphis.com will be giving our real estate pros and other business owners some tips on marketing on a budget…. See you after break.
(2ND SEGMENT STARTS HERE) TALK SHOPPE BUSINESS TIP FOR REAL ESTATE PROS
2nd segment after 9:15 advertising break – (producer to start the song "Taking Care of Business" by Bachman Turner Overdrive –but bring the volume down before the lyrics start) It's time to talk shop with Talk Shoppe's Business Tip For Real Estate Professionals. Talk Shoppe is a marketing company offering free education and networking to anyone interested in real estate or in business. Talk Shoppe is made possible by the financial support of its sponsors. For more about Talk Shoppe, go to www.TalkShoppe.com (shoppe) For our Talk Shoppe Business Tip today we our Talk Shoppe videographer, Don Lawler of www.storytellersmemphis.com . Don Lawler, you have so many effective and creative ways to tell the brand story for businesses. You have helped me and others share our brand story using video, photos and interviews. Don Lawler of www.storytellersmemphis.com what is our Talk Shoppe Business Tip for Real Estate Professionals today? (Don Lawler has about 1.5 minutes to share some tips )
Don Lawler of Storytellers of Memphis photographer and videographer Helping businesses tell their story and promote the brand. www.storytellersmemphis.com

Don Lawler, www.StorytellersMemphis.com
7 Ways To Brand Yourself As An Expert In Real Estate
To stand out in real estate…create a unique NICHE!
Create a strong PERSONAL BRAND. Face it. You are in personal sales and even though you work for a company…your clients are looking to you for expert advice. The more you let them see the real you…the more they'll gravitate to you…and I predict that you'll enjoy working with people who really like you…for being YOU!
Create a BRAND KIT that is unique to you! A brand kit provides the guidelines that you use in your visual identity. Things like your logo, colors, fonts, messaging, your personal and professional style, and the way you interact with people.
Create an ONLINE PRESENCE. Today, it's important to use the internet and social media properly.

Create a constant look and BRAND VOICE.
Create a WEBSITE that actually works for you and represents the YOU that prospects and clients will see.
Use VIDEO to connect with your ideal prospects and clients. That act alone will set you apart from the majority of your competitors…AND…video now dominates close to 80% of internet traffic. I know of a wedding planner that is killing it on Instagram by sharing daily tips and insider stories that brides appreciate while planning their wedding.
If you need help creating videos that sell, clarity, professional visuals, and messaging that helps YOUR BRAND stand out…call me. For more information, visit my website at BrandAid911.com
——————
By using your own photographer/videographer you can keep control of what is released. I was a reporter and have 40 years of experience. Call me if I can help!
TOPICS COVERED BY KEN COPE OF ROOF MAXX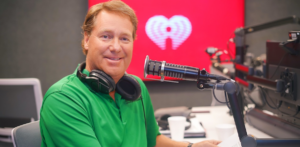 Topics To Discuss:
What is Roof Rejuvenation with Roof Maxx?
Until recently, homeowners had three options when it came to dealing with a roof that is older
(15-20+ years). One, pray for a hailstorm and hope that their insurance approves a new roof.
Two, pay out of pocket for a new roof. Or three, do nothing and wait for the leaks to come
through the ceiling. But, now, thanks to Roof Maxx, there is another option. That option is Roof
Rejuvination. The major component of a roof's shingles is asphalt which is a byproduct of
petroleum refinery. This asphalt is full of oils that are required for the shingles to expand and
contract and do their job of keeping water running off the shingles instead of through them.
Roof rejuvenation with Roof Maxx puts an all-natural soy bio-oil back into the shingles so that
they do what they did when they were new. After a treatment with Roof Maxx, the shingles that
were dry and brittle become full of oil and are flexible again. A treatment also helps the shingles
to withstand storm damage and also helps the granules, or sand, that is on the top layer, to stick
back to the shingles to protect them from the sun's UV rays.
Does Roof Maxx Guarantee That A Roof Will Last For a Certain Period of Time After a
Treatment?
The Roof Maxx product carries a hefty pedigree of development and testing. The product was
developed about 9 years ago in conjunction with the Ohio Soybean Council and Battelle Labs
(The world's largest privately held research and development company). Then, it was tested by
scientists at Ohio State University. Test results on 17 year old shingles proved that after a
treatment, the shingles passed the same flexibility tests required of brand new shingles. Test
results also proved that treated shingles have less permeability and more granular adhesion
than untreated shingles. So, yes, Roof Maxx has a limited product warranty for a period of 5
years after a single treatment and up to 15 years with some roofs that qualify, after additional
treatments. Some people ask if we warranty against leaks. Unfortunately, because we did not
install the roof, we cannot guarantee no future leaks, but we address any issues we see that
might cause those leaks.
How Does The Cost of a Roof Maxx Treatment Compare With The Cost of a Roof
Replacement.?
Of course, the cost of a roof replacement depends on many factors such as the pitch of a roof,
the number of layers of shingles on an existing roof, and the type of shingles going on the new
roof. But, we are finding that the cost of a Roof Maxx treatment is typically about 20% – 30% of
the cost of a roof replacement in the Mid-South area. Oftentimes a roof might qualify for a
treatment again in 5 and in 10 years adding an additional 15 years of life to a roof. This makes
for a value proposition for home and business owners seeking to prolong the high cost of a roof
replacement.
TOPICS COVERED BY JO GARNER, MORTGAGE LOAN OFFICER: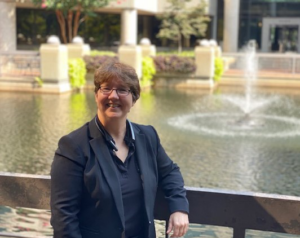 YELLOW FLASHING LIGHTS AND WHERE SOME PEOPLE ARE GOING TO PROTECT THEIR HOME VALUES AND FINANCES
Picture yourself driving down the road, trying to get to where you need to be on time. You see flashing yellow lights ahead and a long line of cars moving very slowly. What caution are the yellow lights pointing out that would cause this traffic jam ahead? In the real estate and mortgage world these yellow flashing lights represent 1. HIGH INFLATION that does not appear to have peaked yet. 2. A hawkish Federal Reserve aggressively hiking the Fed rates to try to beat down inflation to normal levels. 3. Recession at the door 4. Shortage of housing inventory 5. High demand for homes that is slowing but NOT causing home price declines in most areas.
The callers I talked about earlier in the show had different reasons for wanting to move forward with buying a home or refinancing one.
The economists I follow have been predicting our real estate and mortgage market movements more accurately than the main stream media. These economists have been giving us the flashing warning lights. But like a car headed the wrong way down a one way street, real estate values have continued marching upward –even though mortgage rates have moved higher.
Why are home prices still going up? Home buyers are fleeing away from rising rents from landlords. There are new emerging households demanding homes. Others are relocating for jobs in different cities and need a home. Demand is still high to buy homes.
The inventory of homes is still very low. High demand and low supply =Higher prices
Example: Prices are measured via a "repeat sales" method, which is the industry standard.  In other words, the same house sold in May of 2021 would need to have sold for less in 2022 for there to actually be a decline in prices.  When a $500k home in May of 2021 lists for $620k in May of 2022 and experiences a "price cut" to 599k before receiving multiple offers, prices are still rising. )
Historically in times of inflation, people who owned their home and enjoyed a fixed-rate mortgage or no mortgage seemed to come out winners. When inflation sent the costs of goods and services and rents through the roof, homeowners with a principal and interest payment that never went up, had some room to breathe with money left over at the end of the month. When real estate values climbed, homeowners prospered in their sleep. Renters, on the other hand, had to absorb rent rate hikes every year, making their budget a tougher struggle every time rent rates jumped up.
Other people feeling some pain from inflation are those people with fixed incomes and no other way to absorb the higher costs of goods and services.
Sid Stenner Takes Clever Steps to Safeguard His Income and Savings With the Right Mortgage Loan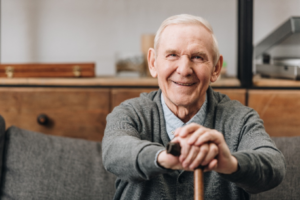 Sid Stenner has been living alone for the last several years and doing just fine on his fixed retirement income and the money he makes in his small home-based business. A few years ago Sid needed money for his business and he took out a bank loan secured on his home.
This loan was quick and easy when he got it, but now the fixed rate term is ready to switch to a variable interest rate. He used some variable interest rate credit cards and still had unpaid balances lingering. But in a rising-rate, inflationary market with the Federal Reserve promising to raise their rates, it seemed like a good time to somehow convert the risky variable rate debt to a safer fixed rate. But how?
We looked at several options. Mr. Stenner decided to refinance his home and replace his risky variable rate mortgage with a low, fixed rate mortgage. He decided to roll into this refinance loan the variable credit card balances too. When inflation and higher Federal Reserve rates come knocking, Mr. Stenner's rate will stay low and the variable rate from credit cards will be gone too. Those cards were paid off with the loan from the refinance.
Mr. Stenner said, "I'm going to work another five years, if the good Lord lets me. While I have both my retirement income and my business income, I'm going to pay extra each month to get my mortgage paid down as low as possible. Then when I retire, I might refinance to a lower payment or get a reverse mortgage." Mr. Stenner was thinking ahead and preparing a good life for himself now and later.
Other people are buying homes with some exit strategies for later
Others are building a home of their choosing
Another family found their needle in a haystack buying a home that needs renovation and repair. They are using a special renovation loan to make this happen.
Here is an example story of how the renovation and repair loan program can work for you:
Keleen Kellsey finds a "needle in the haystack" as a first-time homebuyer with the FHA 203K Renovation and Repair loan"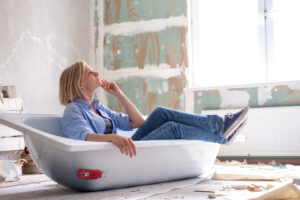 Keleen Kellsey sighed with resignation when she thought about the thousands of dollars she had wasted paying rent for an apartment over the last few years of her young life. Some of her friends had ditched the apartment scene and bought their own homes. They still had some money to go on vacation and to meet at places in town to eat and have fun. In just a couple of years her friends showed her how much value they had gained since they day they bought their home. The idea of buying a home with a fixed mortgage rate to eliminate the annual rent hikes set a fire inside Keleen to buy her own house.
Next Step: Find a house and get it under contract. Keleen was stuck at part one—Finding a house she liked in the neighborhood where she wanted to live. Every house she looked at was missing something she needed to make it home sweet home for her.
There was a house she had walked past several times that was not for sale and looked like it had lived through better days. When she inquired to see if the seller would sell it, the seller agreed to sell it to Kileen as long she did not require them to complete any repairs.
"No wonder the seller doesn't want to do repairs, " Keleen thought. "The whole house needed to be repaired and renovated!" Keleen and her father went back through the old house with a construction contractor friend and got the mile-long list of repairs needed. Then Keleen gave the contractor her list of musings and measurements on what she visualized the house should look like.
The bank said no to the loan because of the home's condition. The banks she talked with told her that if there were structural, security or sanitation repairs noted on the appraisal that needed to be done, she would have to complete those before the bank would give her the money to close on her home.
"That will never work,"exclaimed Keleen! "I have to have the money to buy the house and do the repairs before I can complete the repairs."
Finally, Keleen connected with a mortgage loan officer she had heard on the radio. Keleen shared her plans for the old home with the loan officer and got preapproved for a special FHA 203K Renovation and Repair loan. This loan would allow Keleen to borrow the money to buy the house AND finance the repairs all in one loan. She could buy the home and the money for repairs would be paid out from an escrow account to the licensed and approved contractor as the work was completed.
Not only did Keleen Kellsey get the house with a perfect design for her, but she was able to personalize the improvements to make it her own. The required money down was small and the payment affordable. The icing on top was that the house appraised for a value significantly higher than she thought when she agreed to the deal.
What do YOU want to accomplish with your mortgage? Let's explore the possibilities. Connect with me at www.JoGarner.com
REAL ESTATE TIP OF THE WEEK ( Don Lawler of StorytellersMemphis.com has about 1 to 1.5 minutes to share another tip.
Ken Cope has about a minute or so to share an additional tip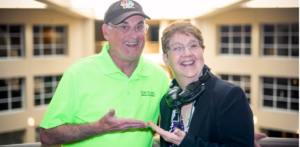 Don Lawler offers another tip for real estate pros and other business professionals:
HOW TO MAKE A VIDEO NEWS RELEASE AND GET YOUR STORY TOLD
Reporters LOVE great Subject Matter Experts! Become friends with a reporter and become their go-to SME!
Then…Create a Video News Release! (VNRs) allow you to gain TV and online media coverage for your industry, special events, programs, or new real-estate products. AND- it's FREE publicity! You see this all the time on national TV! Do it here!
A VNR provides photos or video content to accompany the story. VNRs aren't designed to be used as-is…but will be edited by the media for use in their own programs.
VNRs are most useful in three situations:
To publicize a story that the media may have difficulty covering. 

To provide video footage or photos that may be impossible for the news media to capture themselves.

To provide security and secrecy: you don't want a media team filming in your most sensitive meetings.
Most media outlets will prefer to do their own interviews to ensure they are not being fed a particular line of spin….BUT…Interview "grabs" can also be included if the YOU or your boss are hard to get hold of. 
TIPS FOR A SUCCESSFUL VIDEO NEWS RELEASE:
Don't hawk your business! Instead…be the EXPERT who provides valuable information to the community! 

Don't "over-edit" the footage. 

Don't cover everything with your logo or branding. 

Include the questions with interviews to provide context.

Include background audio on general footage (but make sure no one is saying anything unsuitable).

Provide a basic text description embedded in the video, describing the footage. 

Aim for a duration of about 5 minutes, which makes for an easy download.

Check if your media outlet requires a specific format for the video file.

Finally, give the video one last check before release. 
Once it's out there it could be archived forever.
ANNOUNCEMENTS:
Talk Shoppe offers free networking & education to anyone interested in real estate or in business or in health and wellness. Talk Shoppe meets every Wednesday 9A-10A CT at Concorde Career College 5100 Poplar Ave 1st floor Memphis, TN (Clark Tower). You can also join the even on zoom. Go to www.TalkShoppe.com and click the Events tab for the link to get into the event online. This Wednesday July 20/22 2022 9A CT Sara Lynn Johnson Fultz, PT, MS, MPT, ATC/L, CDNT, CSCS
"Below the Belt- What you need to know about Pelvic Health Care"
saralynn@mojoph.com
Talk Shoppe thanks Kim Halyak of the Cooper Young Garden Walk for her contribution to make Talk Shoppe's free networking and education free to our community. Connect with Kim Halyak of Cooper Young Garden Walk for some great garden ideas at 901 299-5887
Thank you to Tim Gilliland of www.BackupRX.com for helping us at Talk Shoppe to keep our data backed up and ready to restore in case of a computer crash. Enjoy peace of mind knowing YOUR data is safe and ready to restore when you need it. www.BackupRX.com
4. Subscribe at www.JoGarner.com and you can get our weekly blog posts with podcasts conveniently in your inbox.
5. Real Estate Mortgage Shoppe reminds you to MAKE YOUR PLAN. LET'S WORK YOUR PLAN. IF THE DEAL WORKS FOR YOU TODAY, DO IT TODAY.
SPECIAL NOTE: REAL ESTATE MORTGAGE SHOPPE RECOMMENDS THAT YOU CONSULT WITH A FINANCIAL, LEGAL OR OTHER CERTIFIED, LICENSED PROFESSIONAL BEFORE ACTING OR INVESTING ON ANYTHING YOU HEAR OR SEE FROM THE CONTENT ON THIS SHOW OR BLOG POSTS. THE INFORMATION WE SHARE ON REAL ESTATE MORTGAGE SHOPPE IS GENERAL IN NATURE MEANT FOR GENERAL EDUCATIONAL PURPOSES ONLY. ALL EXAMPLES GIVEN FOR ILLUSTRATION PURPOSES ON REAL ESTATE MORTGAGE SHOPPE AND ARE BASED ON TRUE STORIES BUT WE USE FICTIONAL CHARACTERS AND DO NOT DIRECTLY REFLECT REAL PEOPLE OR EXACT DETAILS IN ANY OF THE SITUATIONS.
QUOTE CORNER:
"No one ever listens to me," says the Yellow Traffic Light pintrest
____________________________________________________________________________________
REJOINDERS:
Kelly Inman of Next Day Access

Mary Lou Nowak of Home Helpers

Troy and Lynn McDonald of Erin Mcdonald Insurance
Transitional Music: "Life is a Highway" by Tom Cochrane; "Summer in the City" Lovin; Spoonful; "On the Road Again" by Willie Nelson: "Taking Care of Business" by Bachman Turner Overdrive
PICK UP YOUR COPY OF "CHOOSING THE BEST MORTGAGE-THE QUICKEST WAY TO THE LIFE YOU WANT" by: JO GARNER
An essential guide for real estate professionals and their customers.
Now on Amazon and Barnes and Noble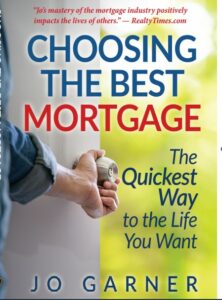 ABOUT KEN COPE, ROOFMAXX

Ken Cope Biography
Ken Cope is the owner of the Memphis dealership for Roof Maxx, the world's first sustainable
solution for asphalt shingle roofs. Ken grew up in Union Springs Alabama and graduated from
Auburn University in 1985 with a business degree in Marketing.
He moved to the Memphis area in 1991 where he was the General Manager of Grady's
restaurant on Primacy Parkway. He met his soon to be wife, Heather, there and currently lives
in Collierville. He has three grown daughters and a gorgeous 3 year old grandson.
Ken left the restaurant industry in the mid 90's and ended up in the Senior Home care business
where he spent a number of years as a director for the Baptist Memorial Healthcare system.
And most recently he was the president of Home Instead Senior Care in Memphis and in North
Mississippi. In June of 2021 Ken left the senior homecare industry and took a dive into a
business that specializes in saving roofs, Roof Maxx. Roof Maxx has a revolutionary product
designed to "rejuvenate" shingles by soaking them with an all-natural soy bio-oil to restore the
flexibility that shingles need to expand and contract as well as increasing resistance to hail and
wind damage as well as granular adhesion.
Ken has a long history in the Memphis area serving on boards and educating families and
homeowners on topics ranging from senior care to roof care.
Currently:
Board Member – Collierville Chamber of Commerce
Member – Germantown Area Chamber of Commerce
A+ Member – Better Business Bureau
Member – BNI Trusted Advisors in Collierville
Member – Memphis Investor's Group
Member – Harvest Church
Past:
Board Member – Memphis Chapter of Case Managers Society of America
Executive Board Member – Professional Network on Aging
___________________________________________________________________
ABOUT JO GARNER-MORTGAGE LOAN OFFICER: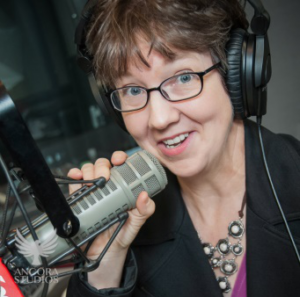 WHAT DO YOU WANT TO ACCOMPLISH WITH YOUR MORTGAGE?
www.JoGarner.com (901) 482 0354 jo@jogarner.com twitter @jogarner NMLS# 757308
(currently working with Cardinal Financial Company, Limited Partnership NMLS #66247 equal housing opportunity 2645 Appling Rd 102 Memphis, TN 38133 ) Online loan application https://online.cardinalfinancial.com/#/p/apply/jogarner
www.cardinalfinancial.org for licensing info www.nmlsconsumeraccess.org/EntityDetails.aspx/company/66247 "Whatever YOUR personal priorities are, my job is to help you get the mortgage terms that will give you bragging rights when you talk about it and help you score on hitting your goals ."
As a mortgage loan officer, my job is to help you get to the benefits you want from your financing terms. What is most important to you? I can help you find the financing terms that will help you get to what you want. What is your comfort level on a house payment? How much are you comfortable paying down,? What type of financing do you need to get the house you want to buy or refinance?
Different clients have different priorities in life—some are buying their first home with very little down payment funds. Some are recovering from medical challenges, divorces or preparing to send children to college and some are embarking on a long term goal of buying properties to build rental income."
Jo Garner is a mortgage officer with extensive knowledge in tailoring mortgages to her customers who are refinancing or purchasing homes all over the country. She offers conventional, FHA, VA or other loan programs for refinancing and purchases.
Jo can help you look at rent vs buy, when it makes sense to refinance, how to get the best deal on your home purchase financing.
Jo Garner has been in the real estate/financing business for over 25 years.  She grew up in West Tennessee and got her start in real estate in Portland, Maine where she first began her real estate career. She received her real estate education from the University of Southern Maine  and was personally mentored in San Diego, California  by Robert G. Allen, author of Nothing Down, Creating Wealth and The Challenge.
On moving back to West Tennessee in 1987, she went into business buying and selling discounted owner-financed notes secured on real estate.  In 1990 Jo went to work for a residential mortgage company and has been a mortgage loan officer for over 25 years.  Her goal is to offer excellent, affordable service to her customers, tailoring the loan programs to the specific needs of her clients. 
In addition to her work in the mortgage field, Jo Garner  is the primary sponsor and founder of Talk Shoppe in Memphis. www.TalkShoppe.com Jo Garner also host the radio show Real Estate Mortgage Shoppe airing on News Radio AM 600 WREC and iHeart Radio with podcasts and show notes published on www.JoGarner.com Pick up Jo Garner's book on Amazon or Barnes and Noble "Choosing the Best Mortgage-The Quickest Way to the Life You Want"