HOW TO PICK THE PERFECT PRODUCT FOR YOUR MORTGAGE-AND SHINGLEOLOGY ON HOW TO PICK THE PERFECT ROOF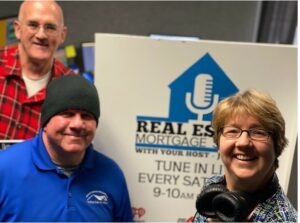 GOOD MORNING!
Good morning, Memphis! Welcome to our internet listeners and podcast listeners across the 50 states! You're on Real Estate Mortgage Shoppe. I'm your host, Jo Garner, Mortgage Loan Officer. You can connect with me at www.JoGarner.com. Our general topic is HOW TO PICK THE PERFECT PRODUCT FOR YOUR MORTGAGE-AND SHINGLEOLOGY ON HOW TO PICK THE PERFECT ROOF. Subscribe to get Real Estate Mortgage Shoppe podcasts with show notes at www.JoGarner.com Call us while we're live today December 19th, 2020 at (901) 535-9732.
We all like that satisfying, confident feeling that we have made the right pick on a big ticket purchase. Today I will be sharing some questions to ask yourself when you are trying to pick the perfect mortgage product. You will hear some customer stories on their struggles and how they came out a winner with the right mortgage terms. Ed Hill of Masters Roofing will be giving us a basic class on Shingleology-the science of making the right choice when you are choosing the right type of shingle. Tom King, our expert appraiser will be with us too.
INTRODUCING ED HILL OF MASTERS ROOFING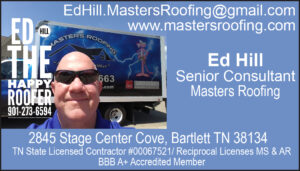 Back in the co-host chair we have the man who wrote the book on Home Improvement, Ed Hill senior consultant with Masters Roofing in the Memphis area. You can learn more from Ed at MemphisHomeMaintenanceShow.Podbean.Com. Ed, take a moment and tell our listeners a little about yourself and what Masters Roofing does for your clients. (Ed has about 1 min to share about himself and services offered by Masters Roofing )
INTRODUCING TOM KING, REAL ESTATE APPRAISER BILL KING COMPANY
Also, back in the studio we have Tom King, real estate appraiser with Bill King Company. Tom, it is good to have you back in the studio again after so many weeks. Tom has been appraising homes in the Shelby County, Fayette and Tipton Counties for over 40 years. I think you know a thing or two about values in the Mid-South. Take a moment and any new listeners out there a little about yourself and what you do for your clients, Tom. (Tom has about 45 secs to intro himself and talk about the services he offers)
(Jo) This year has been a palooza of attending closings with mortgage clients who have locked in the lowest mortgage rates in history on a home purchase or refinance . My goal for almost 30 years in mortgage financing is helping these clients get the right terms on their financing right up front—that's been my passion. For so many of my clients, weighing which loan product will be best for them is like two people on a see-saw. When the down payment goes higher, the payment drops lower. When the payment tilts a bit higher, the down payment moves lower.
Sadie-(Retiring soon- Will I be able to afford this house payment one day on social security?)
For example Sadie (now her real name) called me and was so excited about finding a house that was going to be perfect for her to enjoy now and a few years from now when she planned to retire. A costly divorce and some medical challenges dried up her retirement nest egg. What she did have in savings she wanted to keep for an emergency fund.
Sadie had good solid relationships with her family and wanted a nice house where her children would enjoy coming and bringing the grandchildren to visit. She took a deep breath and told me, "I'm still working right now, but I have got to think about life when I retire in a few years. I need a house payment I can afford on social security!"
A much younger client, Jake (not his real name), shared with me his fear of being tied down and not able to travel and maybe not being able to relocate if he got a better job. We went through the part of my "Get It Right The First Time Handy Mortgage Checklist" and found 2 or three exit strategies that looked to bring Jake a profit and not leave him stuck. His realtor helped us do a cost comparison to compare renting versus buying. Jake made a confident decision to buy. He said he felt great too! He was no longer throwing rent money away. He was investing in his own future.
A couple came to me with a contract to buy their dream home but shared with me that they planned to retire in a couple of years. They did not have a large enough down payment to get the mortgage payment low enough to be affordable in 3 years when they retired with less income. However, they would be acquiring significant amount of money within the next 12 months so that they could pay down the mortgage to less than 50% of the current balance.
For them we looked at a possibly asking the lender to "recast" the payment once they prepaid 50% of the amount owed. In their case, they chose to take an adjustable rate mortgage with strong safety caps on the rate. After looking at the worst possible scenario if rates kept going up, for them, their payment would continue to drop even if the rate went up because every year the rate adjusted, the payment was figured only on the unpaid balance.
What do YOU want to accomplish with YOUR mortgage? Make your plan. Work Your Plan. If the Deal Works for your today, Let's do it today. Call me at (901) 482-0354 or email Jo@JoGarner.com We will be sharing the "Get It Right The First Time Handy Mortgage Checklist" later in the show.
Ed Hill, Masters Roofing has about 2-3 minutes to start launching into his topics.
Comments and observations from Tom King, expert real estate appraiser
You're on Real Estate Mortgage Shoppe. I'm your host, Jo Garner, Mortgage Loan Officer. What do YOU want to accomplish with your mortgage? Make your plan. Let's work your plan if the deal works for you today, let's do it today. When we come back Marcus Fors of Puroclean will be sharing some solutions when you are facing fire, water, mold and bio hazards in your home. See you back in just a moment.
THE LOOK BACK MEMPHIS TRIVIA CONTEST
2nd segment after 9:15 break: Our Look Back Memphis Trivia Contest is brought to you by notable Memphis historian, Jimmy Ogle. Twelve of his Memphis History lectures entitled Making Memphis – Storytelling by Jimmy Ogle may be viewed by Googling "JIMMY OGLE PINK PALACE". View at JimmyOgle.com. . The Look Back Memphis Trivia Contest is sponsored by John and Jennifer Lawhon of Lawhon Landscape (901) 754-7474 the Lawhon's can help you plan your landscaping if you have a BIG, BIG project or a smaller project or you can do the big project in phases . The Lawhons are giving away a $25 gift card to the first person with the correct trivia answer. If you know the answer to our trivia question, call us at 901 535 WREC 901 535-9732.
Trivia Answer: the Enchanted Forest from Goldsmith's and (now) Pink Palace.  
Garner # 188 * 12/19/20
The Enchanted Forest
Question: "Everybody Loves Me" and I have been a family holiday tradition in Memphis since 1957. Who am I?
Hint: I first appeared in the Gayoso Hotel and Goldsmith's Department Store in Downtown more than 60 years go
Hint: I had numerous displays of elves and woodland creatures in colorful snowy settings throughout.
Hint: No – the answer is not Mr. Bingle!
Last Hint: After closing in Downtown in 1987, I moved to the Pink Palace. Who am I?
Answer: The Enchanted Forest has been a Memphis holiday attraction for more than 50 years. The first version of the forest was on display in the Gayoso Hotel on Front Street until the hotel closed in the early 1950's. George Hettinger, display director for Goldsmith's came home from World War II with an idea to create a magnificent holiday display. The event was custom built and set up in various areas throughout Goldsmith's. It became a more spectacular exhibit, with larger and more elaborate characters and snowy scenery – a twisted path passed animated creatures, some of which changed each year.
There were busy beavers, friendly bears, fairy tale characters, elves of all descriptions and woodland creatures all preparing for Christmas Day. The path wandered until it came to a perennial figure—a young deer perpetually licking a big peppermint stick… Beyond was Santa Claus (in the flesh) and the Secret Gift Shop with a small door for children who could go in and buy a secret gift unknown to parents. It was truly magical. Throughout the sixties, the Enchanted Forest made a name for itself with families and tourists labeling it as the holiday event to see.
Today, The Enchanted Forest: Festival of Trees is open at the Pink Palace Museum, 3050 Central Avenue – Wednesdays thru Sundays until December 31 (closed Christmas Day). All proceeds benefit
Le Bonheur Children's Hospital. Along with the traditional exhibits, there is a Gingerbread Village and Model Train display and Christmas Village.
The Enchanted Forest will be a little different this year due to COVID protocols. Attendance will be limited to groups of 25 every 15 minutes with timed entry ticketing. Social distancing and mask wearing requirements will be in place. Tickets will be on sale beginning November 16. Even photos with Santa will be pandemic style with Santa being behind a Plexiglass shield that looks like he's in a holiday snow globe. Children will sit on a bench in front of the snow globe-looking shield and be able share their holiday wishes with the jolly one. www.memphismuseums.org 901-636-2632
Jimmy Ogle has retired from walking tours in Memphis. Twelve of his Memphis History lectures from the Pink Palace entitled Making Memphis – Storytelling by Jimmy Ogle, and now more than ten hours Downtown Walking Tours are FREE on the internet at . . . You Tube Jimmy Ogle.
View JimmyOgle.com for more info!
__________________________________________________________
TOPICS COVERED BY ED HILL OF MASTERS ROOFING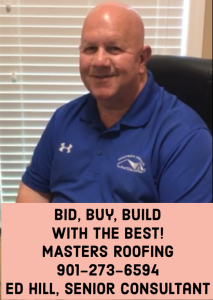 SHINGLEOLOGY: HOW TO CHOOSE THE RIGHT SHINGLES
MERRY CHRISTMAS! HERE'S AN EARLY GIFT! ADVICE ON CHOOSING JUST THE RIGHT SHINGLE FOR 2021 AND BEYOND
TWO MAJOR TYPES
3 Tab 25 Year 65 MPH Wind Rating Shingles
In the picture below our radio listeners will see haha, OK if they go to Jo's site where the pics will be posted, they will see this is the old shingle we all grew up with and it is still widely used today.
It is a flat shingle called a 3 tab because…wait for it…the shingle has 3 tabs. Clever, huh.
It is supposed to last 25 years…in a 4 seasons climate, like Virginia or northern Kentucky or Missouri. Memphis where we are broadcasting from has only 2 seasons…REALLY HOT AND REALLY COLD. Depending on where you live, your 3 tab shingle may last about 15 to 20 years or closer to 25 years.
The wind rating is about 65 miles an hour…meaning it can withstand straight line wind speeds of up to 65 miles per hour for a few hours before failing.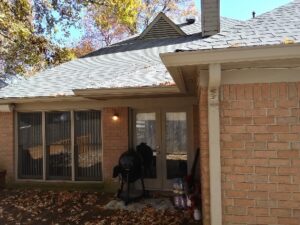 The second major type of shingle is the Architectural 30 year 110 and 130 MPH shingle.
Below is a photograph of this type of shingle. If it is not clearly visible on your radio, please listen to this description: It is a bumpy or raised shingle compared to the flat shingle and is actually two shingle sections bonded together at the factory to form a dimensional affect, slightly reminiscent of a wood shake shingle.
If you have seen new roofs being installed around town you have probably noticed that they have a different look…most likely it is the architectural shingle that you are seeing.
It is shingle that may last up to 30 years in a 4 season climate or about 22 to 26 years in a hot climate like Memphis in the summer. In Memphis, it is the HEAT that kills the shingles on poorly ventilated roofs, and then the regular wind and hail finishes them off. Roofers love it! Job Security!
The architectural shingle can withstand straight line winds up to about 110 or 130 MPH for several hours before failing…they work great if a hurricane passes through or a tornado hits your area a few blocks away.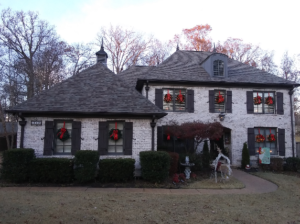 So, which shingle is right for you? Answer these questions:
Is this your "forever home" or one of many to come?

Does your area seem to have a lot of sudden, violent storms many times a year?

What types of roofs are installed lately on your neighbors' homes?

What is your project budget or price point?

Are you planning on selling your home in the future?

Will your insurance company provide better ratings or better coverage with an architectural roof than a 3 tab?

What does your Home Owners Association require or recommend?
There are many questions with many possible answers. I invite the listeners to call me with their questions and I will provide free, friendly, expert roof advice AND a free tour of the just newly updated Masters Roofing Design Showroom in Bartlett TN. Call me at 901-273-6594 Ed Hill The Happy Roofer, Senior Consultant with Masters Roofing, 901-273-6594
www.MemphisHomeMaintenanceShow.Podbean.Com
#EdHillMastersRoofing #EdHillTheHappyRoofer
TOPICS COVERED BY JO GARNER, MORTGAGE LOAN OFFICER (Tom King making short comments and observations)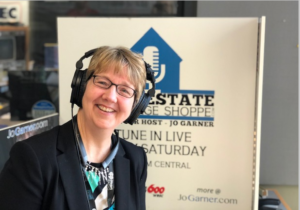 How do I know what financing truly FITS me?
Determine your true income vs what your true debts and obligations are costing you.
Get your last 3 to 6 months bank statements in front of you (your paper statements or your online account information)
Get your last 3 to 6 months credit card statements in front of you.
Set a timer for an hour or more and commit to FOCUS
Now, start counting up what you actually get for income going into your asset accounts and what you actually spend on bills and other stuff you may or may not need.
What bills come due only once or twice a year? (Car tags, club memberships, car insurance etc)
What can you do without? Cut it out of your spending plan.
After writing out your true income and your true expenditures, what is the maximum house payment that is comfortable for you?
What is the maximum down payment that is comfortable for you?
Let your lender know your maximum comfort level on the monthly payment and the down payment. The current mortgage software programs many times prequalify you up to 45% or even 55% debt-to-income ratio. But who wants that much debt??
Linden Lancey's Story—4-Bit Budget, Big Dreams—and a Brilliant Idea
Linden Lancey (not her real name) reached out to me via email. She was a first-time homebuyer with big dreams but with a limited amount she could pay for a house note.
Kudos! to Linden for taking a full inventory of what income she had coming in each month and how much of her hard-earned money marched out each month to pay her bills. She knew her own comfort level on what she could pay down and how much she could comfortably pay per month. She told me no more than $1,200 per month and no more than $5,000 down.
Linden also knew all the things she wanted for her home. She knew the general area where she wanted to live and all the built in gadgets, bonus room-over-the-garage workshop and sitting areas with a view she had to have in the place she would call home.
But, the problem was …the home she wanted would tie her down with a monthly payment of $1,500 per month ($300 per month over her maximum comfort level.) The down payment plus some other costs would strap her with $7,000 to $10,000 depending on how much the seller would be able to help with her costs. She would be dipping into her emergency fund to pay out almost double the amount she was comfortable paying.
Linden's voice wavered a bit, the enthusiasm dying off to resigned sigh, like someone giving up after almost winning a race. She really wanted her own home and she wanted it to be all that she dreamed but now it seemed financially out of reach. She and I talked a little more.
I shared my personal story of learning from my mortgage clients over the years how to buy a home that needed some upgrades and clean up. My first home needed a LOT of things. But I started right away gradually adding things to my first house, like replacing an old sliding door with beautiful French doors, and building the pantry I wanted in the empty corner of the kitchen. Over the years living in my first home I scrapped the linoleum and added ceramic tile to the kitchen and bathrooms. Then added amenities to the front garden area, the garage and more.
I confessed to my client Linden Lancey that it was fun each time I was able to do that extra improvement. It was really a celebration when, one day, I sold the house and made a nice profit so that I could continue leveraging up on the quality of my personal home which feels like my castle.
Linden was hanging up to call her realtor. Our conversation had already sparked some of her own ideas on how she could buy a lower priced home in the area she wanted to live and gradually finish out the bonus room upstairs to make into her dream work shop. She was off to find the home she would love.
Common recommendations on income and debt ratios.
Many of the financial authors suggest keeping the total monthly house note (principal, interest, taxes and insurance, mortgage insurance, association fees, if any) under 25% to 28% of gross monthly income. Some of these gurus recommend keeping your total monthly obligations including your house note under 38% to 41% of your gross income.
Common recommendations on total debt ratio (includes the total new house note (including principal, interest, taxes and insurance, private mortgage insurance, association fees, if any) plus any other debts per month divided into your gross income.
Example:
Gross income: $7,000/month
New house note- $1,400 (principal, interest, taxes and insurance, with some mortgage insurance) + $25 per month for neighborhood association fee if applicable.
Car loan $400/month
Minimum payment on the credit card account =$50/month approximately
Total House note + association fee= $1,425/$7,000=20% Housing ratio
Total debt = $1,875/month / Total income $7,000= 27% total income-to-debt ratio
How do you know what loan fits a certain person?
THE GET-IT-RIGHT-THE-FIRST-TIME-MORTGAGE-CHECKLIST
BY: Jo Garner, Mortgage Loan Officer NMLS# 757308
(901) 482-0354 Secure online loan application https://jogarner.evolve.mortgage
What is the maximum house payment I can afford right now?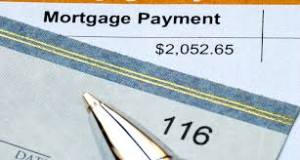 A. Several financial gurus say that your total house note including principal and interest, taxes, homeowners insurance, and/or mortgage insurance and homeowners association fees needs to be between 25% and 30% of your gross income. Your total income-to-debt ratios, including the new house payment and payments on other debt does not need to exceed 38% to 45% of your gross income.
Mortgage underwriting software can sometimes approve you income-to-debt ratios of 45% or upwards to 55% of your gross income. Stay within your PERSONAL comfort level though, regardless of what the mortgage software tells you.
Consider where you plan to be in the next year, the next five years, and the next ten years.
Are you planning to retire? What will your income be when you retire? Will you still be living where you are living now?
Are you planning to get married? Do you plan on expanding your family? Do you plan on taking an aging family member into your home? How much do you estimate your living expenses go up? Will your income likely increase too? How much?
Are you just getting started in your career? Is it likely your income will go up? Will you need to relocate? How long is it likely you will keep the house? What would it cost to rent versus buy a home like the one you want?
Do you own a house with a lot of equity that you plan on selling within a year of buying the new house? Do you plan to make a very large prepayment to principal once you sell your old home?
-Try doing a bridge loan so you can enjoy the benefits of a much lower payment on your new home without having to sell your old home right away
– If you decide to close on your new home first and then, later sell your old home, here is an example of how that can work for you.
Do you plan on starting your own business or acquiring income-producing real estate? This might require you to keep your mortgage payment low so that you can afford to finance other investments.
What is the maximum down payment that is comfortable for you?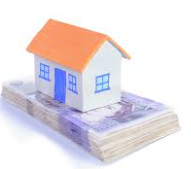 Several financial gurus say that if you enjoy a stable, salaried job, you probably need about 3 months of living expenses in an emergency fund. But, if you are self-employed or get a 100% commission income, you probably need about 1 full year of living expenses in an emergency fund
What kind of property are you purchasing?
If the property is a fixer-upper with lots of needed repairs, you may want to consider a Renovation and Repair loan so you can finance some of the repairs.

Is the property you are purchasing going to be your primary residence, a second home or a rental property?

Is the property you are financing a condominium or a manufactured home?
Is the property located in a place where special financing is available?
What special mortgage programs are available to you specifically?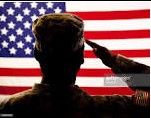 Are you a military veteran? Are you eligible for the Veteran Administration 100% VA home loan?
B. Are you a first-time homebuyer, not having your name on title to real estate within the last 36 months? There may be down payment assistance programs available to you, even if you are not a first-time homebuyer.
What methods can we use to develop more than one exit strategy?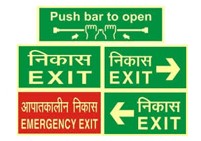 Is the property in an area that is going up in value? If you really needed to sell the home one day, you could probably do it profitably if the value is stable or headed upward.

Is the property in an area that is a strong rental market? In a pinch, you could possibly rent the house and get a nice income from the home.

Is the mortgage you have an assumable loan? If mortgage rates go up, one day someone may be willing to pay you good money to have the opportunity to quality to assume your low interest rate mortgage when they buy your home.
What do YOU want to accomplish with YOUR mortgage?
REAL ESTATE TIP OF THE WEEK (Ed Hill of Masters Roofing offers a money-saving, time-saving, worry-saving tip –about 1.5 minutes)
Tom King can offer a tip here also
ANNOUNCEMENTS:
Talk Shoppe offers free networking & education to anyone interested in real estate or in business. Talk Shoppe meets every Wednesday 9A-10A CT on zoom Get the zoom web link by going to www.TalkShoppe.com can clicking on Events. Talk Shoppe will not be meeting the weeks of Christmas and New Years Day. But we send out to you JACK'S CHALLENGE- Jack Redden was a retired counselor who spent his days attending business networking groups around town and offering to spend time over coffee with anyone who was going through a tough time. Every year Jack would ask us (and now I am asking you) "Who do you know who is alone this holiday? Who do you know who is going through a rough time? Invite them to coffee. Be the friend that person needs right now."
Talk Shoppe events are free thanks to supporters like Tim Gilliland of www.BackupRX.com When you need to recover lost data on your computer, you will feel very thankful when you call Tim at BackupRX and simply download all your data and system files immediately when you need it. Contact BackupRX about getting your data automatically backed-up at www.BackupRX.com
Thank you to Miranda Griffin, of www.HealthyMidsouth.net Miranda has ideas for your routine that are fast, easy and can give you a healthy quality of life now and for years to come.
2. Merry Christmas, Happy Hannukuh, happy whatever holiday you are celebrating.
3. Thank you to real estate closing attorneys Rob Draughon and Shelley Rothman of Griffin Clift Everton and Maschmeyer for sponsoring Real Estate Mortgage Shoppe today.
4.
4. Subscribe at www.JoGarner.com and you can get our weekly blog posts with podcasts conveniently in your inbox.
5. Real Estate Mortgage Shoppe reminds you to MAKE YOUR PLAN. LET'S WORK YOUR PLAN. IF THE DEAL WORKS FOR YOU TODAY, DO IT TODAY.
SPECIAL NOTE: REAL ESTATE MORTGAGE SHOPPE RECOMMENDS THAT YOU CONSULT WITH A FINANCIAL, LEGAL OR OTHER CERTIFIED, LICENSED PROFESSIONAL BEFORE ACTING OR INVESTING ON ANYTHING YOU HEAR OR SEE FROM THE CONTENT ON THIS SHOW OR BLOG POSTS. THE INFORMATION WE SHARE ON REAL ESTATE MORTGAGE SHOPPE IS GENERAL IN NATURE MEANT FOR GENERAL EDUCATIONAL PURPOSES ONLY. ALL EXAMPLES GIVEN FOR ILLUSTRATION PURPOSES ON REAL ESTATE MORTGAGE SHOPPE AND ARE BASED ON TRUE STORIES BUT CHANGE NAMES AND CERTAIN DETAILS THAT DO NOT AFFECT THE INTEGRITY OF POINTS WE ARE MAKING IN THE EXAMPLES.
QUOTE CORNER:
Stephen Covey- " I am not a product of my circumstances. I am a product of my decisions."
J. K. Rowling- "It is our choices… that show who we truly are, far more than our abilities."
____________________________________________________________________________________
REJOINDERS:
Mark McLaurine, Refrigeration Unlimited, www.myhvacman.com (901) 216-7782

Kelly Inman, Next Day Access for wheelchair ramps, grab bars, stair lifts (901) 258-2626

Bill Emmerling, Vista Points (special needs trusts) www.vistapoints.org.
Transitional Music: "Meant to Be" by  Bebe Rexha; One Republic  "All The Right Moves;" I Feel Good by James Brown; "Memphis" by Johnny Rivers for the Look Back Memphis Trivia Contest
CALLERS: LYNN AND TROY MCDONALD, ERIN MCDONALD INSURANCE AGENCY (901) 849-7101
Homeowners insurance and car insurance
CALLER: PAT GOLDSTEIN, REALTOR WITH CRYE-LEIKE, INC IN WEST TN AND NORTH MISSISSIPPI
(901) 606-2000
________________________________________________________________________
ABOUT TOM KING, REAL ESTATE APPRAISER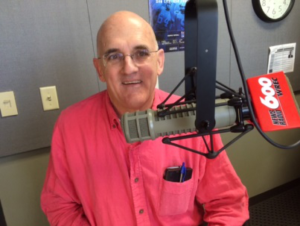 Tom is a well- respected and sought after appraiser in Memphis, Tennessee.  He is a second generation appraiser with 40 years of experience.  He has been elected to the Memphis Area Association of Realtors Board of Directors three times.  
Tom is a certified residential appraiser in Tennessee.  He have appraised over 20,000 homes in his career.  A graduate from the University of Tennessee with a degree in real estate, Tom is also a Certified Relocation Professional (CRP).  Tom also has vast experience in dealing appraising real estate for pre-listing sales, cash buyers, divorce settlements, estate settlements. (901) 487-6989
ABOUT ED HILL OF MASTERS ROOFING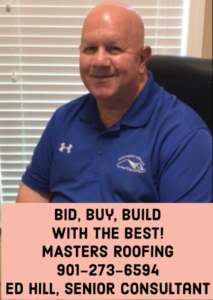 Ed Hill has been in the residential roofing industry since 2008 and has been Senior Consultant with Masters Roofing Memphis TN since 2010.  He has personally assisted about 800 homeowners with roof replacement and many others with roof and exterior repairs.  He is an active member of the Greater Memphis Business Network International chapter and is the official Masters Roofing consultant to TPC Southwind.  He holds three earned degrees including a doctorate but tries not to let those get in his way of serving his customers!  For free roof advice, free inspections, and free estimates and bids for roof replacement or roof repair call Ed Hill at 901-273-6594. Learn more at #EdHillMastersRoofing and at MemphisHomeMaintenanceShow.Podbean.Com
Ed Hill, Senior Consultant
Masters Roofing
2845 Stage Center Cove
Bartlett TN 38134
901-273-6594
EdHill.MastersRoofing@gmail.com
TN State Licensed Contractor #00067521/ Reciprocal Licenses MS & AR
BBB A+ Accredited Member Business
Platinum Preferred Contractor Owens Corning / GAF Master Elite Installer
Guild Quality Member / Angie's List
www.EdHillMastersRoofing.webs.com
Podcast https://MemphisHomeMaintenanceShow.podbean.com
You Tube Channel: Ed Hill Masters Roofing
http://Instagram.com/EdHillMastersRoofing
www.Facebook.com/EdHillMastersRoofing
ABOUT JO GARNER-MORTGAGE LOAN OFFICER:

WHAT DO YOU WANT TO ACCOMPLISH WITH YOUR MORTGAGE?
www.JoGarner.com (901) 482 0354 jo@jogarner.com twitter @jogarner NMLS# 757308 (currently working with Sierra Pacific Mortgage, Inc)
"Whatever YOUR personal priorities are, my job is to help you get the mortgage terms that will give you bragging rights when you talk about it and help you score on hitting your goals ."
As a mortgage loan officer, my job is to help you get to the benefits you want from your financing terms. What is most important to you? I can help you find the financing terms that will help you get to what you want. What is your comfort level on a house payment? How much are you comfortable paying down,? What type of financing do you need to get the house you want to buy or refinance?
Different clients have different priorities in life—some are buying their first home with very little down payment funds. Some are recovering from medical challenges, divorces or preparing to send children to college and some are embarking on a long term goal of buying properties to build rental income."
Jo Garner is a mortgage officer with extensive knowledge in tailoring mortgages to her customers who are refinancing or purchasing homes all over the country. She offers conventional, FHA, VA or other loan programs for refinancing and purchases.
Jo can help you look at rent vs buy, when it makes sense to refinance, how to get the best deal on your home purchase financing.
Jo Garner has been in the real estate/financing business for over 25 years.  She got her start in Portland, Maine where she first began her real estate career. She received her real estate education from the University of Southern Maine  and was personally mentored in San Diego, California  by Robert G. Allen, author of Nothing Down, Creating Wealth and The Challenge.
On moving back to West Tennessee in 1987, she went into business buying and selling discounted owner-financed notes secured on real estate.  In 1990 Jo went to work for a residential mortgage company and has been a mortgage loan officer for over 25 years.  Her goal is to offer excellent, affordable service to her customers, tailoring the loan programs to the specific needs of her clients. 
In addition to her work in the mortgage field, Jo Garner  is the primary sponsor and founder of Talk Shoppe in Memphis. www.TalkShoppe.com Jo Garner also host the radio show Real Estate Mortgage Shoppe airing on News Radio AM 600 WREC and iHeart Radio with podcasts and show notes published on www.JoGarner.com