Today on Real Estate Mortgage Shoppe we are going to dispel some myths about Veteran Home Loans that have caused our valued veterans to miss out on getting the home they want. I will be covering little known ways you can use the Veteran Home Loan to get started building wealth. Tom King, our expert appraiser will be sharing some great information about what to expect on a real estate appraisal. We will be hearing from others later in the show.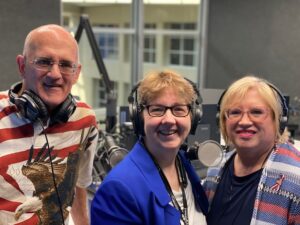 What do YOU want to accomplish with YOUR mortgage? Make your plan. Let's work your plan. If the deal works for you today, let's DO IT TODAY. Connect with me at www.JoGarner.com (901) 482-0354.
Jo Garner, Mortgage Loan Originator NMLS #757308 (currently with Cardinal Financial, Limited Partnership NMLS #66247 Memphis, TN—equal housing opportunity. ) for more info: www.nmlsconsumeraccess.org/EntityDetails.aspx/company/66247
SALUTE TO OUR LISTENERS
Good morning, Memphis! Welcome to our listeners across the 50 states! You're on Real Estate Mortgage Shoppe. I'm your host, Jo Garner, Mortgage Loan Officer. You can connect with me at www.JoGarner.com. Our general topic is "VETERAN HOME LOANS-FINANCING TO HELP OUR MILITARY VETERANS PROSPER & BUILD WEALTH."
If you have a question or comment and you're on Twitter, make them to #JoGarner or call me directly off the show at (901) 482-0354. You can call us while we are live at (901) 535-9732 or outside the Memphis area (800) 474-9732 Today May 28th, 2022
INTRODUCING TOM KING, REAL ESTATE APPRAISER
Back in his normal seat at the microphone is Tom King, appraiser with Bill King company. Tom has been appraising homes in the Mid-South for over 40 years. Tom knows the real estate market in the Mid-South. Tom, I think you have a virtual GPS , Google maps and Chandler Real Estate Report all built into one app inside your head. If you ask Tom, he can tell you about YOUR house AND your NEIGHBOR's house anywhere, anytime. (Tom has about 1 minute to share about himself and what he does)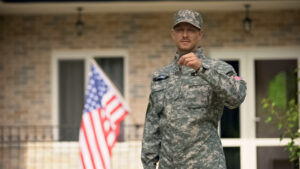 (Jo) Today we are talking about heroes and helping them prosper and build wealth. Soldiers are heroes because of what some were willing to sacrifice and what others DID sacrifice to protect our country and our freedom. Later some became heroes to their families because of the decisions they made to buy a house with an affordable fixed-rate Veteran Mortgage. Low-to-nothing down Veteran Loans with affordable payments allowed these families to establish themselves in the community and build wealth over time as the value on their home increased. As a mortgage originator, these veteran stories inspire me. These families and their stories is a big reason I have stayed in the mortgage business for over 30 years. What do YOU want to accomplish with YOUR mortgage? Call me so I can hear YOUR story (901) 482-0354 JO@JOGARNER.COM www.JOGARNER.com
(Jo) Since we are talking about Veteran Home Loans and how military veterans can build wealth buying real estate, I want to share a story about one of my star veteran real estate investors. When John first started out he bought a house in the city where he was stationed using a 100% veteran loan. He put together a plan to get wealthy during his military career moving from station to station buying a house each move and keeping the other homes for rental income.
The challenge that threatened to shoot holes in his life plan was the fact that the more property he bought, the more specialized mortgage products he needed since his VA eligibility was limited to one or two properties. He needed an experienced mortgage loan originator who could continue to come up with additional mortgage loan programs that fit each situation, so he could continue buying properties at terms that would allow him to make money.
It has been a joy and inspiration getting to work with GI John as his mortgage officer. GI John continues to build his real estate portfolio. Since he has done so well with his rental properties, many of his houses are paid off and he no longer has to work. He is finishing up a long military career. Now I see pictures on Facebook of John and his wife regularly on a Carribbean Cruise, on a beach, in the mountains and other exotic places. Thank you, John, for your service to our country. Kudos! to you for making your plan, working your plan, and when the deal worked for you, you did it.
(Jo) My star veteran real estate investor client knew how to break past common myths a lot of veterans get stuck believing, not realizing the gold mine close at hand. But the VA loan is not the only gold mine available. My veteran customer, John, used the low down payment FHA loan, and different one example of myth variations of the conventional loan product—even cash.
Here's some myths veterans believe about the Veteran Home Loan program that can cause them to miss opportunities.
You can use your VA mortgage eligibility more than once.

You can have more than one VA loan

The VA mortgage can be used to by single-family homes, duplexes, tri-plexes and quadraplexes as long as the veteran lives in one of the units

The VA loan can be assumed by another party subject to the lender's approval
We will cover more on the myth busters in more detail later in the show.
Tom, you are an experienced appraiser. What are some myths about appraising that you find are commonly believed by homeowners and homebuyers? (Tom launches until 9:15)
You're on Real Estate Mortgage Shoppe and I'm your host, Jo Garner, mortgage originator. What do YOU want to accomplish with YOUR mortgage? Make your plan. Let's work your plan. If the deal works for you today, let's do it today on a home purchase or refinance. Connect with me at www.JoGarner.com or call direct at 901 482-0354. When we come back we will be hearing more from appraiser Tom King. Genell Holloway from Eagle Hollow Enterprises will be joining us for a tip for veterans and others on getting the right health benefits. See you guys back in just a few minutes.
LET'S TALK SHOP—TALK SHOPPE'S BUSINESS TIP FOR REAL ESTATE PROS:
2nd segment after 9:15 advertising break – (producer to start the song "Taking Care of Business" by Bachman Turner Overdrive –but bring the volume down before the lyrics start) It's time to talk shop with Talk Shoppe's Business Tip For Real Estate Professionals. Talk Shoppe is a marketing company offering free education and networking to anyone interested in real estate or in business. Talk Shoppe is made possible by the financial support of its sponsors and advertisers. For more about Talk Shoppe, go to www.TalkShoppe.com (shoppe) For our Talk Shoppe Business Tip today we have Talk Shoppe sponsor, Genell Holloway of Eagle Hollow Enterprises . Genell has helped so many people make good decisions about getting affordable health benefits. Genell, you even know of special programs to help our military veterans. Genell, What is our Talk Shoppe Business Tip for Real Estate Professionals today? Has about 1 minute or so to share a tip (Jo says, "Thanks, Genell. How do we contact you?
Jo, today's talk shoppe tip is this……as a widow of a veteran, I recently learned that the state of TN provides a liaison to help veteran families obtain benefits they are entitled to. The process for obtaining benefits can be quite challenging as I have learned. The liaison makes it so much easier. There are also Medicare plans that are especially designed specially for our veterans. Call me to obtain more information at 901.270.1127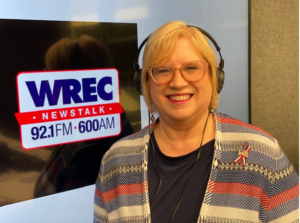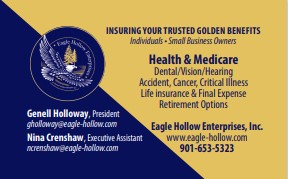 _____________________________________________________________________________________________________________________________
QUESTIONS ANSWERED BY TOM KING
Talk about the mortgage/appraiser firewall

What type of appraisals do you do where people can hire you directly?

Share a story of when you have helped real estate cash investors determine of the property is really a good deal.

Types of repairs that are typically notated on the real estate appraisal. Which types are mortgage companies likely to require to be repaired before closing?
_____________________________________________________________________________________________________________
QUESTIONS ANSWERED BY JO GARNER:
WHAT ARE SOME COMMON MISCONCEPTIONS ABOUT THE VETERAN HOME LOAN PROGRAM?
Myth: The VA mortgage can only be used once in a lifetime. /Wrong- you can get a loan up to 4 times the amount of whatever VA eligibility you have left on your Certificate Of Eligibility. For example if you show $36,000 eligibility, then you are able to get up to $144,000 and if your income-to-debt ratios are acceptable enough, your eligibility can be expanded so you can get a loan up to $647,200. But if you have only used $15,000 of your eligibility to buy your first home at $60,000, then you still have some eligibility to buy another home later when you are ready to move from the old home to the new home.
You can have more than one VA loan. Just like the example above. If you have not used up all of your eligibility, you might be able to qualify for another VA mortgage. VA mortgages are for veterans planning to use the home as their primary residence.
The VA mortgage can be used to by single-family homes, duplexes, tri-plexes and quadraplexes as long as the veteran lives in one of the units. You can buy a multi-unit property, live in one unit and rent the other units to tenants. In many cases the rent from the other tenants can more than cover YOUR payment. With the rent income from the other tenants in the building, you may find it easy to pay off the mortgage early, saving tens of thousands of dollars.

The VA loan can be assumed by another party subject to the lender's approval

You can refinance a VA loan on a streamline program without having to get an appraisal.

Veterans getting disability compensation for service-related medical issues are exempt from having to pay the VA funding fee that is normally added to the loan amount. Also, surviving spouses of veterans who died in the service or from a service related disability are also exempt from having to pay the VA funding fee and can, on a case-by-case basis, get a VA loan.

The maximum loan amount for VA loans is $647,200 for a single family, but the veteran can pay the difference between a higher home price and the maximum loan amount.

For more information about the Veteran Mortgage Program: http://www.benefits.va.gov/homeloans/resources_veteran.asp
Let's you and I talk about YOUR plans to save on your mortgage costs or your plans to build your real estate portfolio. But you have to talk with me personally so I can work with you. You can connect with me at www.JoGarner.com or call me directly at (901) 482-0354. MAKE YOUR PLAN, LET'S WORK YOUR PLAN. IF THE DEAL WORKS FOR YOU TODAY, DO IT TODAY!
CALLER TESTIMONY ON VETERAN HOME LOANS BY PEGGY LAU:–Retired US Navy Line Commander/ independent representative for Club Seacret (Travel Club)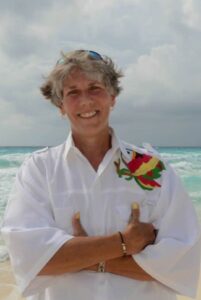 (901) 289-0747
REAL ESTATE TIP OF THE WEEK (Genell Holloway has 1 minute to share a tip for our real estate pros. )
Jo, since we're talking about home loans for veterans today, I thought it appropriate to share a misconception about one's final resting place. It is true that veterans are entitled to a burial spot at the VA Cemetery. But, the body still has to be prepared and be in a casket or cremation urn before the veteran can be buried. There are lots of ways to be prepared for these expenses. It's always good to do policy reviews on an annual basis to ensure your family is prepared for those difficult days. There is no cost for a policy review with me. Call me to set an appointment today at 901.270.1127.
If we have time, Tom can share a real estate tip. When appraising the value of a home. appraisers choose homes that are similar to the home they are appraising. They look for homes within a mile or close geographic vicinity that sold within the last 6 months , but not always the house across the street.
Jo's tip If you want to purchase home and the competition is still with multiple offers on the house you want to buy, let's talk about some methods we can use to help you be more competitive—even if you are getting a mortgage to purchase the home. ( Be Persistent, Prepared and with a Strong Preapproval letter) Contact me at 901 482-0354 or www.JoGarner.com
ANNOUNCEMENTS:
Talk Shoppe offers free networking & education to anyone interested in real estate or in business or in health and wellness. Talk Shoppe meets every Wednesday 9A-10A CT at Concorde Career College 5100 Poplar Ave 1st floor Memphis, TN (Clark Tower). You can also join the even on zoom. Go to www.TalkShoppe.com and click the Events tab for the link to get into the event online. This Wednesday June 1, 2022 9A- 10A Central come hear Gary Robinson of S.C.O.R.E.(Senior Corps of Retired Engineers) "So You Want to Start A Business-Some Essential Resources"

Talk Shoppe thanks Tim Gilliland of BackupRX.com for keeping our data backup and easy to restore. Do you want that peace of mind knowing that if your computer system crashes or you lose your data, that you can restore it instantly? Connect with Tim Gilliland of www.BackupRX.

Are you looking for a way to make some great travel memories at a bargain price? Connect with retired US Navy Line Commander Peggy Lau and check out a way to travel at a bargain price by yourself or with others who love to travel too. Call Peggy Lau at 901 289-0747
(Tom ) 4. Thank you to all of our veterans. You served us. Its our turn to serve YOU.
4. SPECIAL NOTE: REAL ESTATE MORTGAGE SHOPPE RECOMMENDS THAT YOU CONSULT WITH A FINANCIAL, LEGAL OR OTHER CERTIFIED, LICENSED PROFESSIONAL BEFORE ACTING OR INVESTING ON ANYTHING YOU HEAR OR SEE FROM THE CONTENT ON THIS SHOW OR BLOG POSTS. THE INFORMATION WE SHARE ON REAL ESTATE MORTGAGE SHOPPE IS GENERAL IN NATURE MEANT FOR GENERAL EDUCATIONAL PURPOSES ONLY.
4. FOR THIS PODCAST OF REAL ESTATE MORTGAGE SHOPPE AND MORE, GO TO JOGARNER.COM
5. Real Estate Mortgage Shoppe reminds you that MAKE YOUR PLAN, LET'S WORK YOUR PLAN. IF THE DEAL WORKS FOR YOU TODAY, DO IT TODAY!.
QUOTE CORNER:
"The true soldier fights, not because he hates what is in front of him, but because he loves what is behind him." G.K. Chesterton
_____________________________________________________________________________________________________________________________________________________________________
REJOINERS:
Kelly Inman of Next Day Access (901) 617-4675

Terri Murphy, www.MurphyOnRealEstate.com Murphy On Real Estate –success coaching for realtors and mortgage lenders. Active in the Forever Home for Veterans

Rob Draughon and Shelly Rothman, closing attorneys at Griffin Clift Everton and Maschmeyer (901) 752-1133
Transitional Music:
"America" by Neil Diamond; "Some Gave All"  Billy Ray Cyrus; "God Bless The USA"  by Lee Greenwood; "Taking Care Of Business" intro only  (BTO)for Talk Shoppe Business Tip of the Week 
PICK UP YOUR COPY OF "CHOOSING THE BEST MORTGAGE-THE QUICKEST WAY TO THE LIFE YOU WANT" by: JO GARNER
An essential guide for real estate professionals and their customers.
"Choosing the Best Mortgage-The Quickest Way to the Life You Want" is an essential guide for consumers and real estate professionals that will give them a good understanding of the loan products out there. They will have at a guide to the advantages the disadvantages of those loan products—when to use them and when not to use them.
The people stories give examples to help real estate professionals. Consumers that are looking now will benefit and I could easily see this book as a great resource for anybody in the future who want to buy real estate or restructure their finances using a mortgage.
Now on Amazon and Barnes and Noble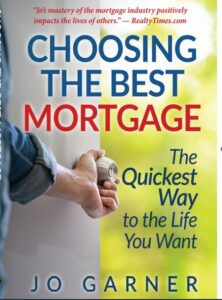 _
GENELL HOLLOWAY, VICE-PRESIDENT HEALTH BENEFITS PLUS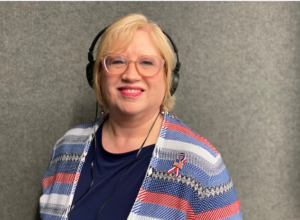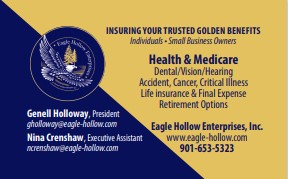 Genell Holloway is with Eagle Hollow Enterprises where we help individuals and business owners put the plus sign in your bottom line.
Genell has been a resource for many people in her circle helping to connect the right people to help those in need from those needing adult day care services to helping with final arrangements.
In her role as a Benefits Consultant, Genell is passionate about helping individuals be better prepared for those difficult times in life. One can count on Genell to help them find solutions that best fit their budget and personal situation. From health insurance to supplemental insurance to life insurance that include riders that help one to be better prepared financially for those health crisis moments that occur as we age, Genell has the knowledge to help.
Call Genell at 901.270.1127 for further information.
_________________________________________________________________________________________________________________________________________________________________________________
ABOUT TOM KING, APPRAISER WITH BILL KING COMPANY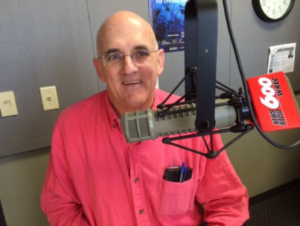 Tom is a well- respected and sought after appraiser in Memphis, Tennessee.  He is a second generation appraiser with 40 years of experience.  He has been elected to the Memphis Area Association of Realtors Board of Directors three times.  
Tom is a certified residential appraiser in Tennessee.  He have appraised over 20,000 homes in his career.  A graduate from the University of Tennessee with a degree in real estate, Tom is also a Certified Relocation Professional (CRP).  Tom also has vast experience in dealing appraising real estate for pre-listing sales, cash buyers, divorce settlements, estate settlements. (901) 487-6989
______________________________________________________________________________ ABOUT JO GARNER-MORTGAGE LOAN ORIGINATOR: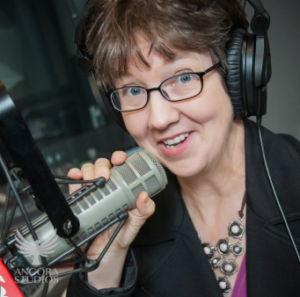 WHAT DO YOU WANT TO ACCOMPLISH WITH YOUR MORTGAGE?
www.JoGarner.com (901) 482 0354 jo@jogarner.com twitter @jogarner NMLS# 757308 (currently working with Cardinal Financial, Limited Partnership NMLS #66247 equal housing opportunity 2647 Appling Rd 102 Memphis, TN 38133 ) Online loan application https://online.cardinalfinancial.com/#/p/apply/jogarner
www.cardinalfinancial.org for licensing info www.nmlsconsumeraccess.org/EntityDetails.aspx/company/66247
"Whatever YOUR personal priorities are, my job is to help you get the mortgage terms that will give you bragging rights when you talk about it and help you score on hitting your goals ."
As a mortgage loan officer, my job is to help you get to the benefits you want from your financing terms. What is most important to you? I can help you find the financing terms that will help you get to what you want. What is your comfort level on a house payment? How much are you comfortable paying down,? What type of financing do you need to get the house you want to buy or refinance?
Different clients have different priorities in life—some are buying their first home with very little down payment funds. Some are recovering from medical challenges, divorces or preparing to send children to college and some are embarking on a long term goal of buying properties to build rental income."
Jo Garner is a mortgage officer with extensive knowledge in tailoring mortgages to her customers who are refinancing or purchasing homes all over the country. She offers conventional, FHA, VA or other loan programs for refinancing and purchases.
Jo can help you look at rent vs buy, when it makes sense to refinance, how to get the best deal on your home purchase financing.
Jo Garner has been in the real estate/financing business for over 25 years.  She got her start in Portland, Maine where she first began her real estate career. She received her real estate education from the University of Southern Maine  and was personally mentored in San Diego, California  by Robert G. Allen, author of Nothing Down, Creating Wealth and The Challenge.
On moving back to West Tennessee in 1987, she went into business buying and selling discounted owner-financed notes secured on real estate.  In 1990 Jo went to work for a residential mortgage company and has been a mortgage loan officer for over 25 years.  Her goal is to offer excellent, affordable service to her customers, tailoring the loan programs to the specific needs of her clients. 
In addition to her work in the mortgage field, Jo Garner  is the primary sponsor and founder of Talk Shoppe in Memphis. www.TalkShoppe.com Jo Garner also host the radio show Real Estate Mortgage Shoppe airing on News Radio AM 600 WREC and iHeart Radio with podcasts and show notes published on www.JoGarner.com Get the book by Jo Garner Choosing the Best Mortgage-The Quickest Way to the Life You Want at Amazon and Barnes and Noble.