Real estate attorneys Rob Draughon and Shelley Rothman will be walking you through some items to double-check to avoid negative surprises on your real estate closing. I will be sharing some customer stories and running through a check list of things to consider when getting your mortgage. We hope the items we cover today can save you a lot of time, energy and lots of money.
What do YOU want to accomplish with YOUR mortgage? I want to hear your story. Call me at (901) 482-0354. Subscribe to get weekly Real Estate Mortgage Shoppe podcasts and show notes at www.JoGarner.com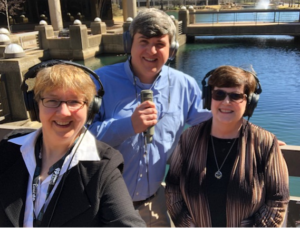 To Your Success,
Jo Garner, Mortgage Loan Officer NMLS #757308 (901) 482-0354 Jo@JoGarner.com www.JoGarner.com
JOIN US IN THE REAL ESTATE STUDIO….
Good morning, Memphis! Welcome to our internet listeners and podcast listeners across the 50 states! You're on Real Estate Mortgage Shoppe. I'm your host, Jo Garner, Mortgage Loan Officer. You can connect with me at www.JoGarner.com. Our general topic is HOW TO AVOID UNPLEASANT SURPRISES WHEN BUYING OR SELLING YOUR HOME & GETTING YOUR MORTGAGE. . Subscribe to get our weekly blogposts with podcasts at www.JoGarner.com. Call us while we are live at (901) 535-9732 Today is May 8th, 2021.
INTRODUCING REAL ESTATE ATTORNEYS SHELLEY ROTHMAN AND ROB DRAUGHON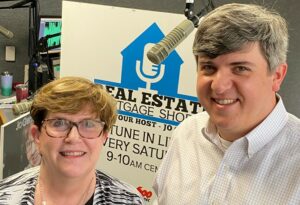 Back in the Real Estate Mortgage Shoppe studio are real estate attorneys Rob Draughon and Shelley Rothman of Griffin Clift Everton and Maschmeyer Law Firm. My clients and our team over at the mortgage office are so impressed with your service and help to clear up title issues. Rob and Shelley, take a few moments to tell our listeners a little bit about yourselves and what you do for your clients. (Rob and Shelley introduce themselves and talk about what they do for their clients at the law firm)
TOP FOUR AREAS THAT CAN BRING SURPRISES…
(Jo) Can you think of a time when you committed to do something or buy something that risky or expensive? I can think of a number of times and one of those was buying a home. Whenever you are undertaking something expensive and you have a lot on the line, it feels so comforting to know that you have friends in the business that can offer some guidance on your journey. Today, I want to be that friend you have in the mortgage business. Shelley and Rob are your "friends in the business" when it comes to real estate law.
In the mortgage business, the most common areas people experience snafus are these four:
Credit. There are some fairly fast ways to adjust some items on your credit to give a boost to your credit scores. The higher your score, the lower interest costs you pay on a mortgage.

Income to qualify for the mortgage. I plan to share a story later in the show as an example.

Assets -not enough qualified assets to get approval for closing. Remember that you can't use unsecured loans like credit cards to close on a home. Any large deposits that appear on your bank statements, you will need to show the paper trail leading back to its source. All is not lost though. Call me and we can talk off the air.

Appraisal-The fourth most common area that can cause negative surprises on a mortgage is the appraisal on the home. If the appraiser makes a note on the appraisal about repair items that concern the structure, security or sanitation of the home, mortgage underwriters tend to want these repair items fixed before closing. Examples of these type repairs: Bad roof, rotted wood, peeling paint, malfunctioning electrical, plumbing, heating and air conditioning, broken tile, holes in the sheet rock, drainage problems, doors that do not function properly.
The Lancaster Family-Financing The Needle In The Haystack
Mr. and Ms. Lancaster (not their real names) found a house in the country and close to other family. It had a perfect layout for enjoying their retirement with a bonus room for entertaining their grandchildren when they came to visit. The property was priced well below the other homes, making it very affordable to the Lancaster's on their income. It was truly a needle in a haystack
The flaw in the arrangement was that there was rotted wood that needed to be replaced and painted. There were some fixes that needed to be made to the electrical systems. The Lancasters were in a Catch-22. The mortgage company would not allow them to close on the home until the repairs were done. But they couldn't make the repairs until they owned the house.
The solution? An FHA 203K Renovation and Repair loan. Even with the price they paid for the home and the cost of the repairs, the home was worth quite a bit more than they had to spend. The Lancasters had quite a celebration day at closing and bragging rights when they went home to their new digs.
(Shelley and Rob launch their topics on important rules to remember about properly verifying funds to close )
You're on Real Estate Mortgage Shoppe. I'm your host, Jo Garner, Mortgage Loan Officer. What do YOU want to accomplish with your mortgage? Make your plan. Let's work your plan if the deal works for you today, let's do it today. When we come back attorneys Rob Draughon and Shelley Rothman will giving you more legal tips on how to avoid unpleasant surprises when buying or selling a home and getting a mortgage.
TALK SHOPPE BUSINESS TIP FOR REAL ESTATE PROS
2nd segment after 9:15 advertising break – (producer to start the song "Taking Care of Business" by Bachman Turner Overdrive –but bring the volume down before the lyrics start) It's time to talk shop with Talk Shoppe's Business Tip For Real Estate Professionals. Talk Shoppe is a marketing company offering free education and networking to anyone interested in real estate or in business. Talk Shoppe is made possible by the financial support of its sponsors and advertisers. For more about Talk Shoppe, go to www.TalkShoppe.com (shoppe) For our Talk Shoppe Business Tip today we have Talk Shoppe sponsor Leah Anne Morse of All Things New-helping you organize your estate sale, your move to a different place and other life transitions. You are getting some great testimonies for the people we have referred to you from Talk Shoppe. They say you are very caring and very thorough. Leah Anne Morse of All Things New, what is our Talk Shoppe Business Tip for Real Estate Professionals today? (Leah Anne Morse has about 1.5 minutes to share her tip for clients who need her service)
Leah Anne Morse , how do we contact you? (901) 488-9733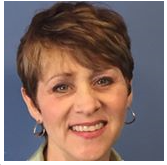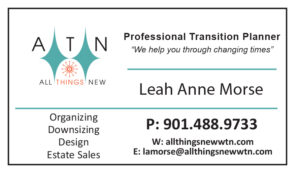 ___________________________________________________________
TOPICS COVERED BY ATTORNEYS SHELLY ROTHMAN AND ROB DRAUGHON OF GRIFFIN CLIFT EVERTON AND MASCHMEYER LAW FIRM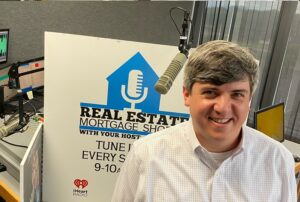 (901) 752-1133
How To Avoid Unpleasant Surprises At Your Real Estate Closing
Money to close.
If you are purchasing or refinancing your home, chances are you will need to have money at the closing. The funds usually need to be wired to the closing agents escrow account prior to the closing. Plan ahead.
If you must transfer money from an investment account or from one account to another, or your bank is in another state, start working on it right away. Discuss this with your loan officer as they will need to verify the account the funds needed for closing are coming from.
We have had several transactions where the buyer relocated and did not move their bank accounts from another state. Their banks would not let them wire funds without being physically present to identify themselves. On one occasion the buyer had to drive 8 hours just to initiate the wire for closing and then drive back to close 2 days later. PLEASE make sure the bank you will be wiring funds from has a local presence and if not, contact them well in advance of closing to see what your options are. If this is done in a timely manner the funds can make it to closing. Don't hesitate to call your loan officer and/or closing attorney for advice on handling this. It can be VERY stressful and don't wait until a day or two before closing.
The closing agent will provide you with wiring instructions. Wire fraud is running rampant so when you receive wiring instructions, CALL the closing agent at a number you know is theirs and verify all of the information you received. We send wiring instructions by secure email and we leave off a portion of the account number which forces our clients to call to verify they received legitimate instructions.
Gift funds – Sometimes you might receive gift funds from a family member in order to help you with a down payment. This needs to be cleared with your lender and they will instruct you usually to have the gift donor send the funds directly to the closing attorney instead of sending it directly to the buyer, so be sure to have that approved by the lender and be sure to get the Donor in touch with your closing attorney to have the funds sent directly.
This past week on 2 different occasions we had purchasers that were receiving gift funds. The donors gave the money to the purchasers directly instead of the closing agent. Closings were delayed until the donors got the money back and sent it directly to us. One young couple planning to move in quickly already scheduled their movers, utilities, etc and had to reschedule everything.
Issues with Title Can Delay Closing
There are many things people are not aware of that affect the title to their property, whether they are buyers, sellers or refinancing.
Judgments, Federal Tax Liens, and bankruptcies can delay, complicate and, in certain instances, prevent your closing from taking place. These are matters of public record and are included in the title search we need to examine prior to closing so the lender can be insured for having a good mortgage on the property. If you are in arrears or on a payment plan with the IRS or the State you may have a lien filed against you that you are not aware of. There have been many times we had to call clients to notify them that a lien was filed and they could not close without it being released. Those are not fun calls for us to make and frequently, but unnecessarily, embarrasses the client. If you have an outstanding issue it's ok to call your closing attorney to discuss it and they can check the records to see if it is out there. It's better to do this early on in the process than wait until your closing is coming up so it can be addressed in a timely manner.
If you have a homeowners association where you live and you are not current in your dues, there may be HOA liens filed against you that will need to be paid off to close on your refinance or sale.
We call clients for information to get payoffs of existing loans on their home if they are selling or refinancing. Many times we are told that there is only one mortgage or no mortgage on the property. When the title is examined it turns out that they have a Home Equity Line of Credit. A HELOC IS a lien on your home even if you don't owe anything on it. It's not just a checking account or debit card.
Spouses at closing – Be sure to talk to your closing attorney and lender about who needs to attend closing. How the property is titled and the marital status of the buyer and seller will determine who needs to sign certain documents at closing. Many times the borrower or seller is the only person in title but if the property is their primary residence, they spouse of the borrower or seller will likely need to join in on at lease some of the closing documents, so it is important to know who needs to attend closing before you schedule the closing date.
If your property was involved in a tax sale or it was purchased in connection with a foreclosure there is a greater potential for title issues that need extensive research and underwriting which can cause delays.
TOPICS COVERED BY JO GARNER, MORTGAGE LOAN OFFICER: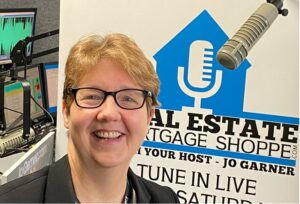 What type tweaks to your credit report can help you get more attractive terms on your mortgage.
I am not a licensed credit repair person and I direct my clients to the credit bureaus for any final corrections or fixes. There are no guarantees that you will get the exact results you want 100% of the time. What I am sharing with you is based on close observation and study of the cause and effect on numerous mortgage client credit reports).
Make your payments on time and do not let them get over 30 days late.

If a creditor is contacting you about a collection account, pay it as soon as possible or set up a payment plan with the lowest possible payment per month with an agreement with the collection company not to report negative information about you to the bureaus.

Never use more than 30% of your credit card limits. For example, if your credit limit is $10,000, you would never want your balance to go over $3,000. Your utilization habits on revolving account activity makes up over 30% of your credit score.

Stay away from 12-months-same-as-cash accounts. Most of the time these type accounts are scored as maxed out revolving accounts. I have seen these accounts drop someone's score more than 100 points.
Funds You Will Need To Close -DUDLEY DUNDERMEISTER'S STORY-(don't do what Dudley did) Losing Closing Funds Gambling in Tunica
But here is a quick story about a mortgage customer several years ago who thought he knew a perfect way to double the money he and his wife had saved over several months while their dream home was being built. This is a case where the best made plans of mice and men go awry. Let's call the customer in this story Dudley Dundermeister (not his real name).
Dudley and his wife had scrimped and sacrificed to save several thousand dollars they needed to close on a house they had been having built for the last 6 months. It was a week before closing and Dudley's wife decided to go out of town to see some relatives. Dudley's cousin didn't want Dudley to be sitting at home alone so he invited him to join him for a little fun down at the Tunica gambling resorts. "You can make double your money," his cousin claimed.
Dudley called me the next morning. His voice was low and trailed off when he said he needed to tell me something. My loan officer instincts told me, "I have a bad feeling about this." Dudley sheepishly started on the story of how he and his cousin took off down to Tunica while his wife was out of town to "double the money" on the house fund. In short, he lost it all. We were a week out from closing and he did not have the money to close. "What are we going to do now," he moaned.
When I mentioned we should talk with his wife to see if she had some ideas on where to get the money, Dudley, jumped in and blurted out, "Miss Jo, you can't tell my wife. If you tell my wife, there won't be any home closing because I'll be dead!"
" You have a good point," I thought. Then the next call Dudley made to his cousin to figure out where to get the funds, because if Dudley's wife found out about the gambling fiasco, Cousin Dundermeister's knew his head would be on the chopping block too.
Cousin Dundermeister had a spark of inspiration that very day and informed Dudley that he could get Dudley some money from an investment but he could only get a paltry portion of it once a day which he did each day right up until the morning of the closing. It was a great relief to get the source of all the gift funds from Dudley's cousin verified properly. Dudley's wife did not know about the misdeeds of her husband at least at the moment of closing.
TIMOTHY TRICKSTER'S STORY- Creating a way to suddenly have enough funds to close without saving any of it…. (as a mortgage loan officer, I can assure you we can't make this stuff up)
Don't be like one of my nightmare clients a few years ago who promised us he would have the money to close even though it was not in his bank account. All the parties to the contract knew we could not verify any funds from the borrower, but everyone chose to hang in there and see if his income would truly cover what was needed at the end of the month as the borrower promised. It was the first week of the following month-only a few days away from closing and his old credit report had expired. We pulled an updated credit report and discovered the source of his extra funds—he just didn't make the payments on any of his bills and assumed he could use this money to pay down on his new home. Don't do this. By letting his bills go over 30 days late that last month, it dropped his credit scores by over 100 points and he no longer qualified for the mortgage to purchase his home. Make sure you pay your bills on time every month, especially if it is a mortgage.
Don't change jobs during the mortgage process.
Don't even change the way you are paid from your job. Albert Abbott was freshly out of the military with a job as a new hire. The salary wasn't great but, at least he could qualify for the mortgage to buy the house that he wanted.
As we our mortgage team was processing Albert's mortgage papers, we noticed that, in the middle of the loan process, Albert had switched from a salaried employee where the employer withholds Federal Income taxes and other deductions, over to a 1099 subcontractor position.
As a 1099 worker, the employer no longer withheld Federal Taxes and other deductions. Now, that Albert was self-employed, he would have to pay his own taxes because now he was self-employed.
When I asked Albert about the switch from being an employee to being self-employed he said, "Because I can make a lot more money." His eyes bulged outward when I informed him that the government mortgage program he wanted would not allow us to count any of his self-employment income until he had been on the job or at least 2 years to set up a track record.
Albert decided that "less is more" and arranged with his employer to return him to his employee status, even if he was making less money. At least he would be able to qualify for his mortgage.
Some of my mortgage clients who have been self-employed for 2 years or more still have problems getting qualified for their mortgage loan because they don't show a lot of income on the front page of their tax return. An experienced lender can go into the back pages of the tax return to look for certain expenses that are allowed to be added back to the income.
IMPORTANT DO'S AND DON'TS FOR SMOOTHER LOAN PROCESSING
From: Jo Garner, Mortgage Loan Officer NMLS# 757308 (901) 482-0354
PLEASE REVIEW, INITIAL EACH SECTION & SCAN TO JO@JOGARNER.COM
https://www.youtube.com/watch?v=CkBoEhqmmb0
______(initials) It is vitally important that you do not change anything on your asset statements after Jo has reviewed your bank statements. Any decrease in your assets could make or break your loan approval or cause a delay in your closing. ANY LARGE DEPOSIT NOT PAYROLL RELATED NEEDS TO HAVE THE SOURCE DOCUMENTED. (You can get images of the deposit and copies of deposit slips from your bank.)
______(initials) If you are legally married, and buying or refinancing a primary residence, even if your spouse is not on the loan nor on the title, your spouse will be required to sign a few key documents to keep your title clean under the state law. Change in marital status could cause problems on title.
______ (initials) When it comes time to provide bank statements or any asset account, or tax return, it is necessary to provide ALL pages of the statement, even if it is a blank page. On asset account statements, make sure the name of the bank, your name and at least part of the account number appears on any bank documentation you submit to us.
(If you turn in a 401k statement, please get a letter from the administrator stating terms of the plan including terms of withdrawal—even if you are not withdrawing funds)
_______ (initials) Please do not make any changes to your income or manner of payment from income from your business or employment. When it is time to send tax returns, please send ALL pages including any K-1s if applicable. Even if your income is increasing, under current loan guidelines some methods of income payment are not allowed to be counted as qualifying income so it is important to let your loan officer know of upcoming changes right away to make sure the type payment of income is acceptable for loan qualification purposes. If you own 25% or more of a business, please send all pages of the business tax returns for the past 2 years also. (In some cases underwriting may require a year-to-date Profit and Loss for self-employed borrowers.) Note: If your IRS transcripts or tax returns indicate that taxes are owed, you must document the source of funds to clear the taxes owed or show proof of accepted payment plan and proof of three months payments made to IRS or other agency to clear debt.
(Some mortgage products do not require tax returns at all-check with your mortgage officer for a personalized list of documents needed for your specific loan)
(PLEASE DISCLOSE ANY PAYMENT PLANS MADE TO IRS OR OTHER OUTSIDE AGREEMENTS THAT MAY NOT SHOW ON THE CREDIT REPORT. THESE PAYMENTS NEED TO BE CALCUATED TO DETERMINE YOUR TRUE DEBT-TO-INCOME RATIO.
PLEASE DISCLOSE ANY IRS OR OTHER LIENS THAT MIGHT SHOW UP ON OTHER REPORTS CONNECTED TO YOU. NOT DISCLOSING THESE CAN JEAPORDIZE YOUR LOAN APPROVAL LATER IN THE PROCESS)
________(initials) If you file your tax returns right before or during the loan process, this can delay your loan process by a month or more due to the time it takes the IRS to fully process and log your numbers into the government required IRS third-party transcript for that tax return that must be included in your loan file. You may consider filing an extension on filing your IRS return in order to avoid this delay. (Underwriting may ask for a year-to-date Profit and Loss for self employed borrowers.)

_______ (initials) Do not open any new credit accounts (and especially not a 12-months-same-as-cash account.) Do not add balances to any existing credit accounts. Do not apply for any new credit during the loan process. Do not make any changes on your credit status.

_______ (initials) Please check your tax returns and make sure you do not have any undisclosed business losses. If so, please notify your loan officer.

________(initials) Make sure that you keep your accounts paid current during the loan process. Even though you are planning to pay off an account at closing, please do not allow this account or any others, including any mortgages, to go 30 days late even if the closing the delayed. (This could cause your credit scores to drop right before closing and jeopardize your loan approval.)

_______ (initials) Use funds for closing DIRECTLY from the account where we have verified your funds. If funds come from a different account, it can delay or jeopardize your closing . Also do not move money from the account where funds were verified to another account to access for closing. Funds must come DIRECTLY from the account where funds were verified and not moved to a different account for any reason. Earnest money must come from the account that you will be fully documenting.

________(initials) REMEMBER, AT CLOSING THE FUNDS WILL NEED TO BE IN THE FORM OF A CASHIER'S CHECK AND/OR WIRE PAYABLE TO THE CLOSING AGENT. You will need 2 forms of ID at closing including drivers license. All borrowers and interested parties will need this documentation at closing.

_______ (initials) If you are on any of the accounts we are verifying with another person, you will need to get a short letter, dated and signed by the other person identifying the account and stating that you have full access to the funds.

_______ (initials) If there will be a full appraisal on the property you are financing, please inspect the subject property for repairs that may be required prior to closing by the appraiser. Some common required repairs are leaky roof, rotted wood, peeling paint, torn flooring, broken tile, non-functional plumbing, electrical or HVAC systems, drainage problems, holes in sheetrock, broken windows, foundational problems, termite damage, hazardous waste on property, etc.
If the property is in a flood zone, flood insurance will be required. Appraisal values are determined by the assigned appraiser. Comparable property sales over the last 6 months to a year on houses like the subject property in the subject property neighborhood are used to determine the official value used by the mortgage company. Government guidelines require the mortgage company to order an appraisal and have the appraiser to be assigned to the property by a third-party, government approved order agency separate from the mortgage company.
The mortgage company must order the appraisal from the approved agency. Appraisals from other mortgage companies and appraisals ordered by anyone else, are not qualified to be used under current loan regulations.
If the appraiser notes repairs on the appraisal, it is very possible he/she will need to reinspect the property to make sure repairs are completed in a workmanlike manner. Appraisers charge an extra fee to do this which could increase your costs at closing.
Appraisal fees are not refundable.
________(initials) If you are refinancing your home, please make sure the home has not been listed for sale on the market within the last 6 months. REMEMBER THAT ON A PRIMARY RESIDENCE, THERE IS A 3 DAY RIGHT OF RECISSION BEFORE MONEY IS DISBURSED.

_______(initials)Due to the new TRID government lending guidelines, there are mandatory delays set up throughout the process, giving you a chance to review the terms as the process moves forward. If you change anything that triggers a change in the final terms after final disclosures have been sent, this could delay your closing to wait on new documents to be received by you and the mandated delay period completed.

________(initials) Due to a rising number of incidences of hackers/scammers attempting to redirect wired closing funds, please do NOT have any funds wired before verifying the wiring information with your loan officer and the attorney's office. There may be additional steps to take to ensure your money is wired to the correct account.
REAL ESTATE TIP OF THE WEEK (Shelley Rothman and Rob Draughon have about 1 to 1.5 minutes to share a real estate related money-saving or time-saving tip): TIP OF THE DAY: DO NOT PANIC over anything or be embarrassed to ask any questions. Talk to us, your realtor, your lender if you have any questions or a change in circumstances prior to your closing. It is very likely that we have heard the question and dealt with the same or similar problem many times before.
Jo tags on another tip: Corelogic reports the highest month-over-month gain we have seen with an 11.3% national rate of appreciation during the month. Corelogic anticipates our 2021 spring housing market will outpace trends we saw in 2019 and 2018. Millennials make up 54% of home purchase applications over the last year. The lack of homes available for sale erodes affordability and the costs of new construction. Catching mortgage rates while they are so low is very important in keeping your mortgage affordable.
ANNOUNCEMENTS:
Talk Shoppe offers free networking & education to anyone interested in real estate or in business. Talk Shoppe meets every Wednesday 9A-10A by going to www.TalkShoppe.com (shoppe), then click the Upcoming Events tab. You will see the virtural zoom web address. This Wednesday May 12th 2021 9A-10A CDT Builder Bruce Upchurch presents "What's Happening With Home Construction & How To Find A Quality Builder."
Talk Shoppe events are free thanks to sponsors like Brett Carter of Servicemaster by Cornerstone. When you get a surprise flood or fire or bio hazard in your home or office, don't go it alone, call Cornerstone to get your place restored like new. Call Brett Carter at 901 624-9200
Thank you also to realtor Pat Goldstein of Crye-Leike Realtors "The Gold Standard in Real Estate" serving homebuyers and home sellers in West TN and North Mississippi. (901) 606-2000
3. Let's honor our mothers this Mother's Day Weekend. What can you do to give the mother in your life a special surprise?
4. Subscribe at www.JoGarner.com and you can get our weekly blog posts with podcasts conveniently in your inbox.
5. Real Estate Mortgage Shoppe reminds you to MAKE YOUR PLAN. LET'S WORK YOUR PLAN. IF THE DEAL WORKS FOR YOU TODAY, DO IT TODAY.
SPECIAL NOTE: REAL ESTATE MORTGAGE SHOPPE RECOMMENDS THAT YOU CONSULT WITH A FINANCIAL, LEGAL OR OTHER CERTIFIED, LICENSED PROFESSIONAL BEFORE ACTING OR INVESTING ON ANYTHING YOU HEAR OR SEE FROM THE CONTENT ON THIS SHOW OR BLOG POSTS. THE INFORMATION WE SHARE ON REAL ESTATE MORTGAGE SHOPPE IS GENERAL IN NATURE MEANT FOR GENERAL EDUCATIONAL PURPOSES ONLY. ALL EXAMPLES GIVEN FOR ILLUSTRATION PURPOSES ON REAL ESTATE MORTGAGE SHOPPE AND ARE BASED ON TRUE STORIES BUT CHANGE NAMES AND CERTAIN DETAILS THAT DO NOT AFFECT THE INTEGRITY OF POINTS WE ARE MAKING IN THE EXAMPLES.
QUOTE CORNER
"Seeing a spider isn't a problem. It becomes a problem when it disappears." Quotesgram.com
"As much as you want to plan your life, it has a way of surprising you with unexpected things that will make you happier than you originally planned." Enkiquotes.com
"I always knew I'd get old. How fast it happened was a bit of a surprise though."
_____________________________________________________________________________________
REJOINDERS:
Genell Holloway of Eagle Hollow Enterprises (insuring your golden benefits) 901 270-1127

Troy and Lynn McDonald of Erin McDonald Insurance Agency 901 849-7101

Mary Lou Nowak, owner of Mid-South Home Helpers (non-medical assistance) 901 414-9696
Transitional Music: "It's A Mistake" by Men at Work; "Go Your Own Way" by Fleetwood Mac; "Your Doing It Right" by Rodney Atkins; "Taking Care of Business" by Bachman Turner Overdrive;
________________________________________________________________________
ABOUT REAL ESTATE ATTORNEYS- SHELLY ROTHMAN AND ROB DRAUGHON -GRIFFIN, CLIFT, EVERTON & MASCHMEYER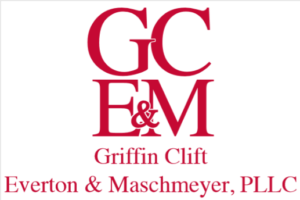 901 752-1133
6489 Quail Hollow Rd
Memphis, TN 38120
__________________________________________________________________
ABOUT JO GARNER-MORTGAGE LOAN OFFICER: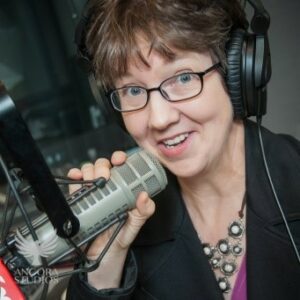 WHAT DO YOU WANT TO ACCOMPLISH WITH YOUR MORTGAGE?
www.JoGarner.com (901) 482 0354 jo@jogarner.com twitter @jogarner NMLS# 757308 (currently working with Sierra Pacific Mortgage, Inc)
"Whatever YOUR personal priorities are, my job is to help you get the mortgage terms that will give you bragging rights when you talk about it and help you score on hitting your goals ."
As a mortgage loan officer, my job is to help you get to the benefits you want from your financing terms. What is most important to you? I can help you find the financing terms that will help you get to what you want. What is your comfort level on a house payment? How much are you comfortable paying down,? What type of financing do you need to get the house you want to buy or refinance?
Different clients have different priorities in life—some are buying their first home with very little down payment funds. Some are recovering from medical challenges, divorces or preparing to send children to college and some are embarking on a long term goal of buying properties to build rental income."
Jo Garner is a mortgage officer with extensive knowledge in tailoring mortgages to her customers who are refinancing or purchasing homes all over the country. She offers conventional, FHA, VA or other loan programs for refinancing and purchases.
Jo can help you look at rent vs buy, when it makes sense to refinance, how to get the best deal on your home purchase financing.
Jo Garner has been in the real estate/financing business for over 25 years.  She got her start in Portland, Maine where she first began her real estate career. She received her real estate education from the University of Southern Maine  and was personally mentored in San Diego, California  by Robert G. Allen, author of Nothing Down, Creating Wealth and The Challenge.
On moving back to West Tennessee in 1987, she went into business buying and selling discounted owner-financed notes secured on real estate.  In 1990 Jo went to work for a residential mortgage company and has been a mortgage loan officer for over 25 years.  Her goal is to offer excellent, affordable service to her customers, tailoring the loan programs to the specific needs of her clients. 
In addition to her work in the mortgage field, Jo Garner  is the primary sponsor and founder of Talk Shoppe in Memphis. www.TalkShoppe.com Jo Garner also host the radio show Real Estate Mortgage Shoppe airing on News Radio AM 600 WREC and iHeart Radio with podcasts and show notes published on www.JoGarner.com