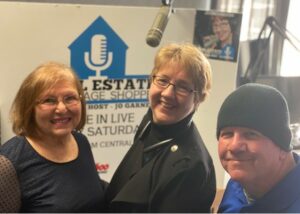 The former first lady of the United States, Eleanor Roosevelt said, "Learn from the mistakes of others. You can't live long enough to make them all yourself." Today we will be covering some best practices for picking the right type pros to put on your real estate advisory team so you can profit and avoid the pitfalls.
What do YOU want to accomplish with YOUR mortgage? Let's stay connected! Subscribe to Real Estate Mortgage Shoppe podcasts and show notes at www.JoGarner.com
To Your Success,
Jo Garner, Mortgage Loan Officer NMLS #757308
(901) 482-0354 Jo@JoGarner.com www.JoGarner.com
Good morning, Memphis! Welcome to our internet listeners and podcast listeners across the 50 states! You're on Real Estate Mortgage Shoppe. I'm your host, Jo Garner, Mortgage Loan Officer. You can connect with me at www.JoGarner.com. Our general topic is How To Profit And Avoid Pitfalls Buying Or Selling Your Home-Picking The Right Pros. Subscribe to get our weekly blogposts with podcasts at www.JoGarner.com. Call us while we are live at (901) 535-9732 Today is January 23, 2021.
INTRODUCING ED HILL WITH MASTERS ROOFING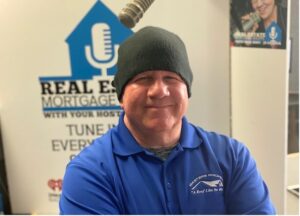 In the co-host chair this morning we have Ed Hill, Senior Consultant with Masters Roofing. Ed wrote the book on home improvement and can share some of his wisdom on how to identify a quality professional when picking your real estate advisory team. Ed, you exemplify the very characteristics of picking a trustworthy roofing contractor. Take a moment and share with our listeners a little bit about yourself and what services you offer your roofing clients. (Ed has about a minute and a half or so to intro himself and what he does)
(Jo) PERSISTANCE PAYS OFF
(Jo) The mortgage business has been a big part of my life for over 25 years. Getting to work with mortgage clients who are trying to buy a home or refinance one they already own is like playing to win alongside them on the same team in sports. When I know what my customers' goals are, their challenges in finding the home they want to buy, then there's that little trophy-like thrill you share with them at the closing table.
For some of my clients, when they decided they wanted to buy a home, they made an offer on the first home they found and that was that—it was easy. For others they have faced one challenge after another, after another, but they kept pressing forward. They keep searching and making offers. Finally we all celebrated at their real estate closing.
THOMAS EDISON STORY
Their story reminded me of the famous Thomas Edison's story. After he had tried two thousand different filaments unsuccessfully trying to invent the light bulb, his assistant sighed telling him, "Nothing has worked. We have failed. We have learned nothing."
Edison replied confidently, "Oh we have come a long way and we have learned a lot. We have discovered two thousand ways NOT to invent a light bulb." Thomas Edison and his company went on to invent the light bulb, the phonograph and made many other breakthroughs and lots of money. What would have happened if Thomas Edison had given up on his efforts? I believe someone else would have invented the light bulb and gotten the fame AND the fortune from the invention.
LEARN FROM SOMEONE ELSE'S MISTAKES AND NOT YOUR OWN
Get with an experienced mortgage loan officer. Get prepared so you qualify with the exact right financing. Get an experienced realtor with a good reputation to help you. Keep searching until you find the house that you know will work for you. If you know other people are making offers to purchase the same home, then make the best offer you can to get it-but don't go past what you can comfortably afford. A good realtor who knows the market and can advise you of ways to form your home purchase offer to get you the best chance of having the seller accept yours over someone else's offer.
The former first lady of the United States, Eleanor Roosevelt said, "Learn from the mistakes of others. You can't live long enough to make them all yourself." That's some good advice! By putting experienced reputable real estate pros on your team, you can use their knowledge and experience to make some smart moves and avoid costly mistakes.
MAKE YOUR PLAN. LET'S WORK YOUR PLAN. IF THE DEAL WORKS FOR YOU TODAY, LET'S DO IT TODAY. Connect with me at www.JoGarner.com. Email me at Jo@JoGarner.com or just call me at (901) 482-0354.
(Jo) Ed Hill of Masters Roofing—you are walking example of the type professional who is skilled and committed to putting your customer first. What are some top tips for picking the best qualified professionals when it comes to real estate decisions? (Ed Hill launches into his topic until 9:15 AM break)
You're on Real Estate Mortgage Shoppe. I'm your host, Jo Garner, Mortgage Loan Officer. What do YOU want to accomplish with your mortgage? Make your plan. Let's work your plan if the deal works for you today, let's do it today. Connect with me at www.JoGarner.com When we come back, Ed Hill of Masters Roofing will cover more great info regarding your roof. Pat Goldstein of Crye-Leike Realtors will be joining us for the Talk Shoppe Tip For Our Real Estate Pros.
TALK SHOPPE BUSINESS TIP FOR REAL ESTATE PROS
2nd segment after 9:15 advertising break – (producer to start the song "Taking Care of Business" by Bachman Turner Overdrive –but bring the volume down before the lyrics start) It's time to talk shop with Talk Shoppe's Business Tip For Real Estate Professionals. Talk Shoppe is a marketing company offering free education and networking to anyone interested in real estate or in business. Talk Shoppe is made possible by the financial support of its sponsors and advertisers. For more about Talk Shoppe, go to www.TalkShoppe.com (shoppe) For our Talk Shoppe Business Tip today we have Talk Shoppe sponsor Pat Goldstein of Crye-Leike Realtors. Pat, you are known as the "Gold Standard In Real Estate". What is our Talk Shoppe Business Tip for Real Estate Professionals today? (Pat has about 1.5 min to share her tips )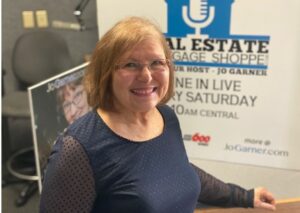 Pat Goldstein, how do we contact you? (901) 606-2000 You can also connect with Pat Goldstein at Talk Shoppe on Wednesdays at 9A CST
Tip: look for a house that needs some updating but is basically in good condition. Update as you have the time and money. Be current but not extreme and you'll be able to make a profit.
Pat shares an example of how this works in the market today
___________________________________________________________
TOPICS COVERED BY ED HILL OF MASTERS ROOFING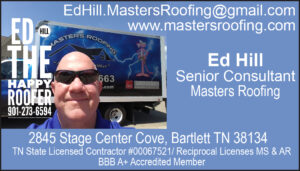 Ed Hill, Senior Consultant, Masters Roofing Memphis 901-273-6594
What is your advice for finding the most qualified professional who is best fit to assist on a real estate transaction, whether it is for a realtor, a lender, a home repair contractor … or a roofer like you?
(Ed covers some best practices for finding the right professional team to advise and help get you to your real estate goals)
KNOW YOUR ROOFER!
"Every Marine Is First And Foremost A Rifleman"
Marine Rifleman's Creed First Line
"This Is My Rifle, There Are Many Like It But This One Is Mine"
THIS IS MY ROOFER, THERE ARE MANY LIKE HIM, BUT THIS ONE IS MINE!
Know Him
@I started out young
@In the roofing industry since 2008
@This is my full time gig, not side hustle
@I am professionally trained with 3 earned degrees including Masters and Doctorate and trained in roofing
@I will tell you the truth
@I like people
@I answer my phone 16 hours a day
@I prepare detailed, printed roof options with samples of actual shingles
@I started with the massive roofing team at Masters Roofing in 2009
@I serve the entire demographic range in the Midsouth from one bedroom one bath homes to luxury-mansions
@I have personally helped almost 1000 families replace their roof
@I have learned to be very effective in handling complex, difficult roof claims
KNOW HIS COMPANY
@MASTERS ROOFING IS THE ONLY DOUBLE FACTORY-CERTIFIED, STATE-LICENSED RESIDENTIAL ROOF REPLACEMENT CONTRACTOR IN THE MIDSOUTH
@MASTER ELITE WEATHERSTOPPER INSTALLER GAF, PLATINUM PREFERRED CONTRACTOR OWENS CORNING
@THE ONLY LIFE-SIZE INTERACTIVE ROOF DESIGN SHOWROOM IN MIDSOUTH
@INSURANCE ADJUSTERS KNOW AND RESPECT MASTERS ROOFING
@WE HAVE HELPED 9000 MIDSOUTHERNERS
To Get Free, Friendly, Expert, Roof Advice, A Free, HONEST Roof Inspection Or Estimate Or Help With And Insurance Storm Damage Claim Call
901-273-6594
Learn More
#EdHillMastersRoofing
#EdHillTheHappyRoofer
#MemphisHomeMaintenanceShow
MemphisHomeMaintenanceShow.Podbean.Com
ROOF EDUCATION CORNER
What are your tips on best financing for the roof repair or replacement …
I may be able to help you find the money for a new roof!
Property Insurance

Life Insurance

Annuities

401K

Home Equity

Collectibles And Antiques

Real Estate

Stocks And Bonds

No/Low Interest Credit Cards
10.Workplace Gifts
What Do You Want To Accomplish With Your…Roof!😇
TOPICS COVERED BY JO GARNER, MORTGAGE LOAN OFFICER: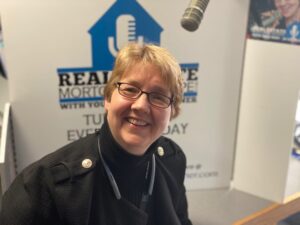 PICK THE RIGHT REAL ESTATE AND FINANCING TEAM
Check reviews and testimonials about the people you plan to use
Google their names and company names for reviews online
Check with the Better Business Bureau in your area.
Look for other comments on review services like Yelp and Angie's List.
Talk with friends and family who were happy with the professionals they used for their real estate transaction
Make sure the people you put on your team are experienced and reputable. 

Make sure they are truly listening to your needs and are making every effort to get you what you need
COMMON PITFALLS TO AVOID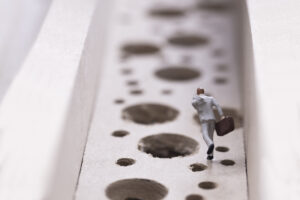 Paying too much for home (your realtor is a great resource for knowing values in the areas where you want to buy your home.  The realtor is a great source of advice on ways to protect yourself from paying more than you are comfortable paying on a house. )

Too many times I seen it happen that a homeowner who sold their home without a realtor, left money on the table—a LOT of money.
My borrowers Carmen and Casey got their home purchase offer accepted by a homeowner who was selling their own home all by themselves without the help of a realtor. The sellers put their house on the market for $190,000 because that's what they thought it was worth. Carmen and Casey got their offer accepted at that price without asking the seller to pay any of their costs and without requiring a home inspection. The sellers took their offer. When the home appraisal came in at a value of $225,000, my borrowers were ecstatic. Great for the buyers because they just walked into $30,000 in instant equity. Word to the wise— if you are thinking about selling your home, get some quality professional advice before you list your home. Avoid missing out on getting that extra $30,000 you could have put in your pocket.
The home inspector is a great source of information when it comes to the true condition of a home you want to buy.  He or she can point out repairs needed or issues that can cause you big money shortly after you move into the home.

Don't change jobs or the way you are paid on your job during the loan process. Remember that if you start your own business, you need two years history of income filed on taxes in order to use it for qualifying income on a mortgage. If you go to work as a subcontractor and the person paying you is not withholding federal income taxes, you are considered self-employed by the mortgage company and you will need 2 years history of that subcontractor income before you can use the income to qualify for your mortgage. On the other hand, if you are getting paid on W2 type income where the employer does withhold federal income taxes, you should be able to qualify with that income right away depending on the circumstances.

Don't add to your debt and do not open any new accounts on your credit during the loan process

Make sure you have all the money needed to close properly verified by your mortgage officer during the loan process.  Don't be a Rockefeller, moving money around during the loan process.

Keep your credit scores as high as you can. The higher your credit scores, the less you pay in borrowing costs.
Improving Your Credit Game to Gain Yourself a Lower Mortgage Rate:
Several months ago when the mortgage rates started a rapid climb upward, some of my clients were still out house shopping and could not lock their rate on a standard program. When the seller finally accepted their home purchase offer, rates had moved away from where they had been originally.
Benton and Baily were disappointed that their payment would be a little bit higher since the mortgage rates had jumped higher. Benton and Bailey had a couple of months or more until they needed to move into a home.
The answer for them was to improve their credit score. By paying down their credit cards to show they were using less than 30% of their revolving credit limits, their score would like increase 15 to 20 points, just enough to put them in a much better price level for their mortgage. The higher their credit score, the lower their mortgage rate. The lower their mortgage rate, the lower the payment. Life would be much happier enjoying that lower rate.
Other tips for keeping your credit scores high:
Make your payments on time, never going over 30 days late. Payment history makes up about 35% of your credit score. If you get a 30 day late report on your credit from a creditor, your scores could fall 25 to 60 points or more.

Keep the balances on any revolving accounts like credit cards UNDER 30 % usage. If your usage is 10% or lower, then you could raise your score even more over a short time. Credit usage percentage makes up about 30% of your credit score
Example: Credit limit $10,000 on your credit card.
30% usage on a $10,000 credit line means for you to never allow the balance owed to go over $3,000 at any time during the month. (Make your payment on time)
Stay away from 12-months-same-as-cash accounts. These tend to score like a maxed out credit card and can drop your scores 60 to 100 points quickly

Old, established history on credit cards gives you better credit scores. Length of time on a credit account makes up about 15% of your credit score. An account older than 6 months helps you a little. An account 5 years and older helps you a lot. Don't close credit card accounts unless they have a high annual fee.

Credit inquiries and getting new credit makes up about 10% of your score. Be careful about getting a lot of inquiries on your credit report because too many can drop your score. (if you are shopping for a mortgage and only other mortgage companies pull your credit within a 14 to 45 day period, the inquiries show up but are not supposed to penalize you on your score so that you can shop around without it hurting your score. )
IMPORTANT DO'S AND DON'TS FOR SMOOTHER LOAN PROCESSING
From: Jo Garner, Mortgage Loan Officer NMLS# 757308 (901) 482-0354
PLEASE REVIEW, INITIAL EACH SECTION & SCAN TO JO@JOGARNER.COM
https://www.youtube.com/watch?v=CkBoEhqmmb0
______(initials) It is vitally important that you do not change anything on your asset statements after Jo has reviewed your bank statements. Any decrease in your assets could make or break your loan approval or cause a delay in your closing. ANY LARGE DEPOSIT NOT PAYROLL RELATED NEEDS TO HAVE THE SOURCE DOCUMENTED. (You can get images of the deposit and copies of deposit slips from your bank.)
______(initials) If you are legally married, and buying or refinancing a primary residence, even if your spouse is not on the loan nor on the title, your spouse will be required to sign a few key documents to keep your title clean under the state law. Change in marital status could cause problems on title.
______ (initials) When it comes time to provide bank statements or any asset account, or tax return, it is necessary to provide ALL pages of the statement, even if it is a blank page. On asset account statements, make sure the name of the bank, your name and at least part of the account number appears on any bank documentation you submit to us.
(If you turn in a 401k statement, please get a letter from the administrator stating terms of the plan including terms of withdrawal—even if you are not withdrawing funds)
_______ (initials) Please do not make any changes to your income or manner of payment from income from your business or employment. When it is time to send tax returns, please send ALL pages including any K-1s if applicable. Even if your income is increasing, under current loan guidelines some methods of income payment are not allowed to be counted as qualifying income so it is important to let your loan officer know of upcoming changes right away to make sure the type payment of income is acceptable for loan qualification purposes. If you own 25% or more of a business, please send all pages of the business tax returns for the past 2 years also. (In some cases underwriting may require a year-to-date Profit and Loss for self-employed borrowers.) Note: If your IRS transcripts or tax returns indicate that taxes are owed, you must document the source of funds to clear the taxes owed or show proof of accepted payment plan and proof of three months payments made to IRS or other agency to clear debt.
(Some mortgage products do not require tax returns at all-check with your mortgage officer for a personalized list of documents needed for your specific loan)
(PLEASE DISCLOSE ANY PAYMENT PLANS MADE TO IRS OR OTHER OUTSIDE AGREEMENTS THAT MAY NOT SHOW ON THE CREDIT REPORT. THESE PAYMENTS NEED TO BE CALCUATED TO DETERMINE YOUR TRUE DEBT-TO-INCOME RATIO.
PLEASE DISCLOSE ANY IRS OR OTHER LIENS THAT MIGHT SHOW UP ON OTHER REPORTS CONNECTED TO YOU. NOT DISCLOSING THESE CAN JEAPORDIZE YOUR LOAN APPROVAL LATER IN THE PROCESS)
________(initials) If you file your tax returns right before or during the loan process, this can delay your loan process by a month or more due to the time it takes the IRS to fully process and log your numbers into the government required IRS third-party transcript for that tax return that must be included in your loan file. You may consider filing an extension on filing your IRS return in order to avoid this delay. (Underwriting may ask for a year-to-date Profit and Loss for self employed borrowers.)

_______ (initials) Do not open any new credit accounts (and especially not a 12-months-same-as-cash account.) Do not add balances to any existing credit accounts. Do not apply for any new credit during the loan process. Do not make any changes on your credit status.

_______ (initials) Please check your tax returns and make sure you do not have any undisclosed business losses. If so, please notify your loan officer.

________(initials) Make sure that you keep your accounts paid current during the loan process. Even though you are planning to pay off an account at closing, please do not allow this account or any others, including any mortgages, to go 30 days late even if the closing the delayed. (This could cause your credit scores to drop right before closing and jeopardize your loan approval.)

_______ (initials) Use funds for closing DIRECTLY from the account where we have verified your funds. If funds come from a different account, it can delay or jeopardize your closing . Also do not move money from the account where funds were verified to another account to access for closing. Funds must come DIRECTLY from the account where funds were verified and not moved to a different account for any reason. Earnest money must come from the account that you will be fully documenting.

________(initials) REMEMBER, AT CLOSING THE FUNDS WILL NEED TO BE IN THE FORM OF A CASHIER'S CHECK AND/OR WIRE PAYABLE TO THE CLOSING AGENT. You will need 2 forms of ID at closing including drivers license. All borrowers and interested parties will need this documentation at closing.

_______ (initials) If you are on any of the accounts we are verifying with another person, you will need to get a short letter, dated and signed by the other person identifying the account and stating that you have full access to the funds.

_______ (initials) If there will be a full appraisal on the property you are financing, please inspect the subject property for repairs that may be required prior to closing by the appraiser. Some common required repairs are leaky roof, rotted wood, peeling paint, torn flooring, broken tile, non-functional plumbing, electrical or HVAC systems, drainage problems, holes in sheetrock, broken windows, foundational problems, termite damage, hazardous waste on property, etc.
If the property is in a flood zone, flood insurance will be required. Appraisal values are determined by the assigned appraiser. Comparable property sales over the last 6 months to a year on houses like the subject property in the subject property neighborhood are used to determine the official value used by the mortgage company. Government guidelines require the mortgage company to order an appraisal and have the appraiser to be assigned to the property by a third-party, government approved order agency separate from the mortgage company.
The mortgage company must order the appraisal from the approved agency. Appraisals from other mortgage companies and appraisals ordered by anyone else, are not qualified to be used under current loan regulations.
If the appraiser notes repairs on the appraisal, it is very possible he/she will need to reinspect the property to make sure repairs are completed in a workmanlike manner. Appraisers charge an extra fee to do this which could increase your costs at closing.
Appraisal fees are not refundable.
________(initials) If you are refinancing your home, please make sure the home has not been listed for sale on the market within the last 6 months. REMEMBER THAT ON A PRIMARY RESIDENCE, THERE IS A 3 DAY RIGHT OF RECISSION BEFORE MONEY IS DISBURSED.

_______(initials)Due to the new TRID government lending guidelines, there are mandatory delays set up throughout the process, giving you a chance to review the terms as the process moves forward. If you change anything that triggers a change in the final terms after final disclosures have been sent, this could delay your closing to wait on new documents to be received by you and the mandated delay period completed.

________(initials) Due to a rising number of incidences of hackers/scammers attempting to redirect wired closing funds, please do NOT have any funds wired before verifying the wiring information with your loan officer and the attorney's office. There may be additional steps to take to ensure your money is wired to the correct account.
REAL ESTATE TIP OF THE WEEK (PAT GOLDSTEIN 1 to 1.5 minutes to share a real estate related money-saving or time-saving tip.
Pat's tips: A new roof will add value to a house you're selling. Also, before you sell, make sure the house is as clean as you can get it. If the flooring is in good shape and the walls are neutral and fresh. If it's in your budget updated kitchens and baths will give you the most bang for the buck.
Landscaping makes a difference. A nice lawn with some colorful flowers will appeal to the eye and make people want to see your house.
ANNOUNCEMENTS:
Talk Shoppe offers free networking & education to anyone interested in real estate or in business. Talk Shoppe meets every Wednesday 9A-10A by going to www.TalkShoppe.com (shoppe), then click the Upcoming Events tab. You will see the virtual zoom web address. This Wednesday January 27, 2021 9AM join us for The Mastermind Principle based on the book Think and Grow Rich by Napoleon Hill.
Thank you to Talk Shoppe supporter, Nita Black at info@nitablack.com Nita keeps Talk Shoppe's bookkeeping organized and in the black. If you are looking for someone trustworthy to organize and help get your business making a profit in the black, contact Nita Black at info@nitablack.com
Talk Shoppe offers our radio listeners a 20% discount with our iHeart radio advertising package. Did you know that 91% of consumers listen to radio? If you want to reach your target market with you message and be front of mind when they need your business, let's explore your opportunities to be in front of your customers on radio. Call me at (901) 482-0354
. Do you have some errands to run today? What purchase can you make from a local, family-owned business? Let's support our local businesses.
Subscribe at www.JoGarner.com and you can get our weekly blog posts with podcasts conveniently in your inbox.
5 Real Estate Mortgage Shoppe reminds you to MAKE YOUR PLAN. LET'S WORK YOUR PLAN. IF THE DEAL WORKS FOR YOU TODAY, DO IT TODAY.
SPECIAL NOTE: REAL ESTATE MORTGAGE SHOPPE RECOMMENDS THAT YOU CONSULT WITH A FINANCIAL, LEGAL OR OTHER CERTIFIED, LICENSED PROFESSIONAL BEFORE ACTING OR INVESTING ON ANYTHING YOU HEAR OR SEE FROM THE CONTENT ON THIS SHOW OR BLOG POSTS. THE INFORMATION WE SHARE ON REAL ESTATE MORTGAGE SHOPPE IS GENERAL IN NATURE MEANT FOR GENERAL EDUCATIONAL PURPOSES ONLY. ALL EXAMPLES GIVEN FOR ILLUSTRATION PURPOSES ON REAL ESTATE MORTGAGE SHOPPE AND ARE BASED ON TRUE STORIES BUT CHANGE NAMES AND CERTAIN DETAILS THAT DO NOT AFFECT THE INTEGRITY OF POINTS WE ARE MAKING IN THE EXAMPLES.
QUOTE CORNER:
Eleanor Roosevelt said, "Learn from the mistakes of others. You can't live long enough to make them all yourself."
Bok's Law: If you think education is expensive — try ignorance. — Derek Bok, president of Harvard University.
____________________________________________________________________________________
REJOINDERS:
Troy and Lynn McDonald of Erin McDonald Insurance Agency (901) 849-7101

Miranda Griffin of www.healthymidsouth.net (providing simple and quick daily things you can do to enjoy a quality life for longer

Leah Anne Morse of All Things New (helping you organize to down size, upsize and coordinate your estate sale) (901) 488-9733
Transitional Music: "It's A Mistake" by Men At Work; "Opportunity-Let's Make Lots Of Money" by the Pet Shop Boys; "Signed, Sealed, Delivered" by Stevie Wonder; "Taking Care of Business" by BTO for the Talk Shoppe Business Tip for Real Estate Pros
ABOUT ED HILL OF MASTERS ROOFING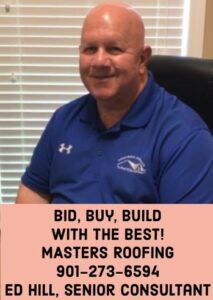 Ed Hill has been in the residential roofing industry since 2008 and has been Senior Consultant with Masters Roofing Memphis TN since 2010.  He has personally assisted about 800 homeowners with roof replacement and many others with roof and exterior repairs.  He is an active member of the Greater Memphis Business Network International chapter and is the official Masters Roofing consultant to TPC Southwind.  He holds three earned degrees including a doctorate but tries not to let those get in his way of serving his customers!  For free roof advice, free inspections, and free estimates and bids for roof replacement or roof repair call Ed Hill at 901-273-6594. Learn more at #EdHillMastersRoofing and at MemphisHomeMaintenanceShow.Podbean.Com
Ed Hill, Senior Consultant
Masters Roofing
2845 Stage Center Cove
Bartlett TN 38134
901-273-6594
EdHill.MastersRoofing@gmail.com
TN State Licensed Contractor #00067521/ Reciprocal Licenses MS & AR
BBB A+ Accredited Member Business
Platinum Preferred Contractor Owens Corning / GAF Master Elite Installer
Guild Quality Member / Angie's List
www.EdHillMastersRoofing.webs.com
Podcast https://MemphisHomeMaintenanceShow.podbean.com
You Tube Channel: Ed Hill Masters Roofing
http://Instagram.com/EdHillMastersRoofing
www.Facebook.com/EdHillMastersRoofing
_____________________________________________________________________________________
ABOUT PAT GOLDSTEIN
The "Gold Standard In Real Estate"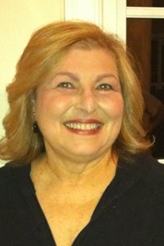 Crye-Leike Realtors
For buying or selling residential real estate
For West TN and North Mississippi
(901) 606-2000
___________________________________________________________________
ABOUT JO GARNER-MORTGAGE LOAN OFFICER: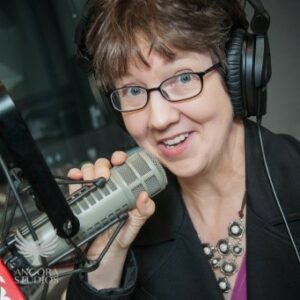 WHAT DO YOU WANT TO ACCOMPLISH WITH YOUR MORTGAGE?
www.JoGarner.com (901) 482 0354 jo@jogarner.com twitter @jogarner NMLS# 757308 (currently working with Sierra Pacific Mortgage, Inc)
"Whatever YOUR personal priorities are, my job is to help you get the mortgage terms that will give you bragging rights when you talk about it and help you score on hitting your goals ."
As a mortgage loan officer, my job is to help you get to the benefits you want from your financing terms. What is most important to you? I can help you find the financing terms that will help you get to what you want. What is your comfort level on a house payment? How much are you comfortable paying down,? What type of financing do you need to get the house you want to buy or refinance?
Different clients have different priorities in life—some are buying their first home with very little down payment funds. Some are recovering from medical challenges, divorces or preparing to send children to college and some are embarking on a long term goal of buying properties to build rental income."
Jo Garner is a mortgage officer with extensive knowledge in tailoring mortgages to her customers who are refinancing or purchasing homes all over the country. She offers conventional, FHA, VA or other loan programs for refinancing and purchases.
Jo can help you look at rent vs buy, when it makes sense to refinance, how to get the best deal on your home purchase financing.
Jo Garner has been in the real estate/financing business for over 25 years.  She got her start in Portland, Maine where she first began her real estate career. She received her real estate education from the University of Southern Maine  and was personally mentored in San Diego, California  by Robert G. Allen, author of Nothing Down, Creating Wealth and The Challenge.
On moving back to West Tennessee in 1987, she went into business buying and selling discounted owner-financed notes secured on real estate.  In 1990 Jo went to work for a residential mortgage company and has been a mortgage loan officer for over 25 years.  Her goal is to offer excellent, affordable service to her customers, tailoring the loan programs to the specific needs of her clients. 
In addition to her work in the mortgage field, Jo Garner  is the primary sponsor and founder of Talk Shoppe in Memphis. www.TalkShoppe.com Jo Garner also host the radio show Real Estate Mortgage Shoppe airing on News Radio AM 600 WREC and iHeart Radio with podcasts and show notes published on www.JoGarner.com