Good morning, Memphis! Welcome to our internet listeners and podcast listeners across the 50 states! You're on Real Estate Mortgage Shoppe. I'm your host, Jo Garner, Mortgage Loan Officer. You can connect with me www.JoGarner.com.. Our general topic is:
SPRING 2022–GO ON YOUR REAL ESTATE JOURNEY WITH WISDOM AND KNOWLEDGE.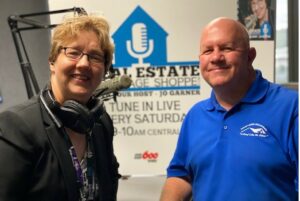 Call us while we are live today APRIL 30th, 2022 at 901 535 9732
To hear the audio of today's show please click below!
Back in the studio again we have Ed Hill, Senior Consultant with Masters Roofing of Memphis wrote the book on home improvement, so we have the expert in our Real Estate Mortgage Shoppe studio today. You can also pick up more from Ed Hill on his podcast MemphisHomeMaintenanceShow.podbean.com Ed Hill, the people I know who have used Master Roofing say that you do a terrific job! Tell our listeners a little about yourself and what Masters Roofing does for your customers. (Ed Hill has about 1.5 min to intro himself and talk about the way he serves his roofing clients)
(Jo) HERE'S WHAT WE'RE TALKING ABOUT—Three ways to make your real estate journey with wisdom and knowledge: (Using a qualified team/ model what works/ study about the area of your endeavors)
BUILD A TEAM OF PROFESSIONALS THAT WILL LEAD YOU AROUND THE PITFALLS
Today we are going to look at some ways realtors and other real estate related pros make their fees and commissions a good investment return to the clients they serve who want to buy or sell a home. We will be covering how to choose the best realtor and a good financing expert. Ed will be talking about how to find knowledge and a reputable home improvement professional. Who do you know who has been talking about buying a house? Who can you think of right now that has a growing family where the children are all bunking in one bedroom and they need a bigger home? Do you know someone who lives in a house that is just too big for them? Perhaps they need to down size. Who is it that you know who would like to buy houses to build up a better income? We are going to cover 6 reasons to but a professional to work for you.
Rule 1: Check with knowledgeable professionals who are looking out for your best interest.
Check with two or three lenders , realtors when you are shopping for the financing and a realtor you need. Based on the credit rules from the late 90's, you should be able to shop 2 or 3 mortgage companies within a 30-day period without negatively affecting your score if the 2 or 3 inquiries are all coming from mortgage companies and not finance companies or other type financing.

Check the online reviews of the lender or realtor that you are considering. The top rating agencies are Google My Business, Yelp and Angies list and the Better Business Bureau and Zillow. Word of mouth from someone who has used the lender is helpful too.

What is your first impression of the lender? What is your first impression of the realtor? Did the loan officer ask you questions specifically about YOU would like to accomplish from the transaction?

Interview the loan officer or realtor to see if they are knowledgeable about the type of financing YOU need specifically.
Rule 2: Read some books that pertain to what you are wanting to accomplish.
Rule 3: Model what works. If you know what you want to accomplish with your real estate plans, find someone with your same values who is already living your dream doing what you want to do. Model what works.
If you want to buy your first home, put together a team of reputable professionals. Also, if you have a friend you trust who has successfully bought a home like you want to buy, consider modeling what they did.
In the book "Choosing the Best Mortgage-The Quickest Way to the Life You Want" Chapter 15 on CREDIT, there is a story called "The Tale of Two Borrowers" about two couples who were friends. The older couple helped the younger couple by offering advice from their own experience.
If you have made a costly error in the past that is keeping you from purchasing a home again, remember that mistakes are redemptive if you learn from your mistakes. Even better if you can help someone else from it. The next thing to do is the next right thing and, after that, the next right thing and the next right thing. After a while you look back and realize you really are doing alright.
I am not sure if this was one of the reasons our Millennial generation delayed homebuying until they were older, but remember there were Millennial Generation adults that saw their parents lose big during the real estate crash of 2008 and 2009. But today, we have an opposite situation from the housing crash. Today we have too few houses on the market and a burgeoning emerging market lining up to buy too few homes. Millennials today are leading the charge in homeownership.
Ed Hill, Senior Consultant for Master Roofing here in Memphis, you have a lot of knowledge and a good reputation in the area of home improvements and roofing. You wrote the book on Home Improvement. What are your thoughts about where to find helpful knowledge before embarking on your project. (Ed launches until 9:15 break to be continued after break)
You're on Real Estate Mortgage Shoppe. I'm your host, Jo Garner, Mortgage Loan Officer. Make your plan. Let's work your plan if the deal works for you today, let's do it today. When we come back Ed Hill of Masters Roofing will be giving us some pointers for picking your home repair .
(2nd segment starts at 9:18am )
____________________________
TOPICS COVERED BY ED HILL OF MASTERS ROOFING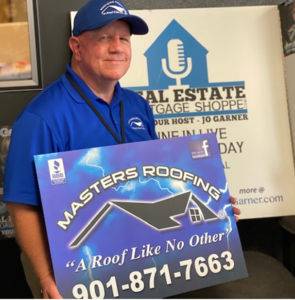 Picking the right professionals can mean the difference of you getting your insurance claim accepted and experiencing denial

Picking the right professional will help you enjoy having a quality job completed and paying a fair price.

Never pay a home improvement professional until the job is completed satisfactorily.

Take advantage of the free knowledge and resources from Ed Hill's podcasts. www.MemphisHomeMaintenanceShow.podbean.com
_______________________________________________________________________________________________________________________________________________
(3rd SEGMENT starts at about 9:34am )
TOPICS COVERED BY JO GARNER, MORTGAGE LOAN OFFICER: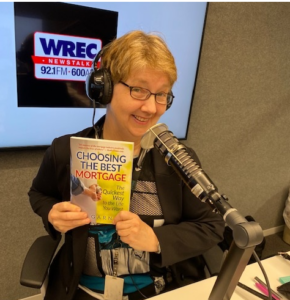 With the right team and resources,
you can push through fear to accomplish anything you set your heart to do.
Use a Team to Help You Set Up Multiple Exit Strategies
In the last year the phones have been ringing in the mortgage office from renters who are tired of having their rent go up each year. Rents in Memphis have seen increases in some areas from 10% to 29% year-over-year. When inflation and rents are high, historically homeowners with a fixed-rate mortgage tend to fare better. It can be scary to launch out and buy your own home for the first time.
Rent vs Buy—Lindsey's Smart Solutions With Her Realtor & TEAM
Lindsey has just graduated college with a business degree and has landed a pretty good job right here in town. She feels pretty certain she is staying in the area for the next 3 years or more, but what if she has the opportunity to be transferred with a promotion? She is grinding and pacing over whether to buy a home or rent. She keeps putting off making a decision because she doesn't want to regret making a bad choice.
Lindsey and her mother called a realtor that had been referred to them by close friends Reba the realtor met with Lindsey and her mom and really listened to what was important to Lindsey. Lindsey had given me, her mortgage officer, permission to talk with Reba. I sent over the mortgage preapproval information so that Reba the Realtor would know the right price range and mortgage parameters.
Reba selected some houses that would be in an acceptable price range and had amenities of the greatest interest to Lindsey. Reba and Lindsey and Lindsey's mom went shopping for the perfect house.
I made sure the mortgage terms also fit Lindsey's comfort level on a house payment and move-in costs too. We chose a low fixed rate government mortgage that had an assumability clause that would allow someone later to assume the loan from Lindsey if the market was tough at the time she needed to sell. Reba showed her homes in stable neighborhoods that had some increase in value, just to make sure Lindsey would have room to make a profit should her career cause her to have to transfer to a different city.
Even though Lindsey was excited when she found the perfect house, she sat down and asked herself the questions that successful people ask when they make big decisions. Here are some of the facts that let Lindsey know without a doubt that she was making the right decision to buy the house instead of trying to rent: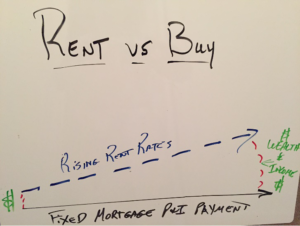 The homes in the neighborhood where Lindsey wanted to buy had rent rates of about $1,300/month and rising about 5% per year. The total house payment on a government FHA loan was going to be around $935/month including taxes and insurance and FHA mortgage insurance.
Lindsey consulted with a tax accountant, her realtor and me, her mortgage officer. If she bought the house, she would be:
Paying almost $400/month LESS by not having to pay the higher rent rates.

She would avoid the steadily rising rents in the area at 5% or more each year in rent hikes.

Her tax accountant showed her how she could write off the mortgage interest to reduce her taxes owed to the government. "Hmmmm…..getting a tax refund each year would be nice," she thought with a smile.

Her mother gave her a gift for the down payment and some of the closing costs and ask the seller to pay the rest.

Even if she did end up having to transfer out of the city with her new job, she had at least three exit strategies to avoid getting stuck with the house
-First she could get Reba to sell the house.
– Second, even if she couldn't sell outright, if the mortgage rates had gone up by then, she might attract a buyer who could qualify with her mortgage company and be allowed to just assume the mortgage obligation with the lender's permission
-Third, with the rent rates going up so fast, she could get a property manager to rent the home to reputable tenants and manage the property for her, hopefully at a nice profit.
When Lindsey went to close on her house that day, Reba the realtor and I were there to celebrate with her. Lindsey, announced with a confident smile, "I know that I know that this is the right decision. Let's do this!"
MODEL WHAT WORKS: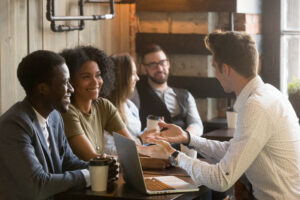 So many times I have seen people buy their first home or their tenth to twentieth rental property buy modeling what someone else they trust has done. One couple connects with another couple they know who is living their dream. With guidance and encouragement from the experienced couple, the first couple pushes through fear and inexperience to purchase their own home.
WALLACE WINTON'S STORY-TEAM AND TENACITY TO POWER HIS PLAN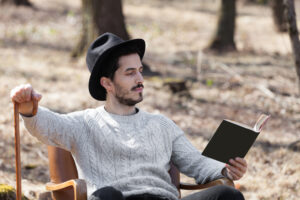 As a mortgage loan officer, I get to see what works for the successful real estate investors who are my clients. Let me share with you the story of one of my real estate investor clients, Wallace Winton. One of the habits Wallace cultivated what the habit of surrounding himself with successful people in the real estate investing world—people who were already living his dream. At Memphis Investors Group he found some of his first real estate deals and it is how he learned how to make money on them too.
About 15 years ago, Wallace Winton (not his real name), worked hard at a job to provide for his family. Every day as he worked, he yearned for a life he could see in his mind, but was financially way out of reach. Wallace started attending a local real estate investment association and became friends with some of the investors there. One night he heard a very successful real estate investor speak at one of the meetings. He put some experienced people from his network on his team and jumped out to buy 4 homes that year, all of those homes earning a positive cash flow. Over the first 7 years, Wallace put a plan in place and acquired 55 rental properties, some of them fixer-uppers that he renovated and kept for income. He had so much income that he no longer had to work a job.
There were bumps in the road to his success, though. Wallace was suddenly slammed with a serious illness that forced him to pull away from buying real estate and just rest and recover for a couple of years. The real estate market crashed. Financing dried up. Then the market spiked again.
Wallace tenaciously stuck with his plan, tweaking it to adjust to what the real estate market was demanding at the time. With his association with the right real estate professionals and the smart use of his resources, Wallace powered through with his plan and, today he and his family are enjoying their abundant harvest.
If you or someone you know wants to power through their plan to build their own portfolio of financial freedom owning real estate, let's talk! What do YOU want to accomplish with YOUR mortgage? Make your plan. Let's work your plan. If the deal works for you today, let's do it to day! Connect with me at www.JoGarner.com or call me directly at (901) 482-0354.
READ BOOKS AND LEARN ALL YOU CAN ABOUT WHAT YOU WANT TO DO
"Choosing the Best Mortgage-The Quickest Way to the Life You Want" is an essential mortgage guide for real estate professionals and their customers. You will encounter the advantages and disadvantages of several mortgage programs and stories of people with big dreams who used their ingenuity and a specific loan product to push through roadblocks to get to the life they wanted. You will find ways to solve problems when it comes to funds to close, income to qualify, credit and appraisal issues.
Pick up the book "Choosing the Best Mortgage-The Quickest Way to the Life You Want" by Jo Garner today on Amazon dot com and Barnes and Noble.
ED'S PODCAST www.MemphisHomeMaintenanceShow.podbean.com
4th segment 9:47am REAL ESTATE TIP OF THE WEEK ( Ed Hill has tip)
Jo Talks about market predictions Fed says they will continue to raise their rates which push variable rate debt higher and higher. Common variable rate debts are some home equity lines of credit, credit cards…
Consult with your qualified financial advisor. A licensed, knowledgeable financial advisor can help you explore methods to protect you from rising variable rate debt. Can you pay it off with cash? Renegotiate with the lender for a fixed rate? Do a cash-out refinance to replace your first mortgage with a mortgage that includes all of your variable rate debt?
Renters are experiencing financial pain right now with rental rates continuing to climb. This is a good time for renters to explore the possibilities of buying a home
ANNOUNCEMENTS:
Talk Shoppe offers free networking & education to anyone interested in real estate or in business or in health and wellness. Talk Shoppe meets every Wednesday 9A-10A CT at Concorde Career College 5100 Poplar Ave 1st floor Memphis, TN (Clark Tower). You can also join the even on zoom. Go to www.TalkShoppe.com and click the Events tab for the link to get into the event online. This Wednesday May 4th, 2022 9A- 10A Central May 4th  Christine Lanesmith, Goodburn Profit Assurance,  The Art of Retention-Building A Culture of Collaboration, Christine@gdbn.cg, 519-498-1282 Thank you to Talk Shoppe's business consultant Tim Flesner of Business Management Solutions for getting Christine Lanesmith as our speaker.
Talk Shoppe thanks Peggy Lau of Club Seacret travel club for financially supporting our business community with free education and networking at Talk Shoppe. Peggy has special travel packages you can buy to make the best memories on your vacations at a bargain price contact peggy at 901 289-0747
3. Sign up now to take the Cooper Young Garden Walk coming up May 21-22, 2022 Get great ideas for your own garden. Keynote speaker is HGTV's Cameon Hamilton on May 20th Contact Kim Halyak at www.cooperyounggardenclub.org
4. Subscribe at www.JoGarner.com and you can get our weekly blog posts with podcasts conveniently in your inbox.
5. Real Estate Mortgage Shoppe reminds you to MAKE YOUR PLAN. LET'S WORK YOUR PLAN. IF THE DEAL WORKS FOR YOU TODAY, DO IT TODAY.
SPECIAL NOTE: REAL ESTATE MORTGAGE SHOPPE RECOMMENDS THAT YOU CONSULT WITH A FINANCIAL, LEGAL OR OTHER CERTIFIED, LICENSED PROFESSIONAL BEFORE ACTING OR INVESTING ON ANYTHING YOU HEAR OR SEE FROM THE CONTENT ON THIS SHOW OR BLOG POSTS. THE INFORMATION WE SHARE ON REAL ESTATE MORTGAGE SHOPPE IS GENERAL IN NATURE MEANT FOR GENERAL EDUCATIONAL PURPOSES ONLY. ALL EXAMPLES GIVEN FOR ILLUSTRATION PURPOSES ON REAL ESTATE MORTGAGE SHOPPE AND ARE BASED ON TRUE STORIES BUT WE USE FICTIONAL CHARACTERS AND DO NOT DIRECTLY REFLECT REAL PEOPLE OR EXACT DETAILS IN ANY OF THE SITUATIONS.
QUOTE CORNER:
Henry Ford "The only real mistake is the one from which we learn nothing."
Nothing is impossible for those who act after wise counsel and careful thought. Thiruvalluvar
____________________________________________________________________________________
REJOINDERS:
David Corwin of USDA

Leah Anne Morse ALL THINGS NEW

Miranda Griffin www.HealthyMidsouth.net
Transitional Music: "Realtor Paradise;" "High Inflation Blues" by Moe Bandy; "Good Advice" by Allan Sherman
PICK UP YOUR COPY OF "CHOOSING THE BEST MORTGAGE-THE QUICKEST WAY TO THE LIFE YOU WANT" by: JO GARNER
An essential guide for real estate professionals and their customers.
"Choosing the Best Mortgage-The Quickest Way to the Life You Want" is an essential guide for consumers and real estate professionals that will give them a good understanding of the loan products out there. They will have at a guide to the advantages the disadvantages of those loan products—when to use them and when not to use them.
The people stories give examples to help real estate professionals. Consumers that are looking now will benefit and I could easily see this book as a great resource for anybody in the future who want to buy real estate or restructure their finances using a mortgage.
Now on Amazon and Barnes and Noble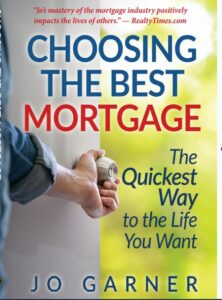 _________________________________________________________________________________________________________________________________________________________________________________________________________________
ABOUT ED HILL OF MASTERS ROOFING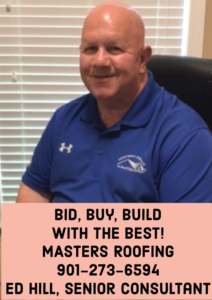 Ed Hill has been in the residential roofing industry since 2008 and has been Senior Consultant with Masters Roofing Memphis TN since 2010.  He has personally assisted about 800 homeowners with roof replacement and many others with roof and exterior repairs.  He is an active member of the Greater Memphis Business Network International chapter and is the official Masters Roofing consultant to TPC Southwind.  He holds three earned degrees including a doctorate but tries not to let those get in his way of serving his customers!  For free roof advice, free inspections, and free estimates and bids for roof replacement or roof repair call Ed Hill at 901-273-6594. Learn more at #EdHillMastersRoofing and at MemphisHomeMaintenanceShow.Podbean.Com
Ed Hill, Senior Consultant
Masters Roofing
2845 Stage Center Cove
Bartlett TN 38134
901-273-6594
EdHill.MastersRoofing@gmail.com
_
___________________________________________________________________
ABOUT JO GARNER-MORTGAGE LOAN OFFICER: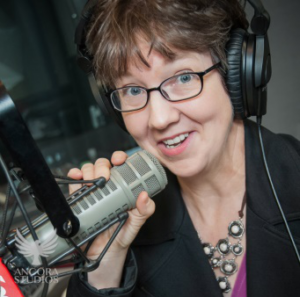 WHAT DO YOU WANT TO ACCOMPLISH WITH YOUR MORTGAGE?
www.JoGarner.com (901) 482 0354 jo@jogarner.com twitter @jogarner NMLS# 8259(currently working with Stockton Mortgage)
"Whatever YOUR personal priorities are, my job is to help you get the mortgage terms that will give you bragging rights when you talk about it and help you score on hitting your goals ."
As a mortgage loan officer, my job is to help you get to the benefits you want from your financing terms. What is most important to you? I can help you find the financing terms that will help you get to what you want. What is your comfort level on a house payment? How much are you comfortable paying down,? What type of financing do you need to get the house you want to buy or refinance?
Different clients have different priorities in life—some are buying their first home with very little down payment funds. Some are recovering from medical challenges, divorces or preparing to send children to college and some are embarking on a long term goal of buying properties to build rental income."
Jo Garner is a mortgage officer with extensive knowledge in tailoring mortgages to her customers who are refinancing or purchasing homes all over the country. She offers conventional, FHA, VA or other loan programs for refinancing and purchases.
Jo can help you look at rent vs buy, when it makes sense to refinance, how to get the best deal on your home purchase financing.
Jo Garner has been in the real estate/financing business for over 25 years.  She got her start in Portland, Maine where she first began her real estate career. She received her real estate education from the University of Southern Maine  and was personally mentored in San Diego, California  by Robert G. Allen, author of Nothing Down, Creating Wealth and The Challenge.
On moving back to West Tennessee in 1987, she went into business buying and selling discounted owner-financed notes secured on real estate.  In 1990 Jo went to work for a residential mortgage company and has been a mortgage loan officer for over 25 years.  Her goal is to offer excellent, affordable service to her customers, tailoring the loan programs to the specific needs of her clients. 
In addition to her work in the mortgage field, Jo Garner  is the primary sponsor and founder of Talk Shoppe in Memphis. www.TalkShoppe.com Jo Garner also host the radio show Real Estate Mortgage Shoppe airing on News Radio AM 600 WREC and iHeart Radio with podcasts and show notes published on www.JoGarner.com Get the book by Jo Garner Choosing the Best Mortgage-The Quickest Way to the Life You Want at Amazon and Barnes and Noble.