LET'S GET STARTED…
Good morning, Memphis! Welcome to our internet listeners and podcast listeners across the 50 states! You're on Real Estate Mortgage Shoppe. I'm Ed Hill of Masters Roofing in Memphis guest hosting for Jo Garner, Mortgage Loan Originator. You can connect with Jo Garner at www.JoGarner.com (pronounced Jay-Oh-Garner-dot-com) You can connect with me, Ed Hill, at 901 273-6594. Our general topic is THE BEST HOME MAINTENANCE IS PREVENTATIVE MAINTENANCE. Subscribe to get our weekly blogposts with podcasts at JoGarner.com (pronounced Jay-Oh-Garner-Dot-Com) Call us while we are live today November 26, 2022 at 901 535 9732.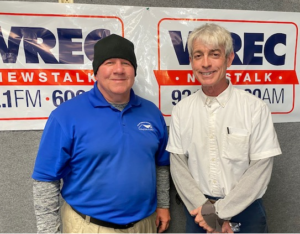 Our special guest on Real Estate Mortgage Shoppe today is Mark McLaurine of Refrigeration Unlimited, also known as the "heating and air-conditioning specialist." You got that name because you look all around and behind the immediate problem to fix underlying issues that caused the problem in the first place. Glad to have you on Real Estate Mortgage Shoppe. Please take a moment and tell our listeners a little bit about yourself and what Refrigeration Unlimited does for their clients. (Mark has about 1.5 minutes or so to intro himself and Refrigeration Unlimited)
To listen to the audio of today's show just click below!
(Ed) Ed shares some from his topics. Mark shares from some of his topics as Ed and Mark talk together.
.
You're on Real Estate Mortgage Shoppe. I'm Ed Hill of Masters Roofing, guest hosting for Jo Garner, Mortgage Loan Originator. Jo would say, "What do YOU want to accomplish with your mortgage? Make your plan. Let's work your plan if the deal works for you today, let's do it today". When we come back ….(Ed gives a preview of what is coming up in the next segment)
2nd Segment following 9:15 Am break 9:18am to 9:30 am:
Ed Hill comes back in with something like: You are back on Real Estate Mortgage Shoppe. I am Ed Hill of Masters Roofing, guest hosting for Jo Garner, Mortgage Loan Originator. Connect with Jo Garner at JoGarner.com 901 482-0354 . Connect with me, Ed Hill at (901) 273-6594. Mark McLaurine of Refrigeration Unlimited is our special guest. Mark, how do our listeners reach you?
(Mark gives his best contact info)
(Ed Hill motions for Sherry to play the Talk Shoppe biz tip music)
LET'S TALK SHOP—TALK SHOPPE'S BUSINESS TIP FOR REAL ESTATE PROS:
2nd segment after 9:15 advertising break – (producer to start the song "Taking Care of Business" by Bachman Turner Overdrive –but bring the volume down before the lyrics start)
(Ed Hill says something like: ) It's time to talk shop with Talk Shoppe's Business Tip For Real Estate Professionals. Talk Shoppe is a marketing company offering free education and networking to anyone interested in real estate, business or health and wellness. Talk Shoppe is made possible by the financial support of its sponsors and advertisers. For more information, go to www.TalkShoppe.com (shoppe) For our Business Tip today we have Talk Shoppe sponsor, Genell Holloway of Eagle Hollow Enterprises . Genell has helped so many people make good decisions about getting affordable health benefits. Genell, What is our Talk Shoppe Business Tip for Real Estate Professionals today? (Genell's tip is about 1 min long) (Ed says, "Thanks, Genell. How do we contact you?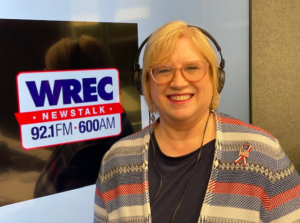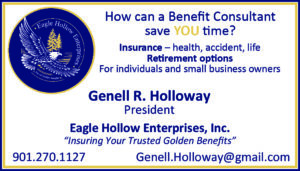 Reminder of December 7th deadline for Medicare sign up. Review and re-evaluate your coverage. Talk with Genell and explore your options. (901) 270-1127
Before we move back into our conversation with Mark McLaurine, I want to share something that Jo Garner, our regular host, shared recently with a business group. Here is some of what Jo said :

"If you are looking at a see-saw with home buyers sitting on one end and home sellers sitting on the other end, the see-saw would have moved to a more even position. From the mortgage desk, I am seeing buyers finding the house they want, getting their offer accepted, and, the seller is willing to pay closing costs for the borrower more often now."
If you can afford a home, let's talk about your financing options. We can work with you online or by phone or in person—your preference.
Connect with Jo Garner, Mortgage Loan Originator at 901 482-0354 JoGarner.com (pronounced Jay-Oh-Garner-dot-com)
TOPICS COVERED BY MARK MCLAURINE, OF REFRIGERATION UNLIMITED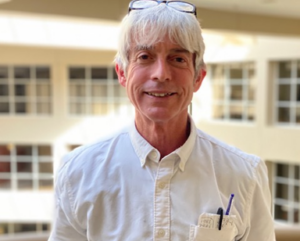 1. How much HVAC preventive maintenance is recommended (average 2 times a year spring and fall)
2. What does it look like? Spring AC service address the 5 things that take an ac out of service and fall our patented 12 step program to tune up a gas heating appliance
3. Can you expand on the heat service? 1. filter, 2. gas leak detection 3. carbon monoxide leak detection 4. Cleaning of critical parts and general maintenance
     5. System start up 6. Analisys of heat rise from return to supply
4.. Expand on AC service in spring 1. air flow check 2. Condensation checks 3. Electrical component check 4. system start up to check freon level (temperature here         plays a key although) 5. Finishing by giving the appliance a yearly bath"
5.  We also recommend filter changing services- the #1. problem in the industry (average pleated filter should be changed every 2000 hours. We recommend and       sell filters made of sponge and charcoal mats- the best in the industry.
6. We also offer air quality products in 2 levels 1. UV light source sterilization of mildews and control of mold growth on cold wet surfaces and 2. i wave plasma technologies to improve open air flow in return air stream.
7. We offer "fool proofing " an AC system. That is stopping condensation drain waters before it overflows drain pans and drip pans
8. We also offer installation of smart technology thermostat and water detection products to control damages to hard surfaces and personal properties
9. PROPER AIR FLOW IS EVERYTHING always has been but more than ever to meet the new Department of Energy SEER-2 ratings.
10. 15 SEER divided into 2 categories 14.3 and 15.2 will be the new standards in 2023
11. Refrigerants used in AC systems today may not be available in today's form in 2025 mandated by the EPA.
12. We offer preventative maintenance programs here in 2022 at 2012 prices. We have many times "married the existing equipment, straightened out all the issues and extended the life of the equipment. We at Refrigeration Unlimited are 'Mechanical Paramedics trained to save and offer "good, better, best options with our networks at TRANE or CARRIER (when requested).
13. What is heat recovery? What are its benefits?
14. What other services do you offer? Gas services, hot water services, ductwork repairs, new construction HVAC with ductwork installation of flexible wrapped snap Lock, spiral materials and fabricated insulated rectangular.
15.Best way to reach us? (9012167782) or acman740@gmail.com
3rd segment 9:35 am to 9:45 Am: TOPICS COVERED BY Ed Hill of Masters Roofing
THE BEST HOME MAINTENANCE IS PREVENTIVE MAINTENANCE!
Ed Hill, Senior Consultant, Masters Roofing Midsouth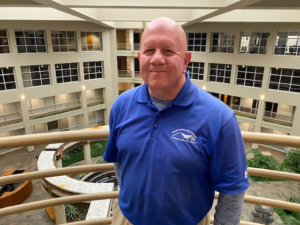 How many times have you or I known about a minor home maintenance issue that we brushed off or worse, pretended not to see, that soon became a major home maintenance problem costing us hundreds or thousands of dollars? Too many to count.
Let's make an action plan today to spot problems when they're small so that they don't become big.
Perform a home maintenance inspection of your home regularly
Note possible preventive maintenance issues such as missing shingles,
peeling paint, disconnected HVAC pipes, leaking gutters, continuously running furnaces or AC units, drafty windows, etc.
Make a priority list in order from most urgent to it can wait
Plan action steps to address each problem such as call Mark McLaurine of Refrigeration Unlimited to find the reason why your furnace runs continuously but your home doesn't warm up or call Ed Hill with Masters Roofing to check the storm damage on the roof to see it is repairable or if the roof needs to be replaced
Find the funding required to make needed repairs or home improvements by calling Jo Garner, Mkrtgage Loan Originator with Cardinal Financial to apply for a cash out refinance to provide the money needed to solve the problems.
Set appointments with home maintenance professionals to remedy the problems and ensure that your home is in top condition!
Ed Hill, Senior Consultant, Masters Roofing Memphis, 901-273-6594 not only has been a homeowner since 1987 but has been in various sectors of the home maintenance and home improvement industry since 2001. With successful experience in home security, siding inspections, roof inspections, roof repairs and replacement, gutter system installation and interior/exterior painting, siding and energy efficient window installation, Ed has helped almost 1000 homeowners personally and hosts the leading home maintenance podcast in the Midsouth, MemphisHomeMaintenanceShow.Podbean.Com
After 9:45 AM break 4th segment : REAL ESTATE TIP OF THE WEEK ( Ed and Mark has about 1 min each to share a real estate related money-saving or time-saving tip):
Tip from Jo Garner:(read by Ed or Mark) These are still two of the most common calls I get these days. They sound something like this:
" Jo, a need a strong mortgage preapproval letter to make an offer to buy a house. I realize the mortgage rates are higher than they were a few months ago. Just help me buy this house. One day if the rates go down, I can refinance. Just help me buy the house today."
The other common call:
"Jo, we have racked up some credit card debt and owe quite a lot on a home equity line of credit on our house. It is costing us more as the payments go up on these loans. Can we look at refinancing our mortgage to roll in the home equity line and credit card debt? We would like to have all our debt on one fixed-rate loan. "
(ED) If you want to explore your mortgage scenarios with Jo Garner, connect with her today at JoGarner.com (pronounced Jah-Oh-Garner-dot-com) or call her directly at 901 482-0354
4th segment: ANNOUNCEMENTS:
Talk Shoppe offers free networking & education to anyone interested in real estate or in business or in health and wellness. Talk Shoppe meets every Wednesday 9A-10A CT at Concorde Career College 5100 Poplar Ave 1st floor Memphis, TN (Clark Tower). You can also join the meeting on zoom. Go to www.TalkShoppe.com and click the Events tab for the link to get into the event online. This Wednesday December 1st, 2022 9A CT "THE OLD BAG SALE with Auctioneer Lance Walker, Walker Auction, walkerauctions.com, 901-322-2139. Come to bid and buy these anonymous purses full of cash, gift cards and more.
Charity funds go to the Neighborhood Christian Center kids Neighborhood Christian Centers, Inc. (ncclife.org) (Lynn to call in and take 30 secs to 1 min to announce this auction? 901 849-7101)
2. HAPPY THANKSGIVING. Make some good memories. Reach out and help someone else this holiday.
4. Subscribe at www.JoGarner.com and you can get our weekly blog posts with podcasts conveniently in your inbox.
5. Real Estate Mortgage Shoppe reminds you to MAKE YOUR PLAN. LET'S WORK YOUR PLAN. IF THE DEAL WORKS FOR YOU TODAY, DO IT TODAY.
SPECIAL NOTE: REAL ESTATE MORTGAGE SHOPPE RECOMMENDS THAT YOU CONSULT WITH A FINANCIAL, LEGAL OR OTHER CERTIFIED, LICENSED PROFESSIONAL BEFORE ACTING OR INVESTING ON ANYTHING YOU HEAR OR SEE FROM THE CONTENT ON THIS SHOW OR BLOG POSTS. THE INFORMATION WE SHARE ON REAL ESTATE MORTGAGE SHOPPE IS GENERAL IN NATURE MEANT FOR GENERAL EDUCATIONAL PURPOSES ONLY. ALL EXAMPLES GIVEN FOR ILLUSTRATION PURPOSES ON REAL ESTATE MORTGAGE SHOPPE AND ARE BASED ON TRUE STORIES BUT WE USE FICTIONAL CHARACTERS AND DO NOT DIRECTLY REFLECT REAL PEOPLE OR EXACT DETAILS IN ANY OF THE SITUATIONS.
QUOTE CORNER:
John F. Kennedy "The time to repair the roof is when the sun is shining."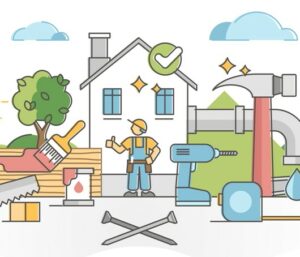 ____________________________________________________________________________________
REJOINDERS:
Tim Flesner, Business Consultant with Business Management Solutions www.equip4success.biz

Chuck Bohannen booking agent for (Santa Claus) HoHoOnTheGo50@gmail.com

Leah Ann Morse for CARTRIDGE WORLD OF COLLIERVILLE saving you 30% of more on your printing costs 901 853 3230
Transitional Music: "Boot-Scootin'Boogie (Instrumental)" by The Hit Crew; "Theme from Home Improvement (Instrumental)"; "Mr. Right (instrumental) " by The Hit Crew; "Taking Care of Business" by BTO for Talk Shoppe Business Tip For Real Estate Pros
PICK UP YOUR COPY OF "CHOOSING THE BEST MORTGAGE-THE QUICKEST WAY TO THE LIFE YOU WANT" by: JO GARNER
An essential guide for real estate professionals and their customers.
Now on Amazon and Barnes and Noble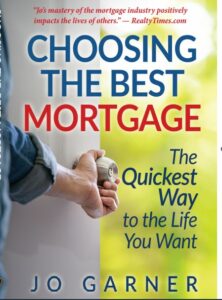 ________________________________________________________________________________________________________________________________________________________________________________________________________
ABOUT MARK MCLAURINE OF REFRIGERATION UNLIMITED
(HEATING AND AIR CONDITIONING)
(901) 216-7782
Owner operator of Refrigeration Unlimited LLC, a state-licensed contractor for mechanical and gas installations since 2008. My career spans back into the 90s as a plumbing apprentice but in the early 2000s I obtained my EPA license through a local trade school and worked for several years honing my skills doing warranty service replacement and repairs.
Due to the exceptional work I did early on and advanced training programs, I have developed my own faithful clientele that I cherish. My secret to success is hard, intellegent work– 7 days a week –leaving no one behind.
Refrigeration Unlimited LLC is a state licensed mechanical contractor serving the Memphis metro area for the last 10 years. we specialize in the repair of all brands but are in the carrier corporation family as a Bryant dealer. Bryant has been in business since 1904 and continues to be a leader in the residential and commercial ac and heat industry offering a complete package of products either gas fired or strictly electrical or both.
ABOUT ED HILL OF MASTERS ROOFING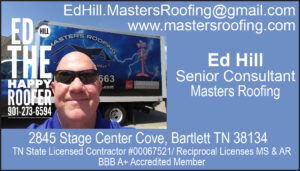 Ed Hill has been in the residential roofing industry since 2008 and has been Senior Consultant with Masters Roofing Memphis TN since 2010.  He has personally assisted about 800 homeowners with roof replacement and many others with roof and exterior repairs.  He is an active member of the Greater Memphis Business Network International chapter and is the official Masters Roofing consultant to TPC Southwind.  He holds three earned degrees including a doctorate but tries not to let those get in his way of serving his customers!  For free roof advice, free inspections, and free estimates and bids for roof replacement or roof repair call Ed Hill at 901-273-6594. Learn more at #EdHillMastersRoofing and at MemphisHomeMaintenanceShow.Podbean.Com
Ed Hill, Senior Consultant
Masters Roofing
2845 Stage Center Cove
Bartlett TN 38134
901-273-6594
EdHill.MastersRoofing@gmail.com
TN State Licensed Contractor #00067521/ Reciprocal Licenses MS & AR
BBB A+ Accredited Member Business
Platinum Preferred Contractor Owens Corning / GAF Master Elite Installer
Guild Quality Member / Angie's List
www.EdHillMastersRoofing.webs.com
Podcast https://MemphisHomeMaintenanceShow.podbean.com
You Tube Channel: Ed Hill Masters Roofing
http://Instagram.com/EdHillMastersRoofing
www.Facebook.com/EdHillMastersRoofing
ABOUT JO GARNER-MORTGAGE LOAN OFFICER: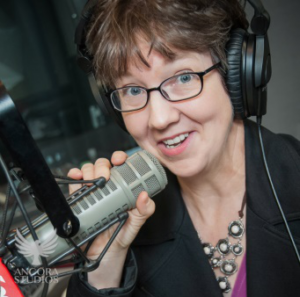 WHAT DO YOU WANT TO ACCOMPLISH WITH YOUR MORTGAGE?
www.JoGarner.com (901) 482 0354 jo@jogarner.com twitter @jogarner NMLS# 757308
(currently working with Cardinal Financial Company, Limited Partnership NMLS #66247 equal housing opportunity 2645 Appling Rd 102 Memphis, TN 38133 ) Online loan application https://online.cardinalfinancial.com/#/p/apply/jogarner
www.cardinalfinancial.org for licensing info www.nmlsconsumeraccess.org/EntityDetails.aspx/company/66247 "Whatever YOUR personal priorities are, my job is to help you get the mortgage terms that will give you bragging rights when you talk about it and help you score on hitting your goals ."
As a mortgage loan officer, my job is to help you get to the benefits you want from your financing terms. What is most important to you? I can help you find the financing terms that will help you get to what you want. What is your comfort level on a house payment? How much are you comfortable paying down,? What type of financing do you need to get the house you want to buy or refinance?
Different clients have different priorities in life—some are buying their first home with very little down payment funds. Some are recovering from medical challenges, divorces or preparing to send children to college and some are embarking on a long term goal of buying properties to build rental income."
Jo Garner is a mortgage officer with extensive knowledge in tailoring mortgages to her customers who are refinancing or purchasing homes all over the country. She offers conventional, FHA, VA or other loan programs for refinancing and purchases.
Jo can help you look at rent vs buy, when it makes sense to refinance, how to get the best deal on your home purchase financing.
Jo Garner has been in the real estate/financing business for over 25 years.  She grew up in West Tennessee and got her start in real estate in Portland, Maine where she first began her real estate career. She received her real estate education from the University of Southern Maine  and was personally mentored in San Diego, California  by Robert G. Allen, author of Nothing Down, Creating Wealth and The Challenge.
On moving back to West Tennessee in 1987, she went into business buying and selling discounted owner-financed notes secured on real estate.  In 1990 Jo went to work for a residential mortgage company and has been a mortgage loan officer for over 25 years.  Her goal is to offer excellent, affordable service to her customers, tailoring the loan programs to the specific needs of her clients. 
In addition to her work in the mortgage field, Jo Garner  is the primary sponsor and founder of Talk Shoppe in Memphis. www.TalkShoppe.com Jo Garner also host the radio show Real Estate Mortgage Shoppe airing on News Radio AM 600 WREC and iHeart Radio with podcasts and show notes published on www.JoGarner.com Pick up Jo Garner's book on Amazon or Barnes and Noble "Choosing the Best Mortgage-The Quickest Way to the Life You Want"