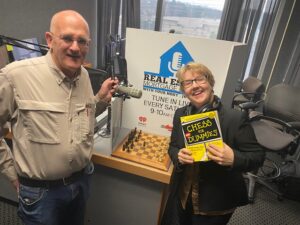 Just like playing a good game of chess, you need to be paying attention to what you want to accomplish and which moves will get you to your goal the fastest with the least amount of losses. I will be sharing some stories from some very smart mortgage clients and some moves they made to win. Tom King, our appraisal expert, will be telling us about what he is seeing in our local real estate market.
What do YOU want to accomplish with YOUR mortgage? Make your plan. Let's work your plan. If the deal works for you today, let's do it today. Subscribe to get Real Estate Mortgage Shoppe weekly podcasts and show notes at www.JoGarner.com Connect with me by calling (901) 482-0354 or email Jo@JoGarner.com
To Your Success,
Jo Garner, Mortgage Loan Officer NMLS #757308
Host of Real Estate Mortgage Shoppe
LET'S MAKE OUR OPENING MOVE…
Good morning, Memphis! Welcome to our internet listeners and podcast listeners across the 50 states! You're on Real Estate Mortgage Shoppe. I'm your host, Jo Garner, Mortgage Loan Officer. You can connect with me at www.JoGarner.com. Our general topic is What Winning Moves Can You Make Now In Real Estate? Subscribe to get Real Estate Mortgage Shoppe podcasts with show notes at www.JoGarner.com Call us while we're live today January 30th, 2021 at (901) 535-9732.
INTRODUCING TOM KING, APPRAISER WITH BILL KING COMPANY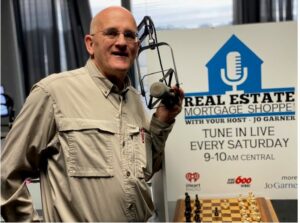 Tom King, it is always great having you back in the co-host chair. You have been completing one home appraisal after another home appraisal from sun up to long after sun down. Our regular listeners know who you are, but tell our new listeners a little about yourself and what services you offer your appraisal clients. (Tom King introduces himself and talks about the services he offers )
(Jo) Just like in a good game of chess, a big part of making the right moves in real estate involve thinking through what you want to accomplish and staying focused on what you want, especially in this hot market where just about every house has multiple offers competing to be the one the seller accepts. The great chess masters of the past have been known to use some of the strangest ploys to psyche out their opponents. One chess master insisted on having his Siamese cat sit on his lap while he competed in the chess match. Another chess master had a psychic woman sit on the front row and stare angrily at his opponent to disrupt his opponent's ability to concentrate.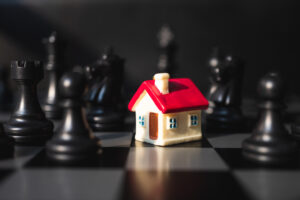 When you are trying to buy a home, the stakes are high. Take these steps and stay focused.
Know what you want and how much you are willing to sacrifice to get it.
Review your last several months bank statements and credit card statements. Look at your paystubs—the net AFTER taxes. Know how much you spend to live and how much you will be able to comfortably afford on a house note. Know how much you need to keep in an emergency fund and how much you can afford to pay for move-in costs without spending all of your saving.

Make a list in the order of priority of the things for our home that you absolutely need to have, things that would nice to have and things you can easily sacrifice like a pawn or bargaining chip. Give this list to your realtor. Ricky Gonzalez (not his real name) knew what he wanted but he had what some call champaign tastes on a beer budget. Later in the show I want you to hear the brilliant way Ricky figured out how to get to what he wanted.

Put together a team of experienced and reputable professionals. You will need a good realtor, a good lender (I would like to sign up for the job), a good home inspector ,insurance agent and the list goes on

Consult your CPA or other financial advisor.

Make your highest and best offer if you know you will be competing against other people to try and buy that house. The Yagers (not their real names) had looked at so many houses and time after time they had lost out to a higher or better competing offer for the house where they wanted to live. What did they do to get to the winner's circle? Persistence, making their highest and best offer up front and implementing some advice from their realtor helped them win in the end.

As a buyer, try to think like a seller. If your offer is not contingent on your selling your current home or a list of other contingencies, and you're not asking the seller to pay a bunch of your costs, you may get your offer accepted by the seller.

Have a very sure and strong preapproval letter from your lender. Call me and let's talk about some strategic moves you can make with your lender letter. (Having a local lender to where the house is located has proven to help many times.

Consult with the professionals on your team and put together multiple exit strategies to make a profit even if you decided to sell years from now or even in a couple of years.

If you can't afford what you really want, don't let yourself get checkmated. Think outside the box. What can you get today that would get you step-by-step closer to what you really want?
What do YOU want to accomplish with YOUR mortgage? Make your plan. Work Your Plan. If the Deal Works for your today, Let's do it today. Call me at (901) 482-0354 or email Jo@JoGarner.com
Tom King, our expert real estate appraiser, you are out in the marketplace appraising houses every day. What are some tactics you see people using? Talk about some winning real estate moves you have seen people make. (Tom King launches into his topics)
You're on Real Estate Mortgage Shoppe. I'm your host, Jo Garner, Mortgage Loan Officer. What do YOU want to accomplish with your mortgage? Make your plan. Let's work your plan if the deal works for you today, let's do it today. When we come back you will be able to look through the eyes of an appraiser at the our local market place and neighborhoods. See you back in just a moment.
THE LOOK BACK MEMPHIS TRIVIA CONTEST
2nd segment after 9:15 break: Our Look Back Memphis Trivia Contest is brought to you by notable Memphis historian, Jimmy Ogle. Twelve of his Memphis History lectures entitled Making Memphis – Storytelling by Jimmy Ogle may be viewed by Googling "JIMMY OGLE PINK PALACE". View at JimmyOgle.com. . The Look Back Memphis Trivia Contest is sponsored by John and Jennifer Lawhon of Lawhon Landscape (901) 754-7474 the Lawhon's can help you plan your landscaping if you have a BIG, BIG project or a smaller project or you can do the big project in phases . The Lawhons are giving away a $25 gift card to the first person with the correct trivia answer. If you know the answer to our trivia question, call us at 901 535 WREC 901 535-9732.
Garner # 189 * 01/30/21
Memphis Music Hall of Fame
Question: I was long overdue and now share an address with two other iconic musical attractions. Who am I?
Hint: I have many "stars" in my galleries.
Hint: I am only four years old, but my members date back almost 90 years.
Hint: My subject is known around the world!
Final Hint: My "sister" museum is located two blocks away near FedExForum.
Answer: Memphis Music Hall of Fame. Opened in July, 2015 on the second floor at one of the most iconic addresses in Memphis (Beale & Second), the Memphis Music Hall of Fame is located at 126 Beale Street, above the Hard Rock Café and the Lansky Brothers Clothing Store. About sixty years earlier from this location, Bernard Lansky "put the clothes on rock 'n' roll and soul music", just like Sun and Stax put those music genres on the world map. Bernard became known as "The Clothier to the King".
More than a century ago, music began pouring into Memphis, Tennessee. Musicians of all races and backgrounds came together and, for the love of music, created a sound that changed the cultural complexion of the world forever. America's music exploded out of Memphis. Today, the Memphis Music hall of Fame honors many of the greatest musicians of all time, who created this city's musical legacy, and who shook our planet to the core! Each year, deliberations consider musical performers, producers, engineers & studio recording industry professionals, writers, promoters and radio professionals. Being considered are the group or individual's relationship with Memphis, including the extent of recording projects, musical impact within Memphis, city residency, and exceptional involvement within and/or influences drawn from the Memphis music industry.
The inaugural class of the MMHF was inducted in 2012 and included such icons as Elvis Presley, B.B. King, Otis Redding, Booker T & The MG's, Howlin' Wolf, Sam Phillips, Rufus Thomas and the Rev. Al Green. Currently there are 54 members in the the MMHF. The "sister" museum is the Smithsonian's Memphis Rock 'n' Soul Museum at FedExForum. The MMHF is open daily from 10am-7pm (205-2532) [memphismusichalloffame.com].
Jimmy Ogle has retired from walking tours in Memphis. Twelve of his Memphis History lectures from the Pink Palace entitled Making Memphis – Storytelling by Jimmy Ogle, and now more than ten hours Downtown Walking Tours are FREE on the internet at . . . You Tube Jimmy Ogle.
View JimmyOgle.com for more info!
Jimmy Ogle has retired from walking tours in Memphis. Twelve of his Memphis History lectures from the Pink Palace entitled Making Memphis – Storytelling by Jimmy Ogle, and now more than ten hours Downtown Walking Tours are FREE on the internet at . . . You Tube Jimmy Ogle.
View JimmyOgle.com for more info!
___________________________________________________________
TOPICS COVERED BY TOM KING OF BILL KING APPRAISAL SERVICE
Give us some examples of the situation with lack of inventory in the Mid-South.
What are some specific bits of advice you can give to sellers
What are some specific bits of advice you can give buyers
What are some strategies people can use to counter an appraisal with a value they feel is too low?
___________________________________________________________
TOPICS COVERED BY JO GARNER, MORTGAGE LOAN OFFICER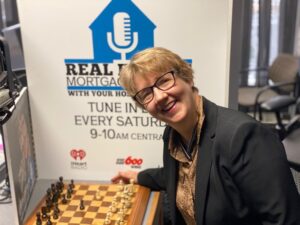 Preparing to make a strategic move when you are ready to buy a home or refinance one.
Get to the truth about what you can comfortably afford on a house note and what you can comfortably afford on a down payment for a house, continuing to keep a healthy emergency fund in the bank. You want to enjoy making your house payment each month.
If you are that person who just cannot force yourself to go through all of the last 12 months bank statements and credit card statements to put together a working household budget, then turn up the volume on some good tunes, set a timer for as long as you need to review the last 3 to 6 months bank statements and credit card statements. Write down how much you are spending each month and where your money is going. Don't forget bills you have to cover once or twice a year.
Calculate your true income after taxes and deductions. Your income-to-debt ratios ideally should be where your total house note and all other debt should not exceed over 40% to 45% of your gross income. Some loan program software will preapprove you will debt ratios as high as 50% to 55%, but who want to be handcuffed to a house note with debt ratios that high?
If your debt ratios are too high, let's talk about what you want to accomplish with your mortgage financing. It may be possible to rearrange some debt to make your cash flow each month more manageable. Don't pay off any debt until you have talked with your loan officer. Depending on your situation, it may be more advantageous to you to keep more money in the bank than to use it to pay down debt.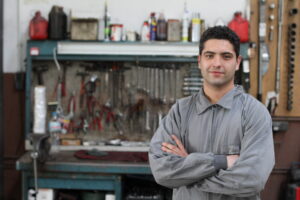 MR. FIX-IT TAKES ONE STEP AT A TIME TOWARD HIS DREAM HOME (competitive market)
Meet Ricky. Ricky is barely out of his twenties and wants a shop next to his house so he could work on cars and fix stuff. He also wants to be in a particular upscale neighborhood. His dream house was like having champagne taste on a beer budget. Ricky engages his imagination and some ingenuity.
He found a house in a neighborhood that was going steadily up in value, even though it wasn't the upscale area he initially wanted. The property had a garage. This house would not break the bank for Ricky. Ricky took action with a smart offer and beat out any competition to buy his house. Over time he transformed the garage into an awesome shop by installing a work bench and later some racks for his tools. The house was going up in value too. Ricky would one day be able to launch from this home up to the more upscale neighborhood he originally wanted.
Put an experienced, reputable realtor and lender on your team. Use their knowledge and resources to make the right moves to get you to where you want to be.
Here is an example of when a knowledgeable realtor and a lender helped Katherine buy a house she loved with a low fixed rate payment and three different exit strategies that could help her rest easy now knowing there were, not one, but 3 different methods that could help her profit from the home without feeling stuck.
Now, let me introduce you to Katherine.
Katherine was in her late 20's, out of college and just getting started in her career. She wanted freedom to eat out and have fun after work and on the weekends. She wanted to have that peace of mind that she could move when and where she needed to get farther in her career. She did not want to feel stuck.
But some of her friends had bought their homes. But Katherine did not want to feel hemmed in or stuck with a mortgage commitment. She felt like she could never get ahead with her rent going up each month year and surely there had to be some way to buy a house and still not feel stuck.
The realtor did some research on the neighborhoods that interested Katherine. Katherine could buy a house in a neighborhood that traditionally continued to go up in value year after year Her payment would be about one-third less than she would be paying in rent for the same type house. The interest rate on the mortgage was fixed for 30 years, so no more rent increases every year.
For Katherine, it was all about having some profitable exit strategies—just in case she ever wanted to move and not be tied to the house. Katherine could see three possible exit strategies to use if she should ever decide to move.
The first exit strategy considered that the values had been steadily going up. She could probably sell at a profit even after only a short time.
The second possible exit strategy involved the FHA loan program Katherine used for her financing. The FHA program allows for the borrower to later allow a subsequent buyer to assume that mortgage if they can qualify with whichever bank will be servicing the loan at the time of the assumption. In a market of rising rates, having the ability to allow someone to take over her low interest loan, gave her a further advantage for selling.
The third possible exit strategy involved the neighborhood where Katherine purchased her property. It was in a market that would allow her to rent her house out one day for much higher than her payment, which would give her a third profitable exit strategy. No more feeling stuck! No more having to worry about how much the landlord would hike the rent either.
Lots of people have decided to buy a larger home to accommodate the parents and children who are moving back to live under one roof. If you need to make an offer but won't be able to sell your current home first, call me at 901 482-0354 after this show. There are a number of great options we can take to get you the down payment funds you need without having to sell your old house first.
If you are thinking about renovating your existing home to expand the living space or just make it more enjoyable for the way you want to live, let me share with you Darik Dennison.
DARIK DENNISON-SPEND MORE FAMILY TIME BY RECONSTRUCTING HOME DESIGN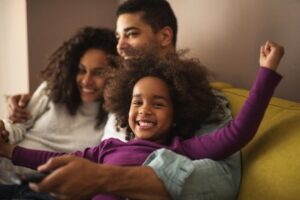 Darik Dennison, a hard-working professional who was spending way too much time at work and not at home with his wife and younger children. The Dennison's wanted to make some improvements to their home that would bring them together as a family more often.
They wanted to open up the kitchen area to allow them all to be in the same room while eating and doing other activities. They wanted to put in a nice gunite pool with a deck and extend the patio by building a covered area for grilling outside. With the pool and the deck and extended patio, the Dennison's could grill out or sit and read the paper while the kids swam in the pool with their friends. It was a brilliant plan to squeeze in more family time and make every moment count.
Their challenge was that they would have to get a variable rate Home Equity Line of Credit for over $75,000 and the variable rates have been forecasted to go up repeatedly for the next couple of years. This would mean their payment on the equity line of credit could continue to go up too, which could be a budget buster for the Dennison's.
The Dennison's explored a number of ways to try to get the money to complete the renovations to their home. Some of the investments he had considered using for the improvements was invested and making a good return. But using a variable rate Home Equity Line in a market where variable rates were predicted to go up multiple times was not working with a fixed budget.
Mr. and Ms. Dennison decided to keep all the financing on a stable, fixed rate loan by refinancing their existing first mortgage and getting cash out to pay for the home renovations and repairs. The entire financing package would be on a fixed rate loan with no prepayment penalty. The Dennison's would be able to pay extra on their new first mortgage and get the mortgage paid off early. They had their renovations, giving them quality family time and a payment that would not break their budget.
REAL ESTATE TIP OF THE WEEK (Tom King shares a real estate tip –For self-employed homeowners whose income can sometimes fluctuate widely up and down, they may want to consider getting a 30 year fixed rate mortgage and pay it as if it is a 15 or 10 year mortgage. But if their business falls on hard times, they could always have the freedom to revert back to the lower payment on the 30 year plan.
Jo Garner's tip. Mortgage rates are NOT tied to the Federal Reserve rate The Fed this week indicated they still plan to keep their rate low for the next couple of years, but that does not mean that mortgage rates can't move up precipitously. They have moved up significantly throughout history independently of what the Fed rate is doing. DO NOT MISS YOUR OPPORTUNITY to improve your real estate and financing situation. Call me at 901 482-0354 and lets spend a few minutes exploring some financing moves that could prosper you faster and help you reach your goals quicker. The call is free ….
ANNOUNCEMENTS:
Talk Shoppe offers free networking & education to anyone interested in real estate or in business. Talk Shoppe meets every Wednesday 9A-10A by going to www.TalkShoppe.com (shoppe), then click the Upcoming Events tab. You will see the virtual zoom web address. This Wednesday February 3rd, 2021 Peggy Lau and Kurtis Lau, Dreamtrips and Seacrets, " How To Make Quality Time AWAY From Work Power Up Productivity AT Work." (901) 289-0747.
Talk Shoppe events are free thanks to supporters like Tim Gilliland of www.BackupRX.com When you need to recover lost data on your computer, you will feel very thankful when you call Tim at BackupRX and simply download all your data and system files immediately when you need it. Contact BackupRX about getting your data automatically backed-up at www.BackupRX.com
Thank you to Talk Shoppe business coach Tim Flesner. Are you ready to make some strategic moves and improvements in your business? Contact business coach Tim Flesner tflesner@biz-rx.com
2. Are you still working on a fix up project at your house? Running errands today? What's on your list that you can buy from a family-owned local business? Thank you for remembering to support our local business owners.
4. Subscribe at www.JoGarner.com and you can get our weekly blog posts with podcasts conveniently in your inbox.
5. Real Estate Mortgage Shoppe reminds you to MAKE YOUR PLAN. LET'S WORK YOUR PLAN. IF THE DEAL WORKS FOR YOU TODAY, DO IT TODAY.
SPECIAL NOTE: REAL ESTATE MORTGAGE SHOPPE RECOMMENDS THAT YOU CONSULT WITH A FINANCIAL, LEGAL OR OTHER CERTIFIED, LICENSED PROFESSIONAL BEFORE ACTING OR INVESTING ON ANYTHING YOU HEAR OR SEE FROM THE CONTENT ON THIS SHOW OR BLOG POSTS. THE INFORMATION WE SHARE ON REAL ESTATE MORTGAGE SHOPPE IS GENERAL IN NATURE MEANT FOR GENERAL EDUCATIONAL PURPOSES ONLY. ALL EXAMPLES GIVEN FOR ILLUSTRATION PURPOSES ON REAL ESTATE MORTGAGE SHOPPE AND ARE BASED ON TRUE STORIES BUT CHANGE NAMES AND CERTAIN DETAILS THAT DO NOT AFFECT THE INTEGRITY OF POINTS WE ARE MAKING IN THE EXAMPLES.
QUOTE CORNER:
Anonymous "If you forget the rules of chess, don't worry….you are allowed to check."
Anonymous " I've recently started to learn about the history of chess boards. Seems they have quite a checkered past."
____________________________________________________________________________________
REJOINDERS:
Terri Murphy, Author, Speaker, Real Estate and Mortgage Coach www.MurphyOnRealEstate.com

Attorney Marx Sterbcow of Sterbcow Law Firm New Orleans, LA

Ed Hill, Masters Roofing in Memphis, TN
Transitional Music: ""I'm Winning"  Santana; "We're Gonna' Win" by Bryan Adams; I'm Winning by Steve Winwood; "Memphis" by Johnny Rivers for the Look Back Memphis Trivia Contest
________________________________________________________________________
TOM KING, APPRAISER WITH BILL KING COMPANY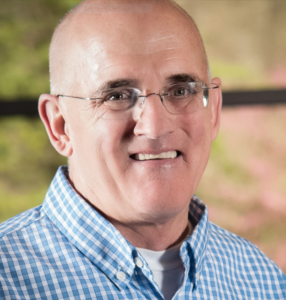 Tom is a well- respected and sought after appraiser in Memphis, Tennessee.  He is a second generation appraiser with 40 years of experience.  He has been elected to the Memphis Area Association of Realtors Board of Directors three times.  
Tom is a certified residential appraiser in Tennessee.  He have appraised over 20,000 homes in his career.  A graduate from the University of Tennessee with a degree in real estate, Tom is also a Certified Relocation Professional (CRP).  Tom also has vast experience in dealing appraising real estate for pre-listing sales, cash buyers, divorce settlements, estate settlements. (901) 487-6989
ABOUT JO GARNER-MORTGAGE LOAN OFFICER:

WHAT DO YOU WANT TO ACCOMPLISH WITH YOUR MORTGAGE?
www.JoGarner.com (901) 482 0354 jo@jogarner.com twitter @jogarner NMLS# 757308 (currently working with Sierra Pacific Mortgage, Inc)
"Whatever YOUR personal priorities are, my job is to help you get the mortgage terms that will give you bragging rights when you talk about it and help you score on hitting your goals ."
As a mortgage loan officer, my job is to help you get to the benefits you want from your financing terms. What is most important to you? I can help you find the financing terms that will help you get to what you want. What is your comfort level on a house payment? How much are you comfortable paying down,? What type of financing do you need to get the house you want to buy or refinance?
Different clients have different priorities in life—some are buying their first home with very little down payment funds. Some are recovering from medical challenges, divorces or preparing to send children to college and some are embarking on a long term goal of buying properties to build rental income."
Jo Garner is a mortgage officer with extensive knowledge in tailoring mortgages to her customers who are refinancing or purchasing homes all over the country. She offers conventional, FHA, VA or other loan programs for refinancing and purchases.
Jo can help you look at rent vs buy, when it makes sense to refinance, how to get the best deal on your home purchase financing.
Jo Garner has been in the real estate/financing business for over 25 years.  She got her start in Portland, Maine where she first began her real estate career. She received her real estate education from the University of Southern Maine  and was personally mentored in San Diego, California  by Robert G. Allen, author of Nothing Down, Creating Wealth and The Challenge.
On moving back to West Tennessee in 1987, she went into business buying and selling discounted owner-financed notes secured on real estate.  In 1990 Jo went to work for a residential mortgage company and has been a mortgage loan officer for over 25 years.  Her goal is to offer excellent, affordable service to her customers, tailoring the loan programs to the specific needs of her clients. 
In addition to her work in the mortgage field, Jo Garner  is the primary sponsor and founder of Talk Shoppe in Memphis. www.TalkShoppe.com Jo Garner also host the radio show Real Estate Mortgage Shoppe airing on News Radio AM 600 WREC and iHeart Radio with podcasts and show notes published on www.JoGarner.com